Weekend Train Trip to Udon Thani
This weekend I did the first of what will hopefully be a regular series of train trips to major destinations around Thailand. My intention is to promote rail tourism which is both sustainable and eco-friendly travel. I am really happy that the Tourism Authority of Thailand has recognised the importance of my rail project and that they are kindly giving me logistical support. The first train trip was to Udon Thani on the Northeastern Line. I took Special Express No.25 that goes from Bangkok's new terminal Krung Thep Aphiwat to Nong Khai overnight. This and other destination train guides will be on my ThaiTrainGuide.com website soon. You will also be able to download the guides as free PDFs. The following are the photos and notes that I posted live during my trip.
Date of Travel: 2nd-5th February 2023
[1] Good morning from Udon Thani Railway Station in Northeastern Thailand. I came here on Special Express No. 25 from Bangkok last night. I had booked a bed in the 2nd Class sleeper carriage which cost 977 Baht for the lower berth. The train left Bangkok at 8:25 p.m. and arrived in Udon Thani at 5:44 a.m. So, it was about nine hours. I had a good night's sleep.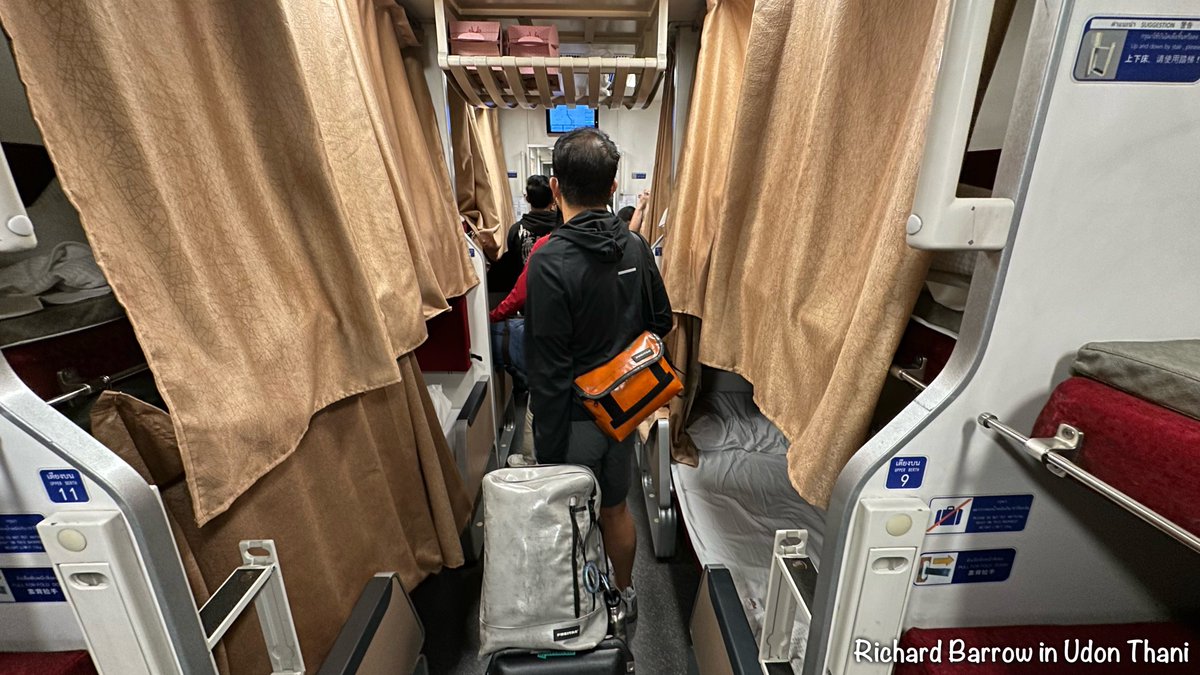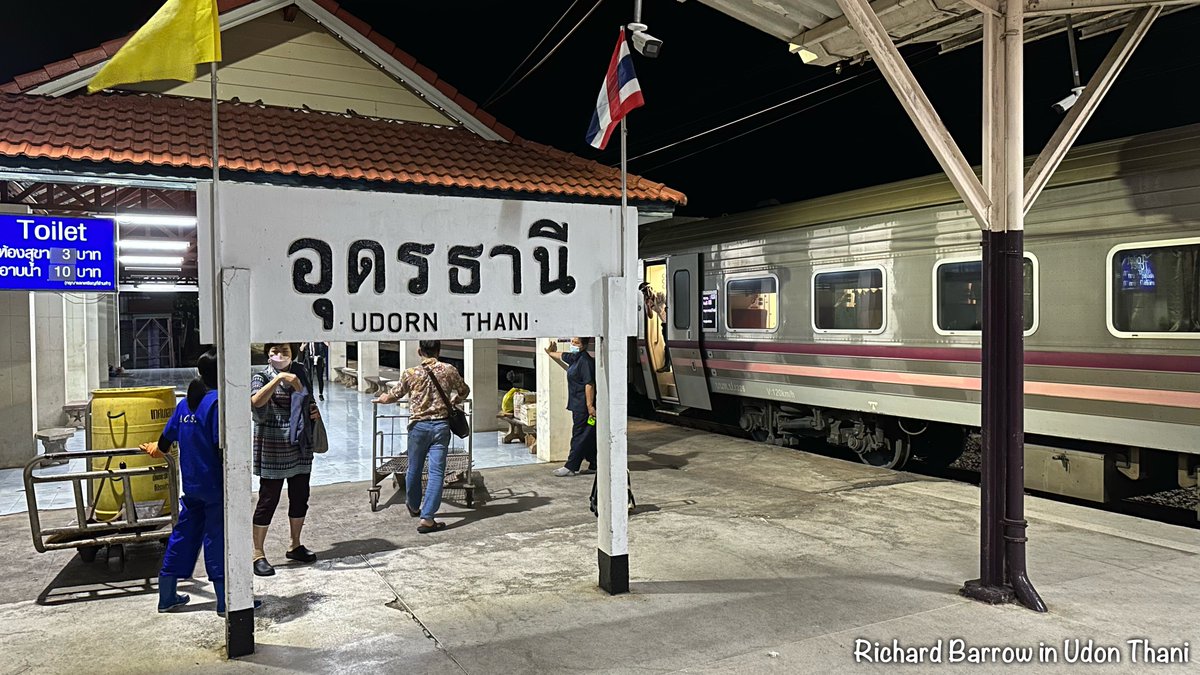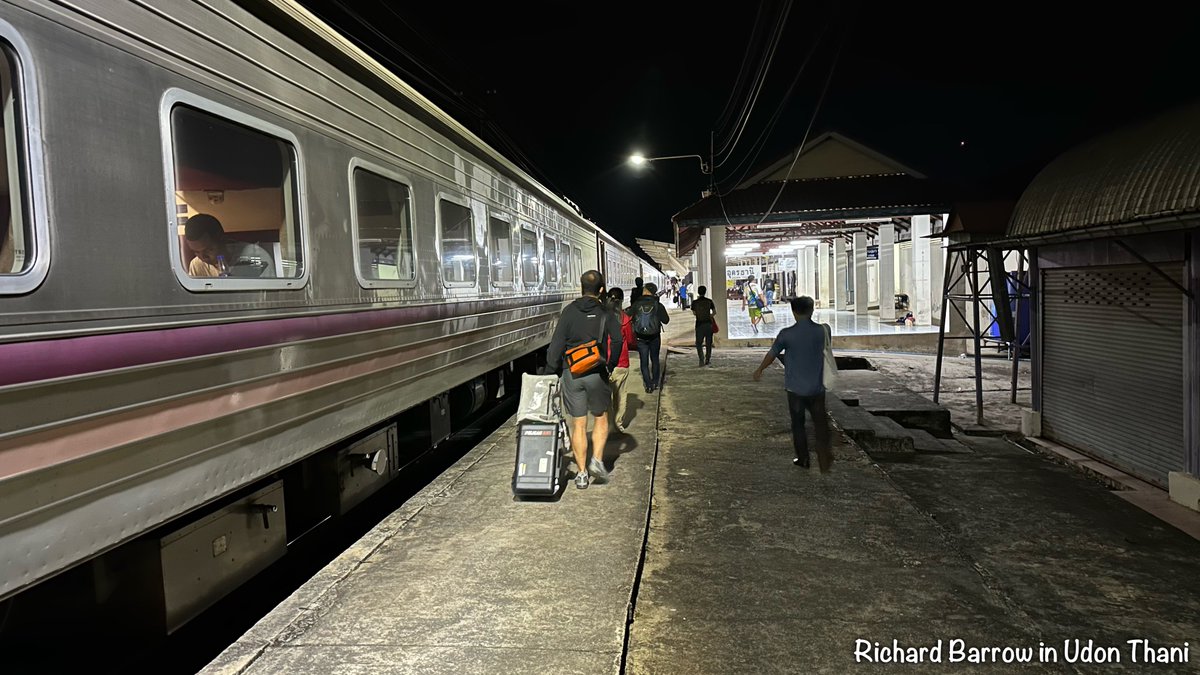 [2] The highlight of any visit to Udon Thani during the cool season is the Red Lotus Lake. The lily flowers are in bloom from around November to March. To rent a boat for up to six persons is 500 Baht. The trip is around 90 minutes and he will stop at a few places.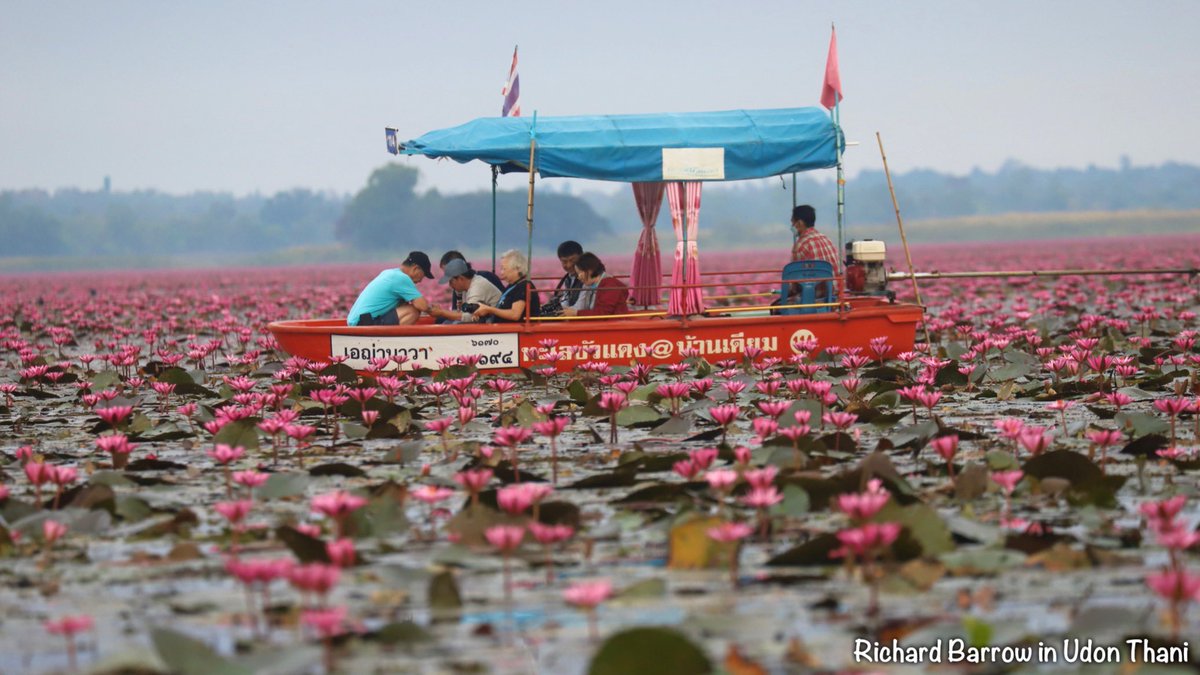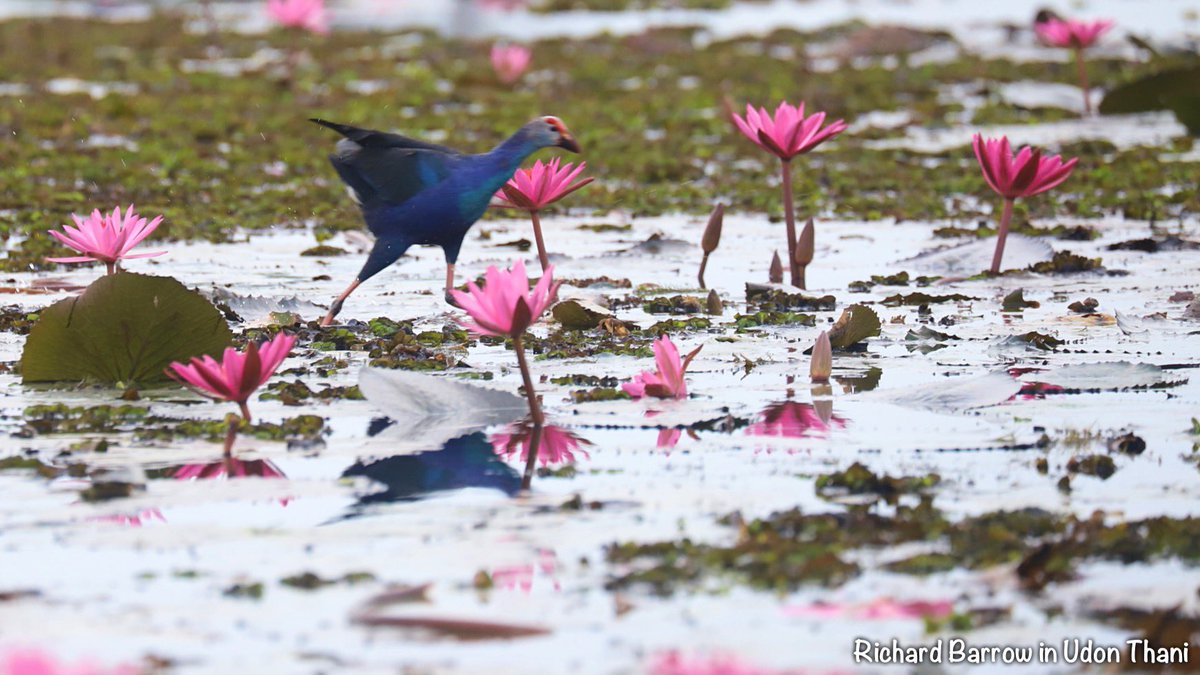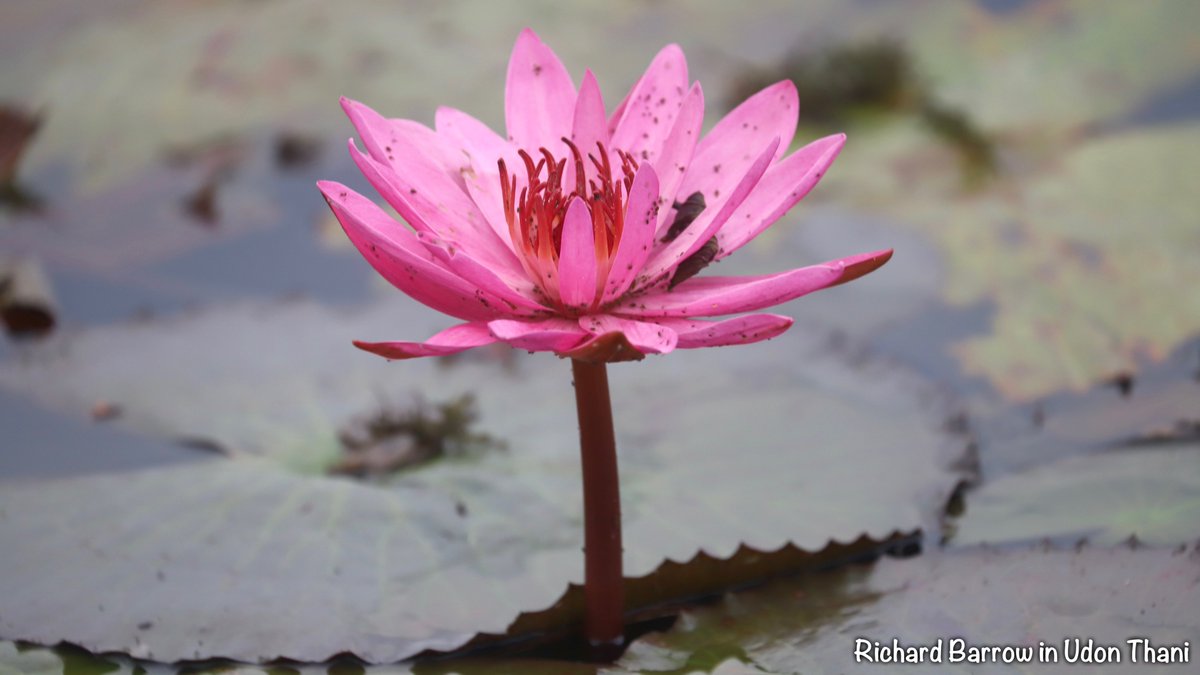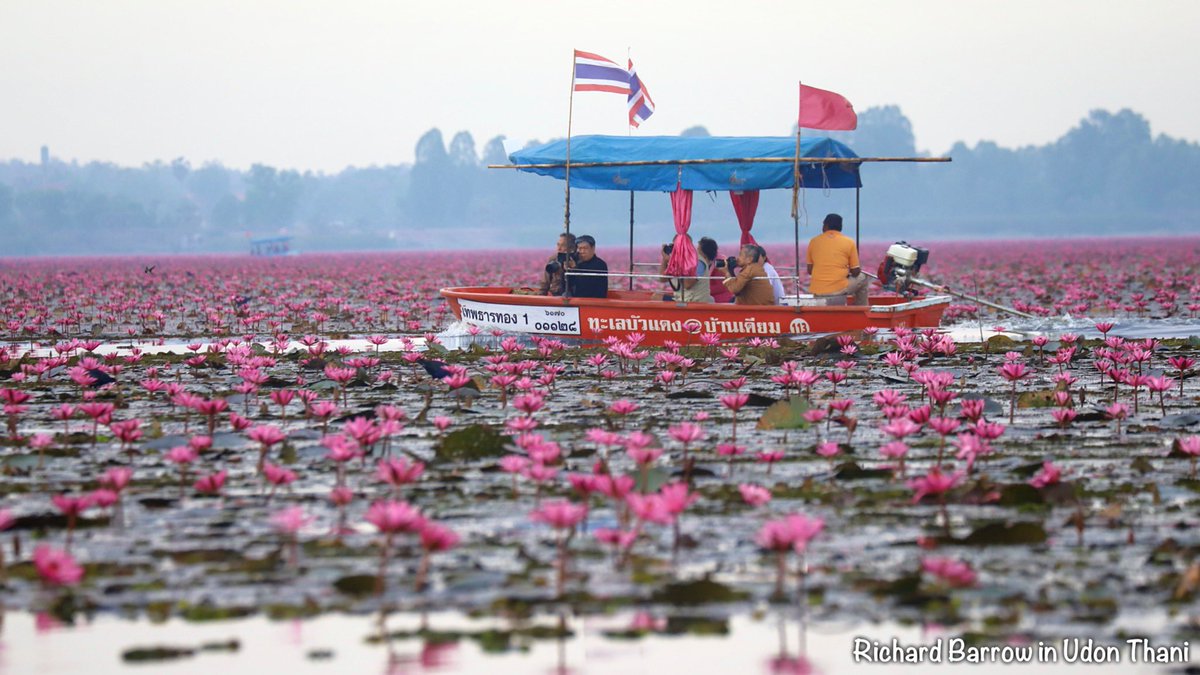 [3] It's not that easy to reach the Red Lotus Lake by public transport. A Grab taxi is 400 Baht. You can ask your hotel to arrange a car for about 1,200 Baht. I decided to hire a driver for the day for 1,800 Baht which I think is better value. He picked me up at the railway station and will be with me all day.
📍MAP: maps.app.goo.gl/RJAKXizAWEBNPp…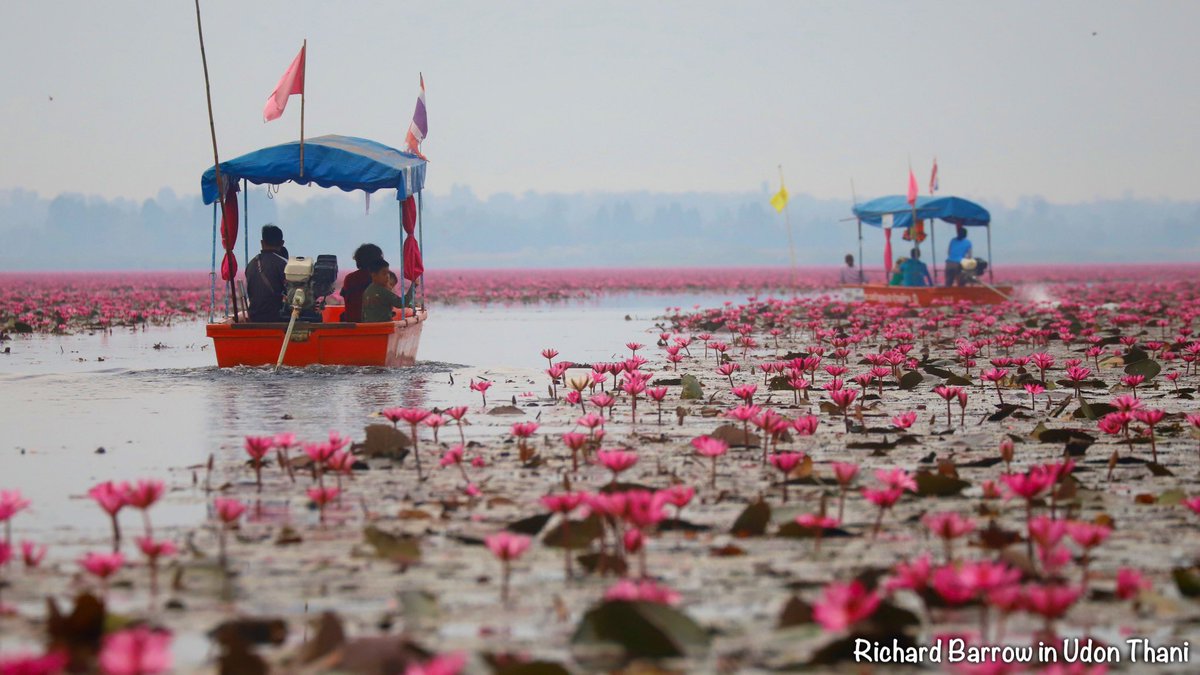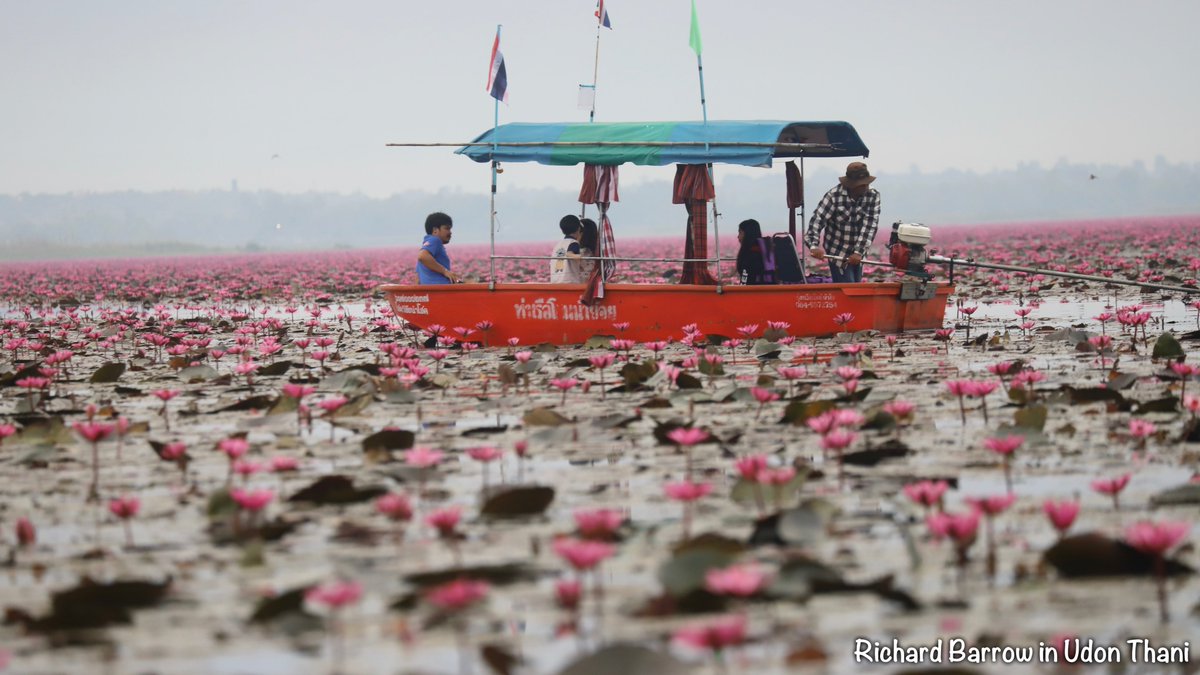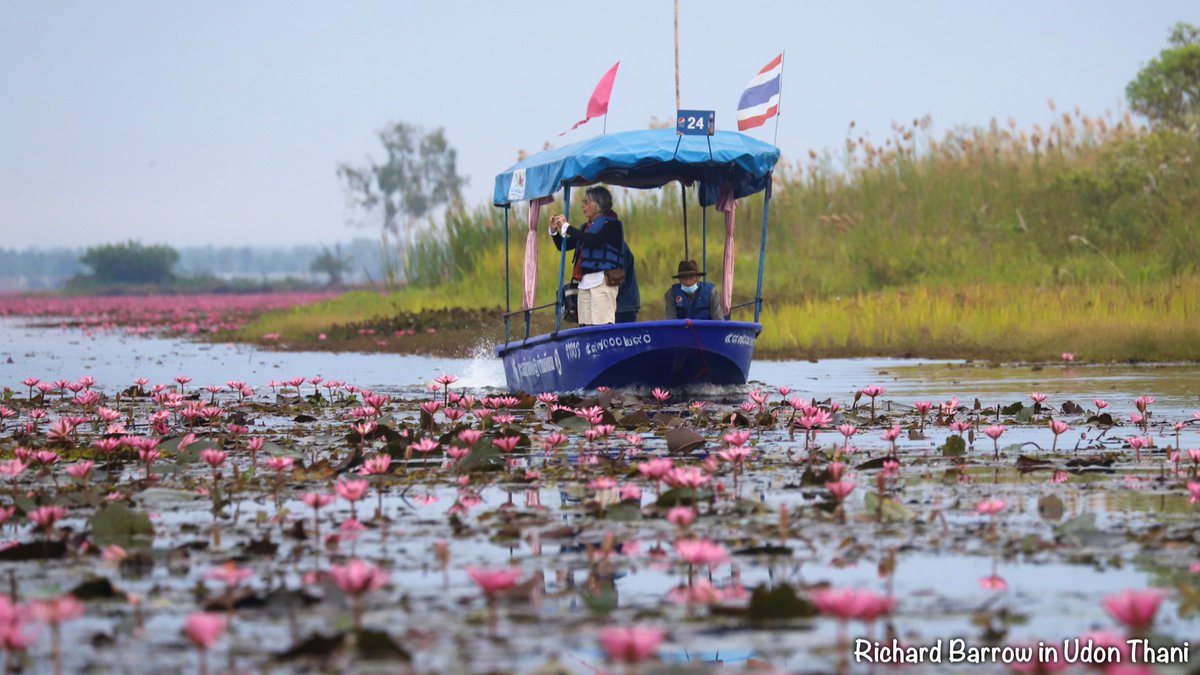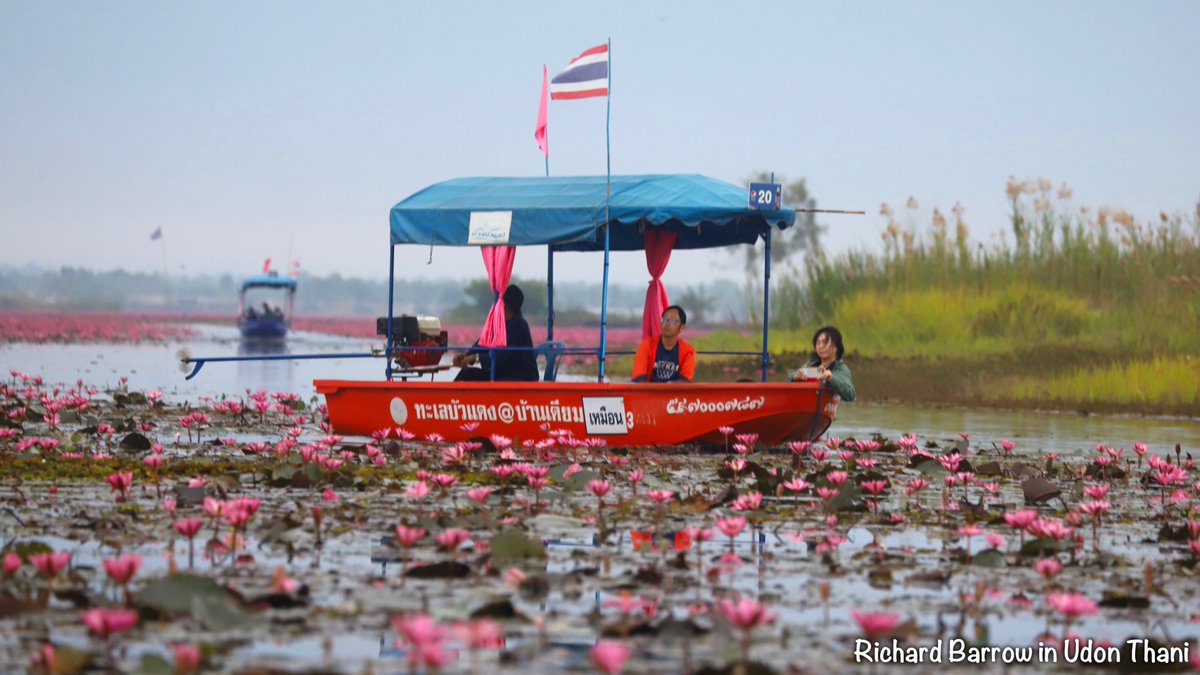 [4] One of the major attractions in Udon Thani province is the National Museum in Ban Chiang. This is a World Heritage Site. Well worth visiting. Open Wednesday to Sunday. Admission is 150 Baht.
📍MAP. maps.app.goo.gl/yPtWbu4bf1jKxh… |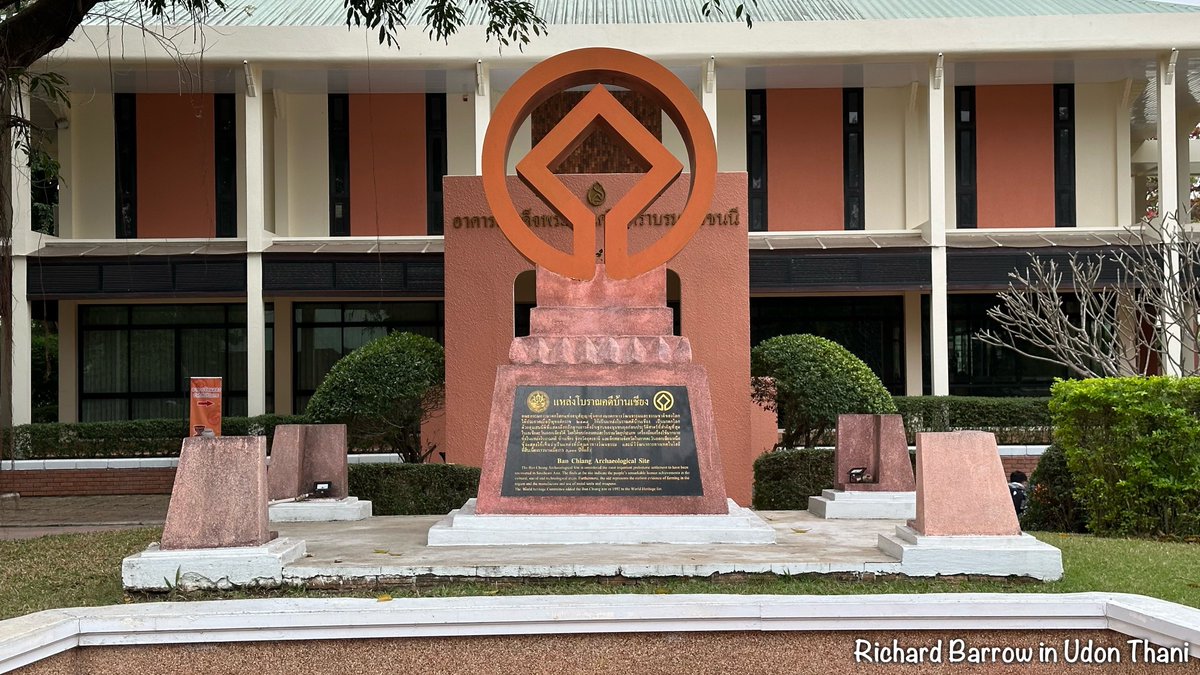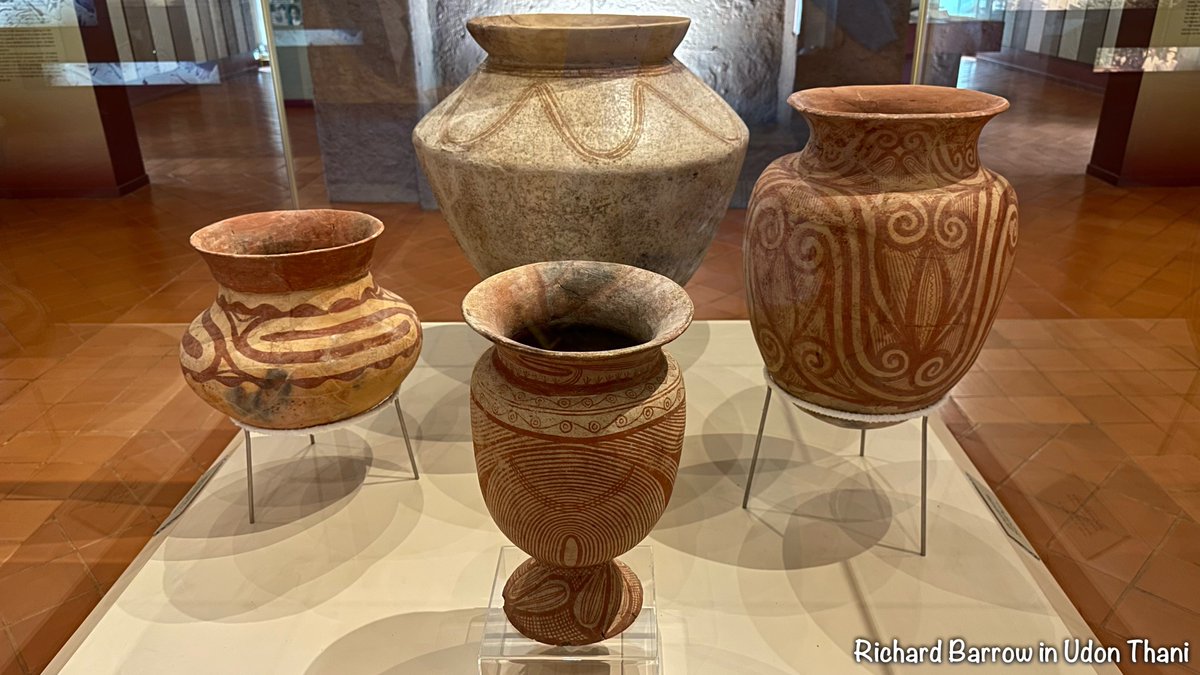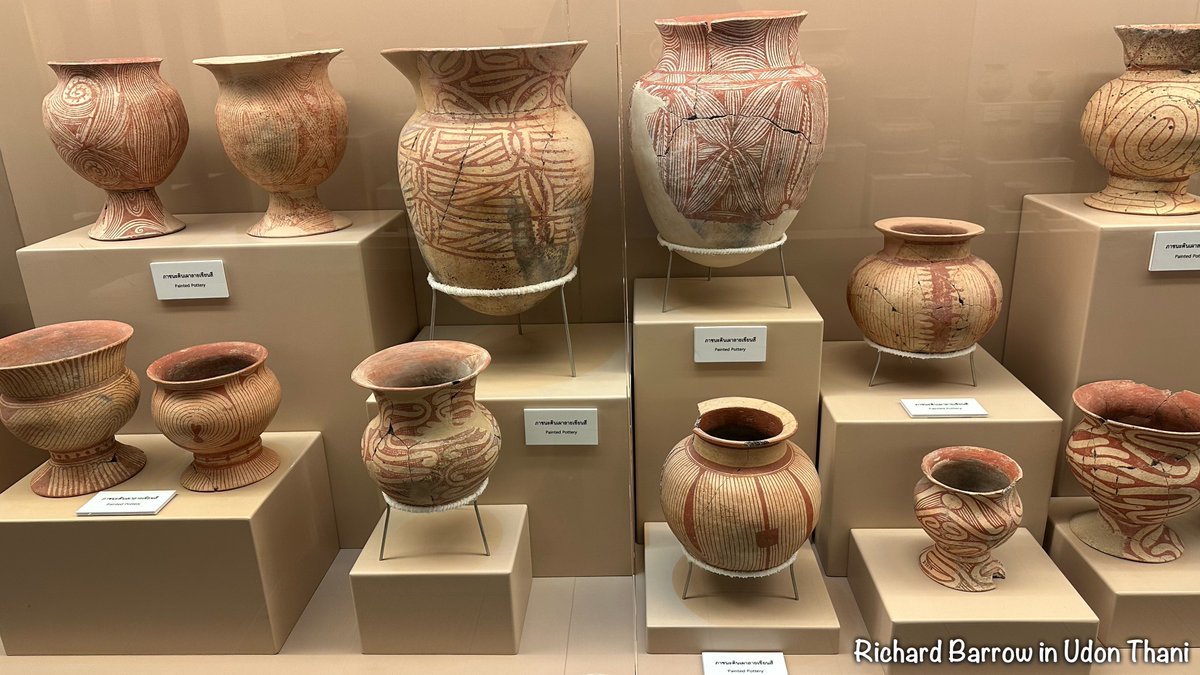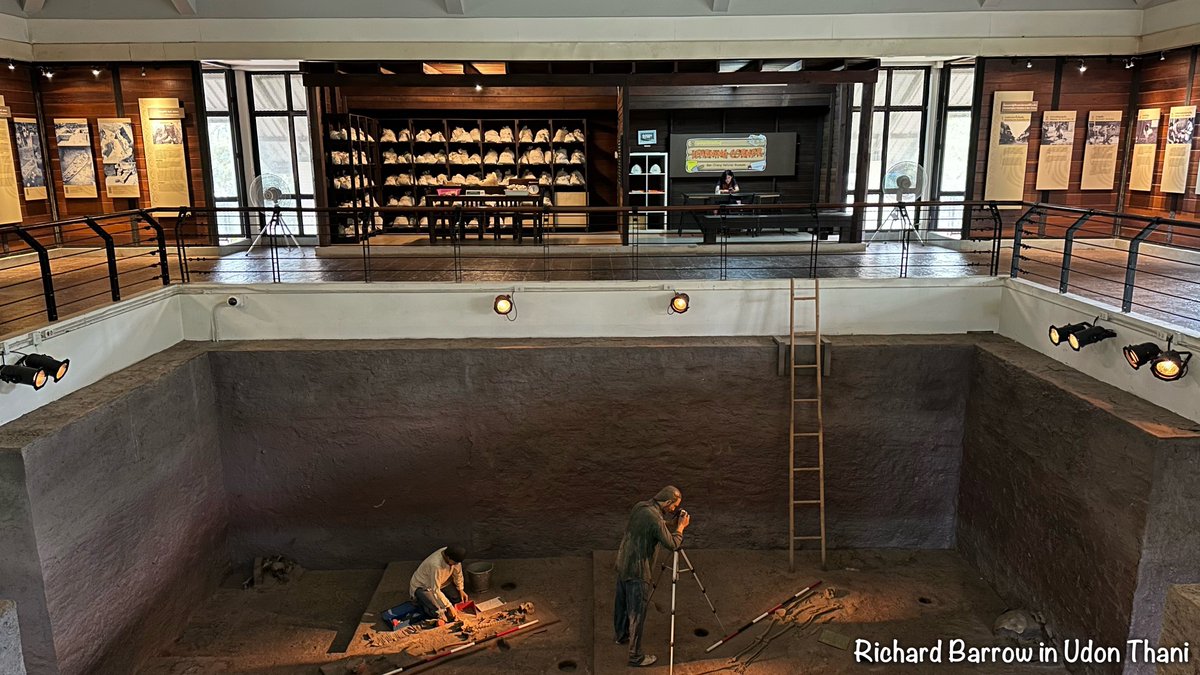 [5] Ban Chiang Archaeological Site is considered the most important prehistoric settlement so far discovered in Southeast Asia. The World Heritage Committee inscribed Ban Chiang Archaeological Site on the World Heritage List in 1992.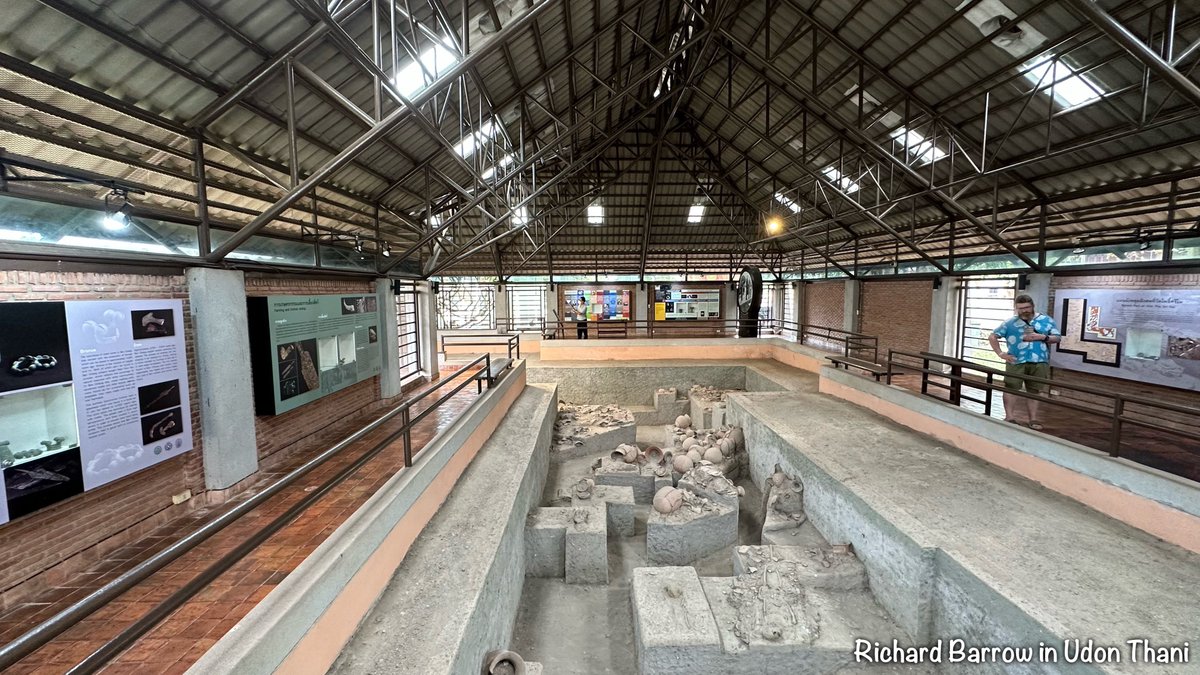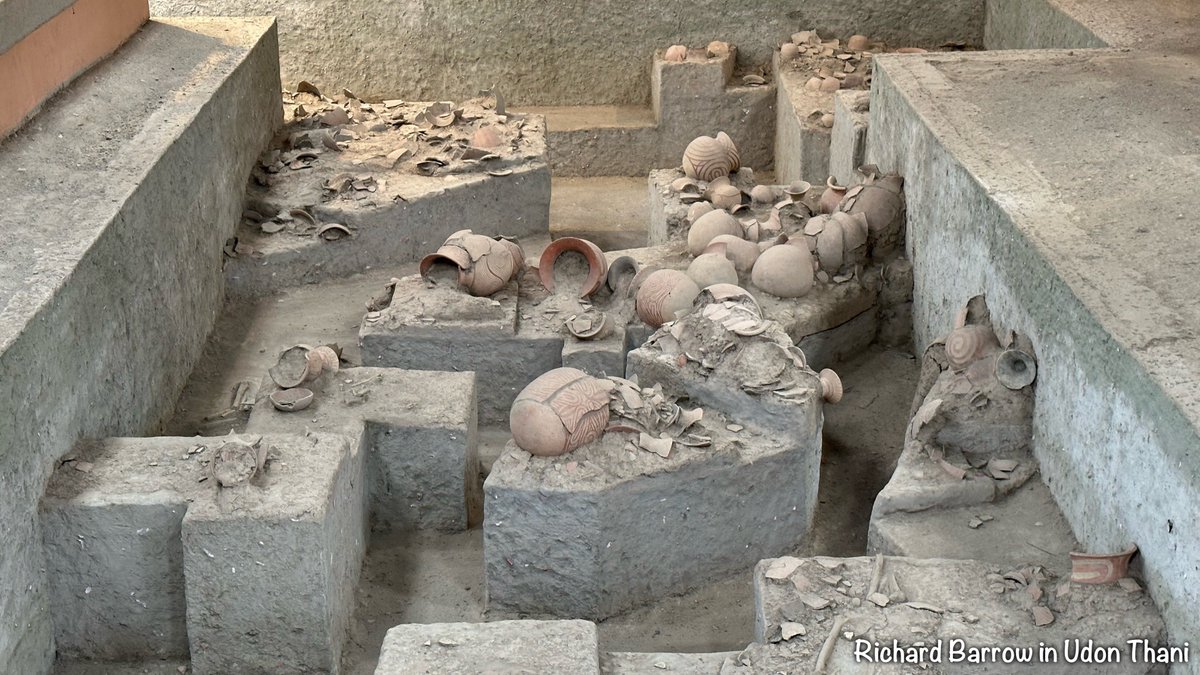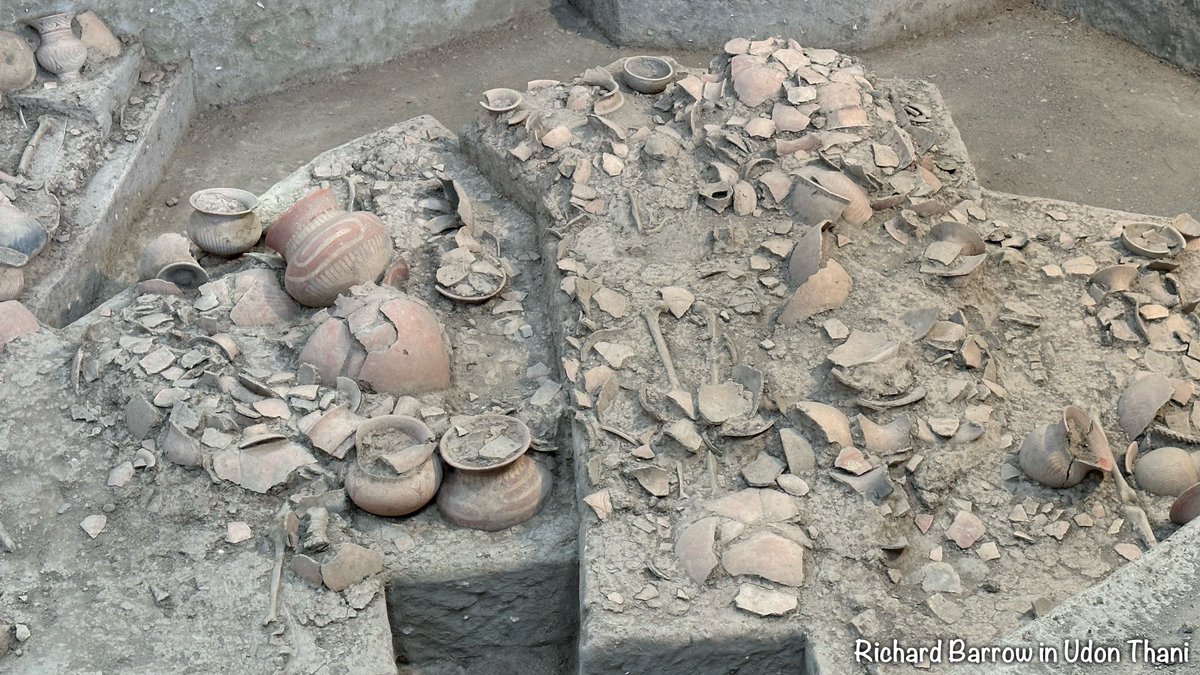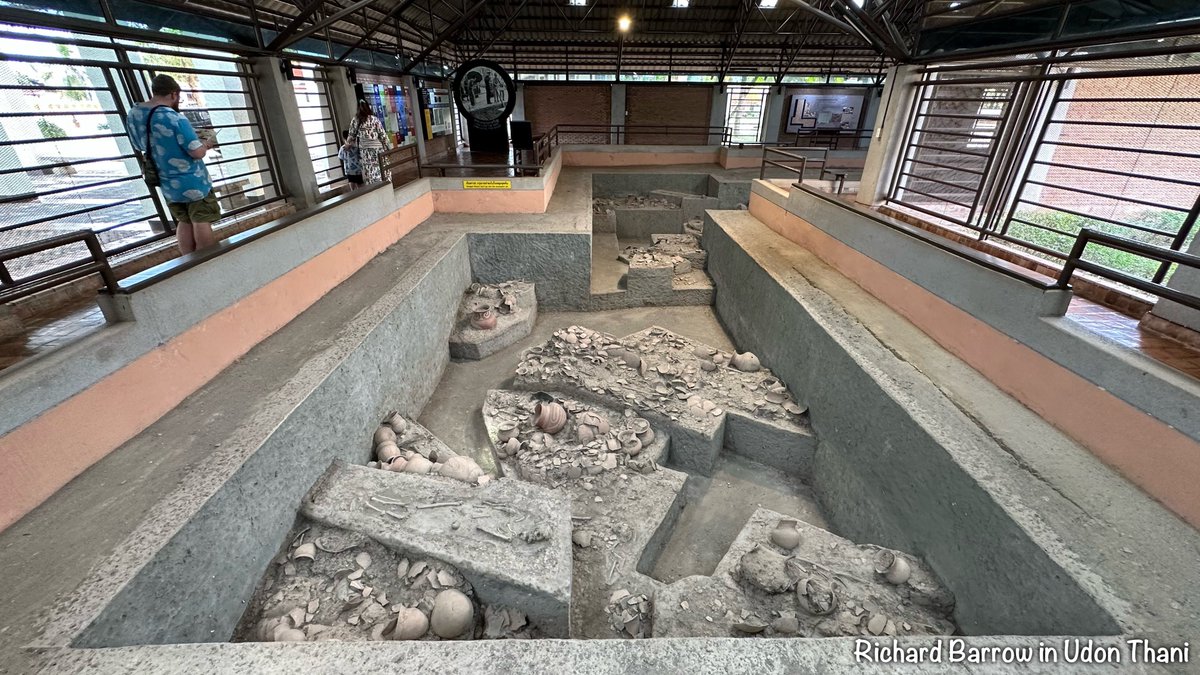 [6] This is some of the street art that you can find around Ban Chiang. You can rent a bicycle from near the national museum for 20 Baht.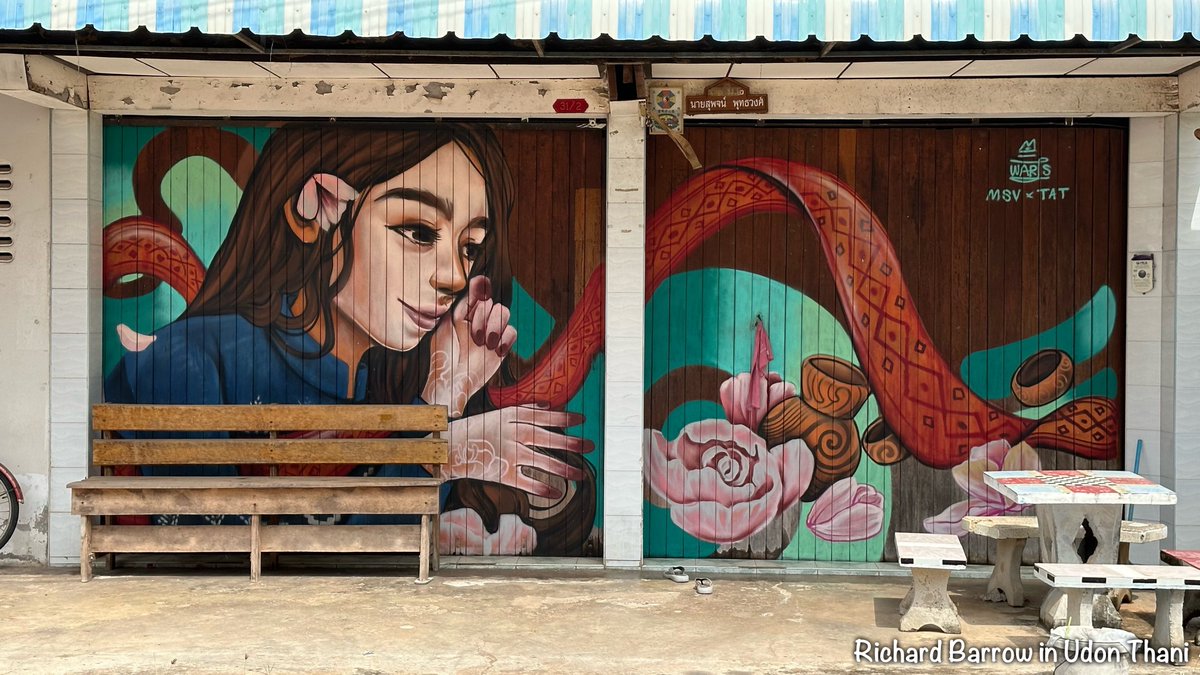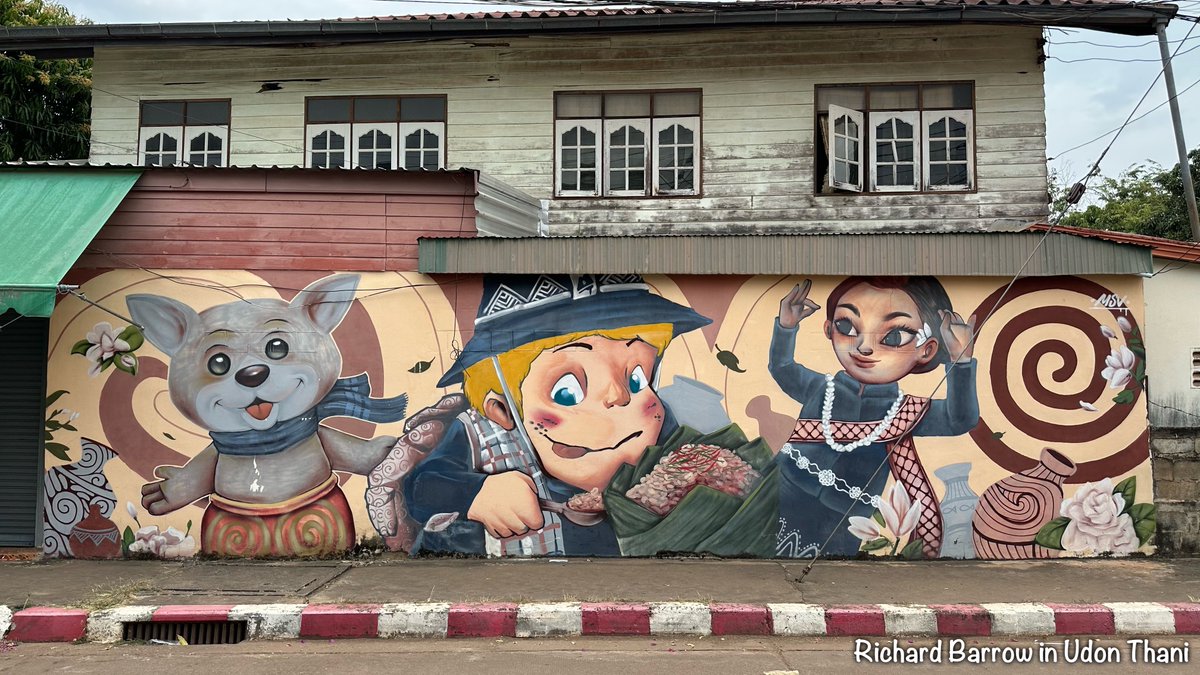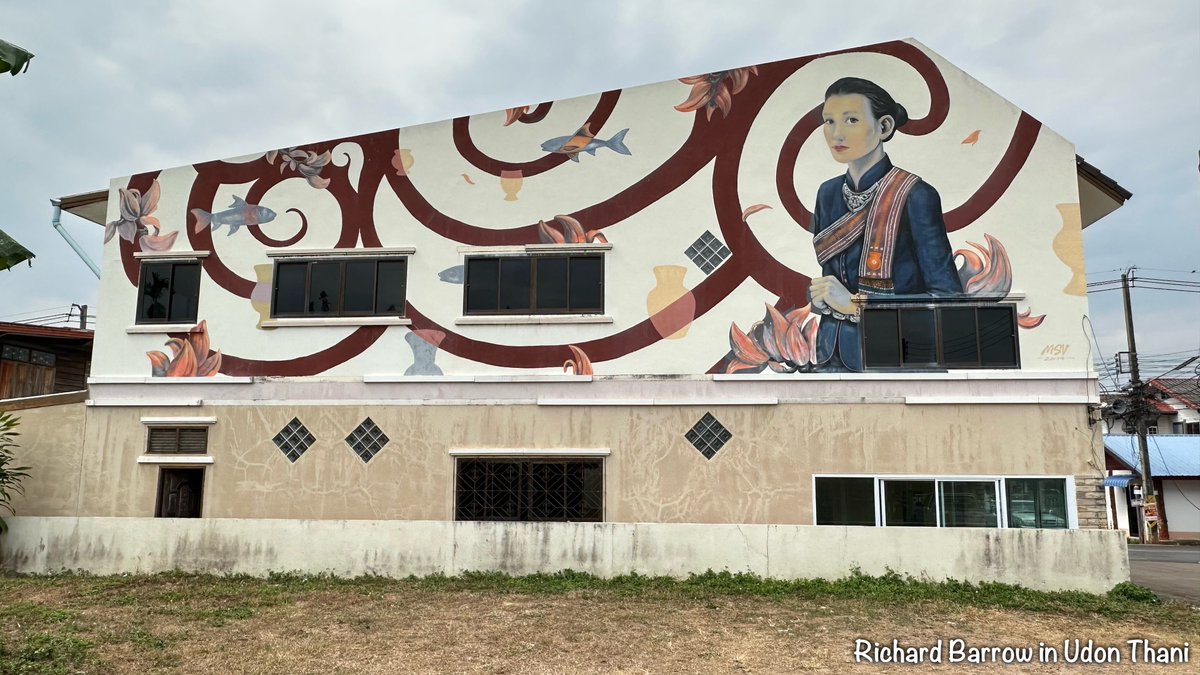 [7] About 3km north of Ban Chiang is Wat Santiwanaram. Of note is the chapel on the lake that is shaped like a giant lotus flower. Inside there are some beautiful murals on the walls which show the story of the Lord Buddha.
📍MAP: maps.app.goo.gl/RfkrRanrJjyoip…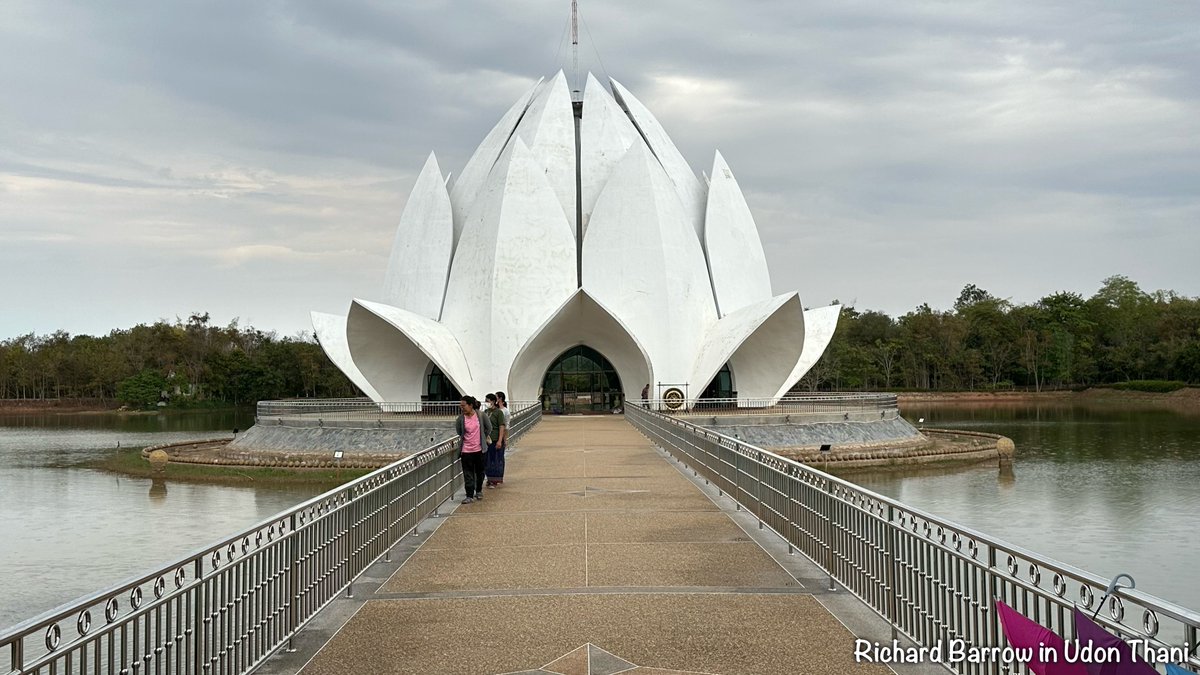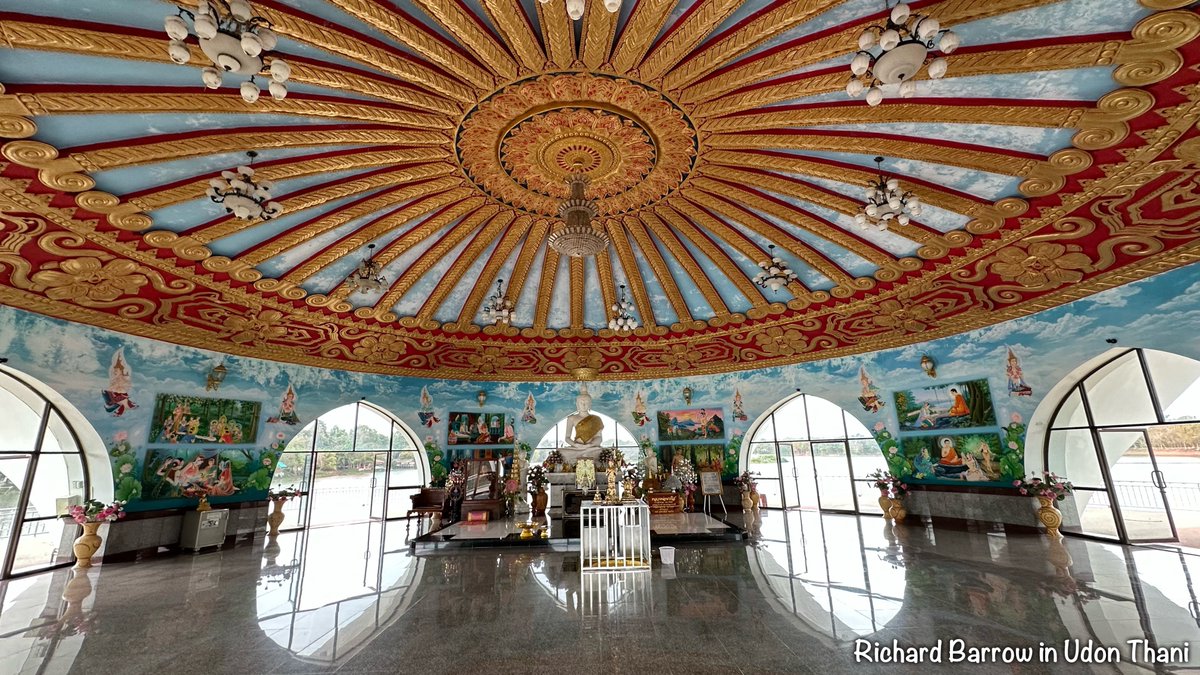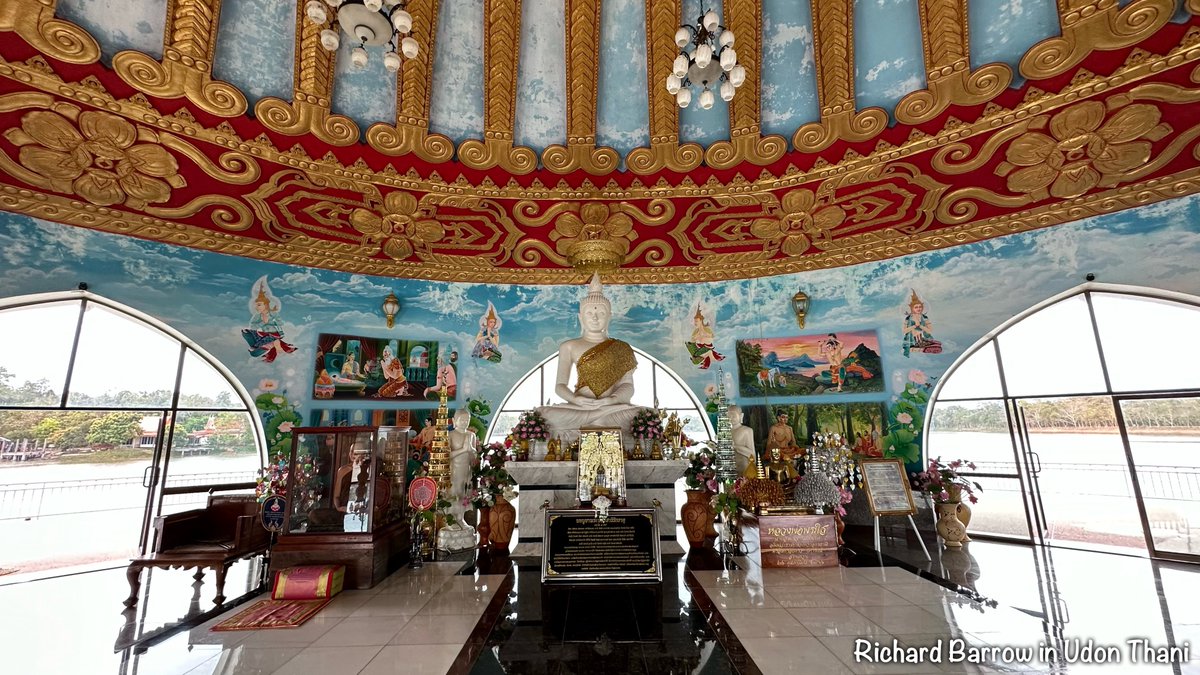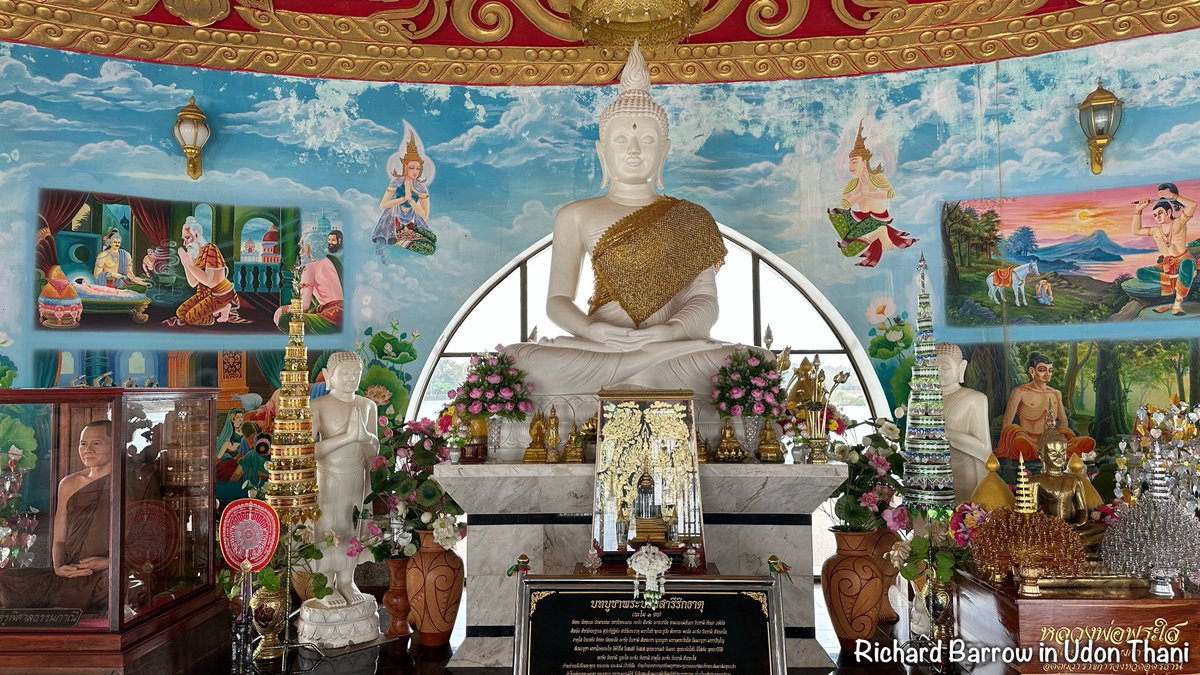 [8] Udon Thani City Museum is in an old refurbished building. It tells the story of the city and province. Of particular interest is the relationship between the city and American soldiers during the Vietnam War. Closed on Mondays. Entry is free.
📍MAP: maps.app.goo.gl/zKjpNp5xW1r9zu…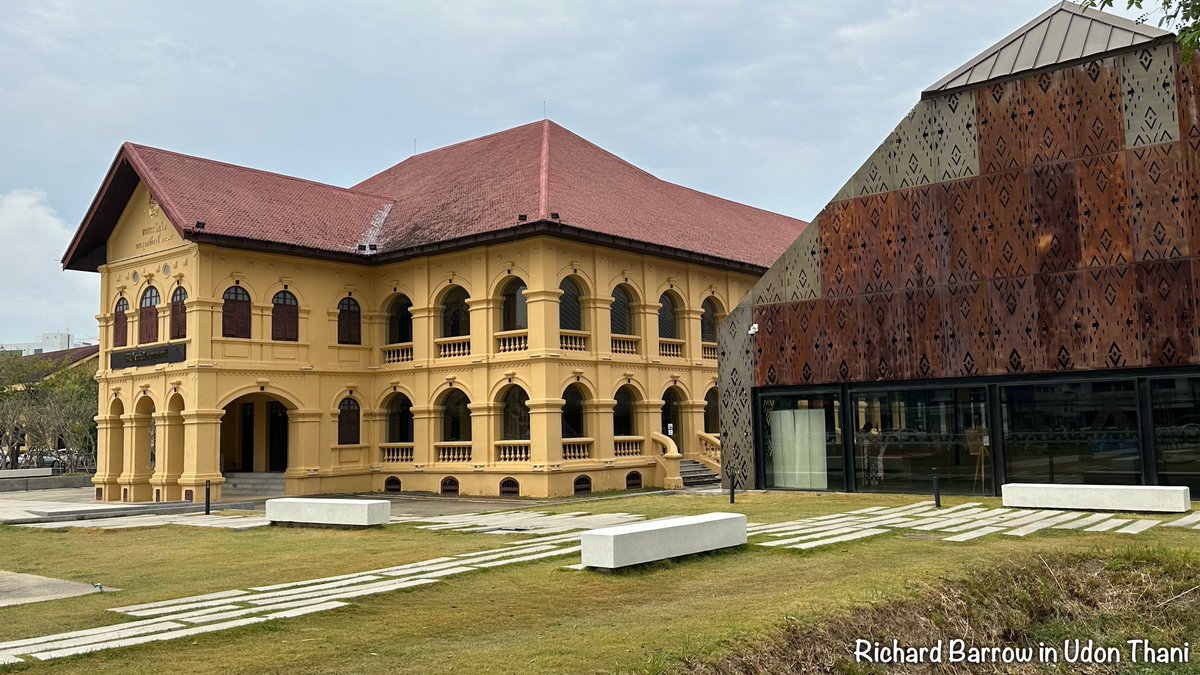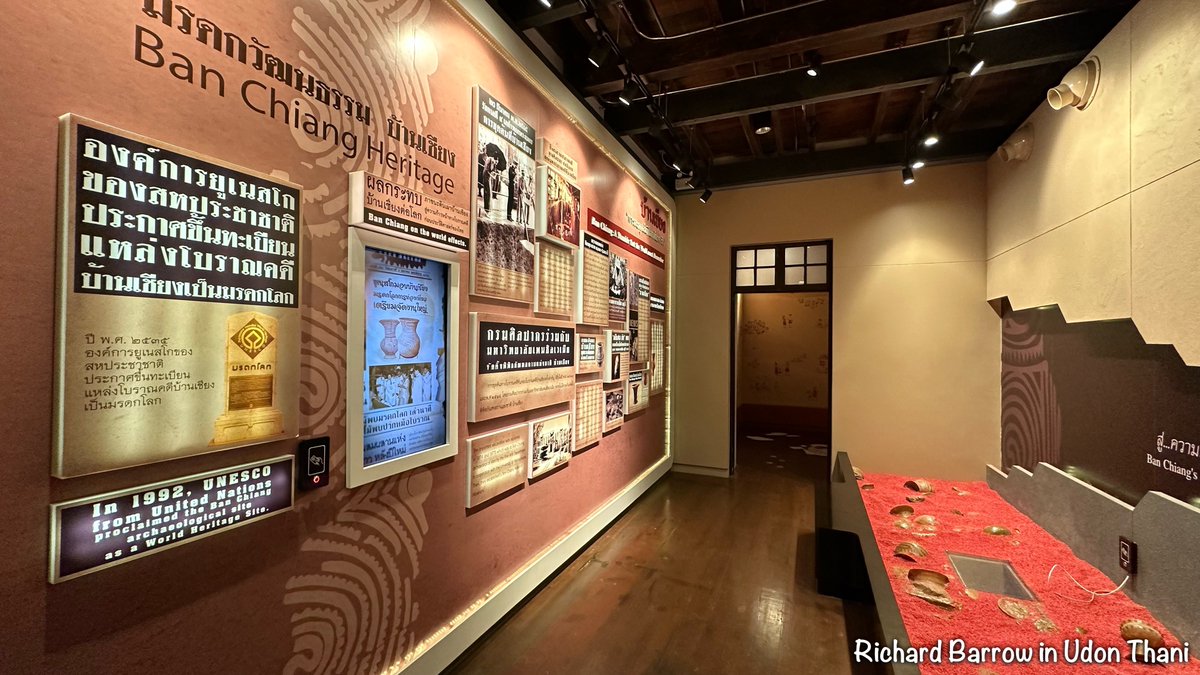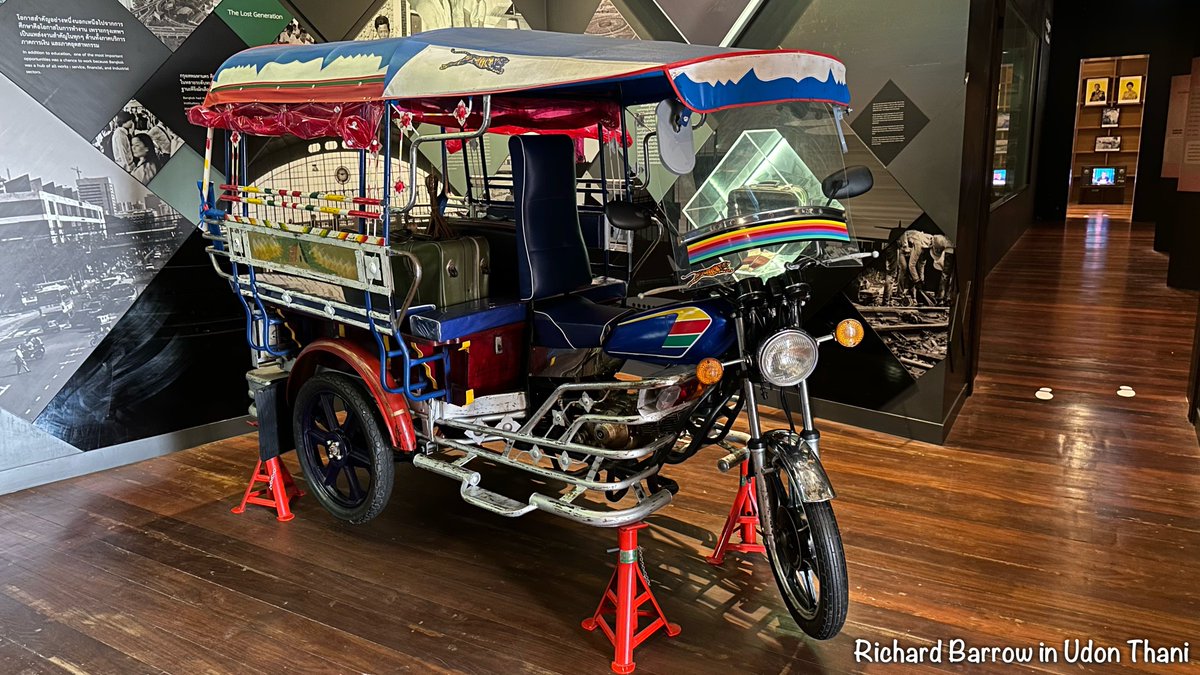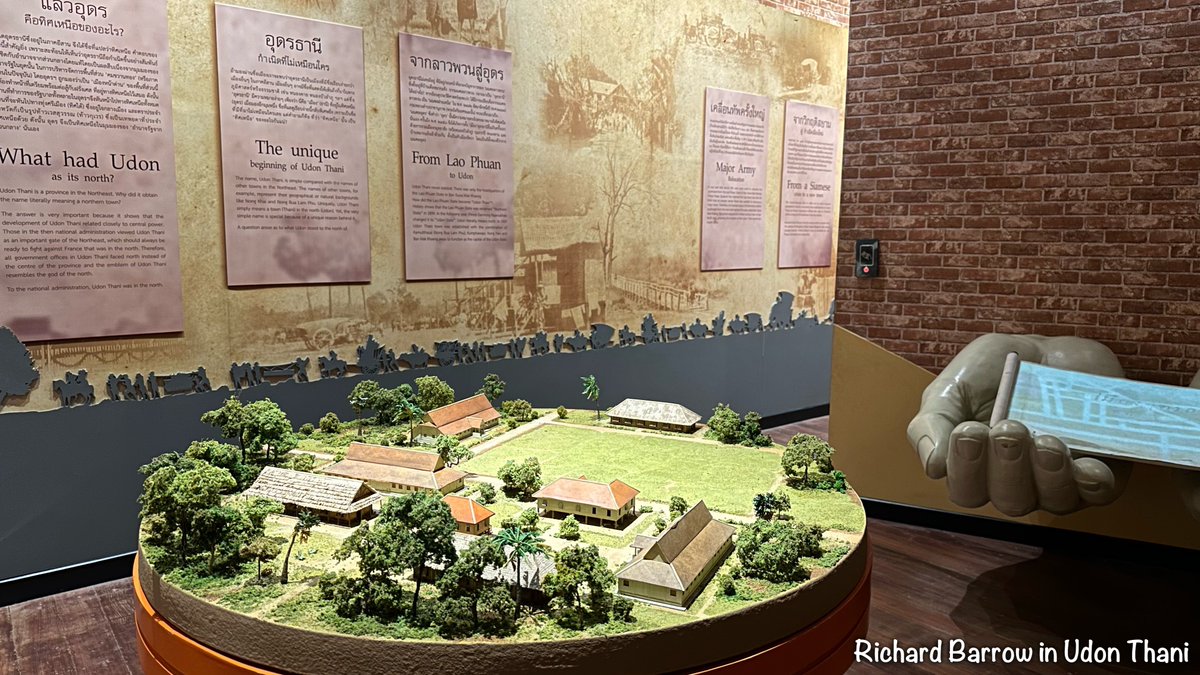 [9] The Thai-Chinese Cultural Center has a fascinating museum that tells the story of the Thai-Chinese people who first settled in Udon Thani. It also explains their culture and festivals. Well worth a visit. All exhibit signs are bilingual.
📍MAP: maps.app.goo.gl/VEK1mUP766wQZu…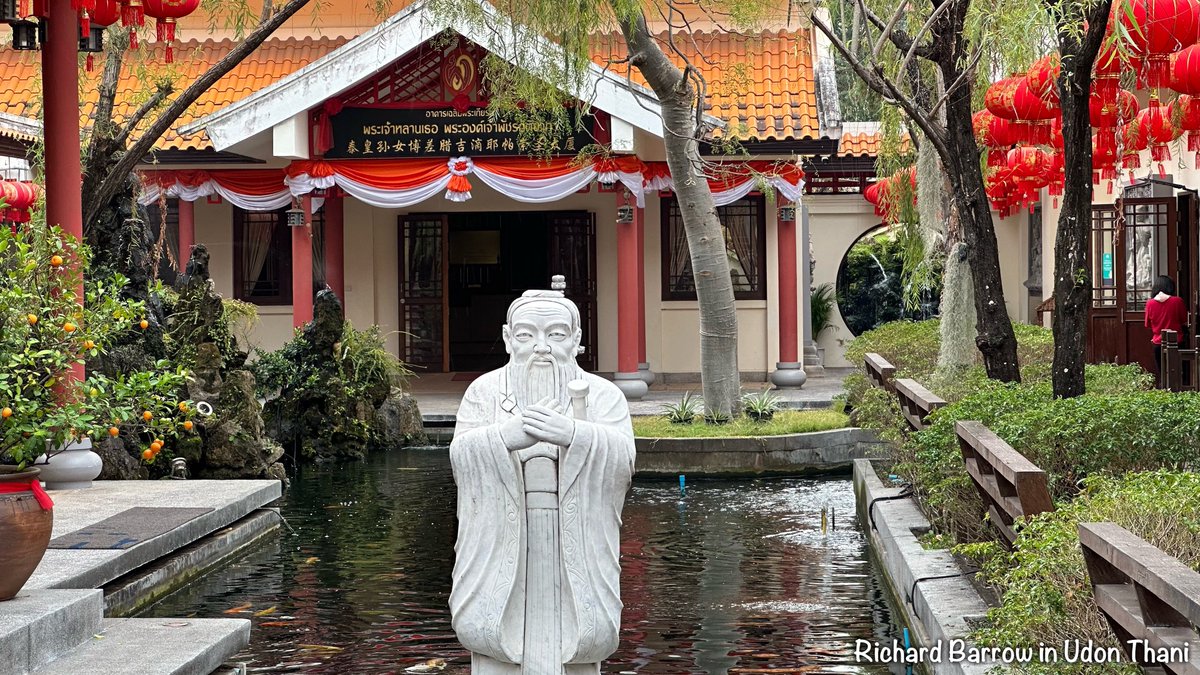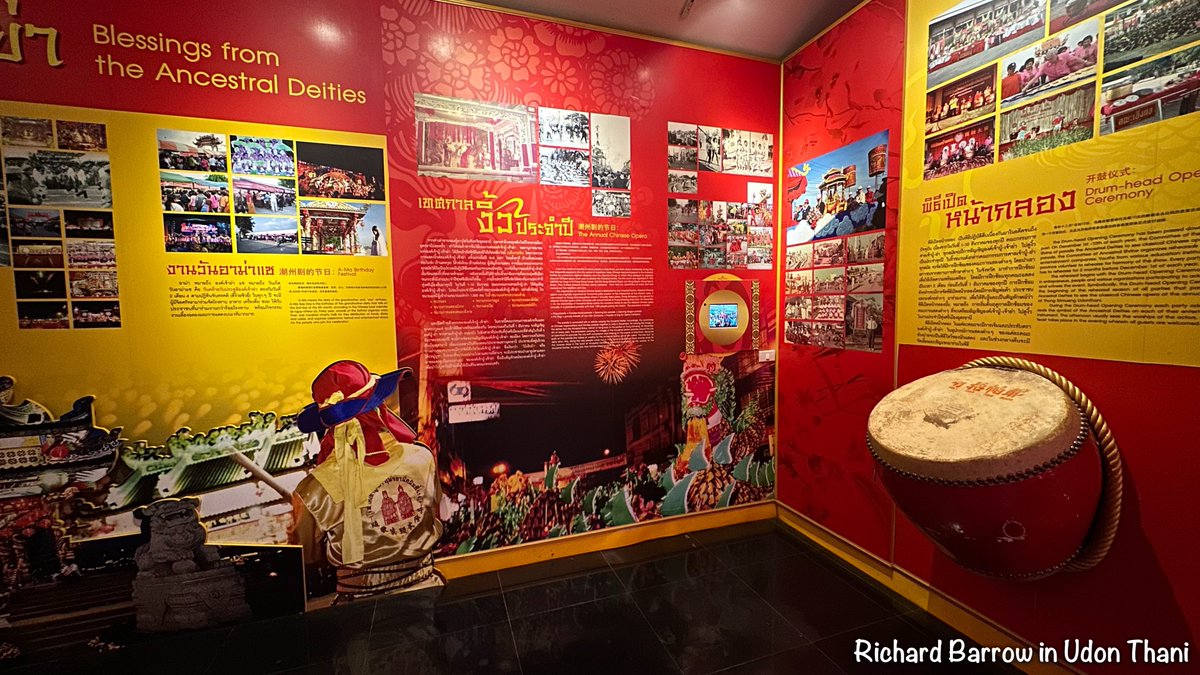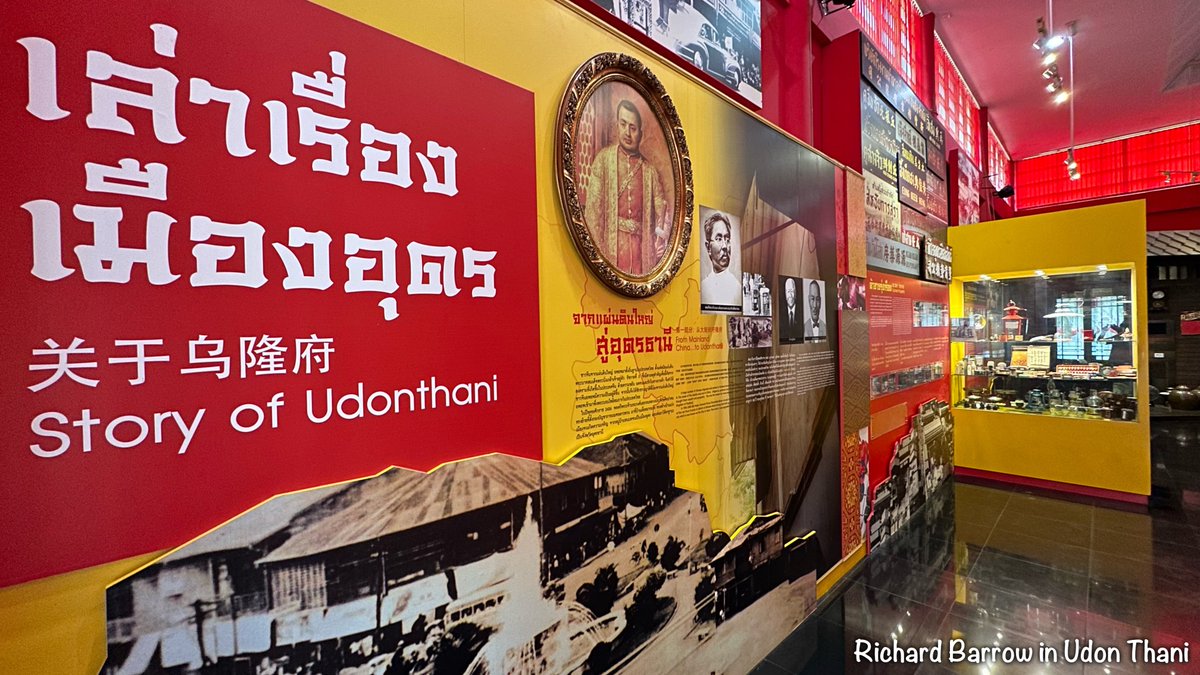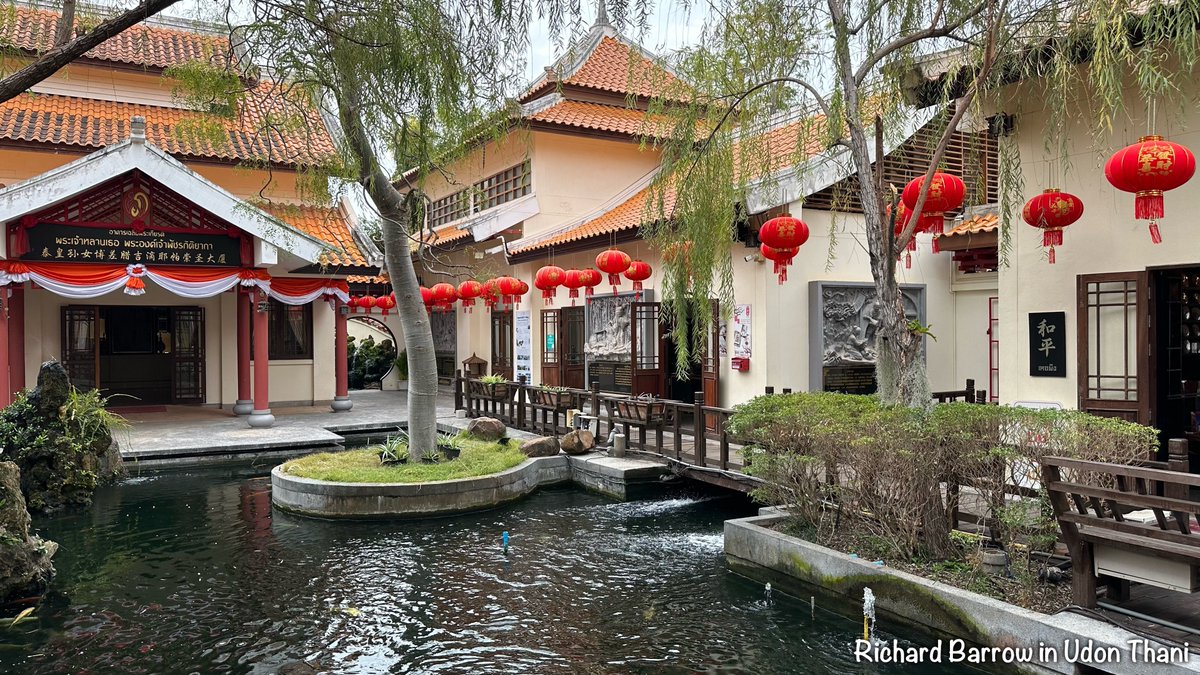 [10] Late lunch today was at Arunee Vietnamese Cuisine restaurant in Udon Thani. They were recently awarded a Bib Gourmand in Michelin Guide Thailand. It was delicious and I recommend it.
📍MAP: maps.app.goo.gl/dAEMm8PmojfdWN…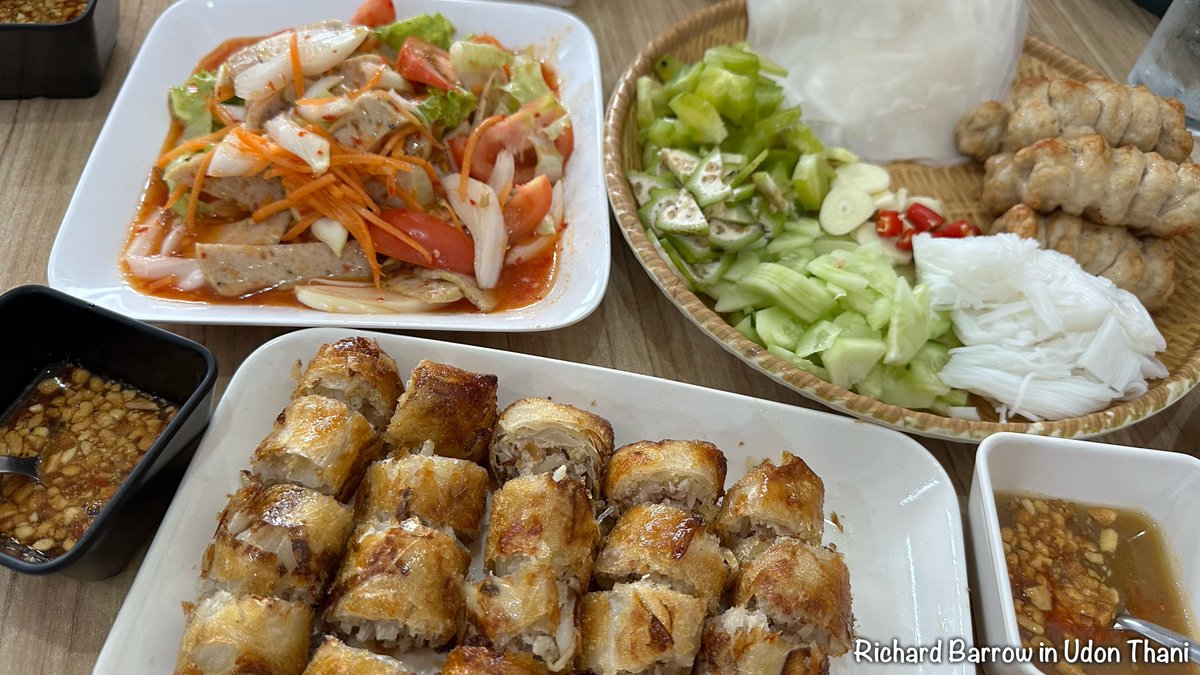 [11] Udon Thani Walking Street takes place every Friday and Saturday evening near the city pillar and city hall. Lots of good food, so come hungry.
📍MAP: maps.app.goo.gl/gUG9VhJpzp41L8…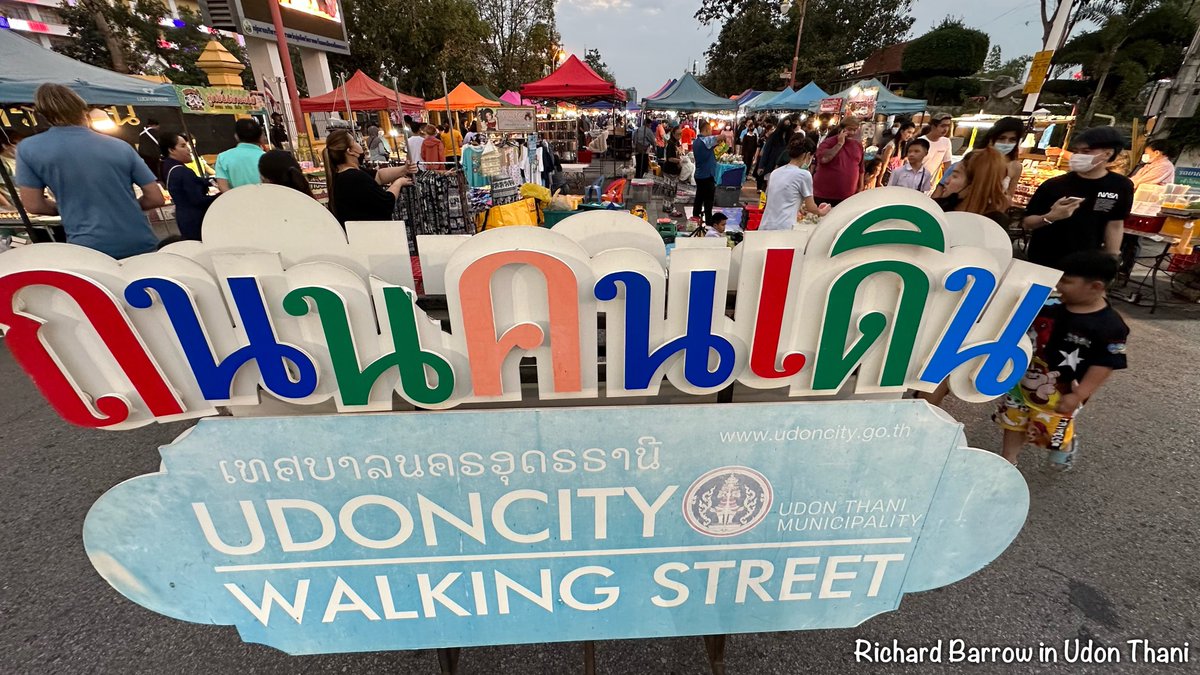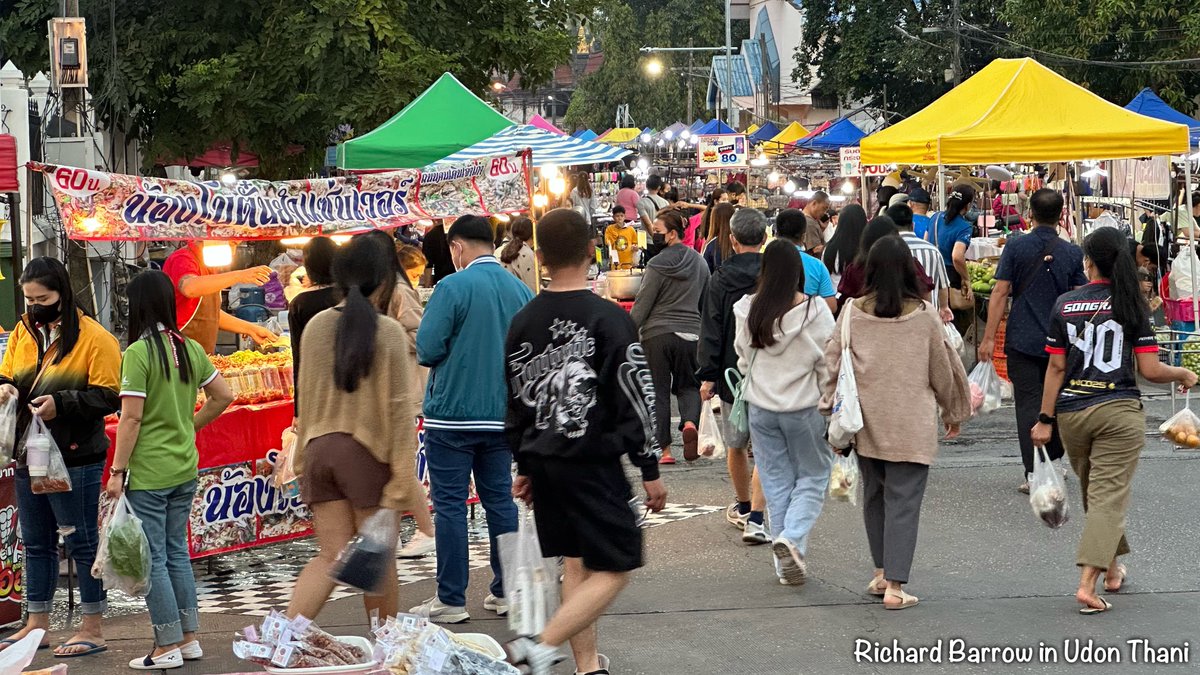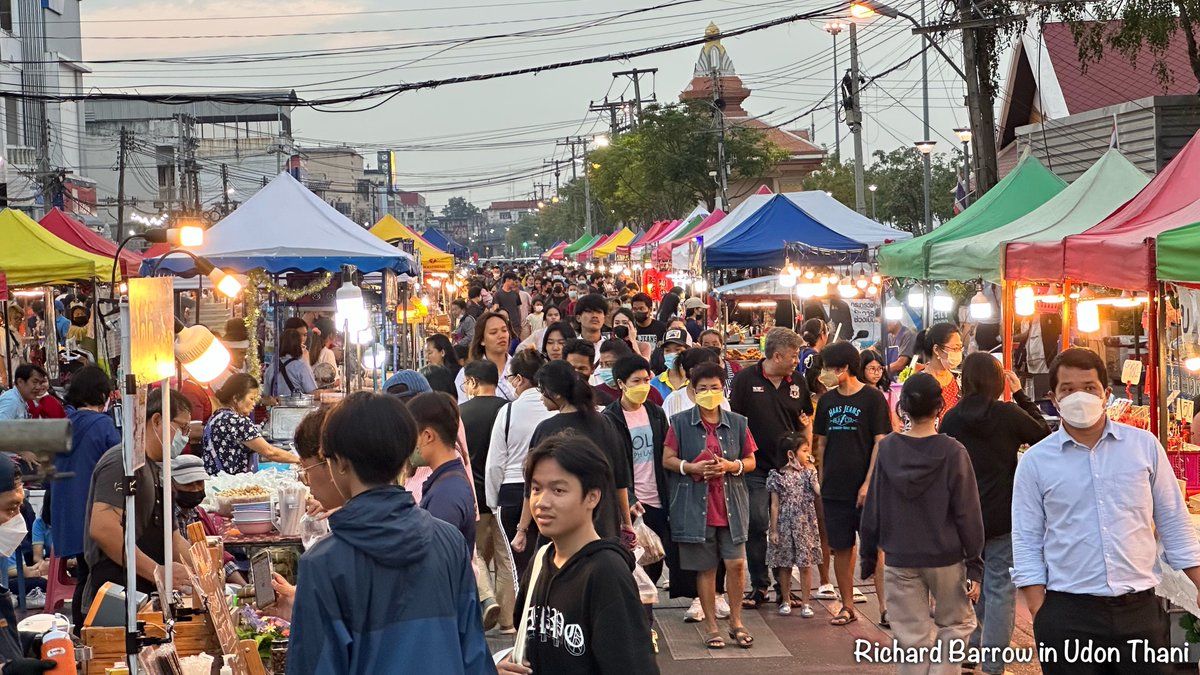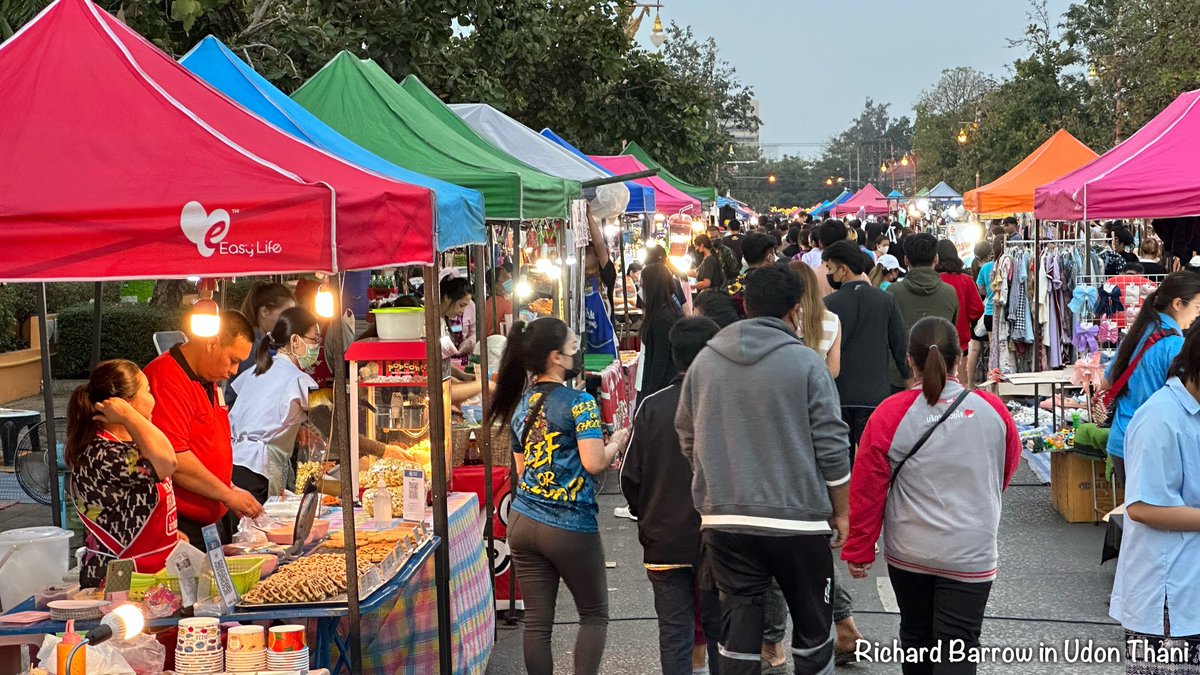 [12] Good morning from Hotel MOCO in Udon Thani. I chose this hotel as it was very near the railway station. Looks like a new one.
I have the driver and car again all day today. The sleeper train back to Bangkok is at 8:20pm.
📍MAP: maps.app.goo.gl/2QYNGySHhrhfrS…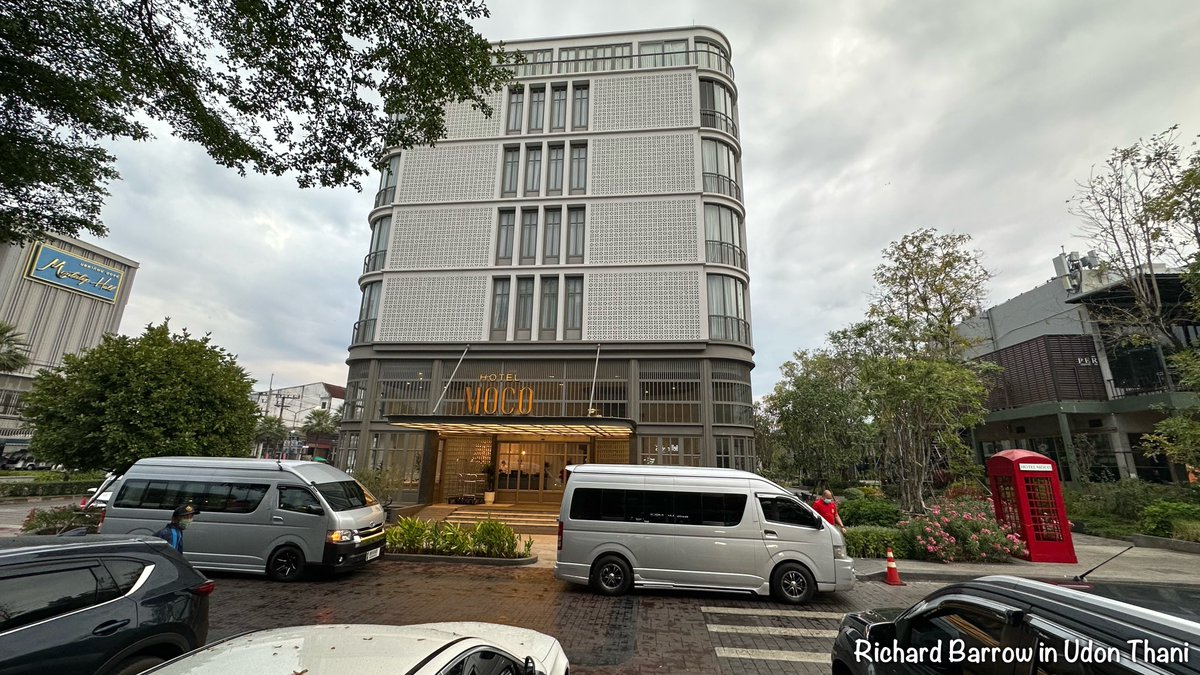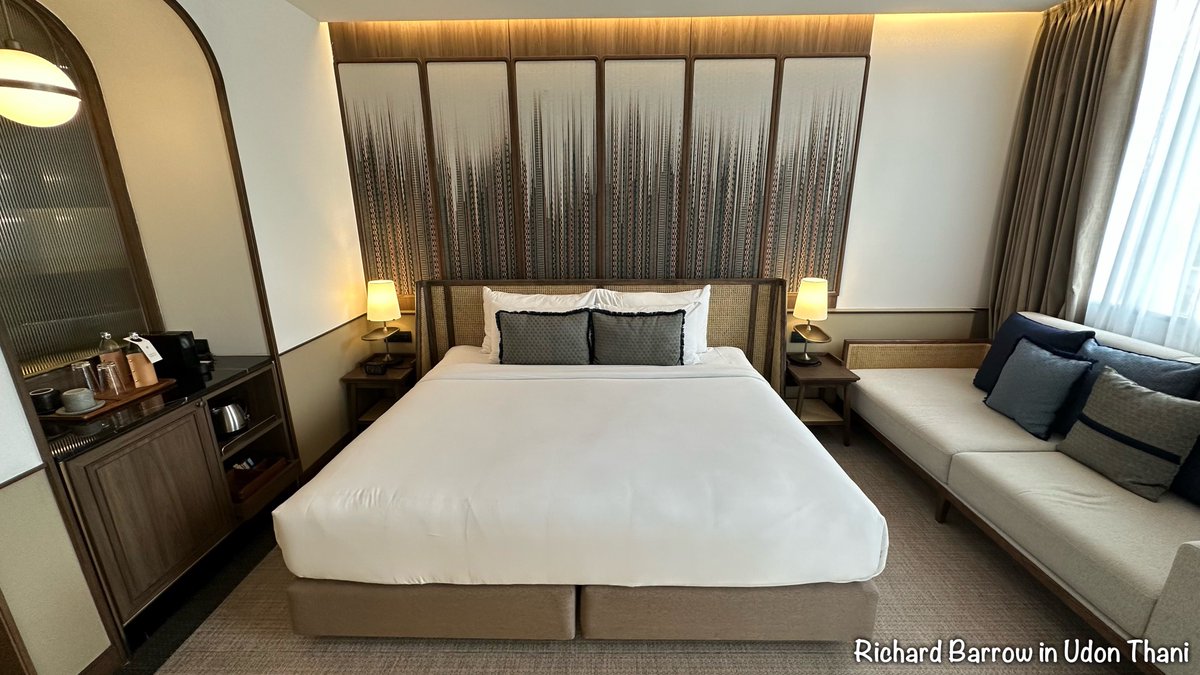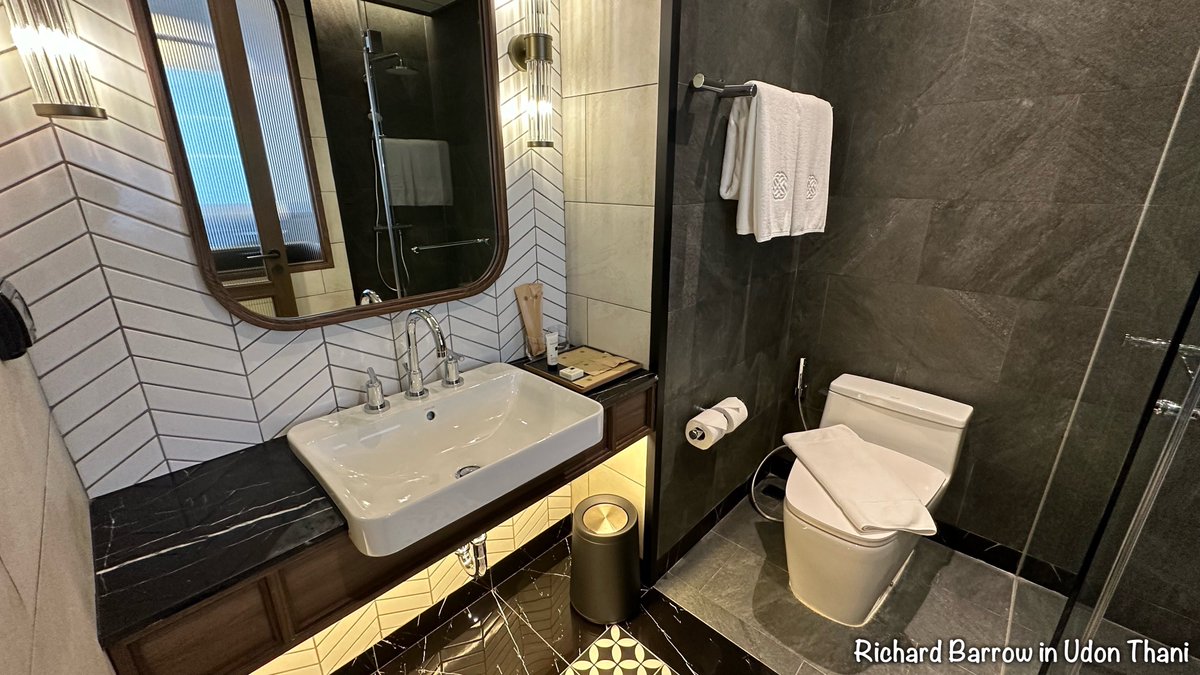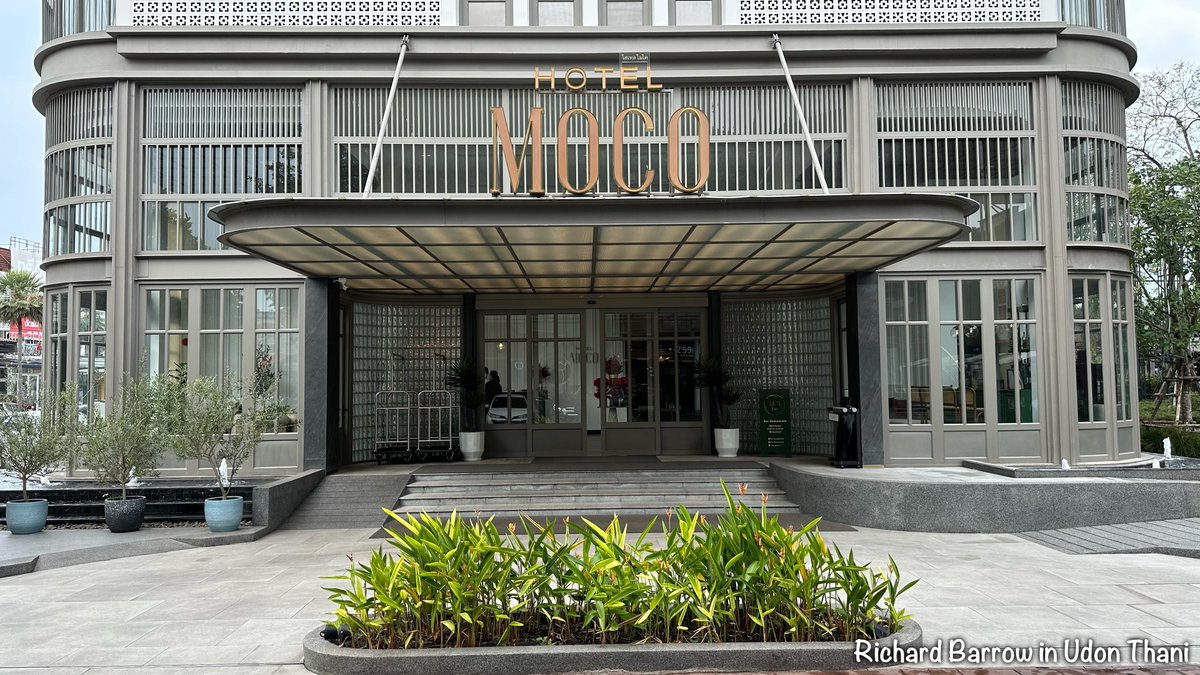 [13] My breakfast was duck noodle soup at Peng Duck Noodles in Udon Thani. They were awarded a Bib Gourmand in the latest edition of Michelin Guide Thailand. It was okay but not something you would cross town for, which is exactly what I did!
📍MAP: maps.app.goo.gl/kJb85KaQ6GXQd7…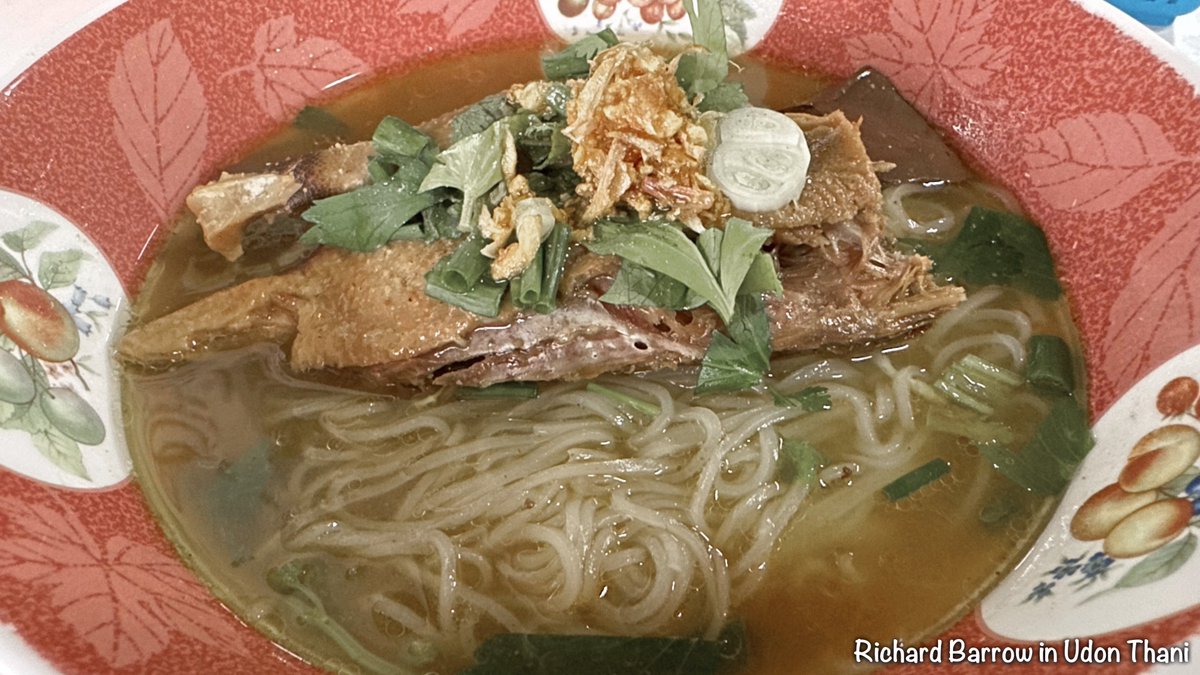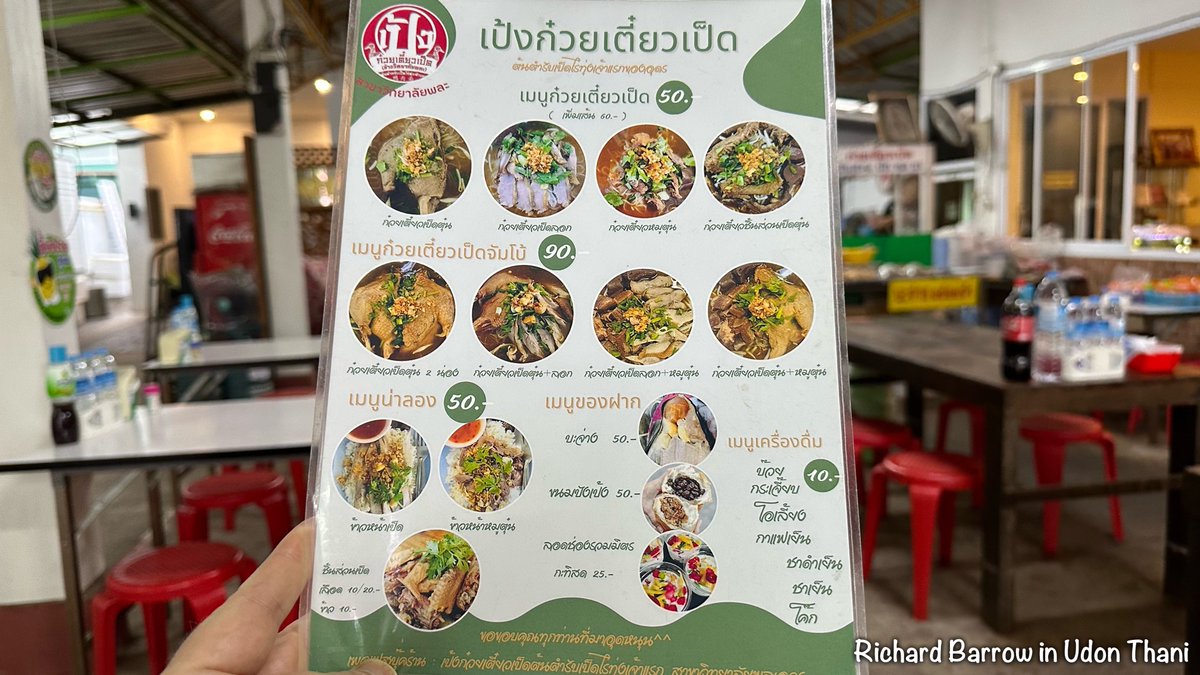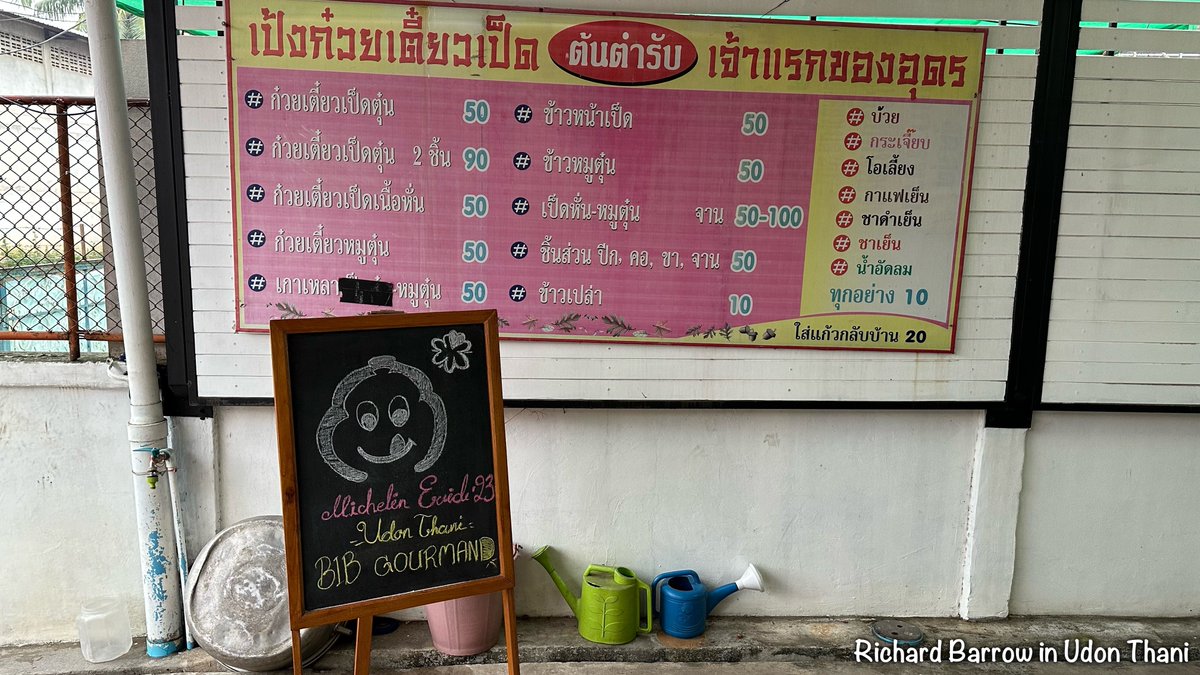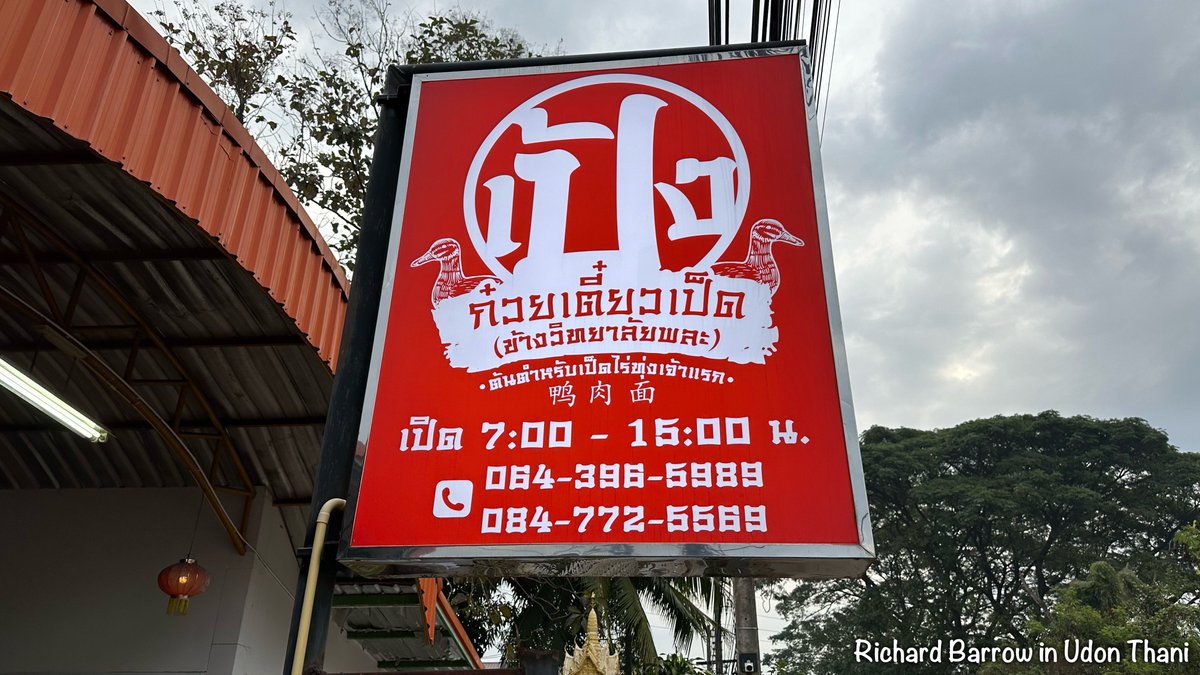 [14] Phu Phra Bat Historical Park in Udon Thani is important for its unusually shaped rock formations, religious shrines, and prehistoric cave paintings. Entrance fee is 100 Baht. There's a good bilingual exhibition in the information centre.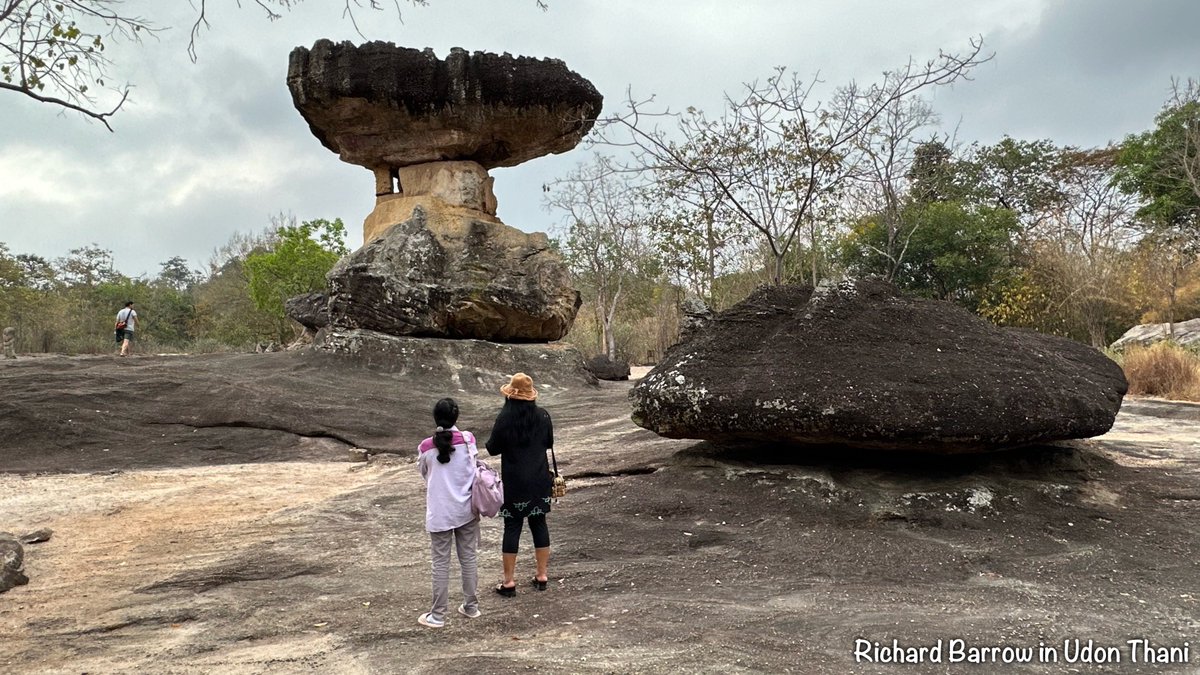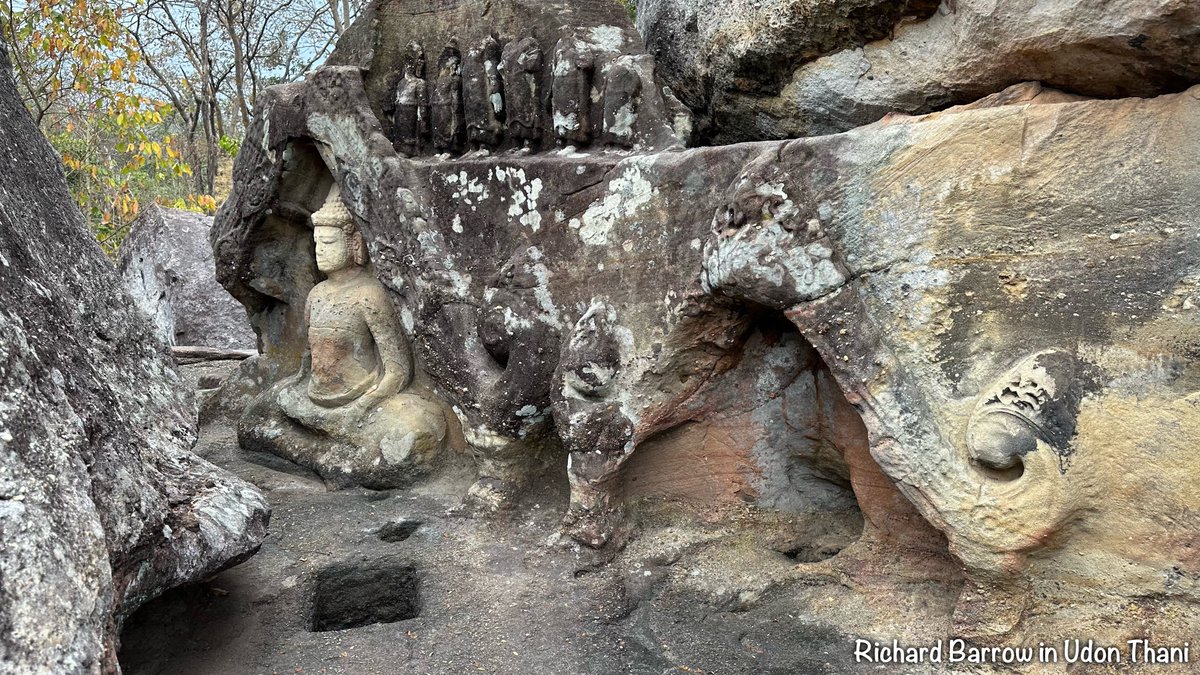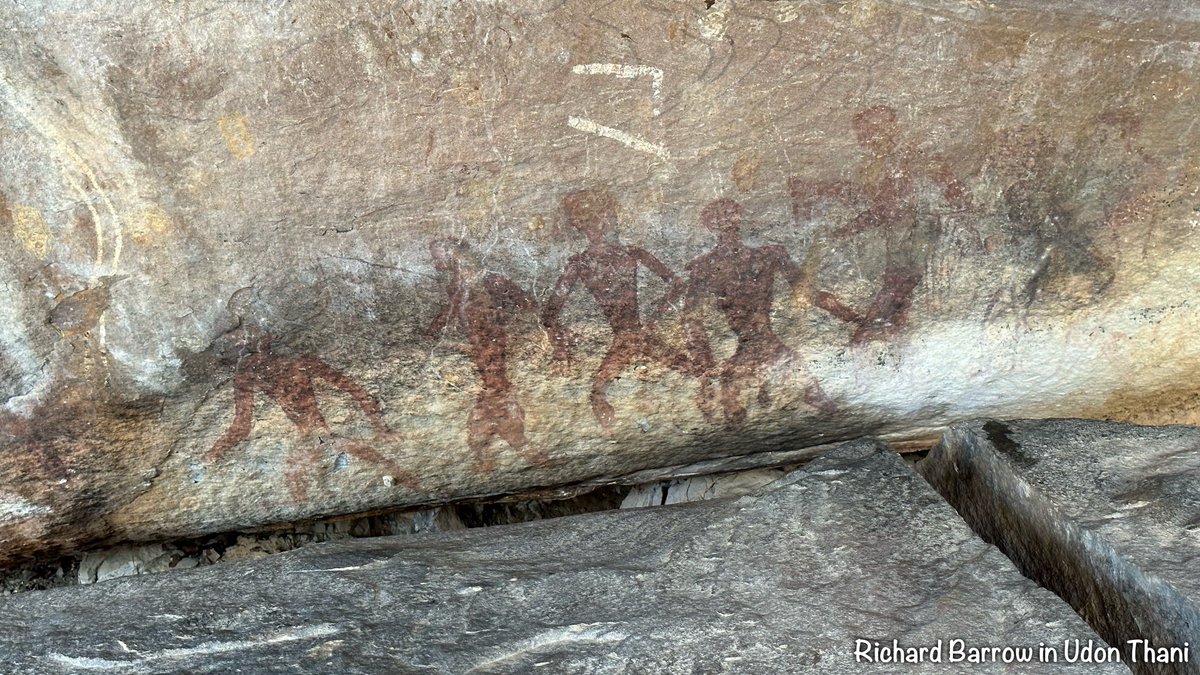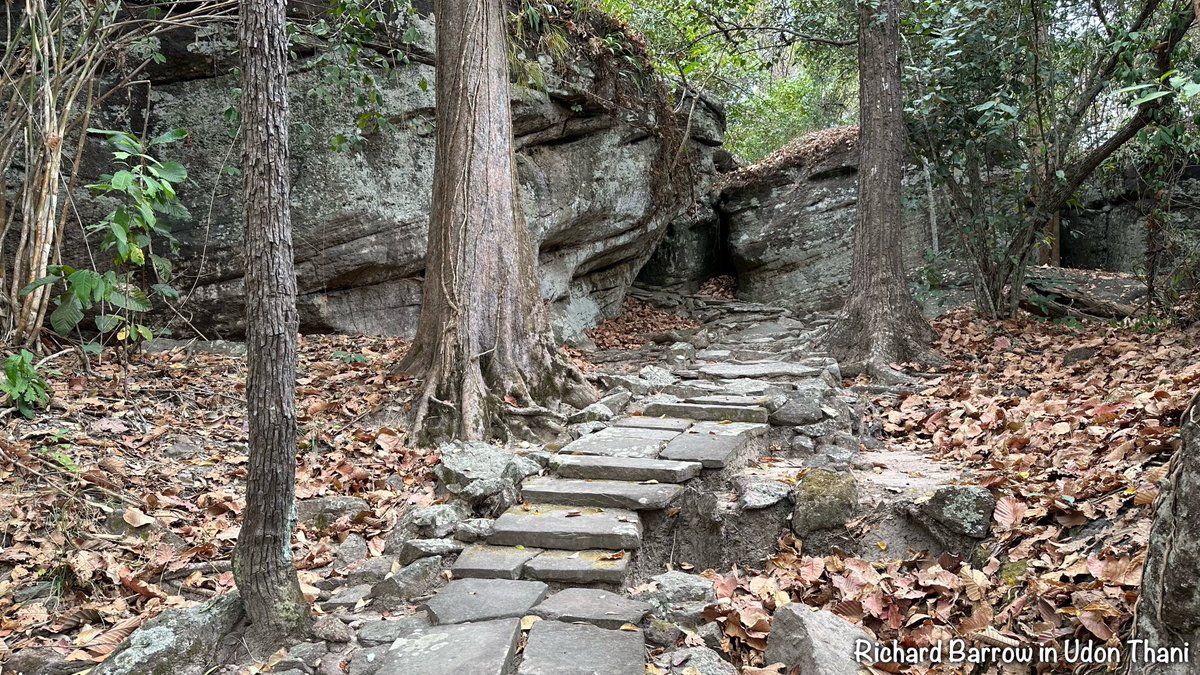 [15] It takes around 90 minutes to do the big walk around Phu Phra Bat. Plenty of interesting rock formations. Some are like that from natural erosion. Others have been modified. There are golf carts for the elderly to take them to the highlight.
📍MAP: maps.app.goo.gl/pM6DomB6bXCLKb…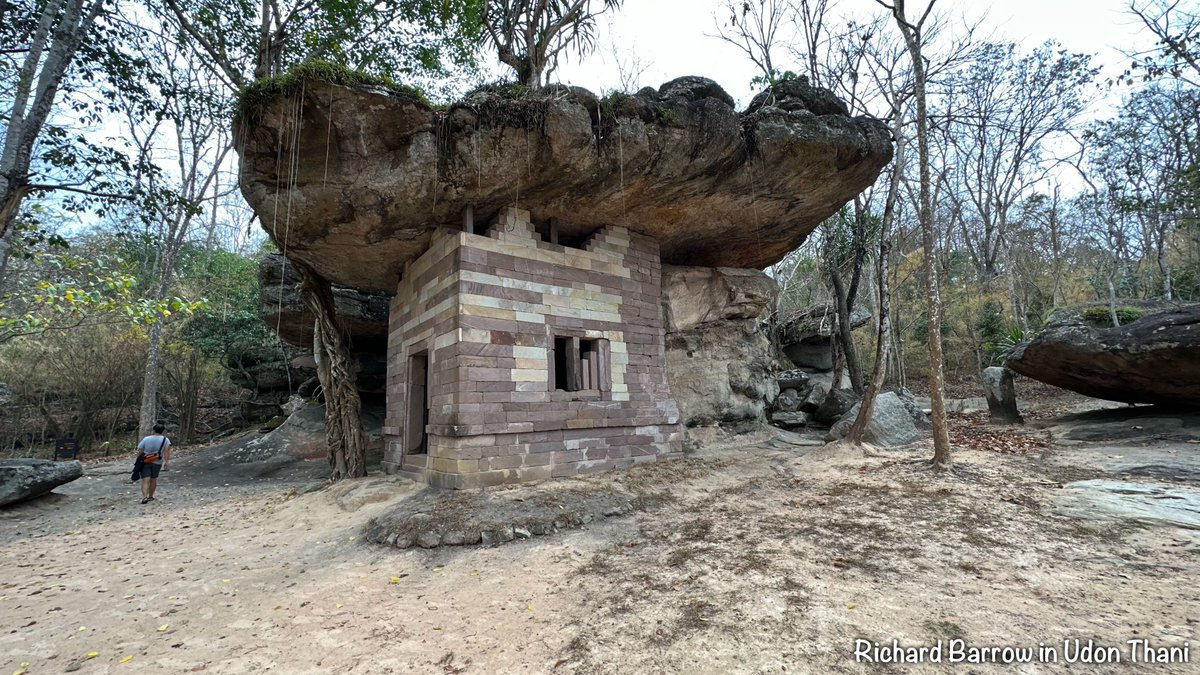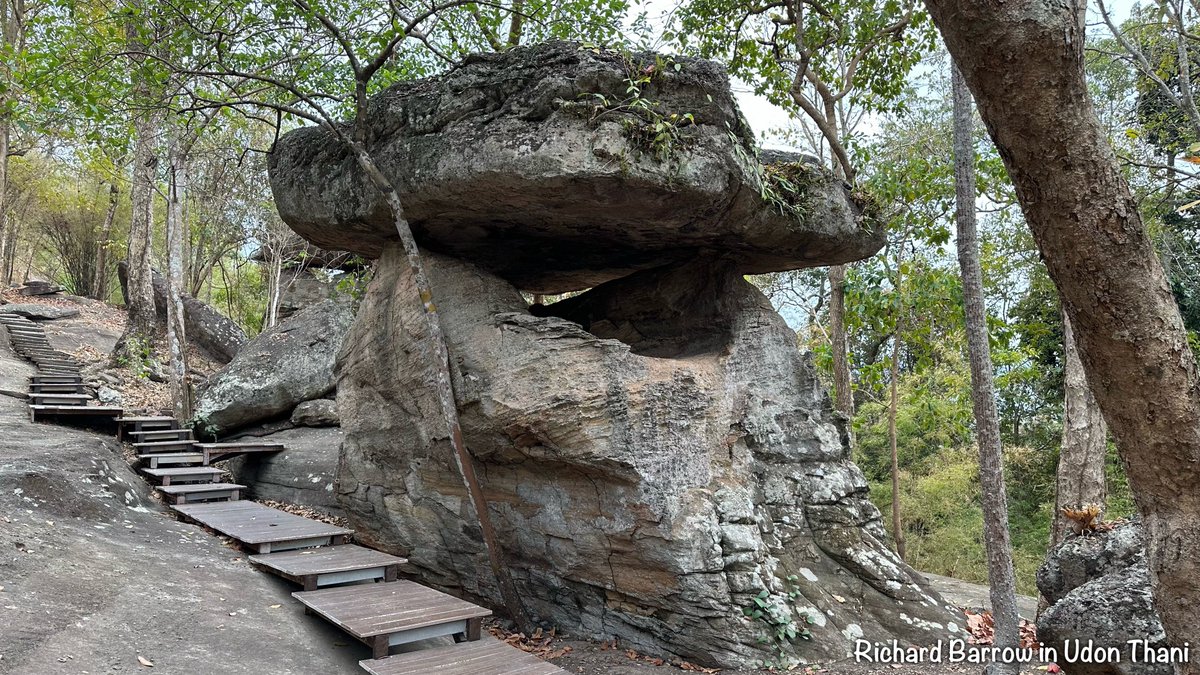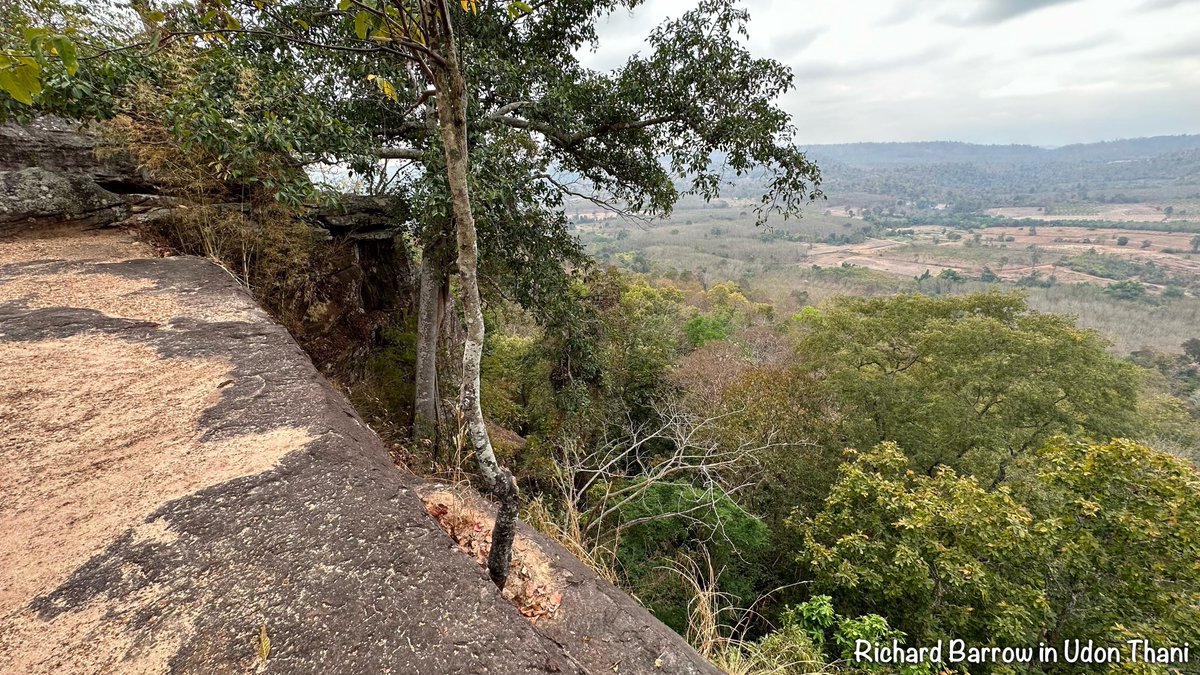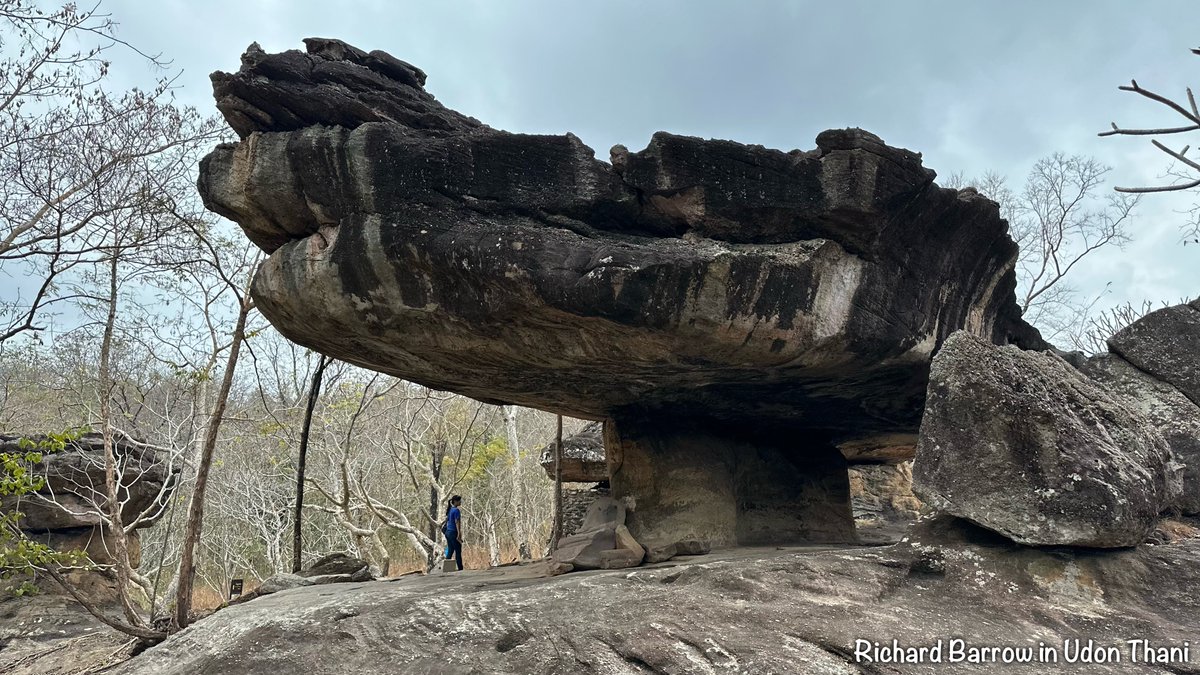 [16] Lunch today was at Khanom Jeen Mae Pen in Na Yung district of Udon Thani. The Khanom Jeen set was 100 Baht and came with three curries and noodles in seven colours.
📍MAP: maps.app.goo.gl/41U19bRz7BV8FN…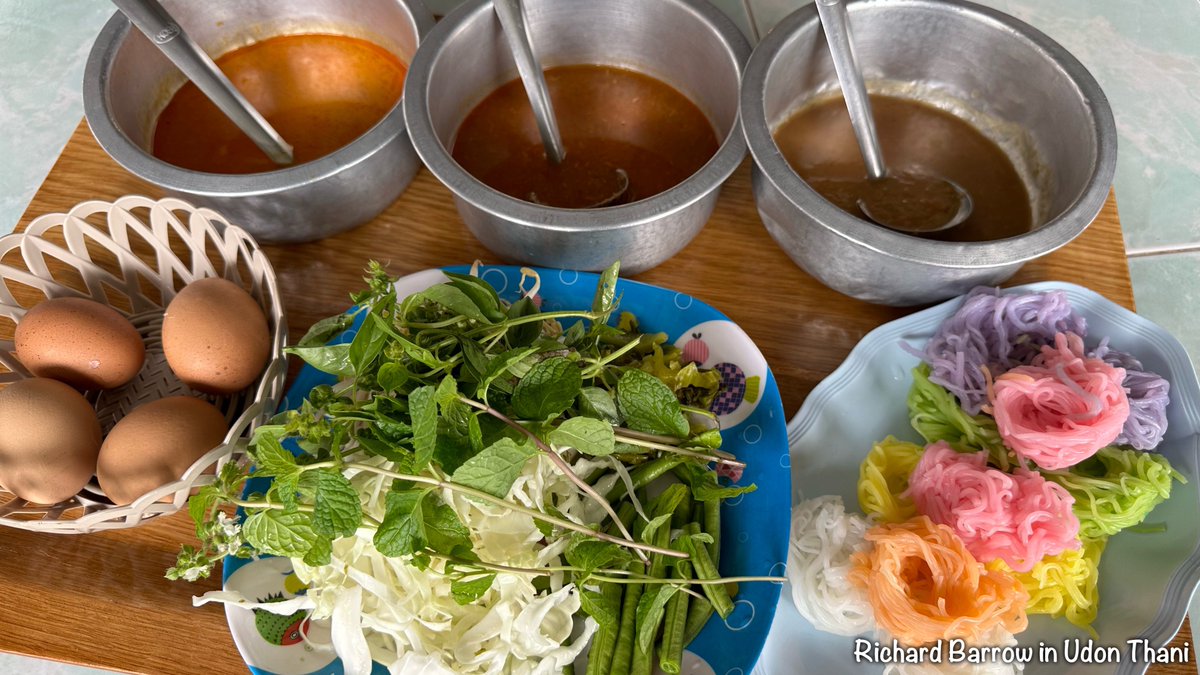 [17] My next stop is Wat Pa Phu Kon which is on top of a hill in Na Yung district of Udon Thani. At the weekend you are not allowed to drive to the top. You have to pay 30 Baht to take the songtaew to the top.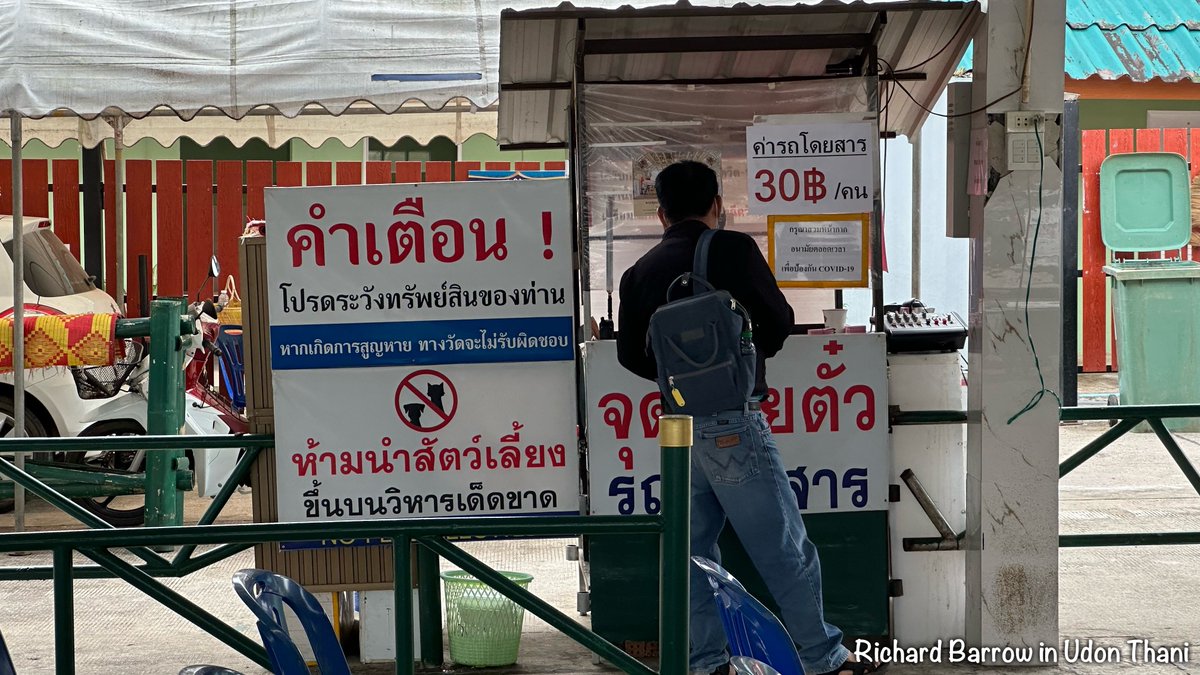 [18] Wat Pa Phu Kon is on top of a hill in Na Yung-Nam Som National Forest in Udon Thani but it's also close to the provinces of Loei and Nong Khai. The temple is built in modern Rattanakoson style and houses a 20-metre long reclining Buddha image.
📍MAP: maps.app.goo.gl/tCoYxEJmzYFo2Y…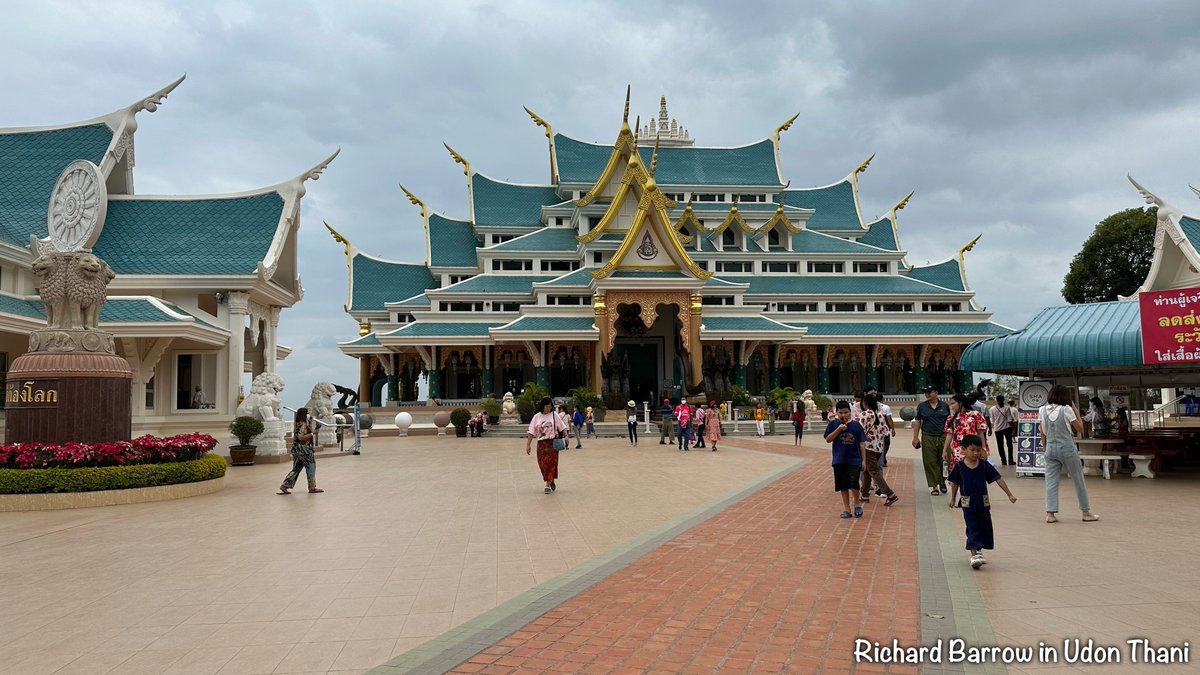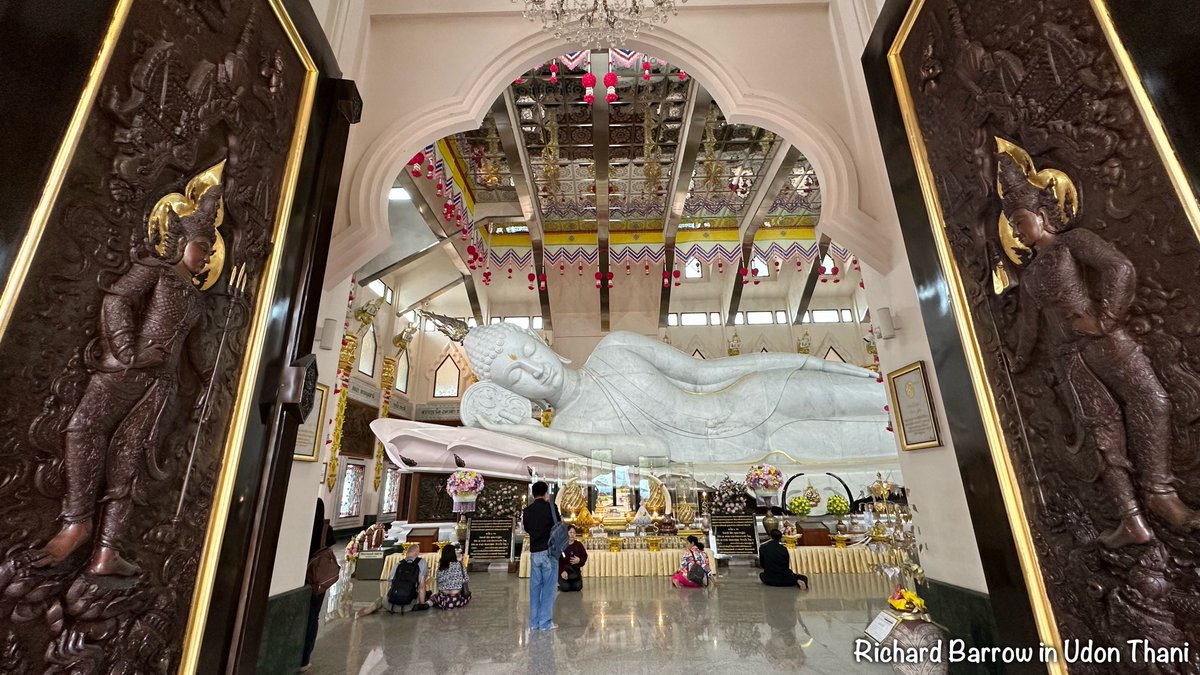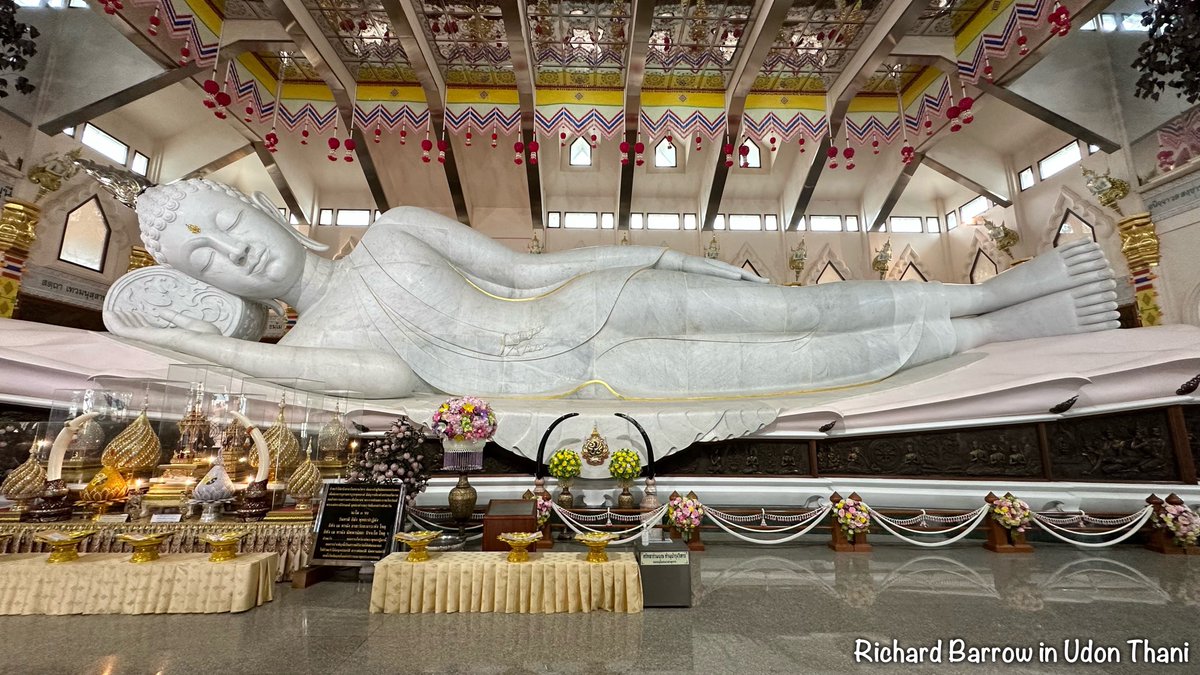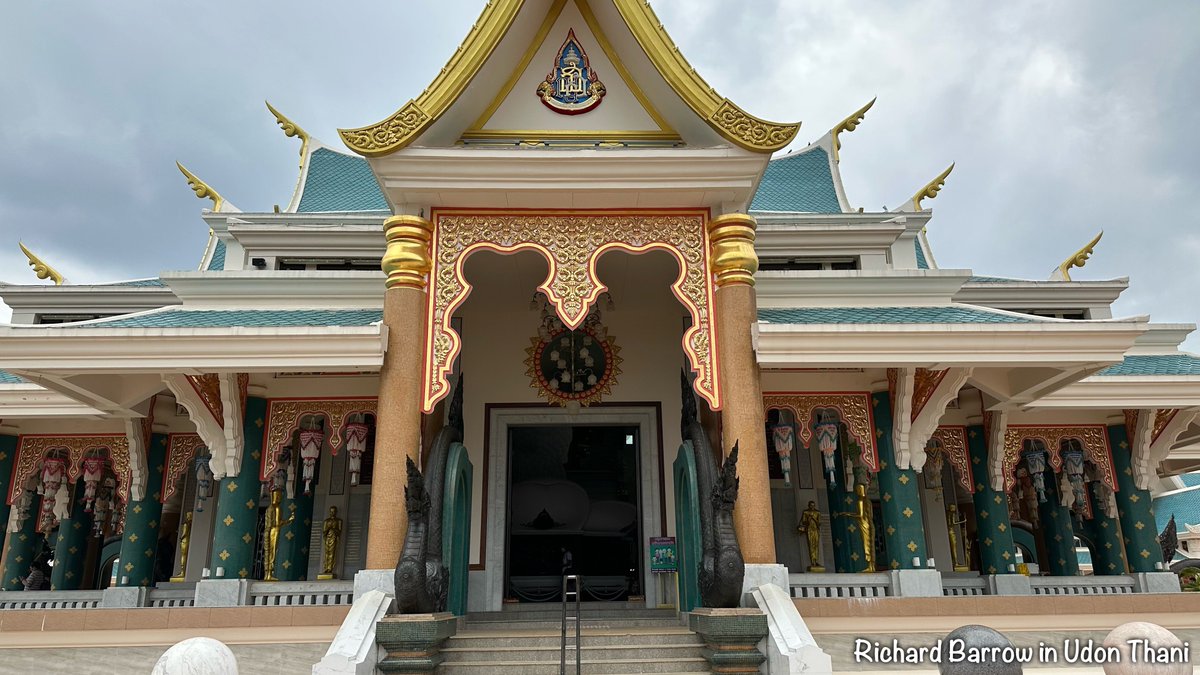 [19] Some of the best views of Wat Pa Phu Kon and the surrounding forest is from a drone. To fly you need to seek written permission and also show them your flying license. You are then restricted how near you can fly. These are my drone photos from today.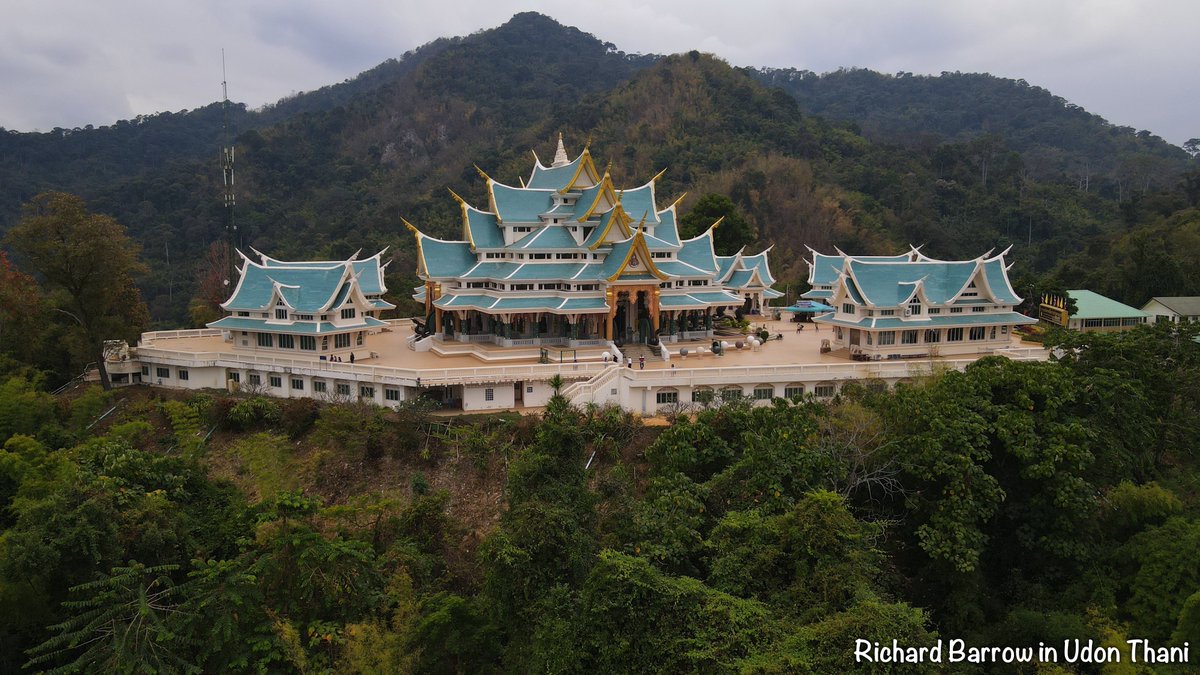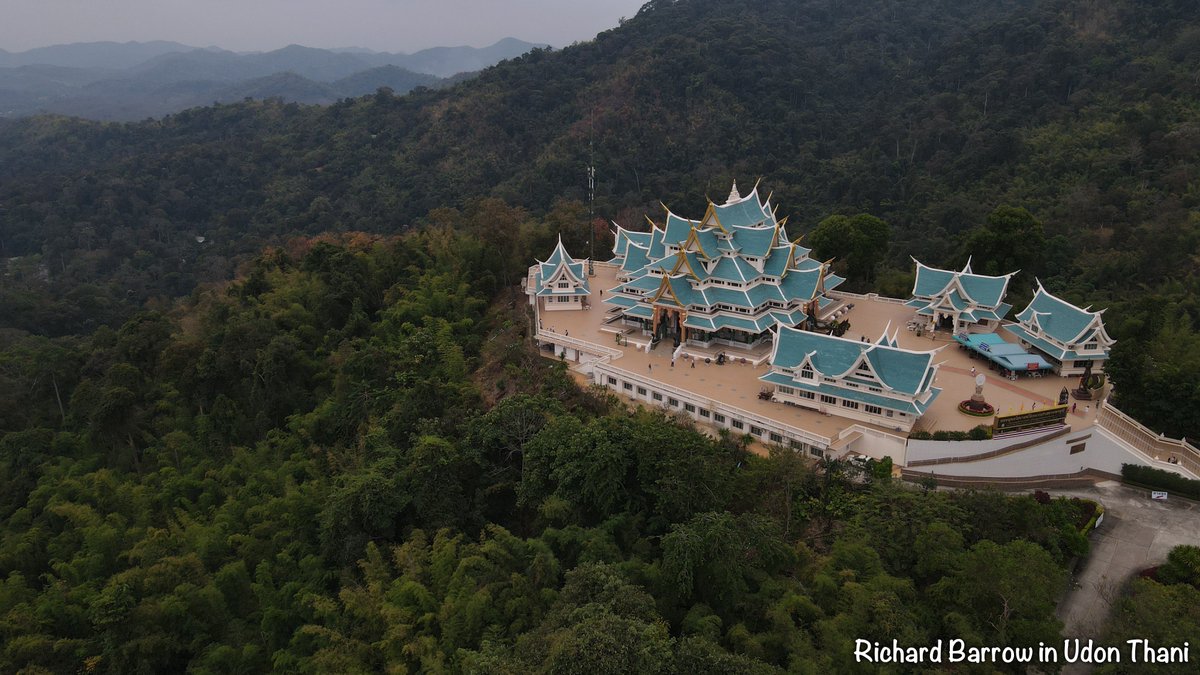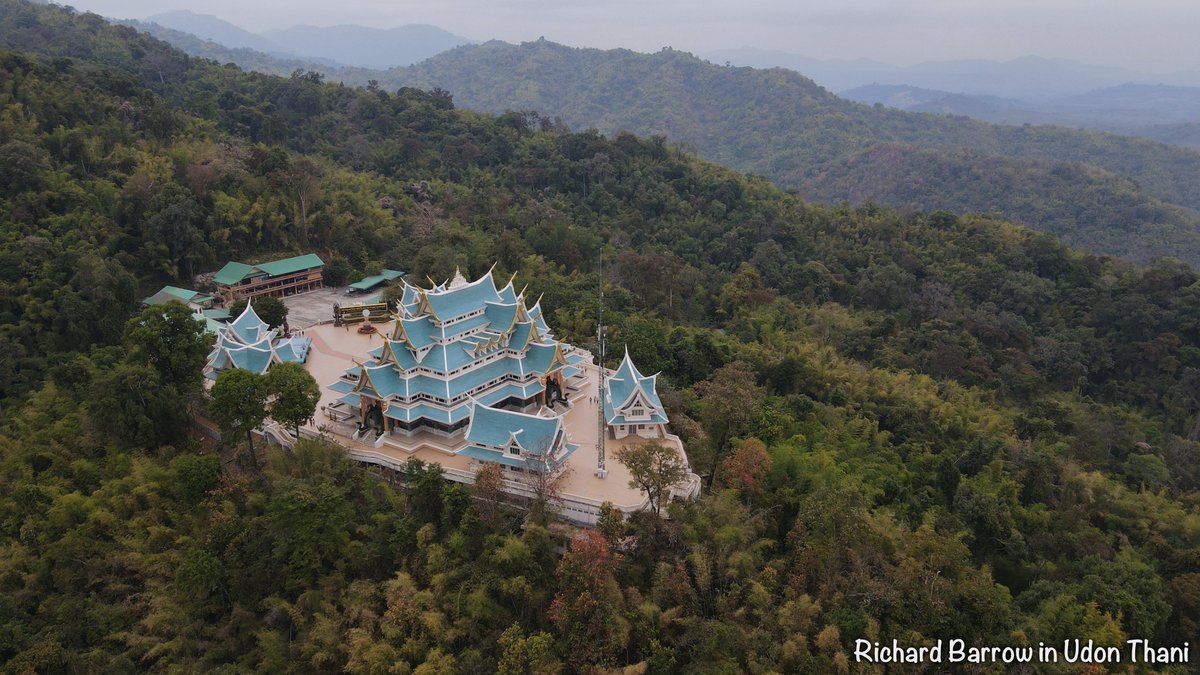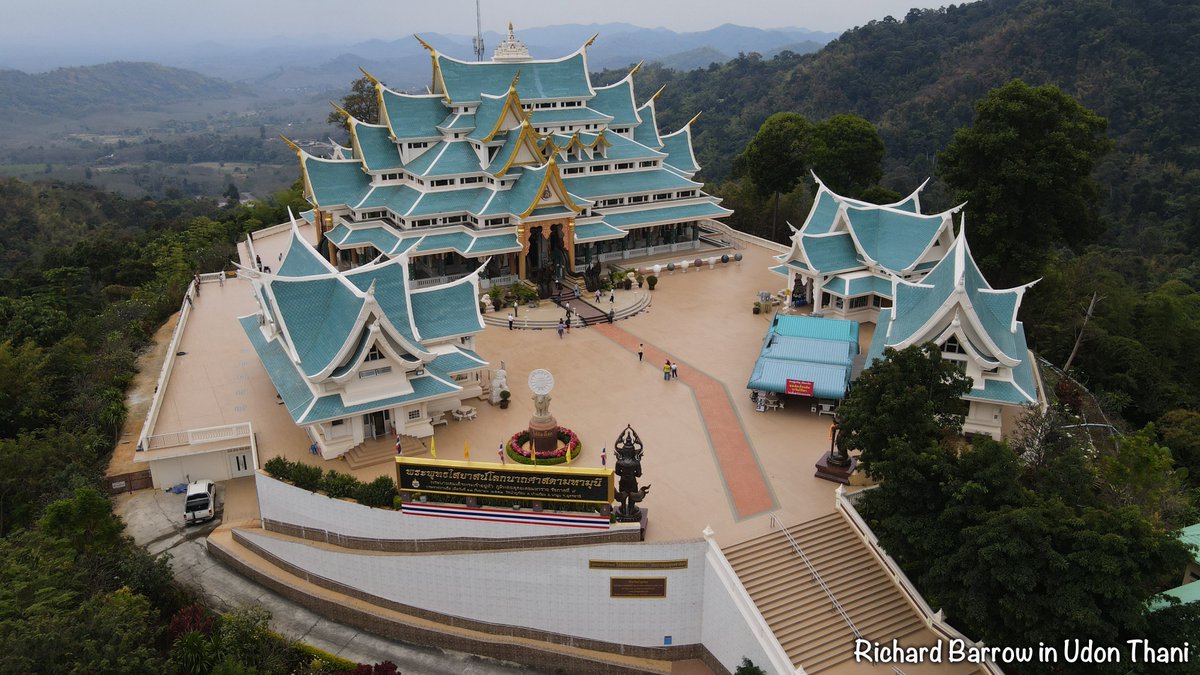 [20] On either side of Udon Thani Railway Station there is a good choice for food. On the northern side is the Train Night Market.
📍MAP: maps.app.goo.gl/6AGhisrNeSQQUP…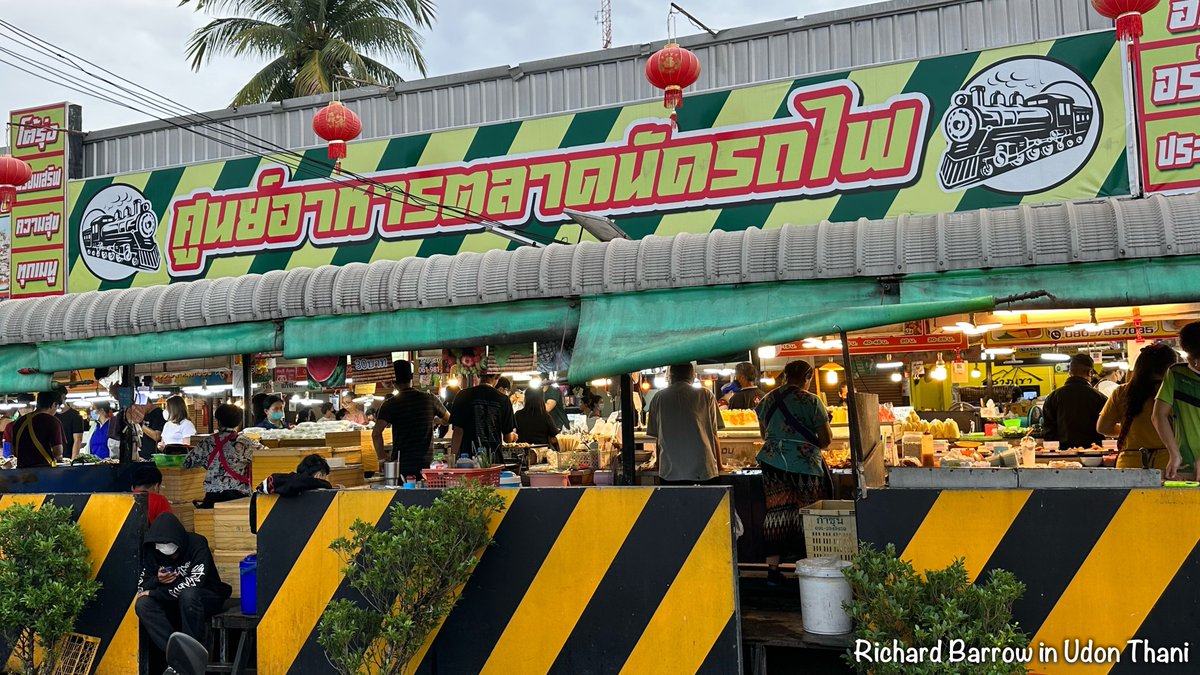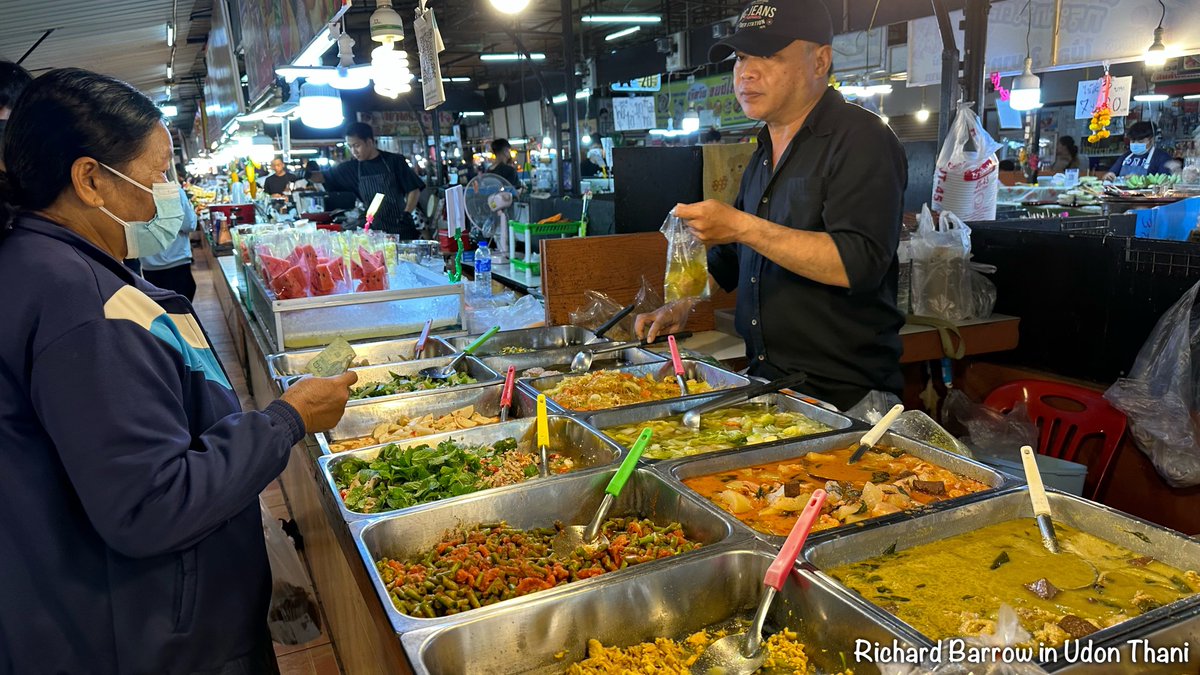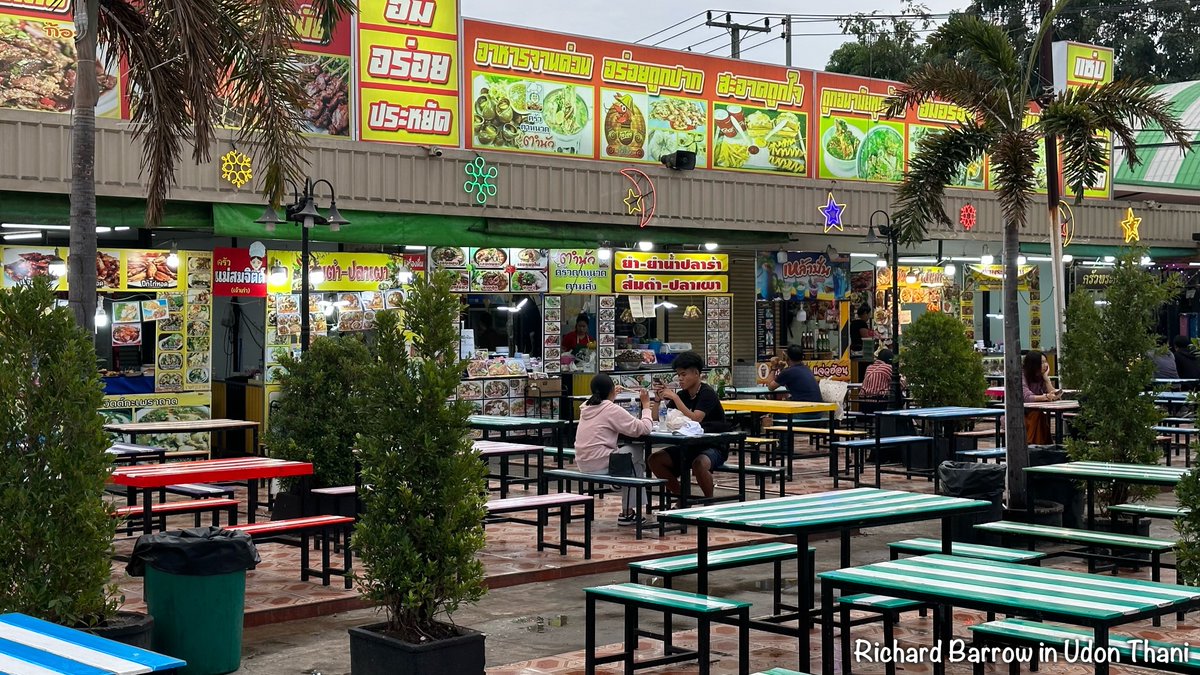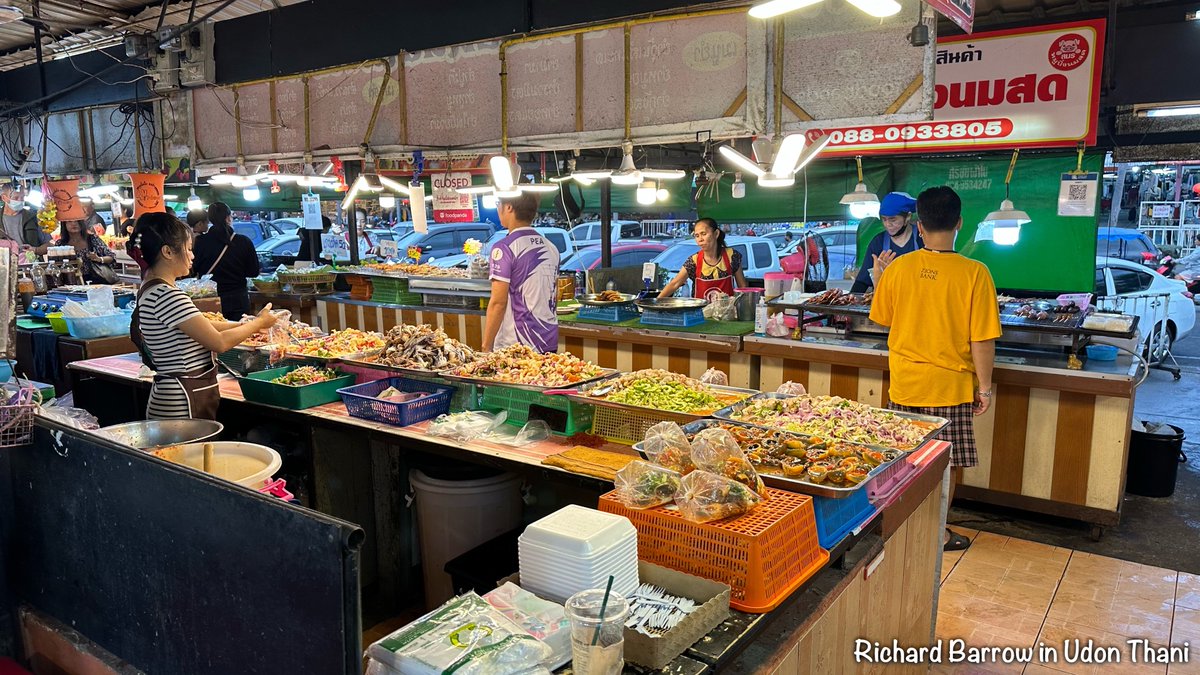 [21] On the southern side of Udon Thani Railway Station is UD TOWN Food​ Center which is another good place to eat in Udon Thani. ​There are also franchise restaurants here including Hotel MOCO where I stayed last night.
📍MAP: maps.app.goo.gl/U77vpWeoxPWZxt…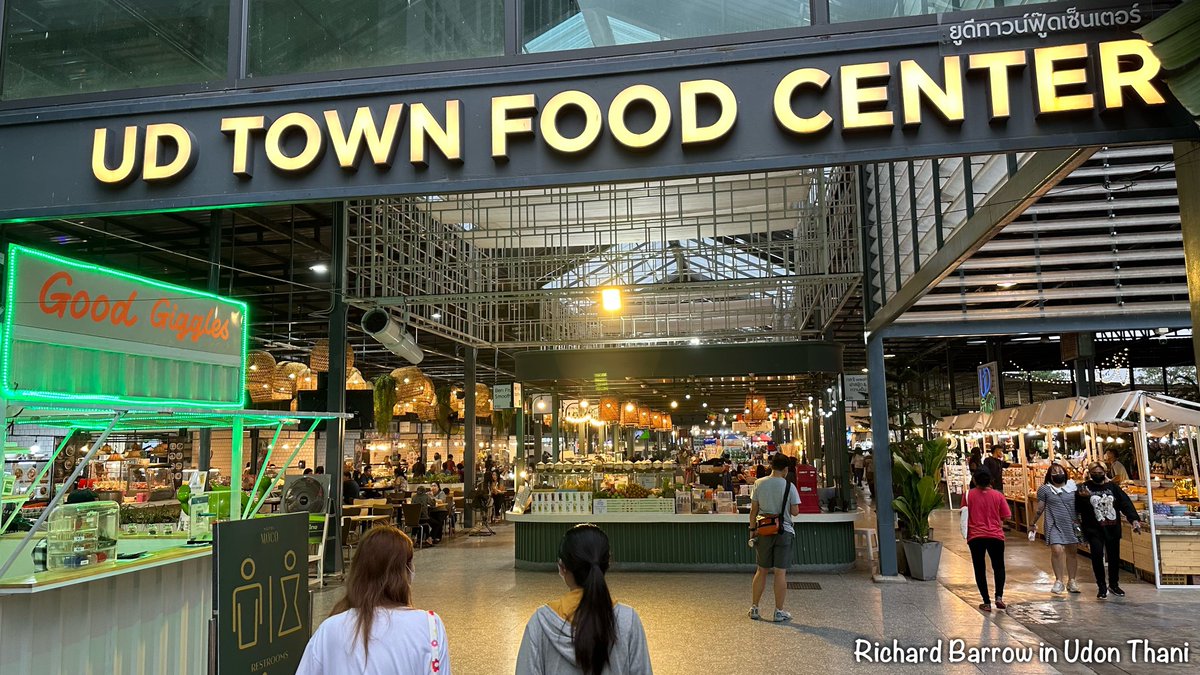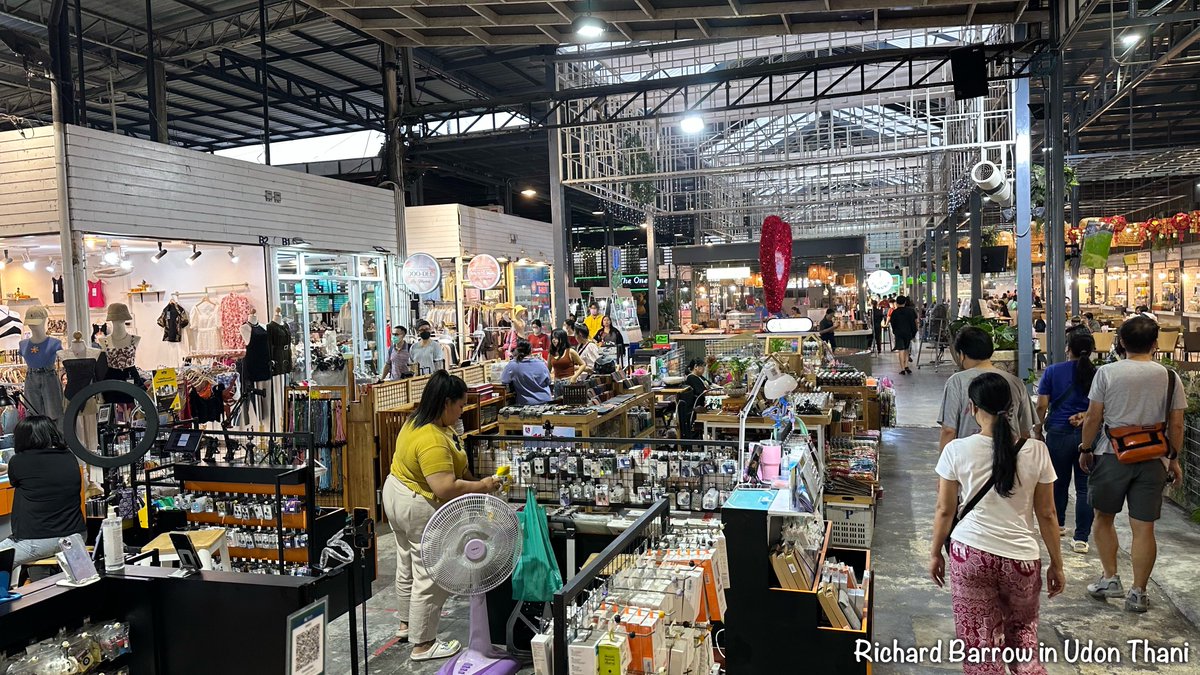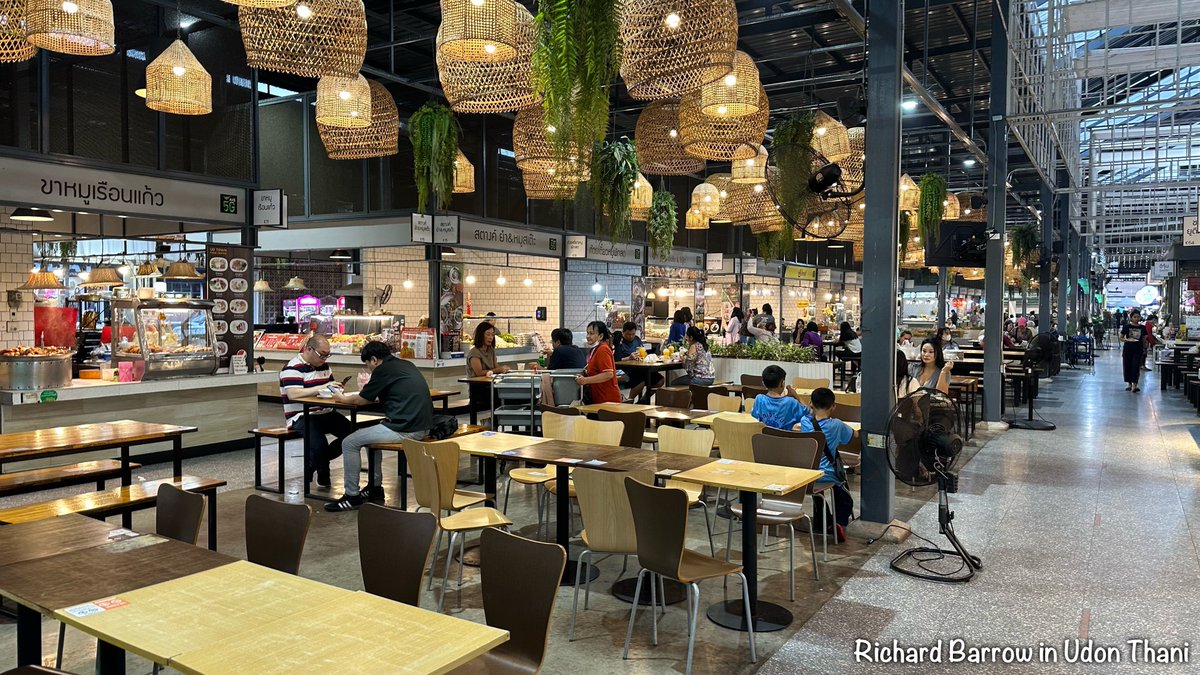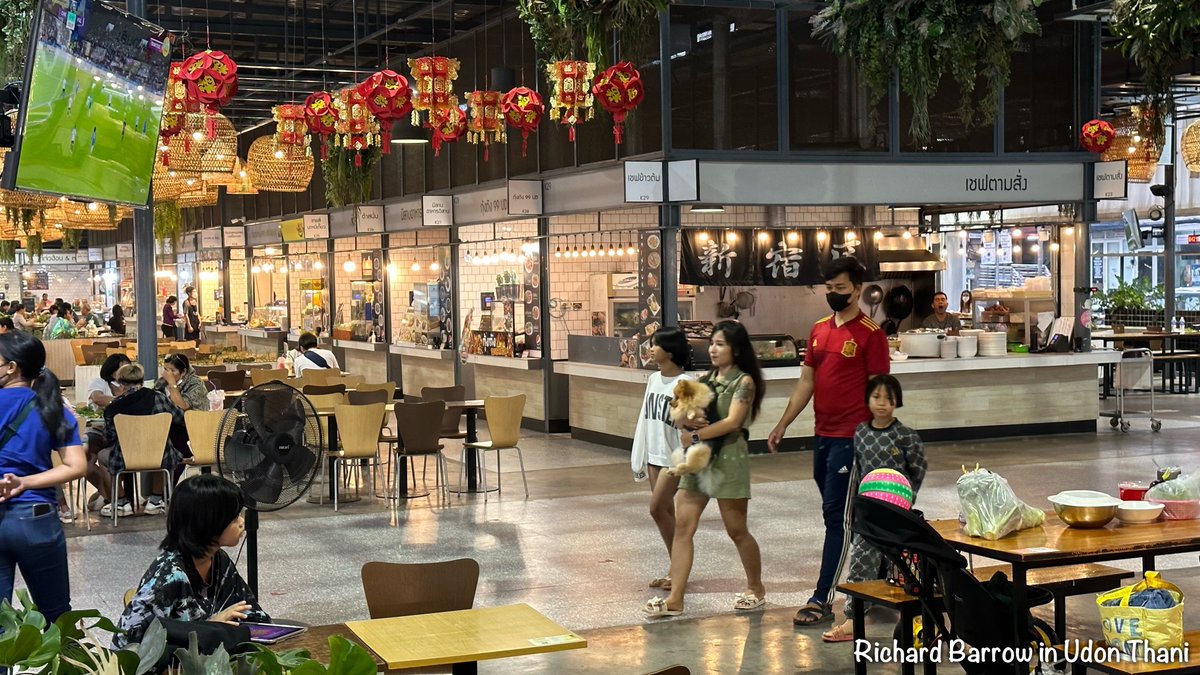 [22] Dinner tonight was at Krua Khun Nid, another winner of a Bib Gourmand in the latest Michelin Guide Thailand. Seven restaurants in Udon Thani were recognised in this category.
📍MAP: maps.app.goo.gl/r4c1HDGtKcSdvQ…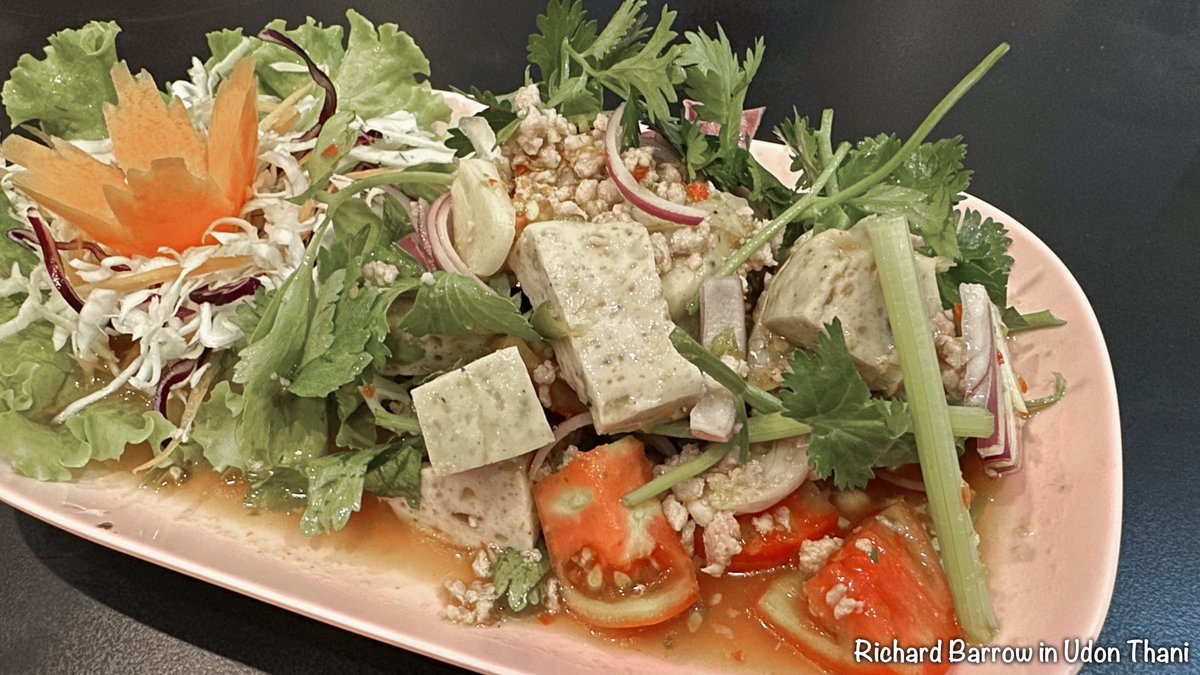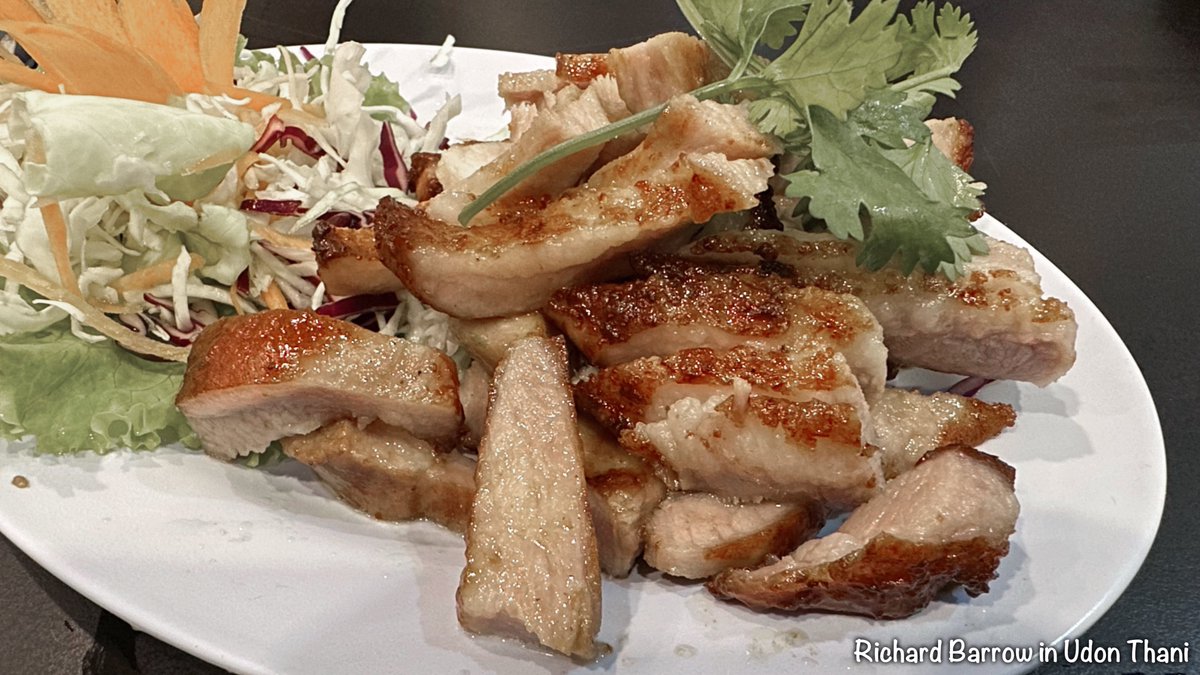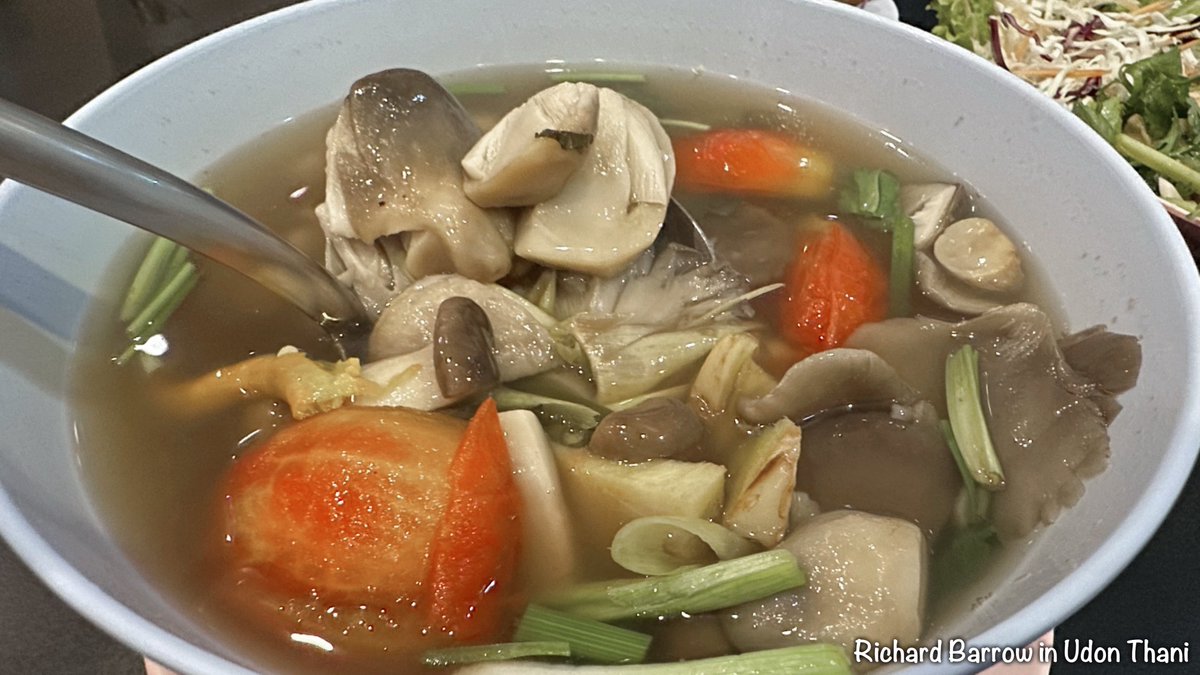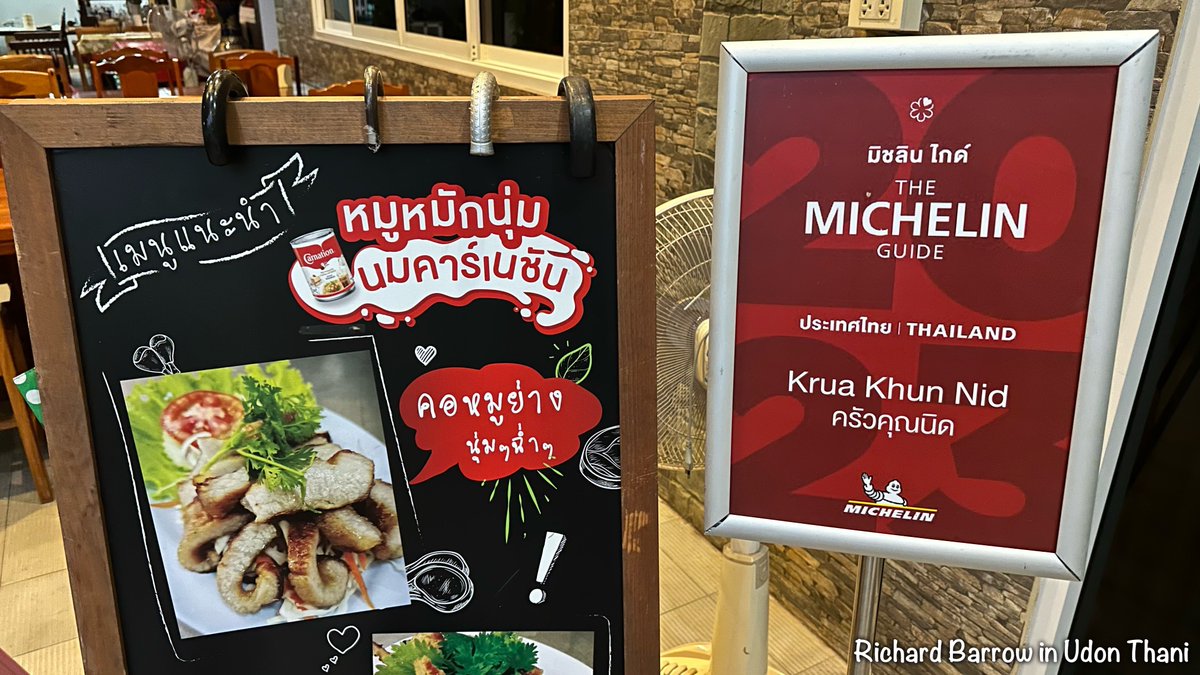 [23] When I was first planning the Udon Thani trip I was thinking about renting a car to drive myself. Then I decided a driver is more convenient. For example, he picked me up at the station at 5:50am. Then dropped me off at 8:00pm just now. The cost was 1,800 per day.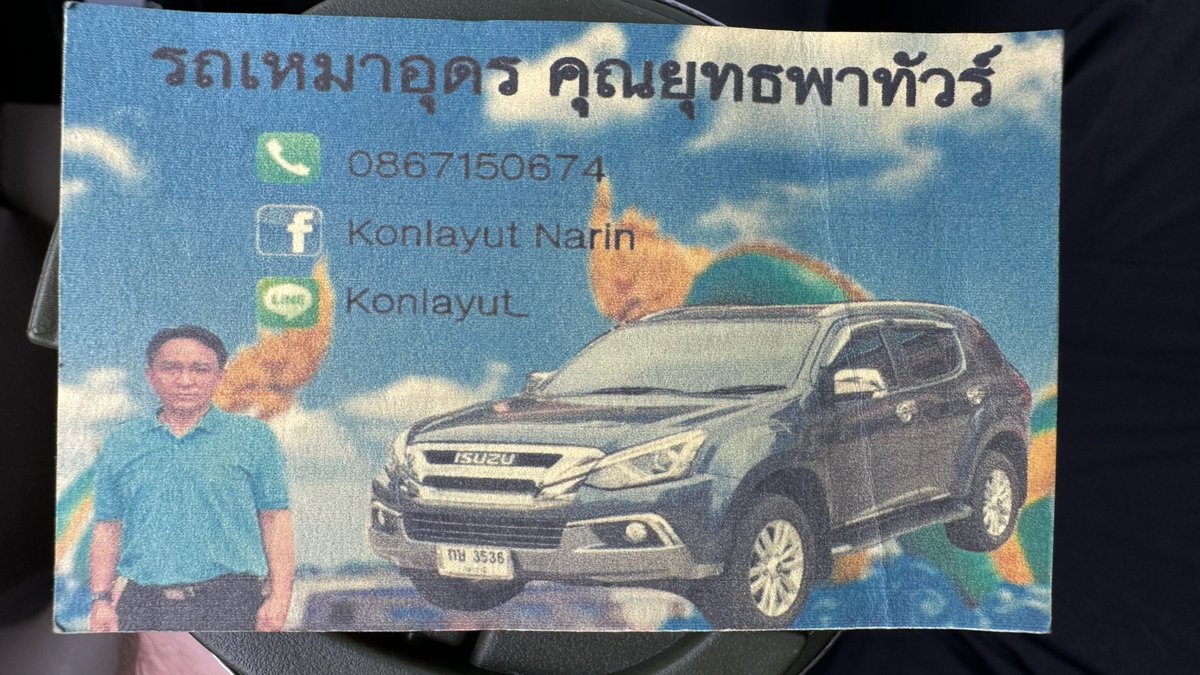 [24] I'm now taking the sleeper train back to Bangkok after spending two full days in Udon Thani. Journey time is 9 hours and 30 minutes which is fine as I will spend most of that time asleep. Going back I'm in a 1st Class cabin which costs 2,313 Baht for single occupancy.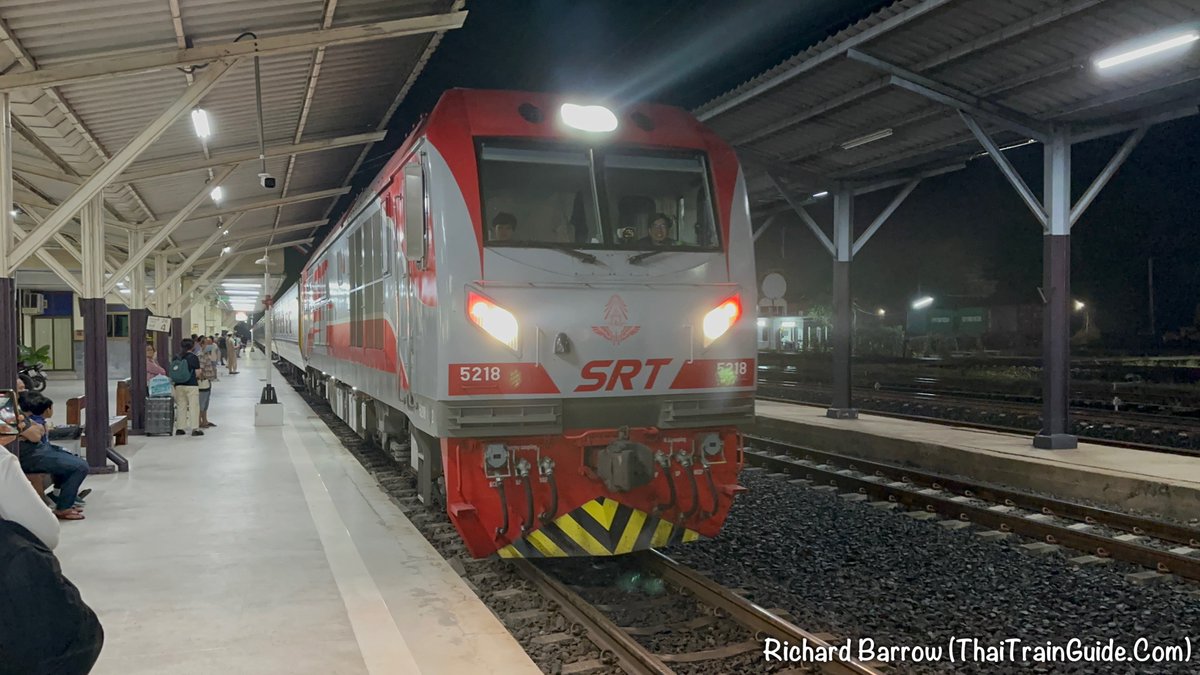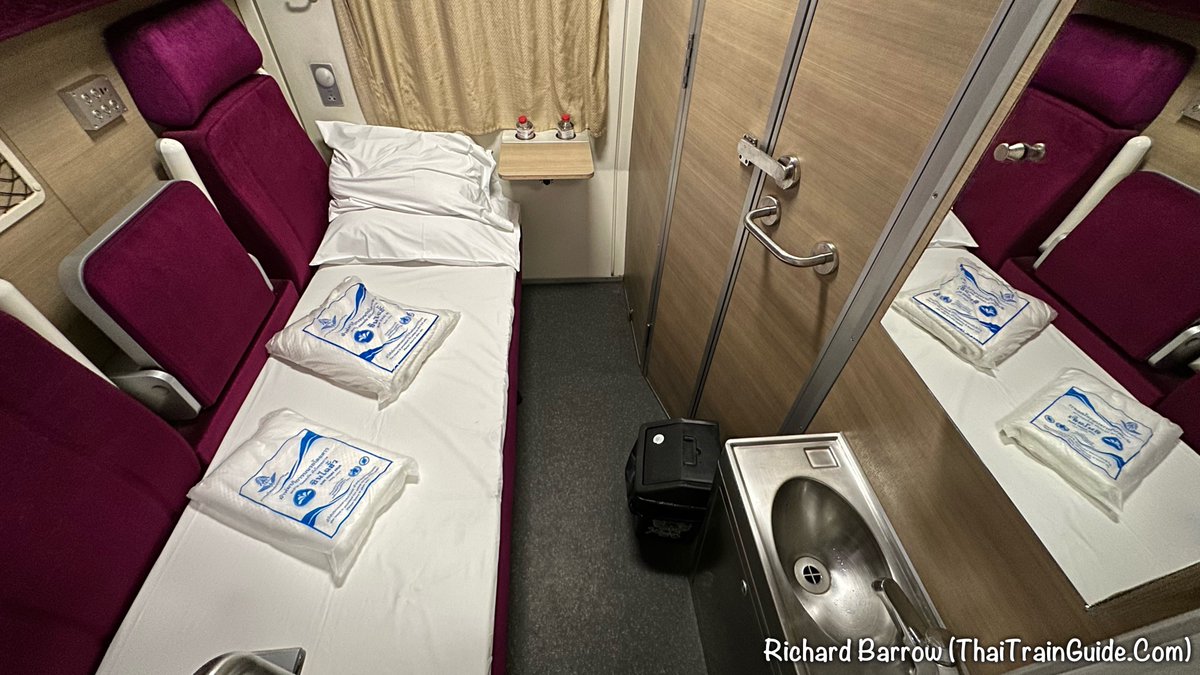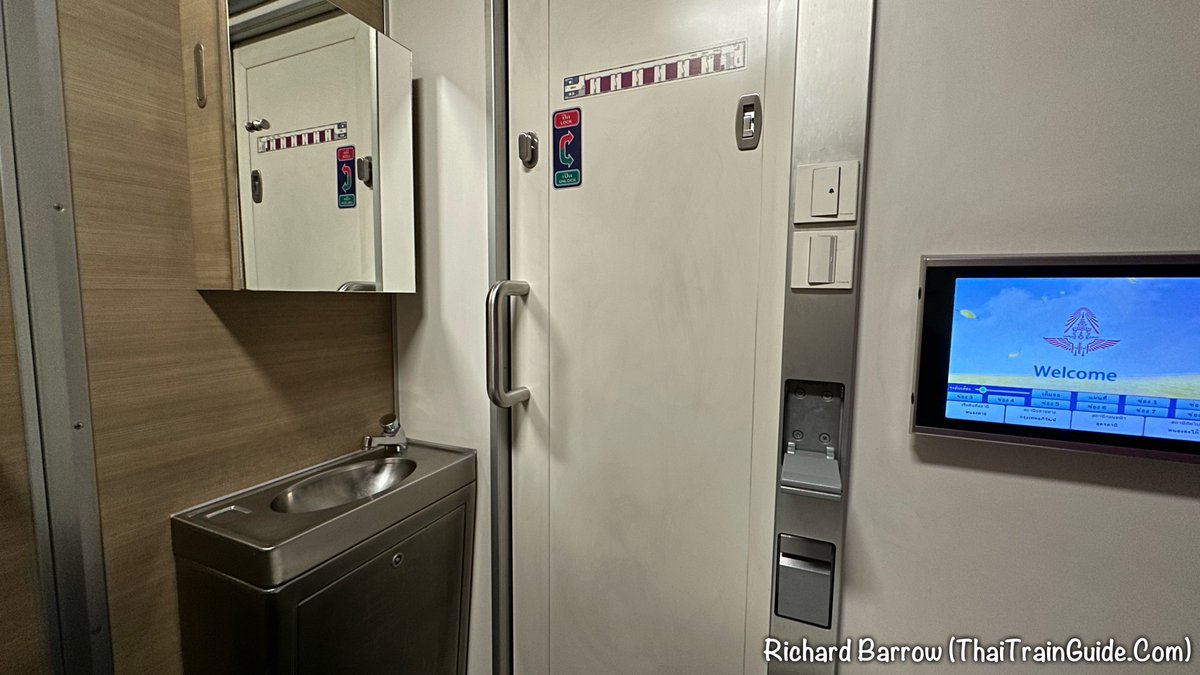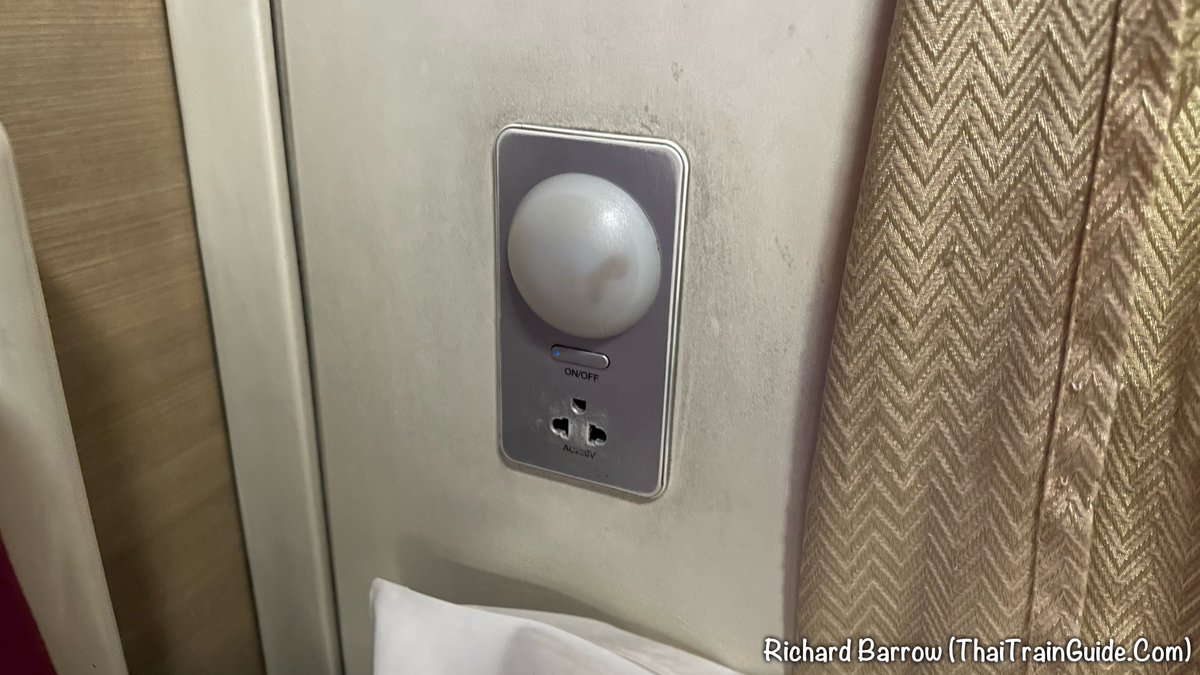 [25] The advantage of going back in 1st Class on the CNR sleeper is that there's a shower cubicle with hot water. They also give you a towel. This is important for me as I checked out of the hotel early this morning and I got sweaty with all the walking I did today.
Goodnight!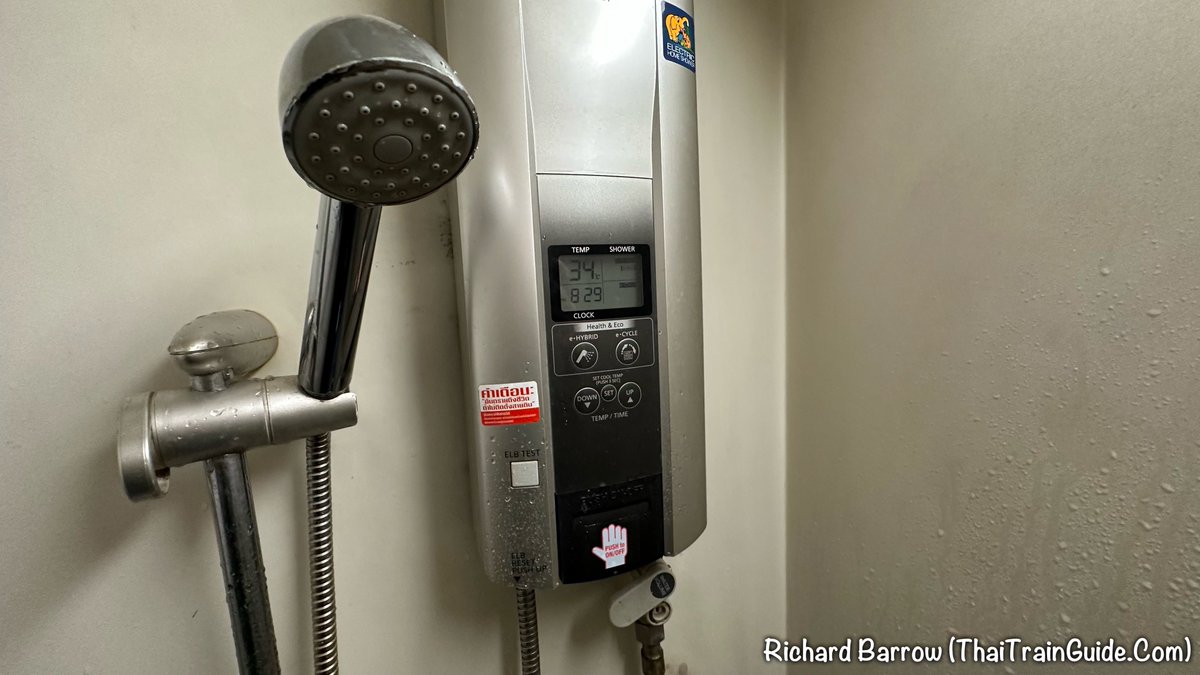 [26] My train arrived safely at Krung Thep Aphiwat Central Terminal. I had a good night's sleep in my 1st Class cabin. It makes a big difference that you can turn off the lights. Also the hot shower was great. But it was 2,313 Baht compared to 877/977 Baht in 2nd Class.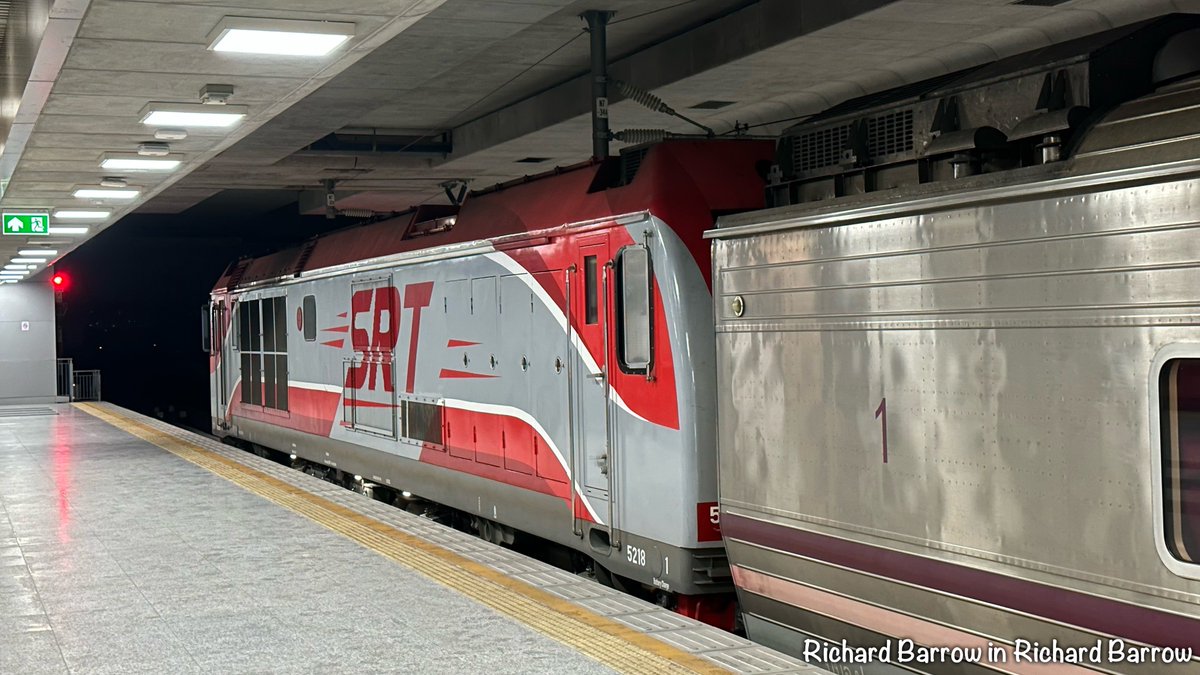 [27] I decided to go home by bus instead of taxi just to see what it's like. I had to take any bus first to Mochit 2 terminal which was one stop. Then I took Bus 536 to Paknam. Only 27 Baht compared to 270 Baht by taxi. Cheaper but the taxi is obviously more efficient.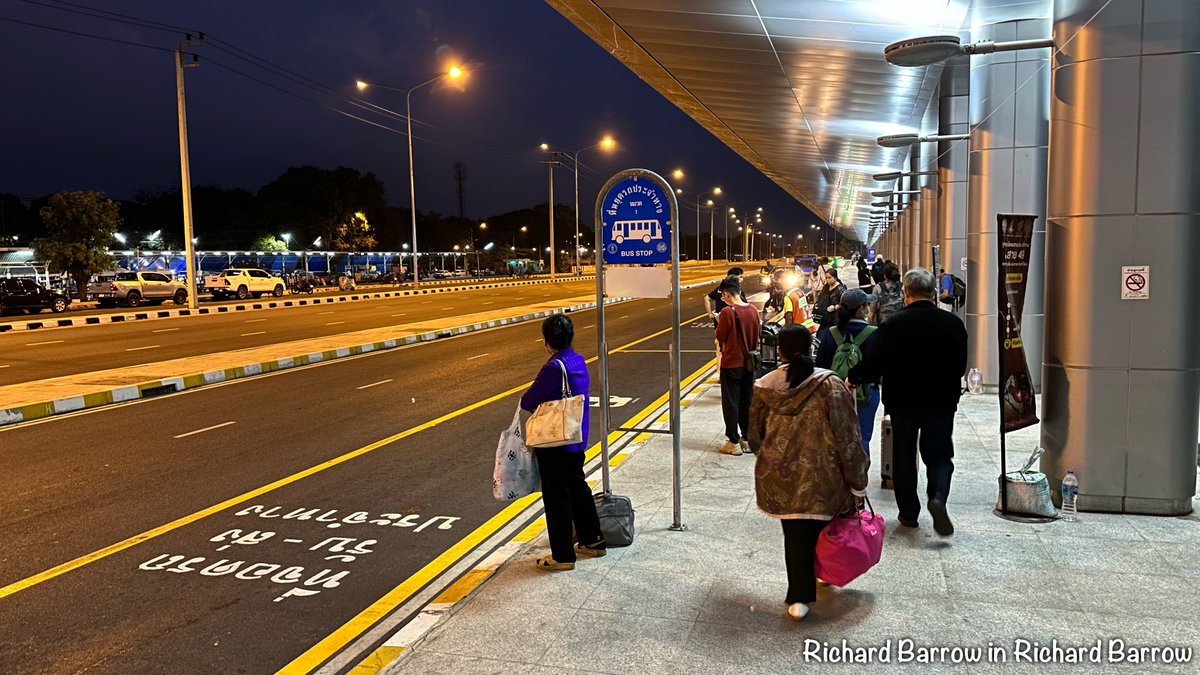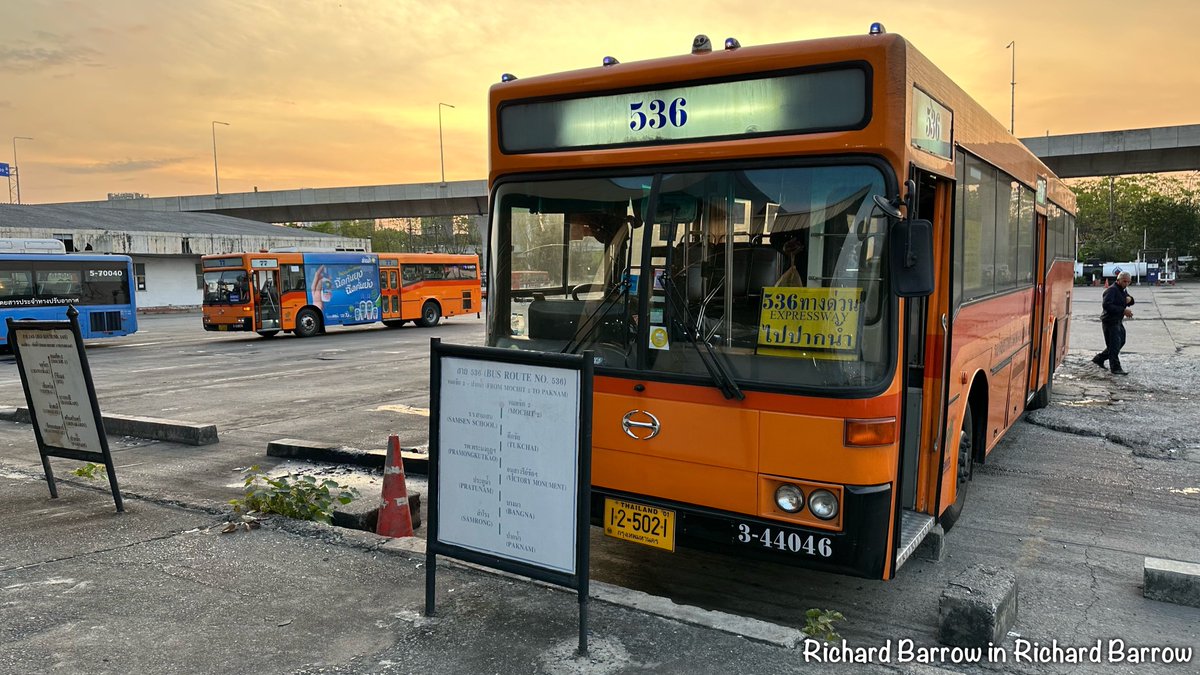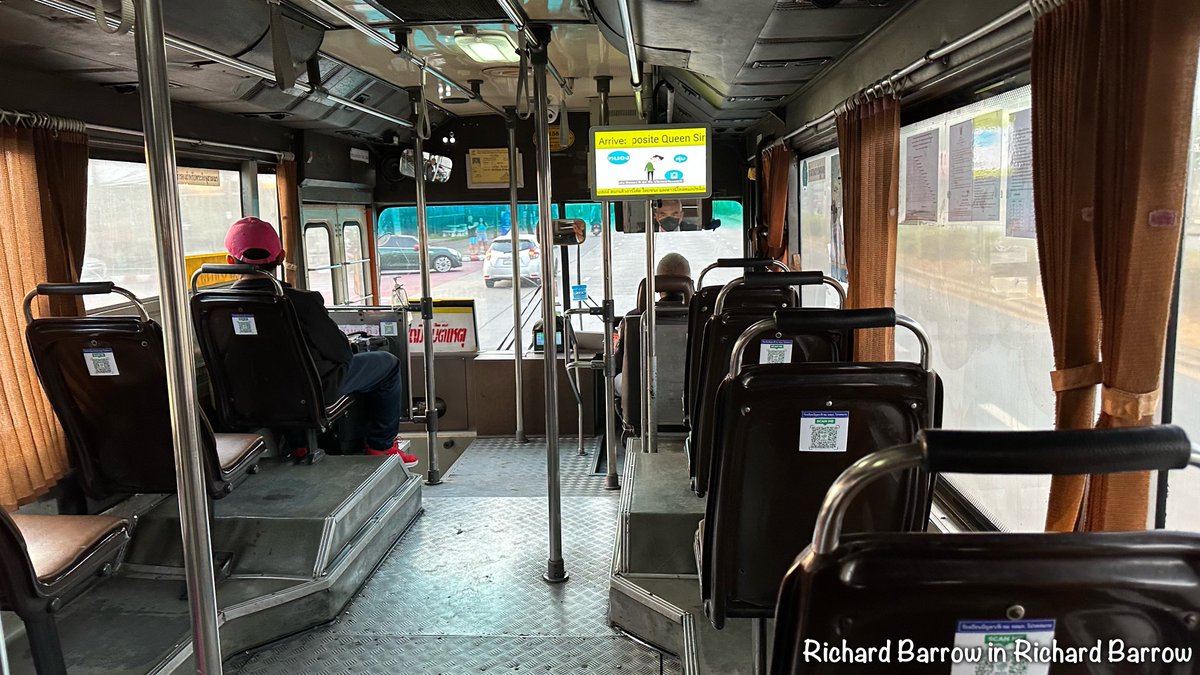 I hope you enjoyed my photos and I've inspired you to do your own train trip. I will be posting the complete train guide to this trip on www.ThaiTrainGuide.Com soon.