Bangkok to Singapore by Train
🚂 This is a LIVE photo blog of my international train trip from Bangkok to Singapore via Malaysia. You will find full details here of all the trains and ticket prices. Don't forget to also check out the YouTube channel for this trip: youtube.com/channel/UCKKNQ…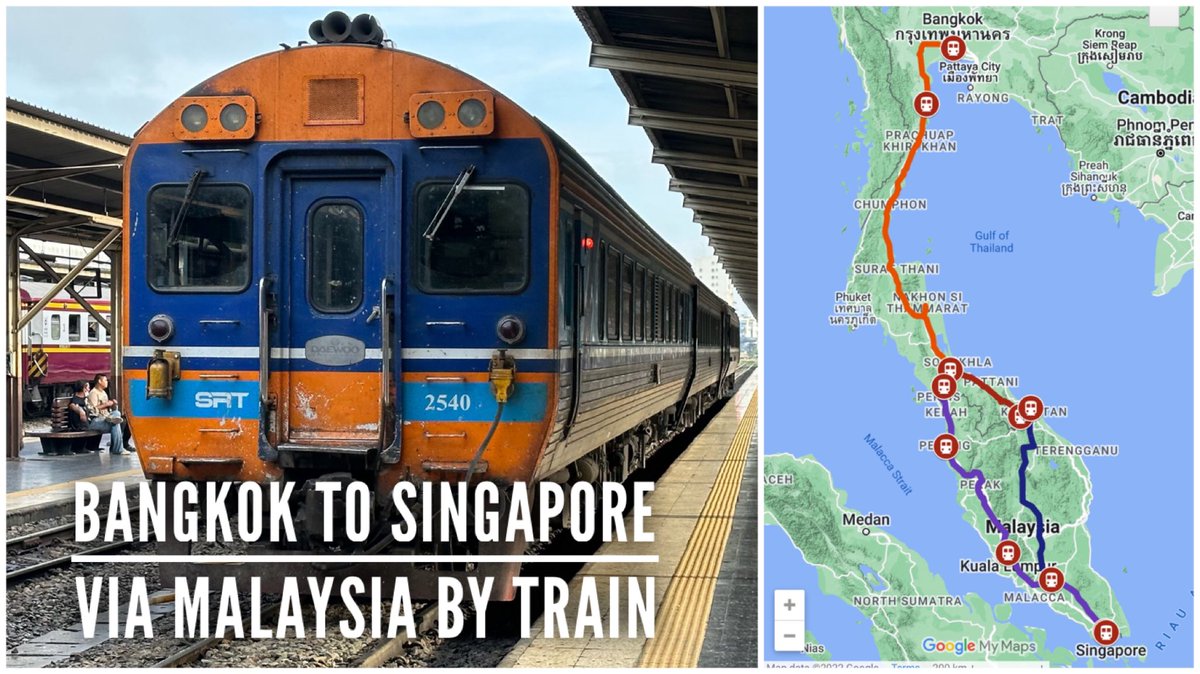 DAY 1: Bangkok to Hua Hin.
🚂 Special Express No.43
🎟️ 2nd Class (A/C) 412 Baht
⏰ 7:50am-12:05pm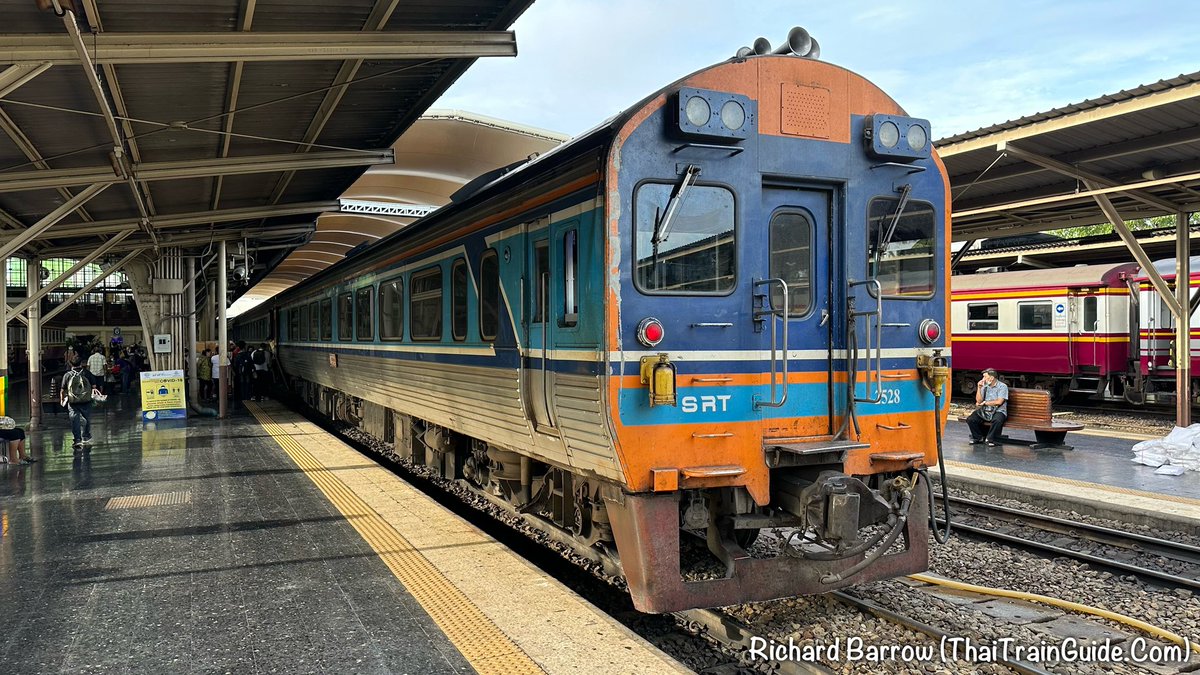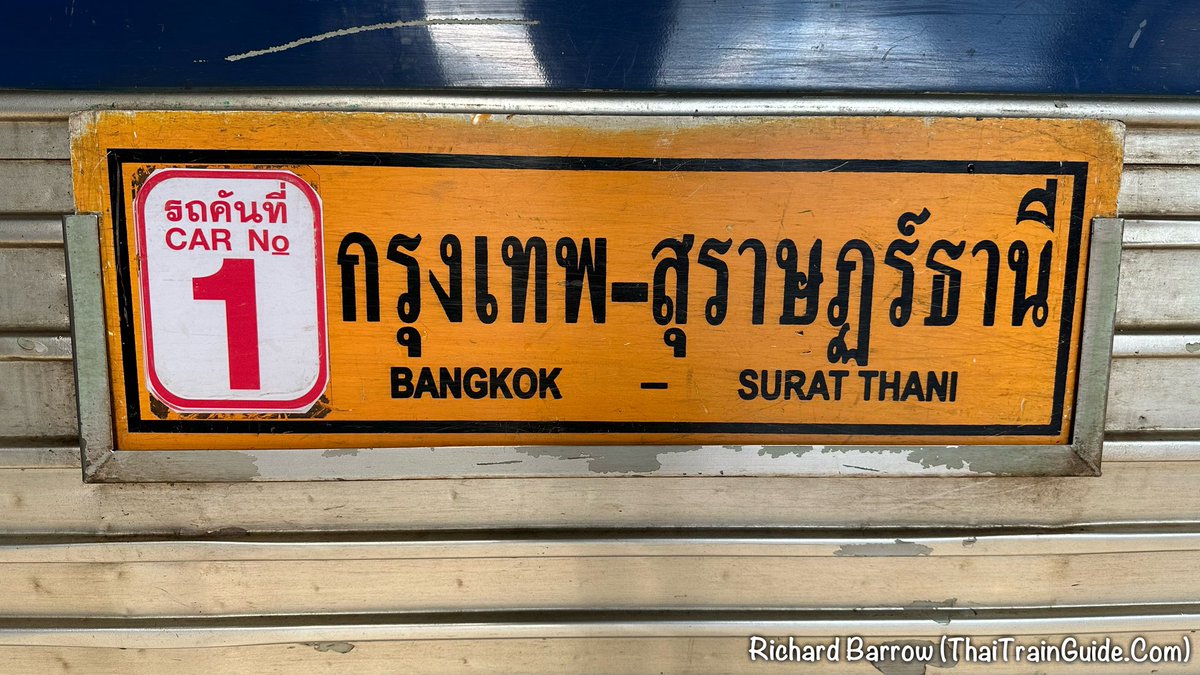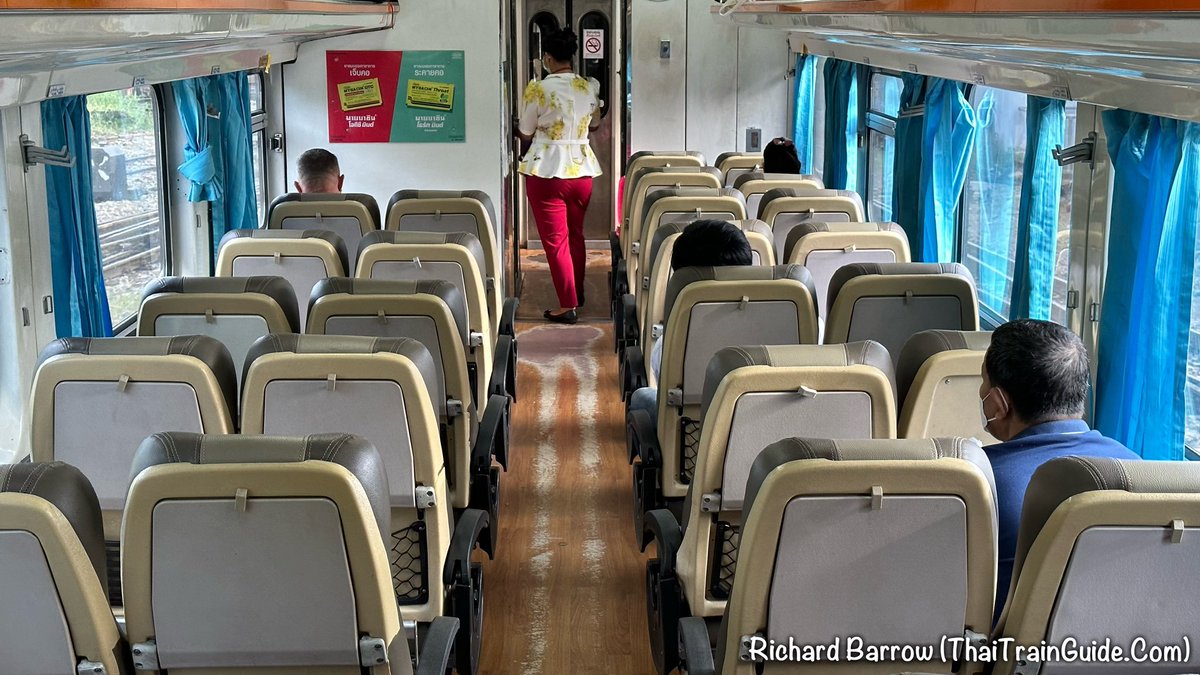 ALTERNATIVE TRAIN: There is a sleeper train that goes all the way from Bangkok to Padang Besar on the Thai-Malaysia border. This is joined with No.37 until Hat Yai.
🚂 Special Express No.45
🎟️ Lower Berth 960 Baht, Upper Berth 870 Baht
⏰ 3:10pm-9:50am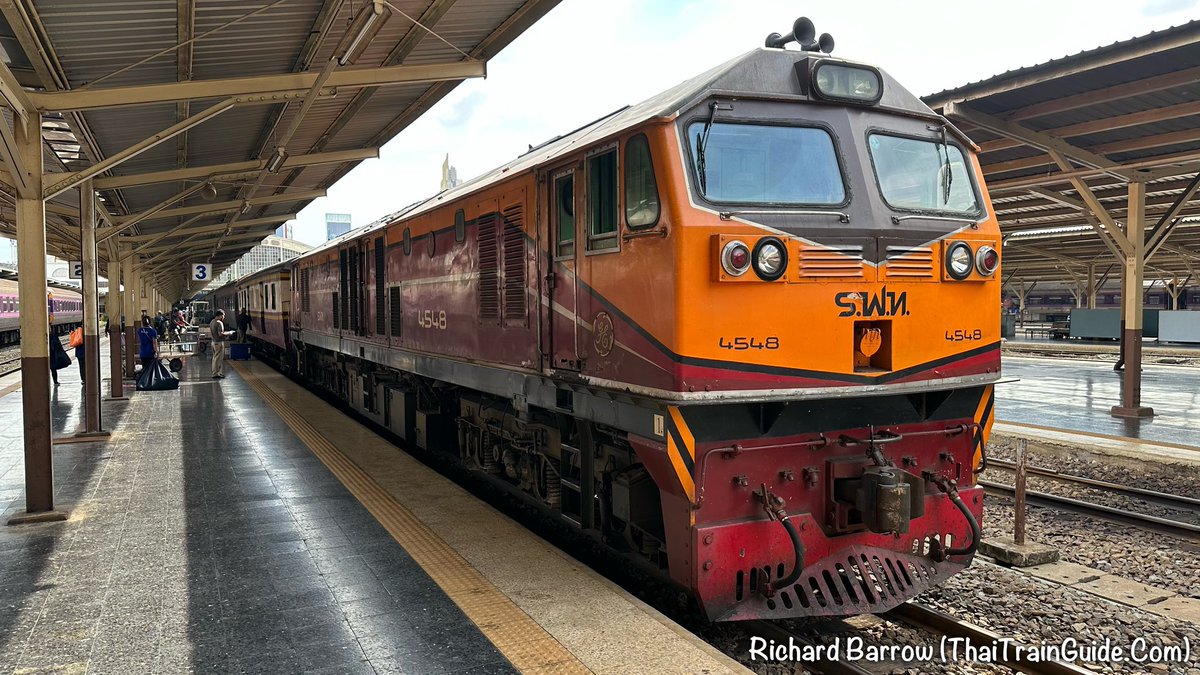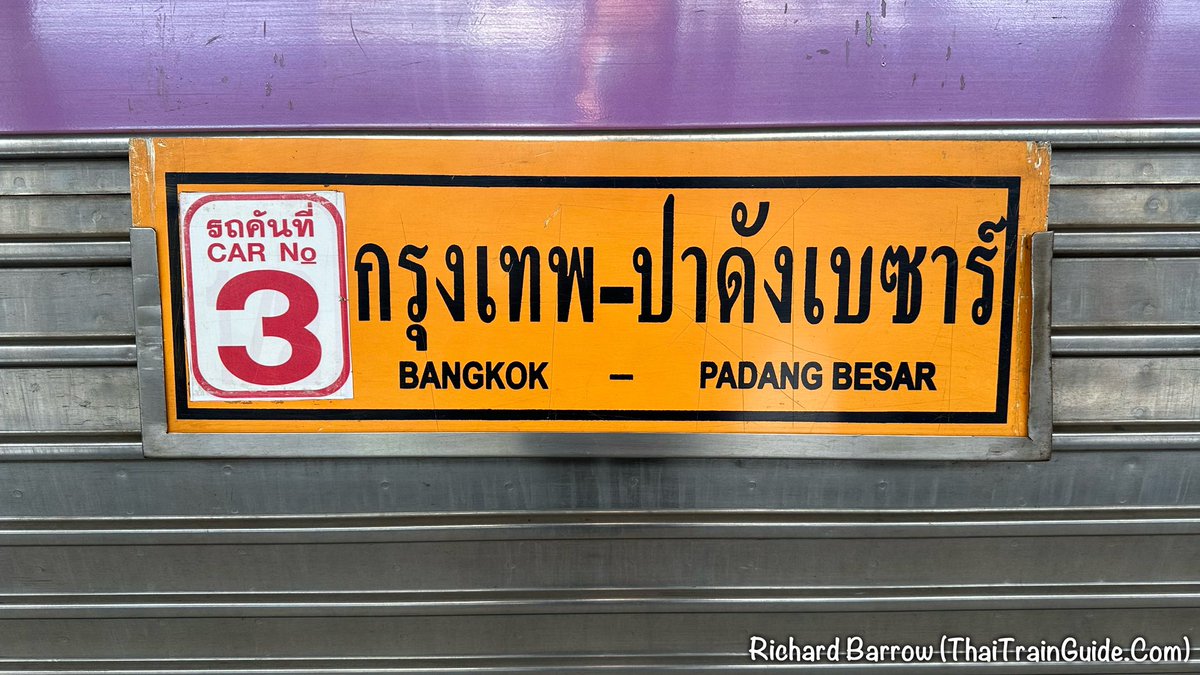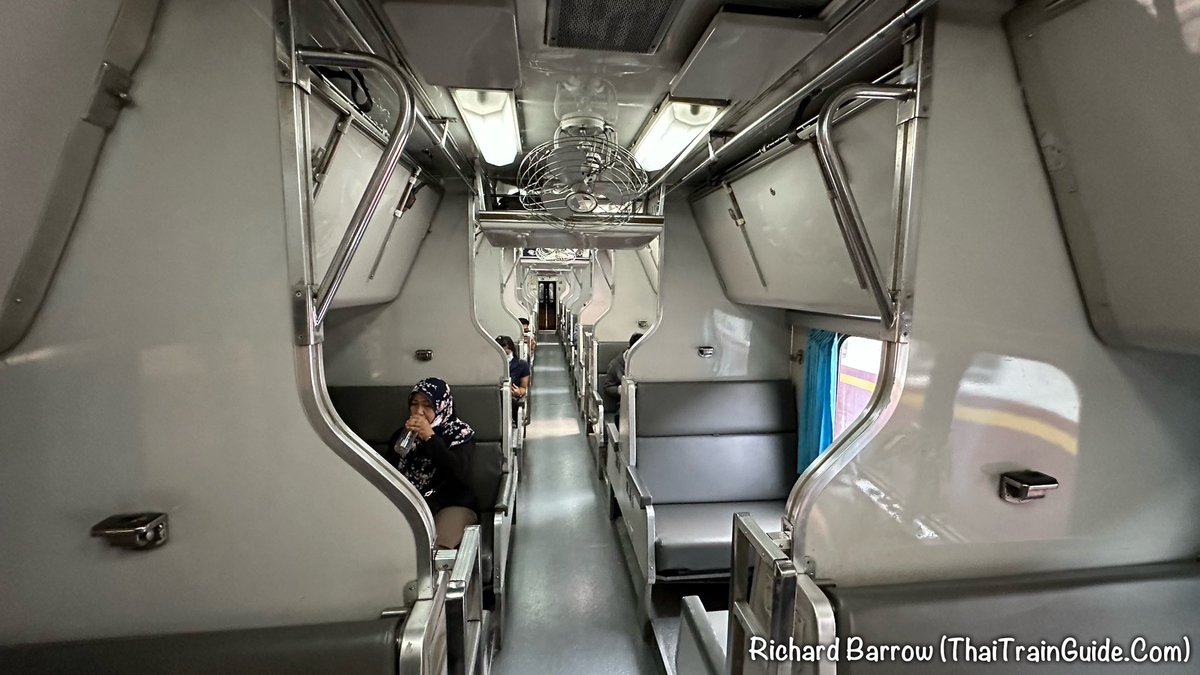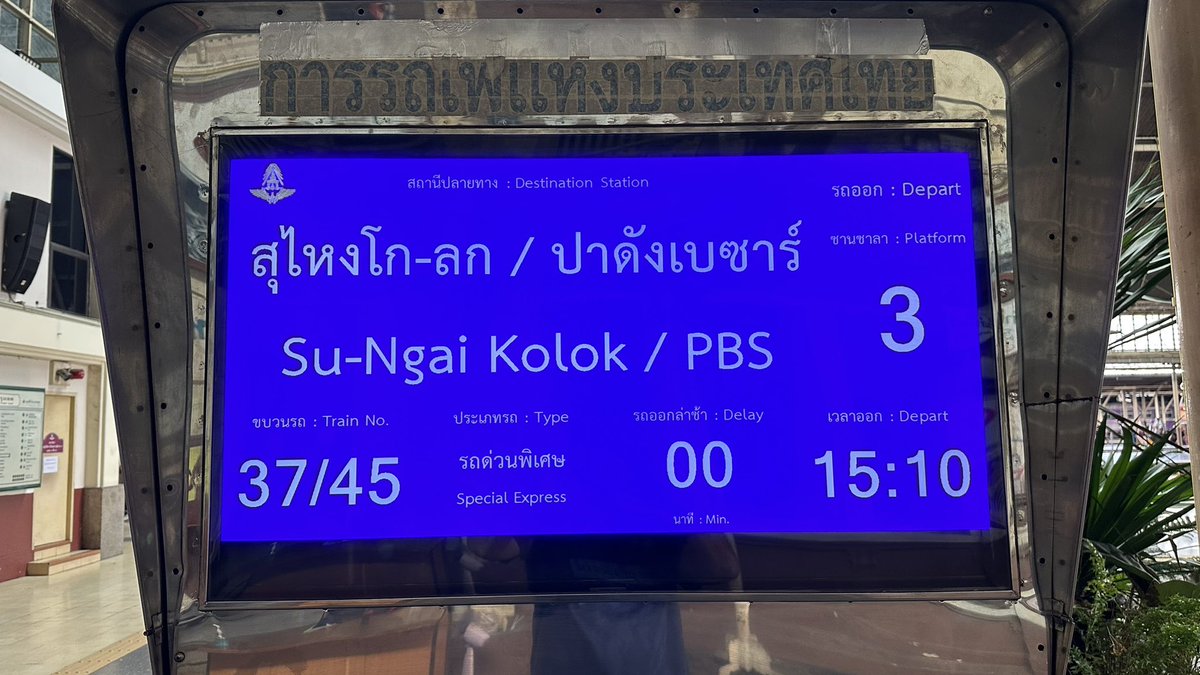 [4] The price of the ticket for Special Express No.43 includes this meal. I was given Fried Mackerel in Chilli Sauce and Stir-Fried Baby Clams with Pepper and Garlic. They heat the rice up in a microwave. Attendants also take orders for outside food such as Ratchaburi Noodles.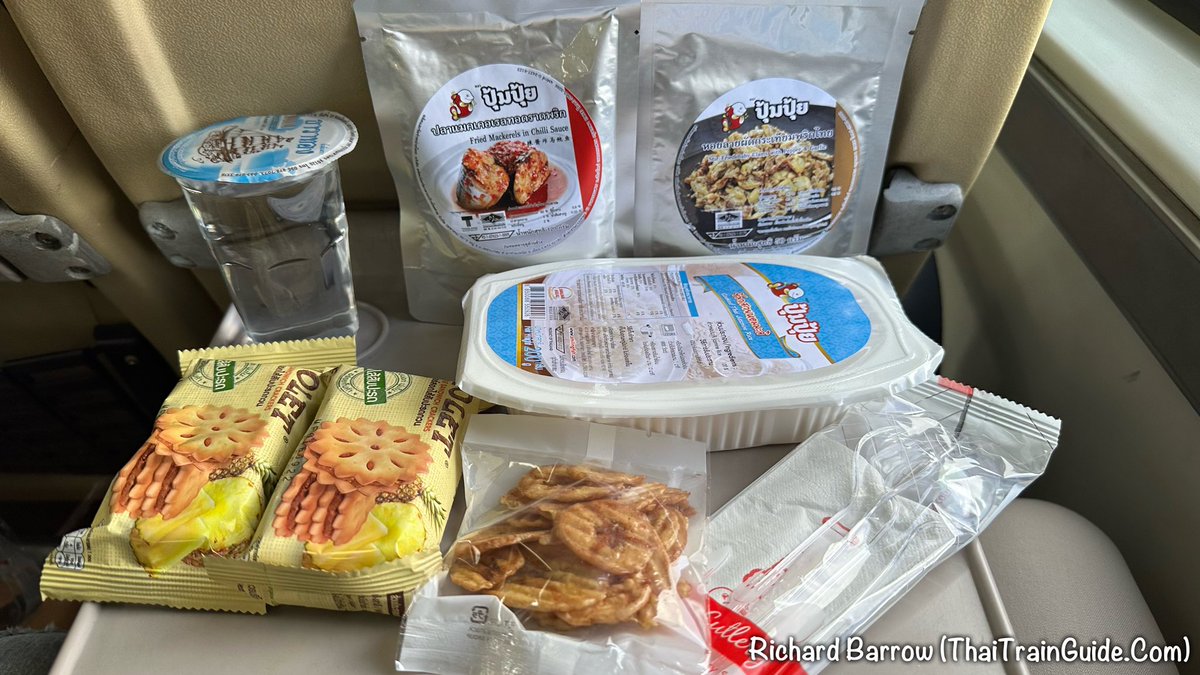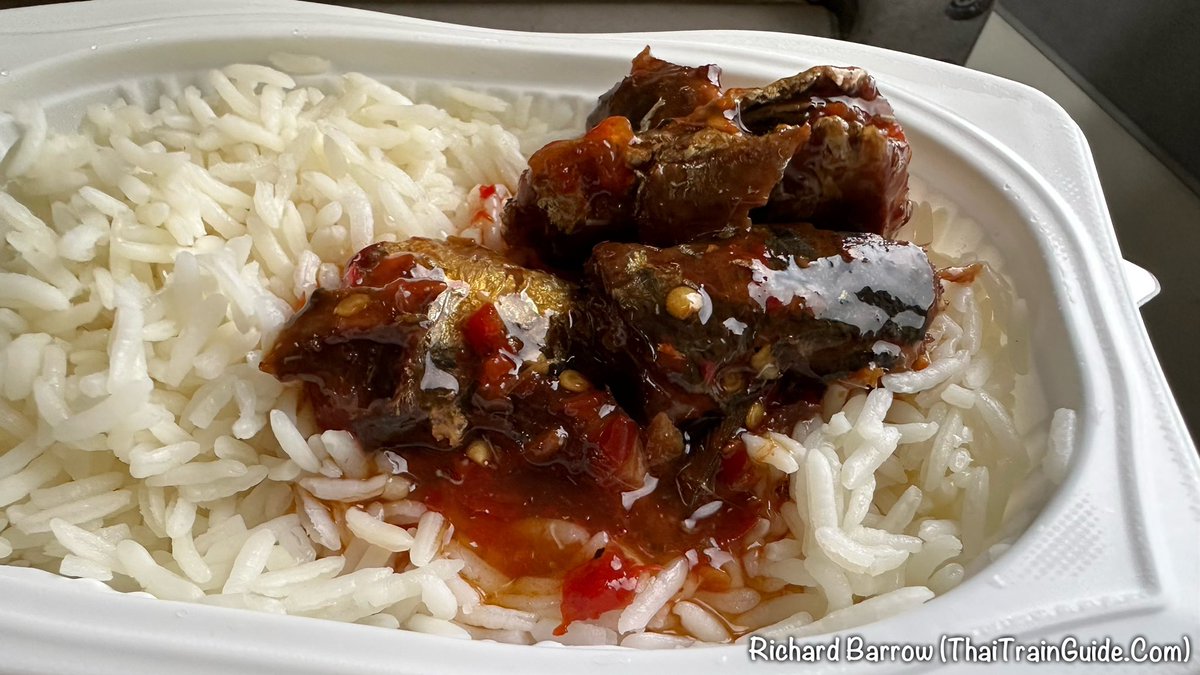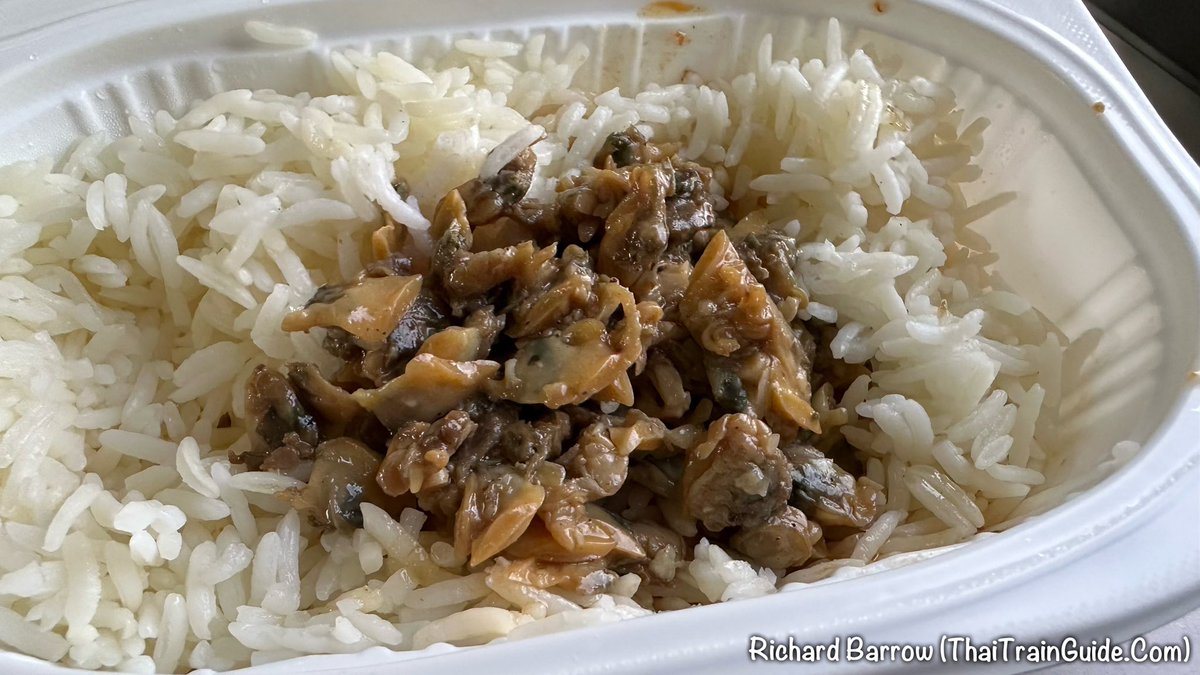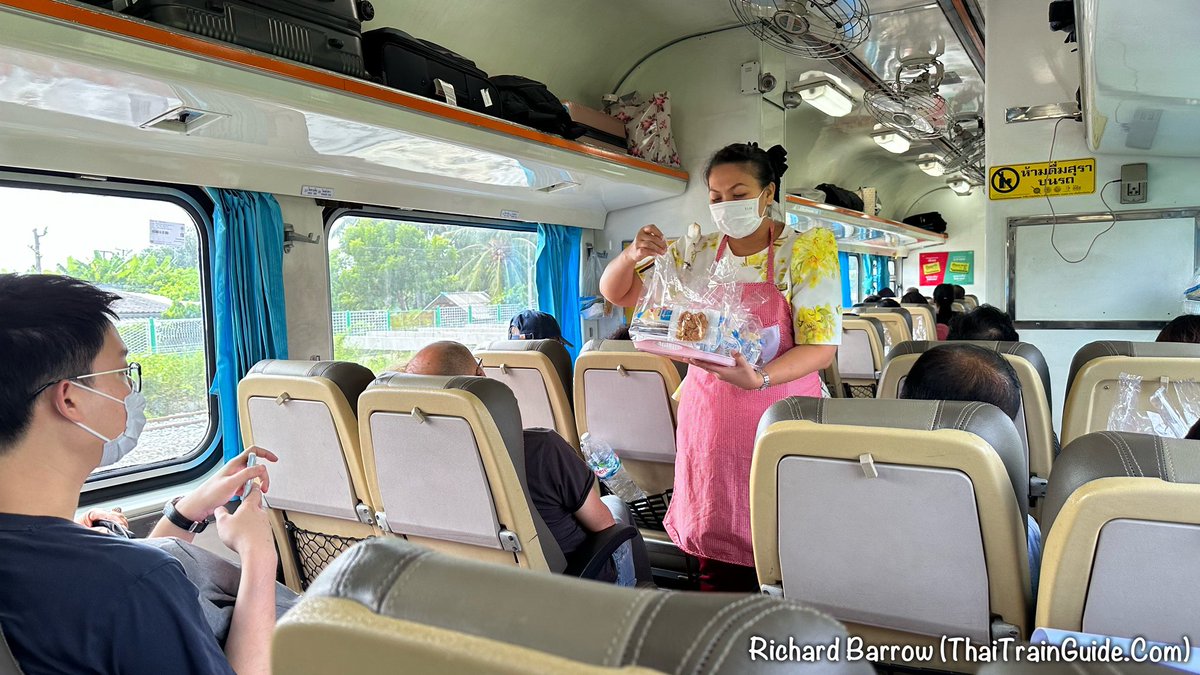 [5] My first night was spent in the former Railway Hotel (Hua Hin Hotel) which is now leased by Centara Grand Beach Resort. I stayed in the 100 year old Railway Suite and ate the Railway Fried Rice that was first created by staff in this hotel's kitchen more than 80 years ago.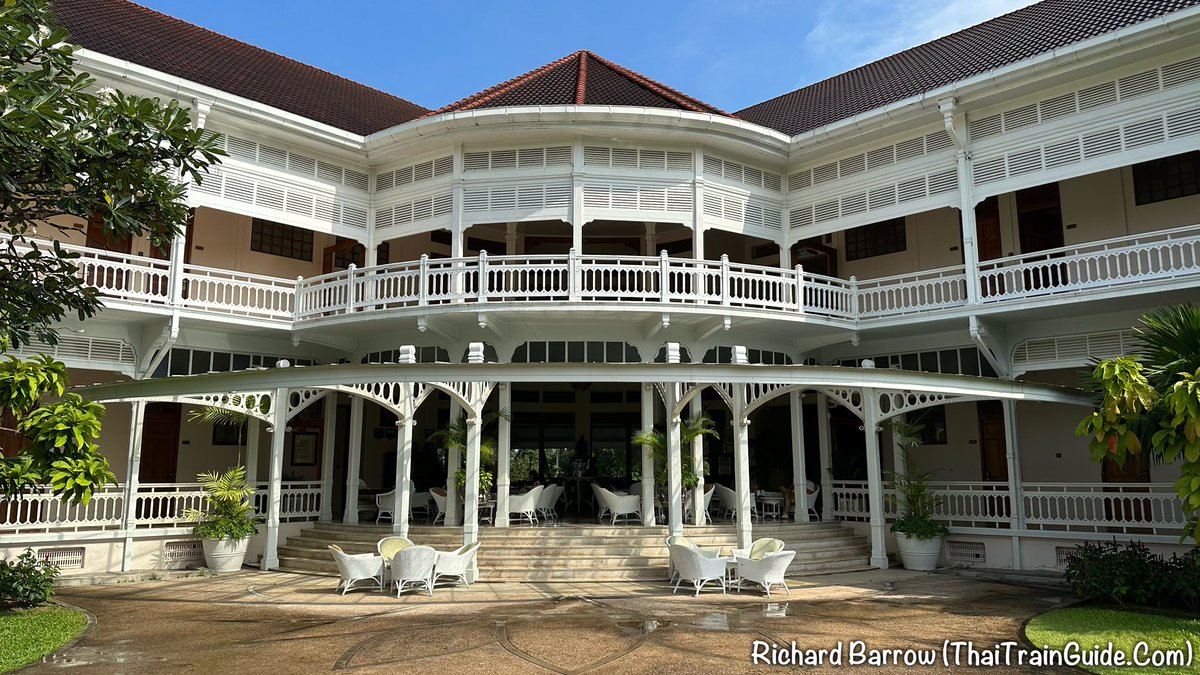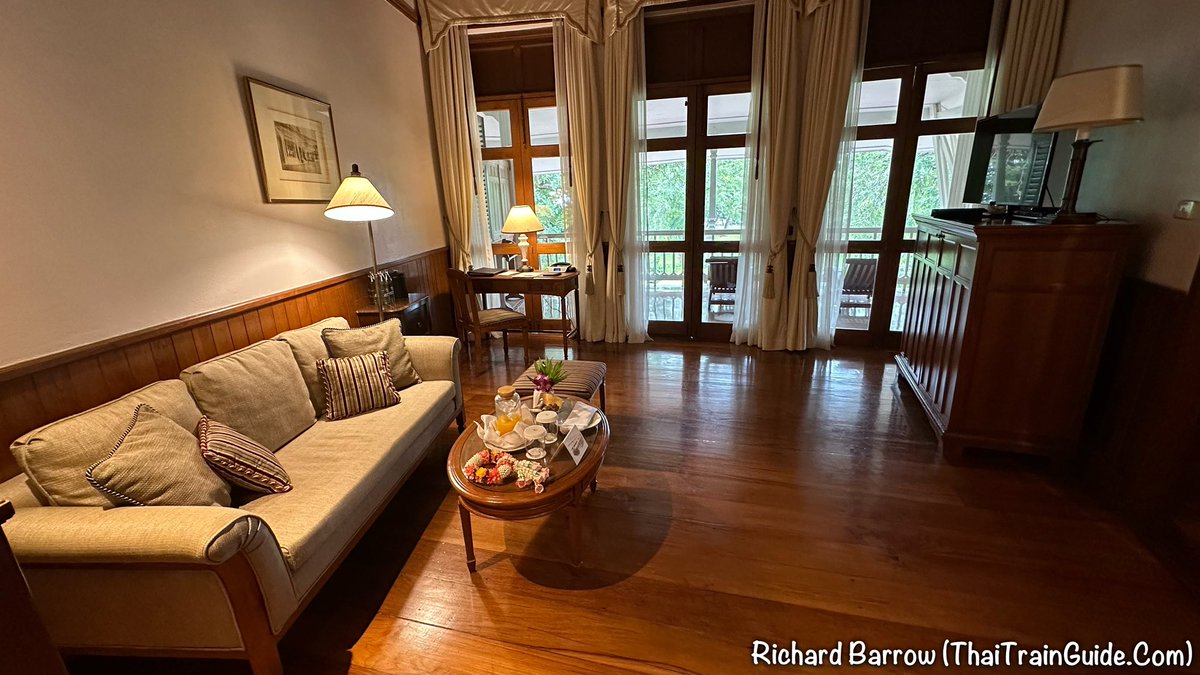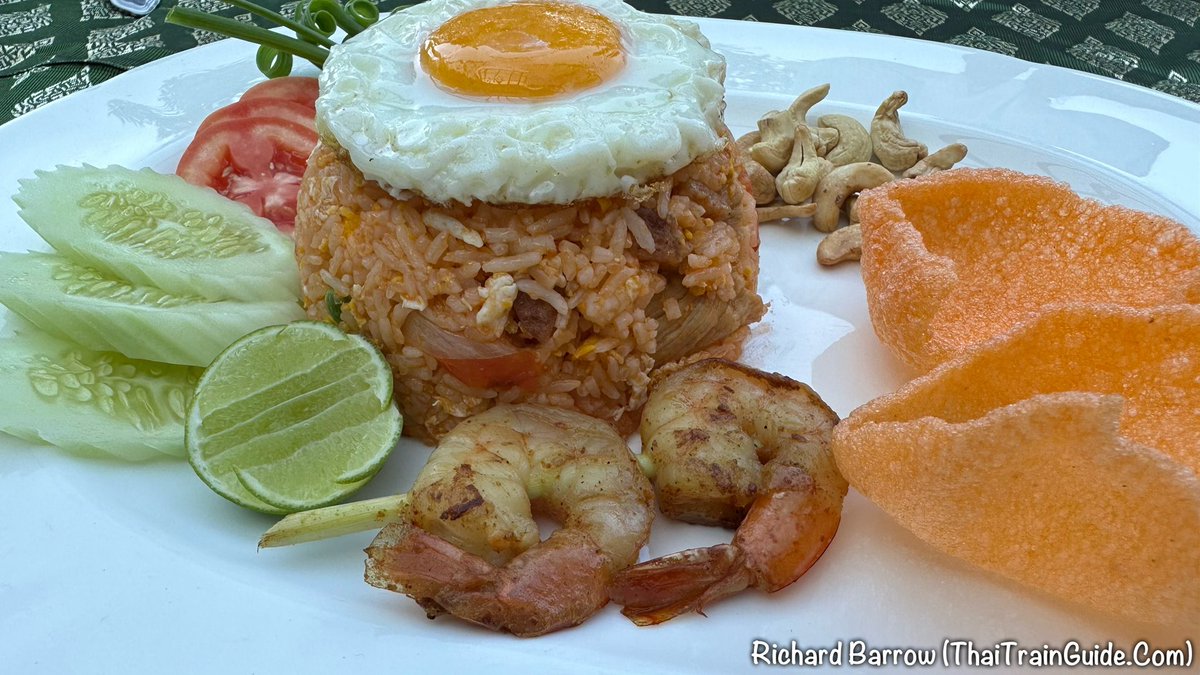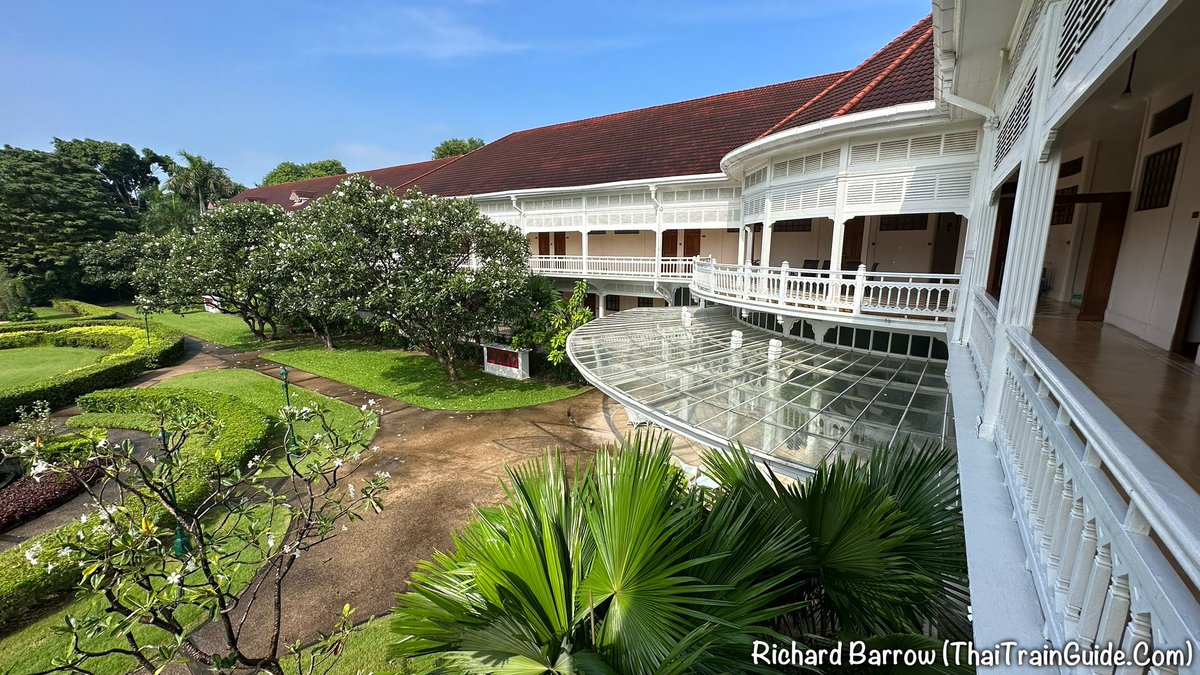 DAY 2: Hua Hin to Hat Yai.
🚂 Special Express No.31
🎟️ 2nd Class Sleeper (A/C) 1,029 Baht
⏰ 7:07pm-7:25am +1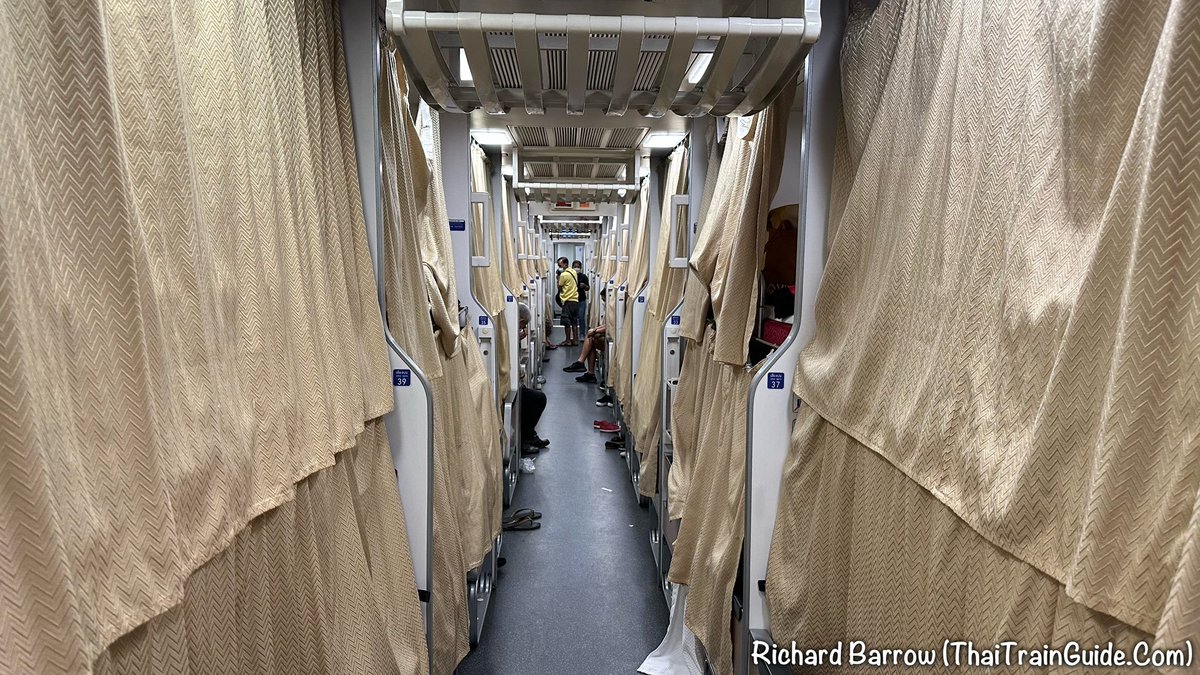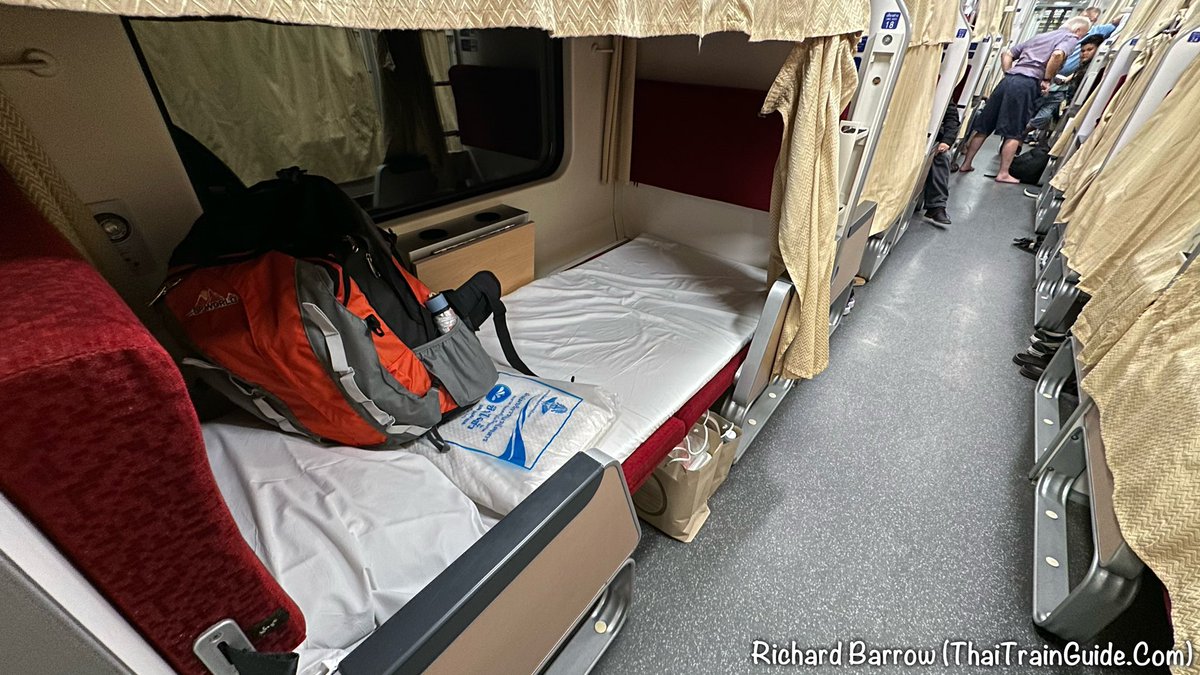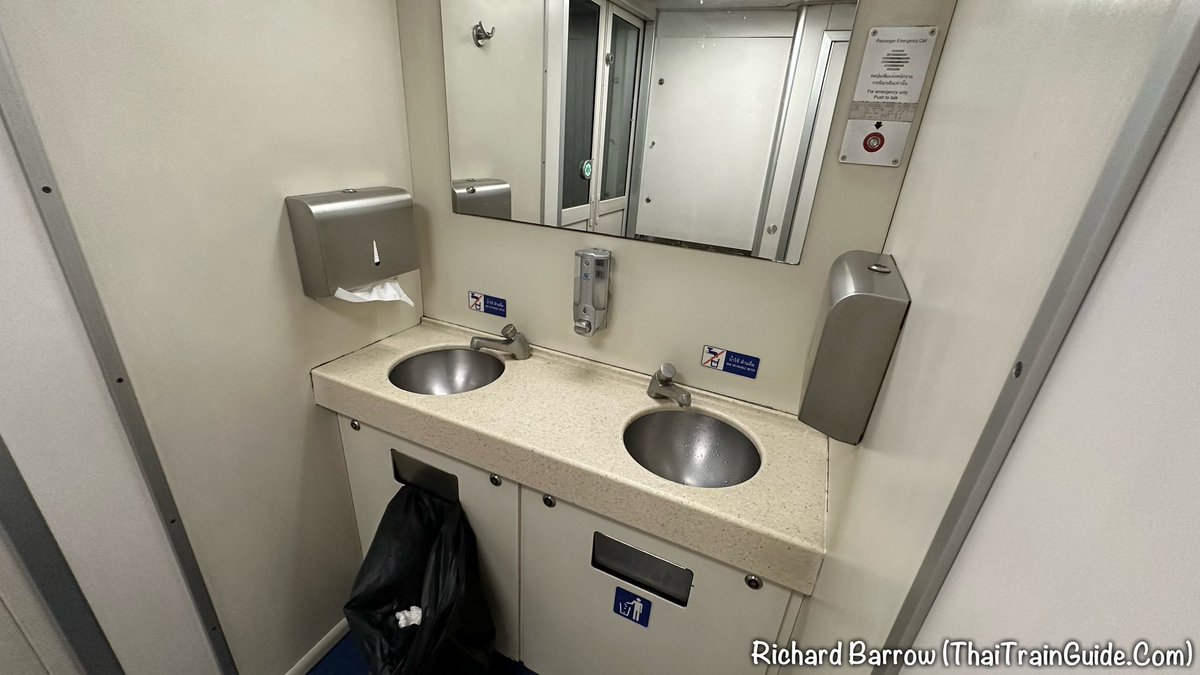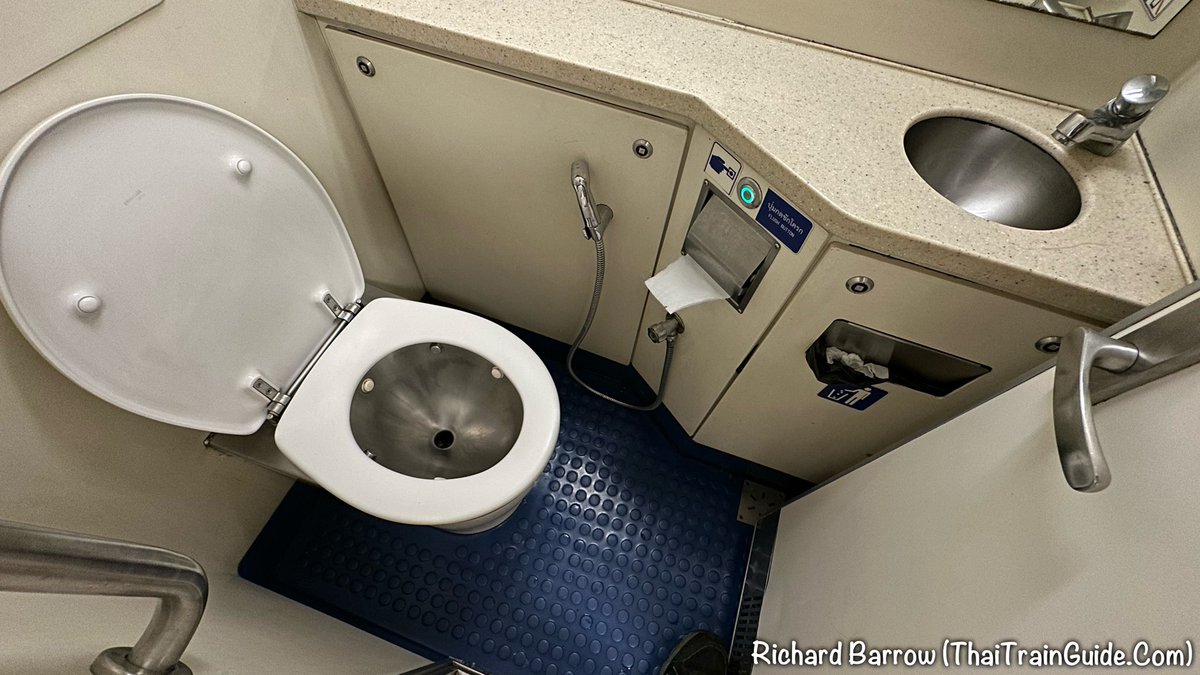 [7] Special Express No.31 to Hat Yai uses the newer Chinese built sleeper carriages. There is one 1st Class carriage and the rest are 2nd Class like this. There is a light and plug socket for both upper and lower berth. You also get one bottle of water for free.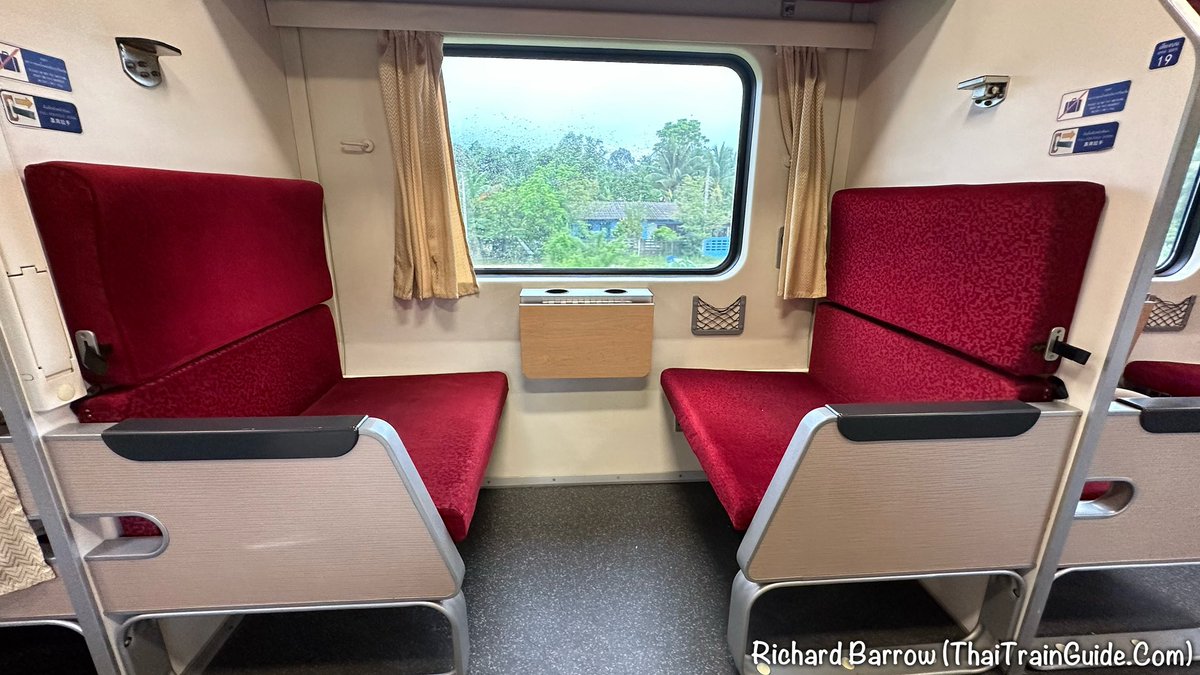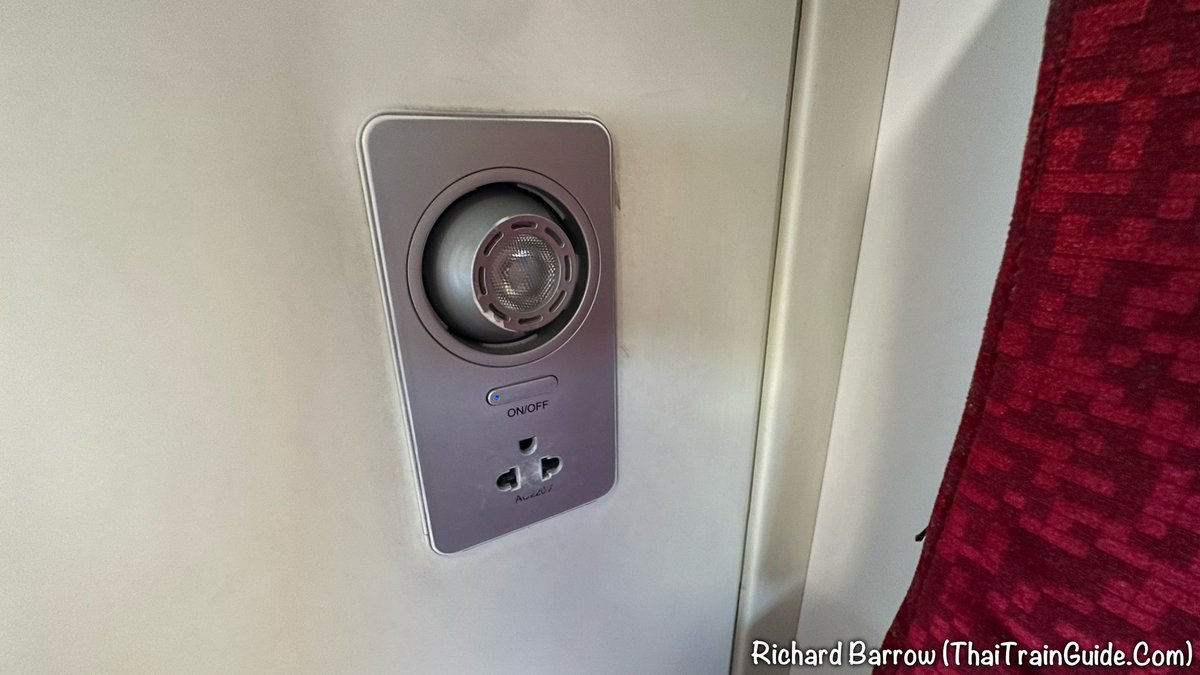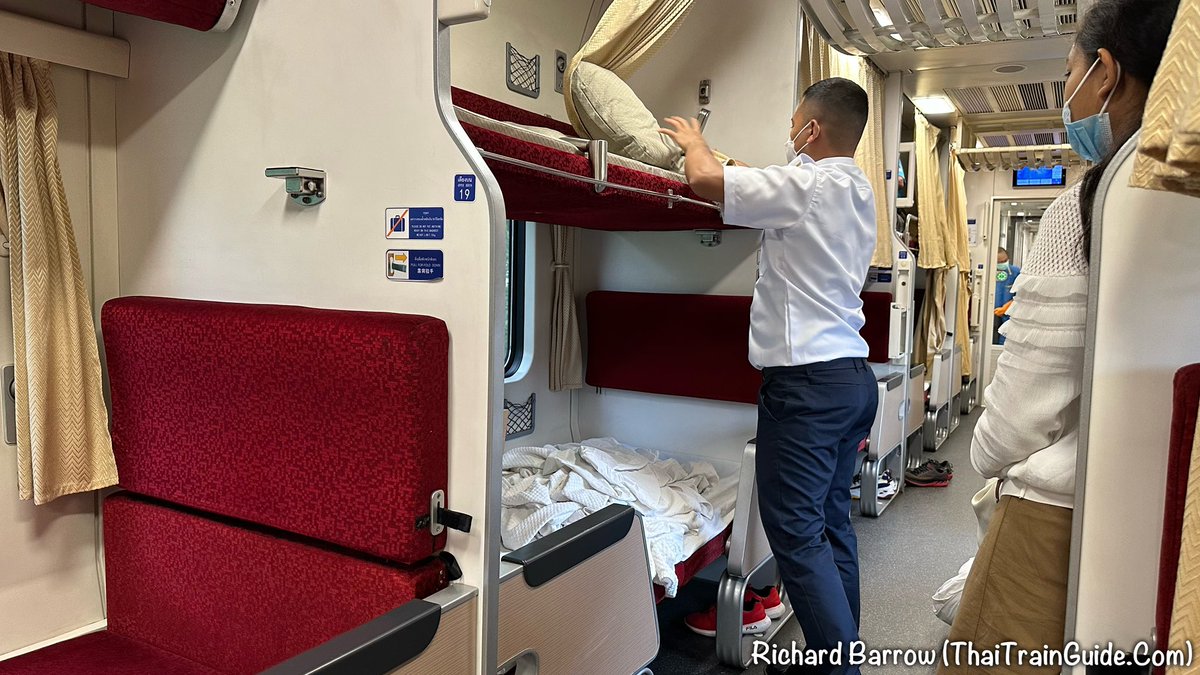 [8] Prices for Special Express No.31 from Bangkok to Hat Yai:
🎟️ 2nd Class: Lower berth 1,105 Baht and Upper berth 1,005 Baht.
🎟️ 1st Class: Lower berth 1,794 Baht and Upper berth 1,594 Baht. Single occupancy is 2,594 Baht.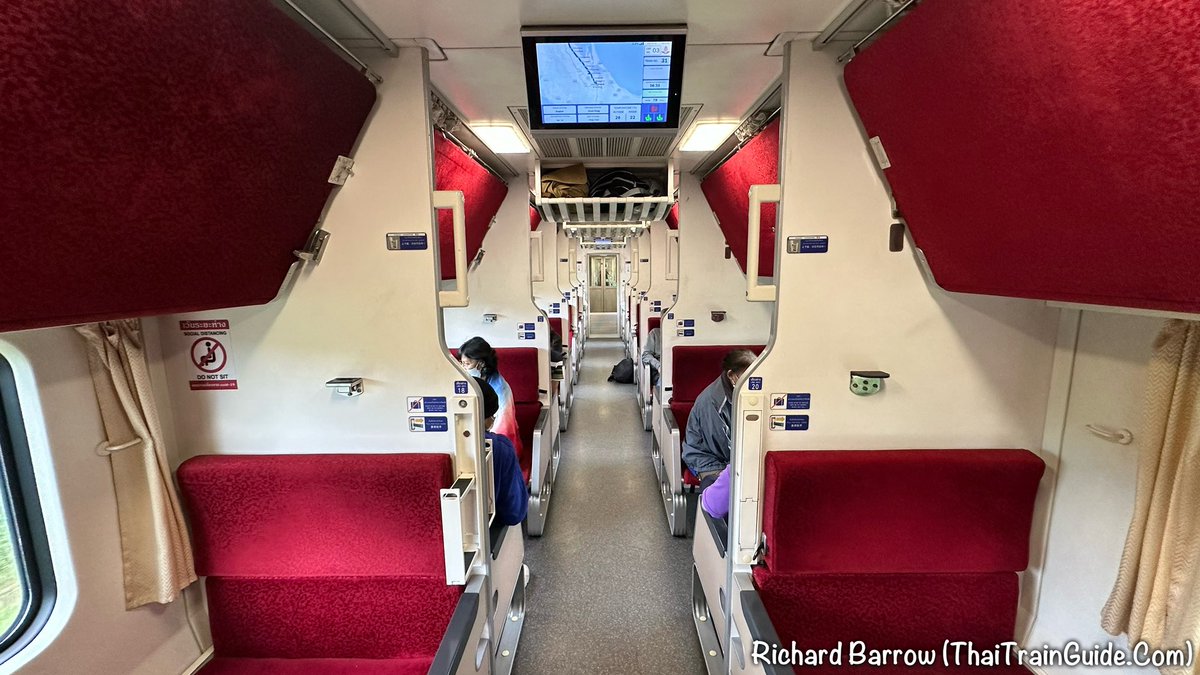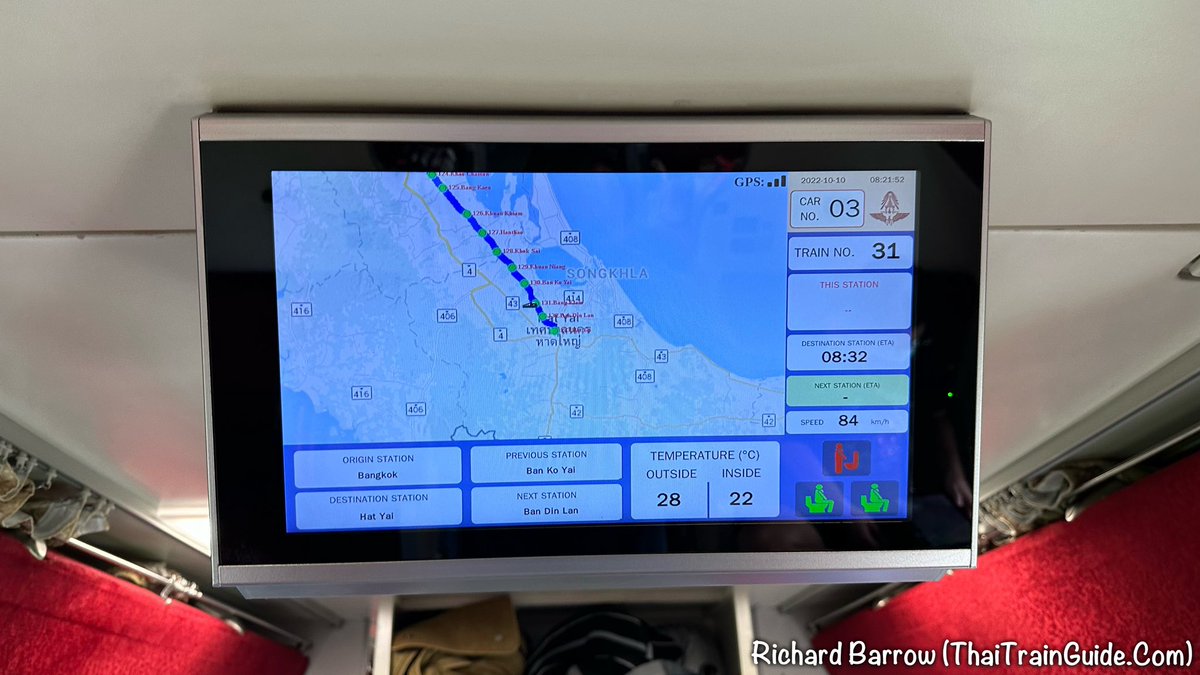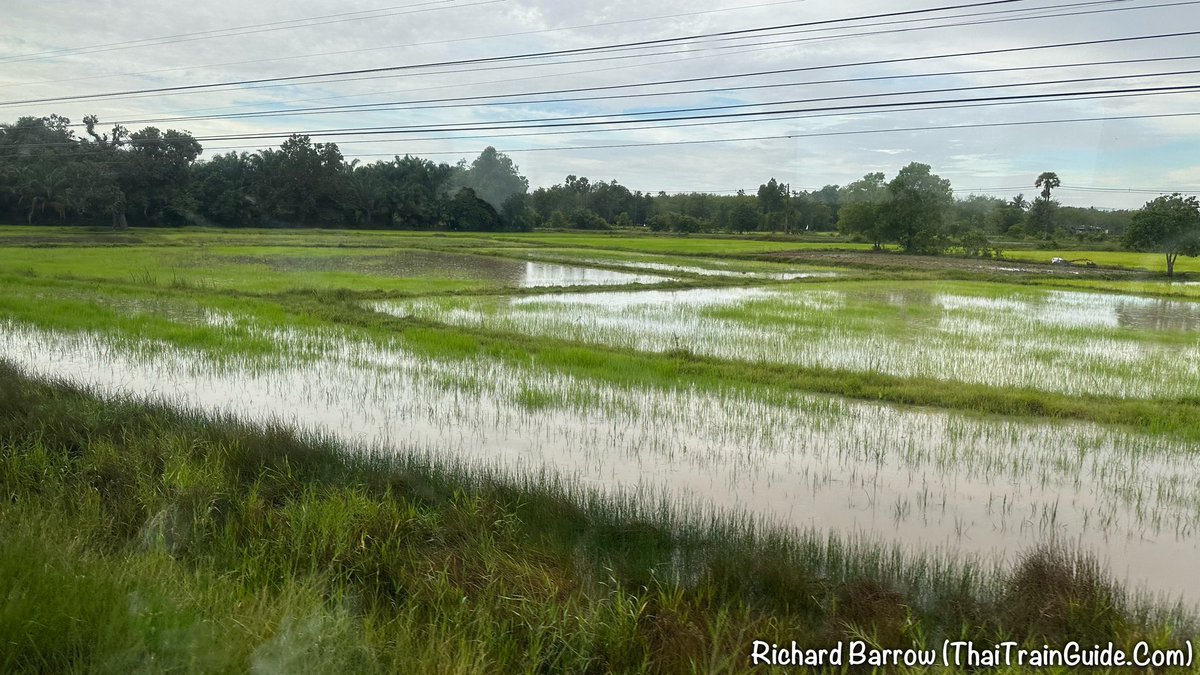 [9] I slept my third night at The Train Hotel above Hat Yai Junction Station. This was built in 1968 and originally operated by the State Railway of Thailand. From here you go through airport style security to the ticket office. Today I'm going to Padang Besar.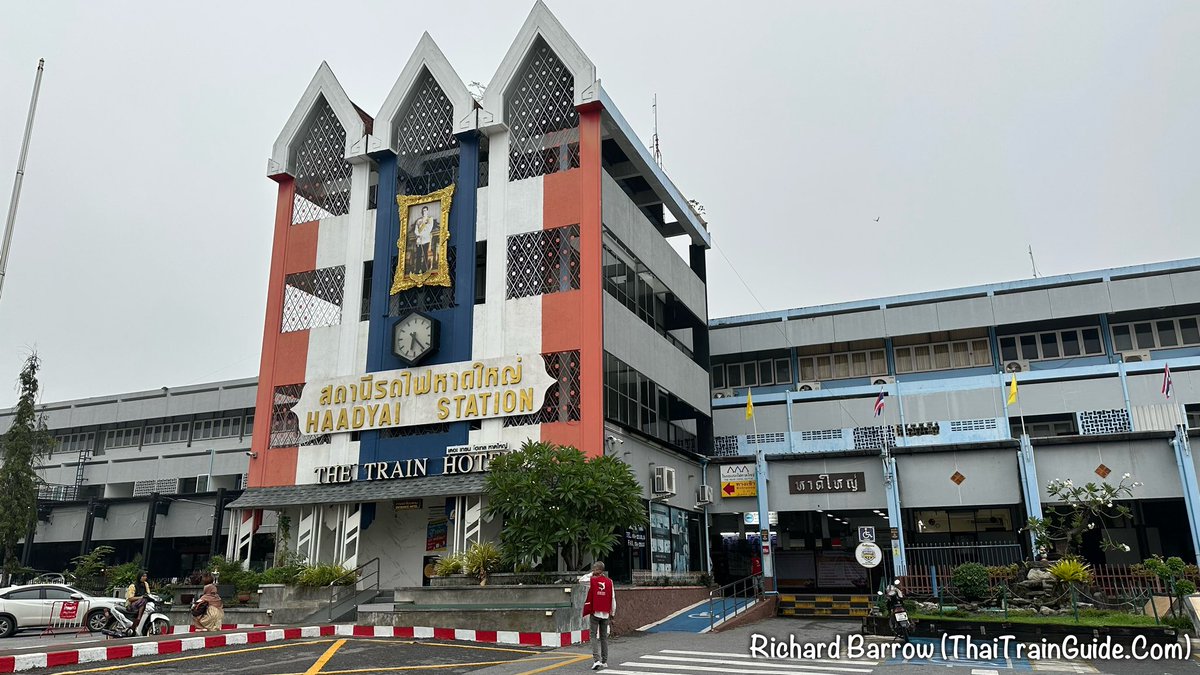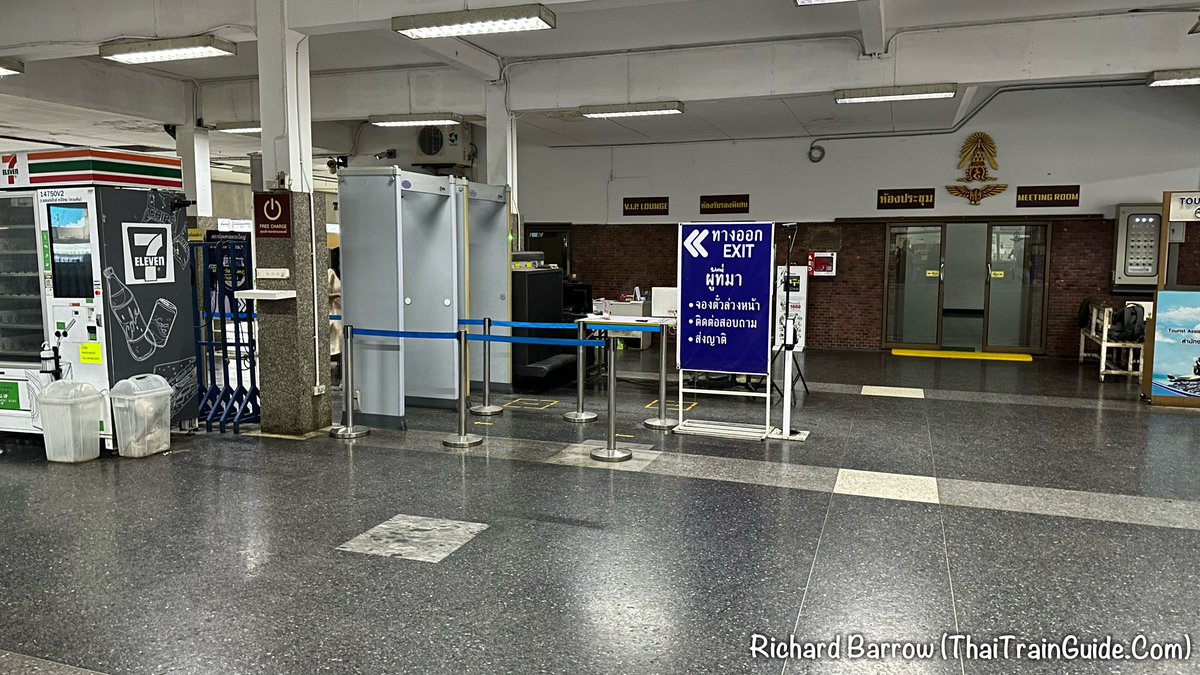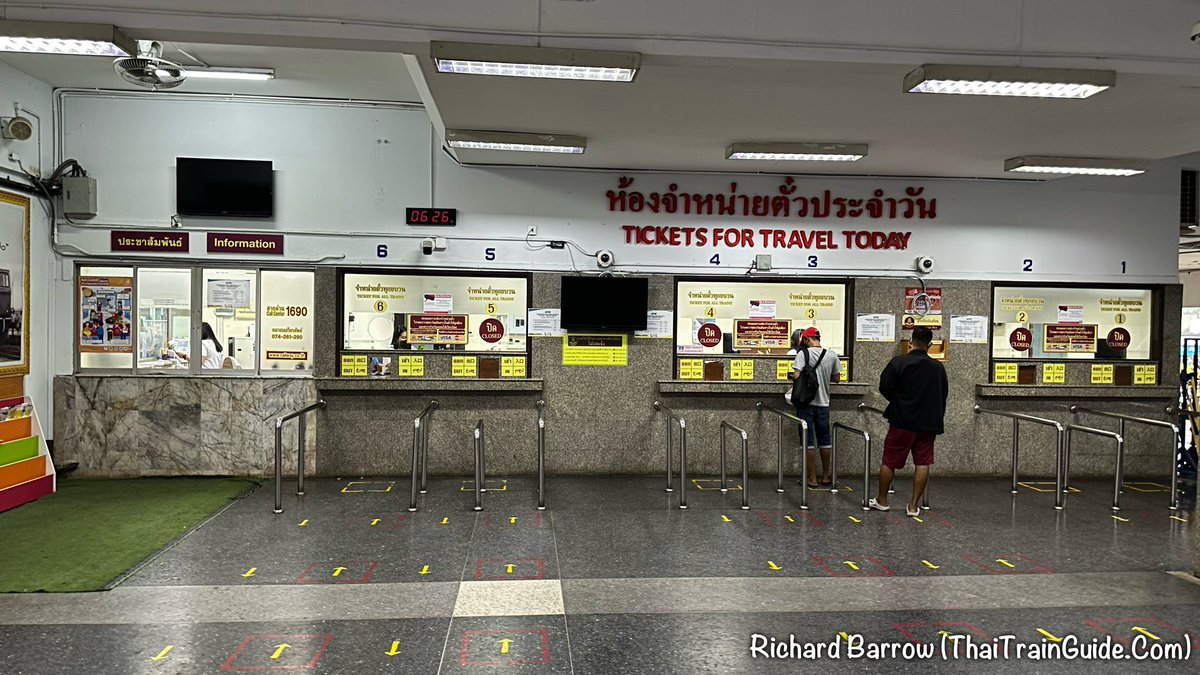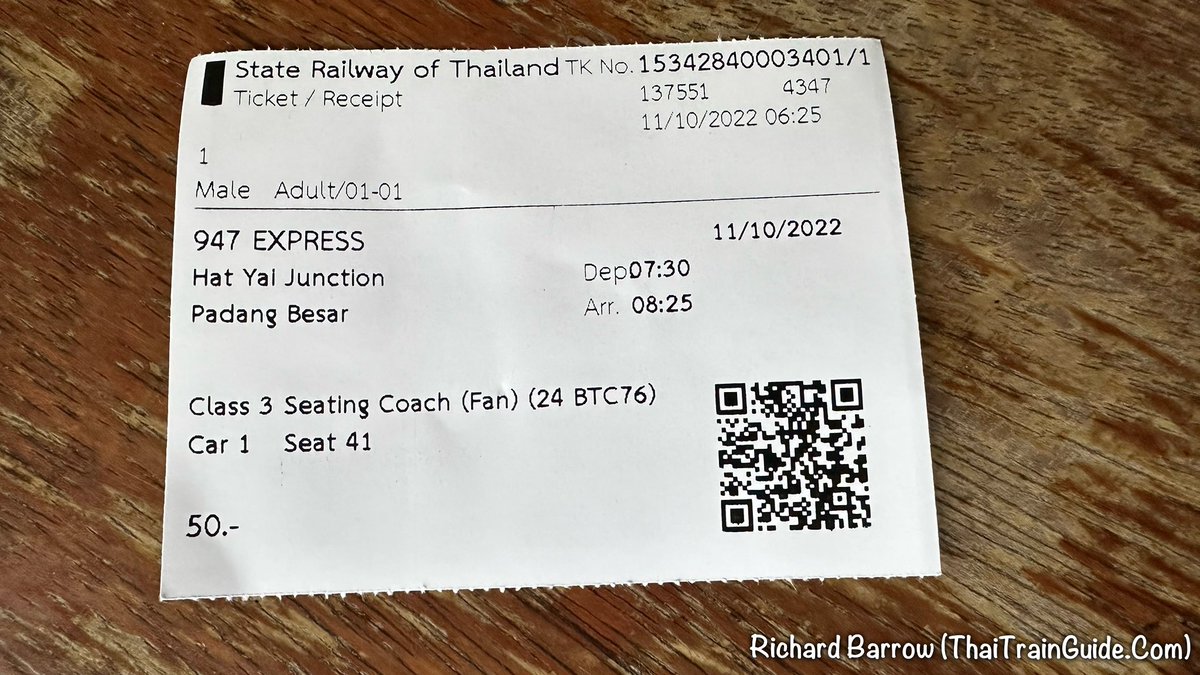 [10] Hat Yai Junction Station is the gateway to the Deep South. One branch goes to Su-Ngai Kolok in Narathiwat and the other to Padang Besar in Songkhla. The latter is considered safer and so the route doesn't usually have armed guards on the train.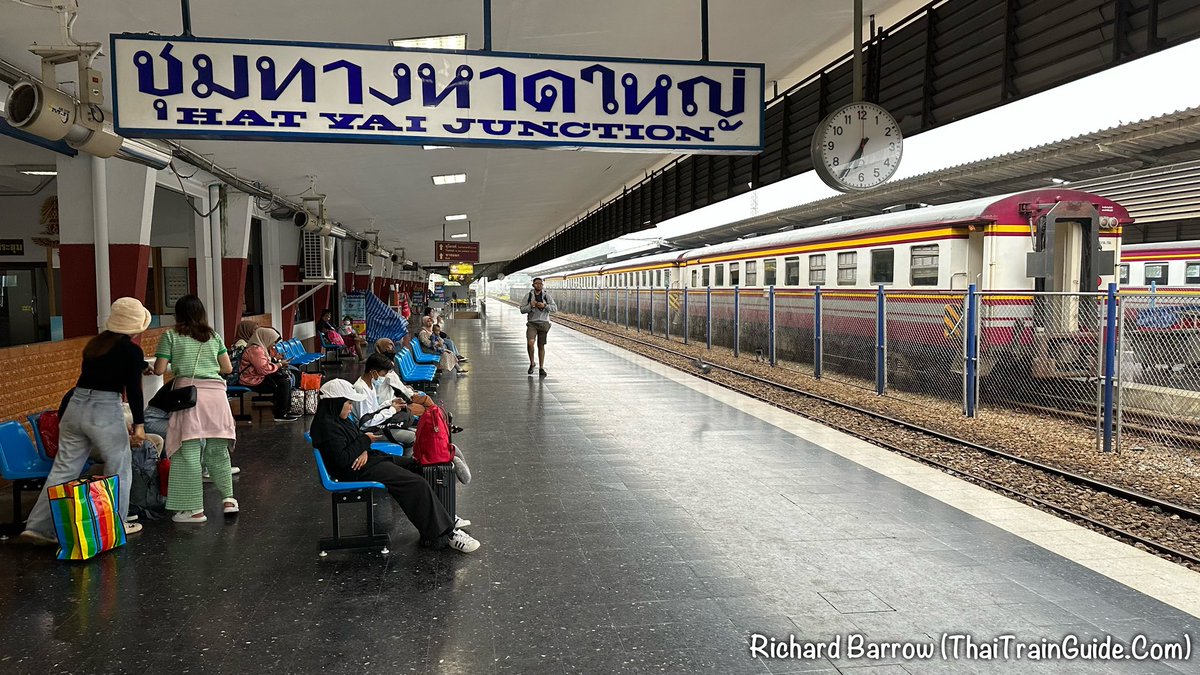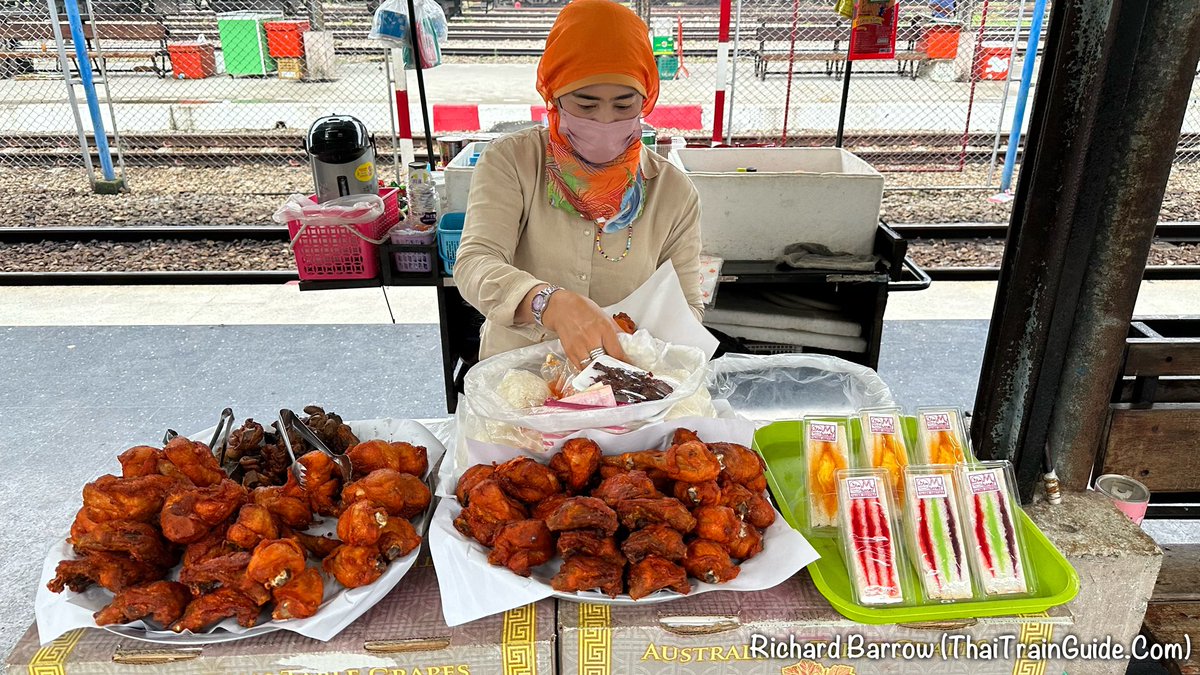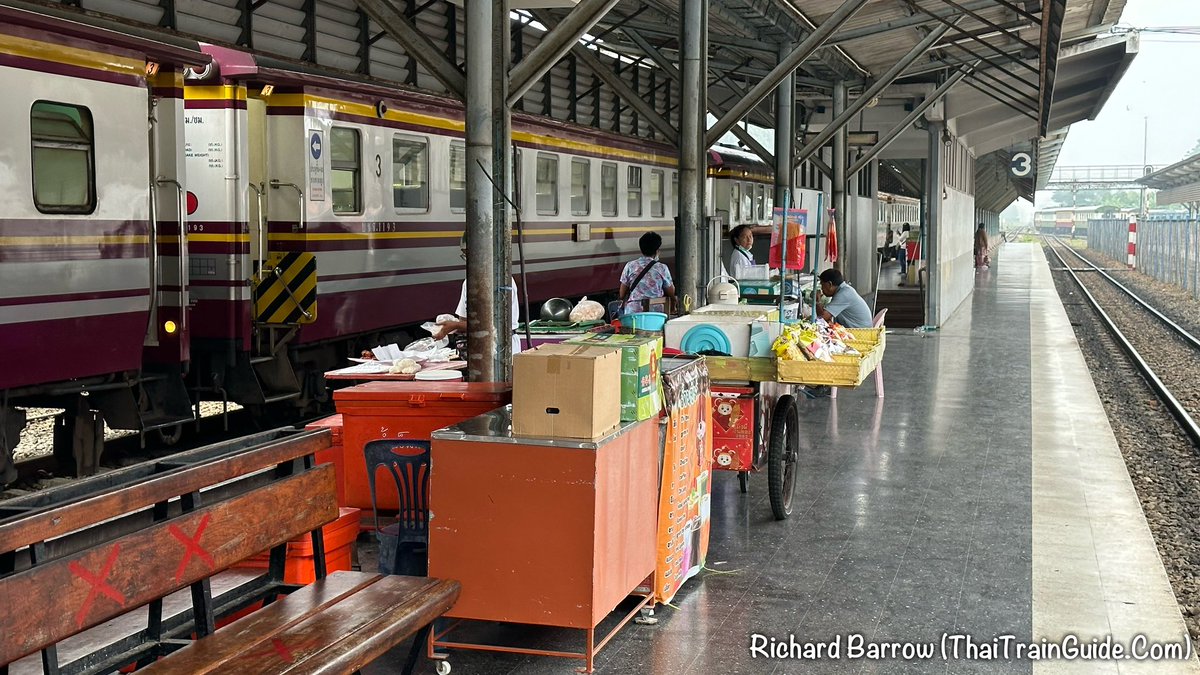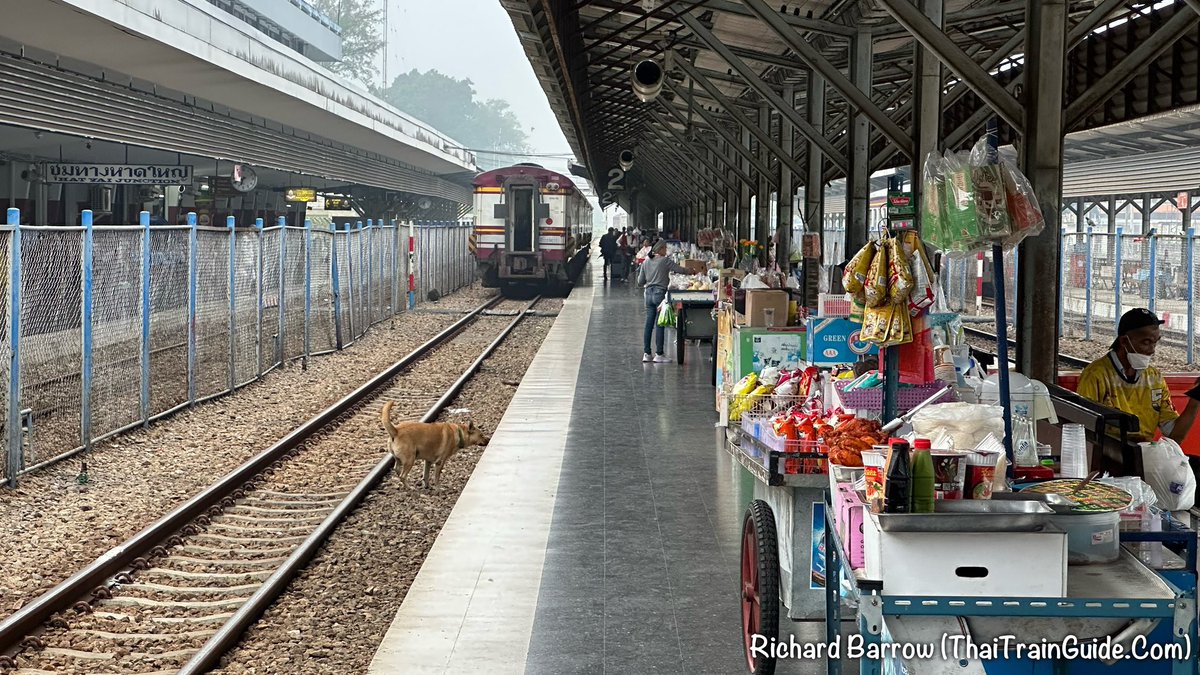 DAY 4: Hat Yai Junction to Padang Besar.
🚂 Express No.947
🎟️ 3rd Class (fan) 50 Baht
⏰ 7:30am-8:25am
Don't forget Malaysia is +1 hour to Thailand time. So arrives at 9:25am Malaysian time.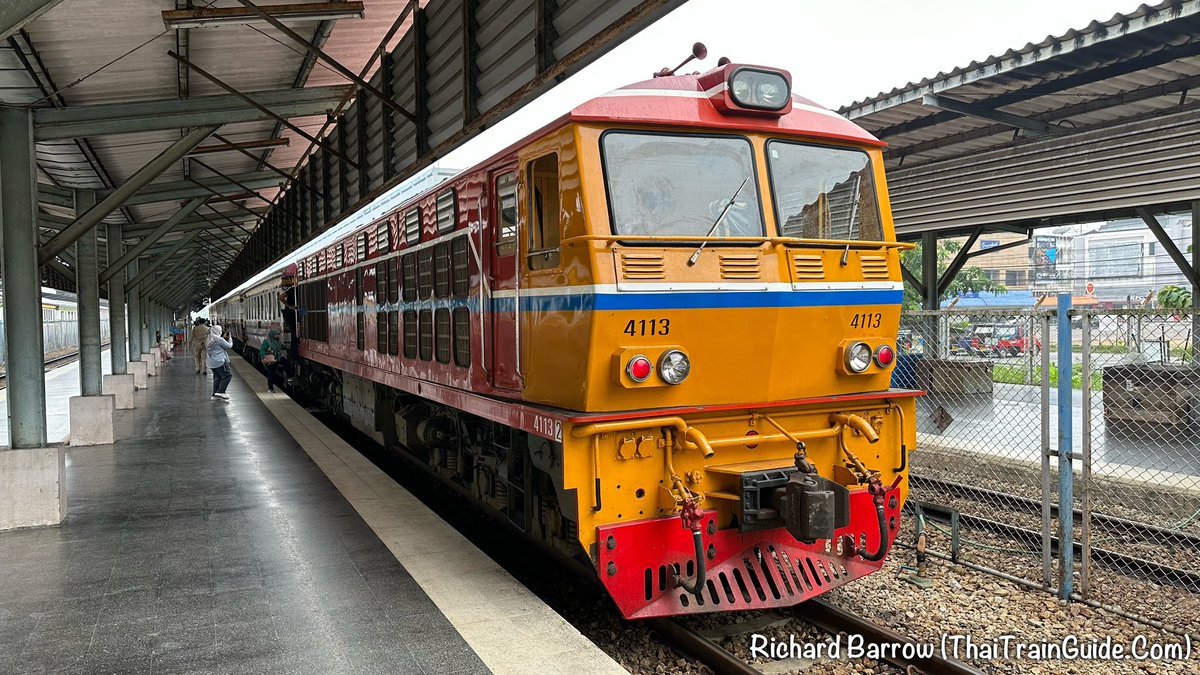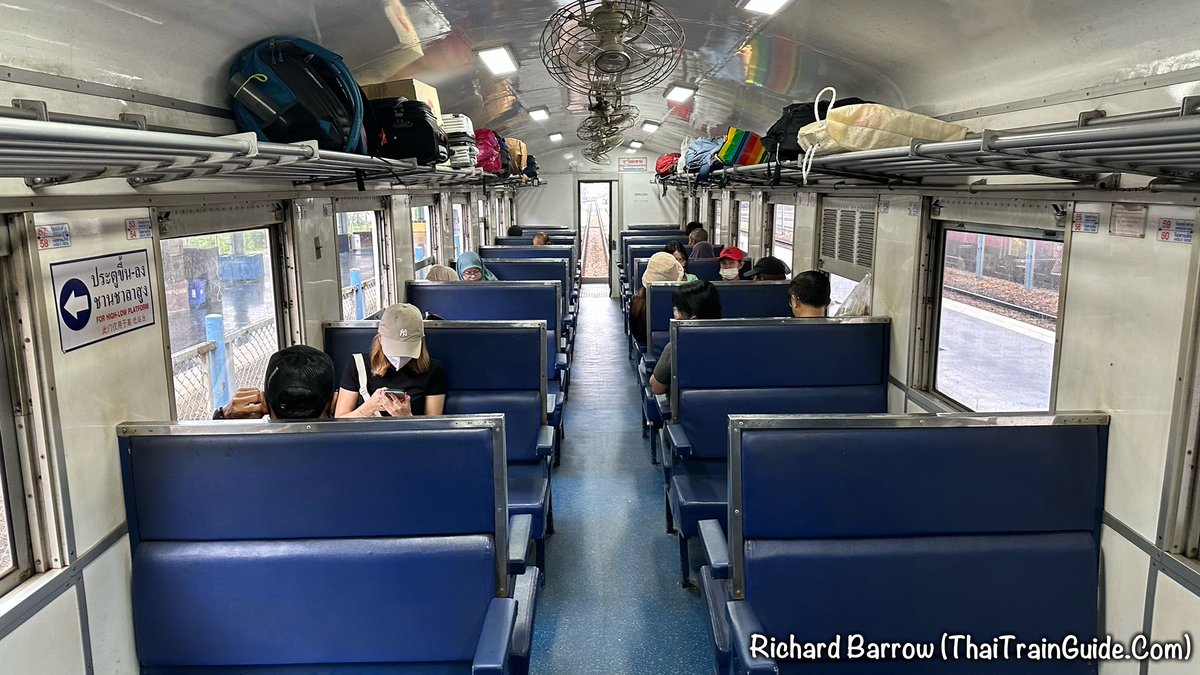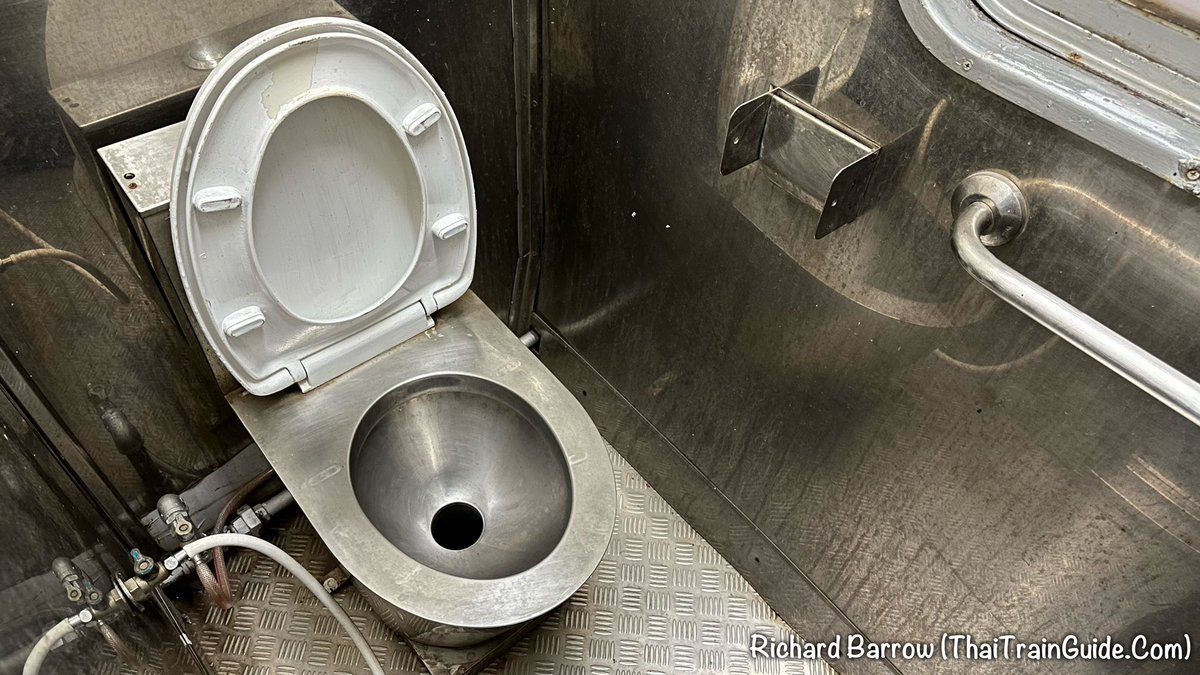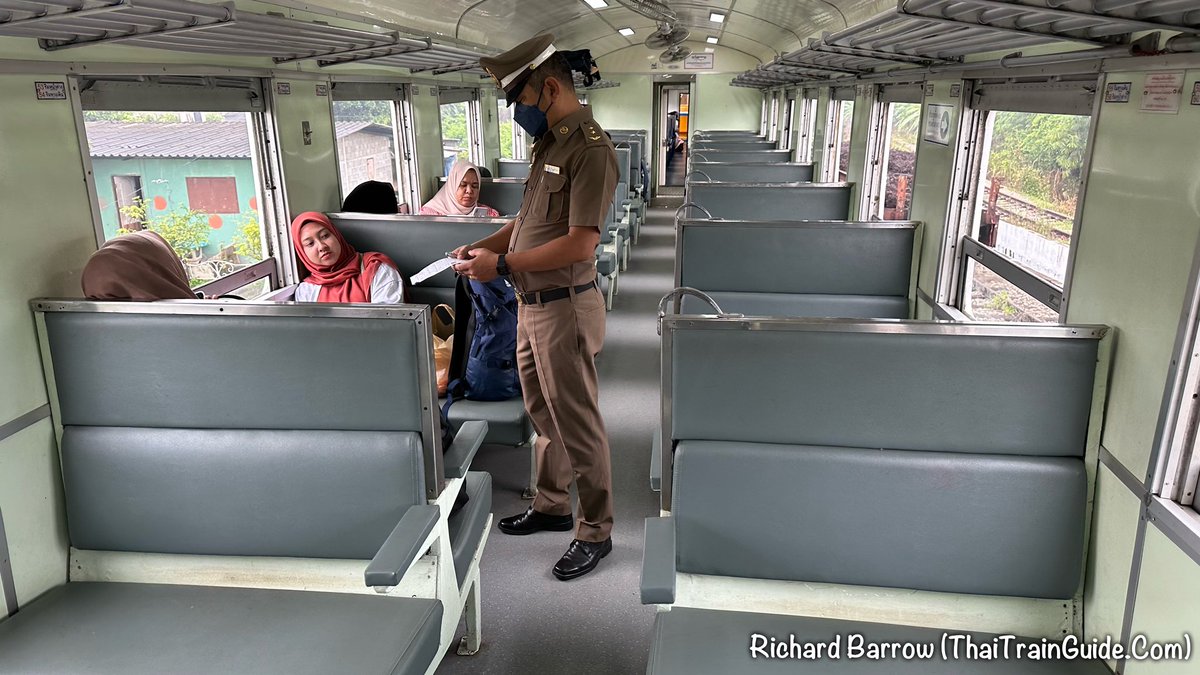 [12] ALTERNATIVE TRAIN: There are 2 shuttle trains between Hat Yai Junction and Padang Besar at 7:30am (No.947) and at 2:00pm (No.949). The journey takes an hour. Additionally, No.45 sleeper train from Bangkok adds one 3rd Class carriage at Hat Yai Junction and departs at 8:55am.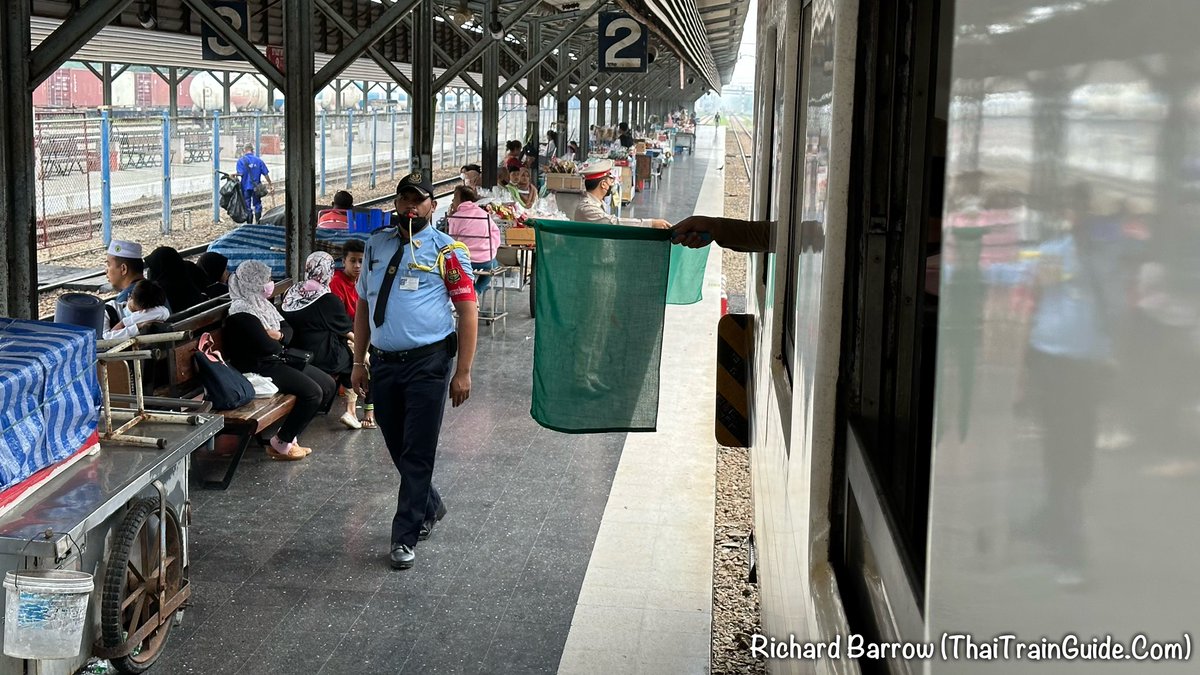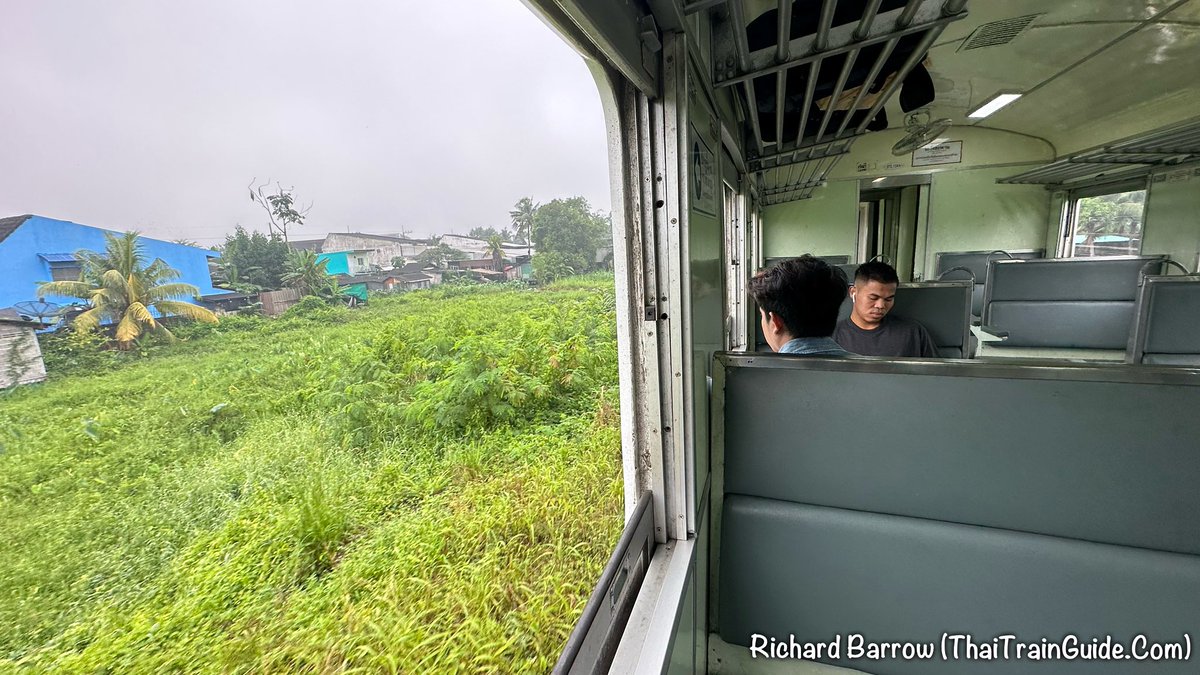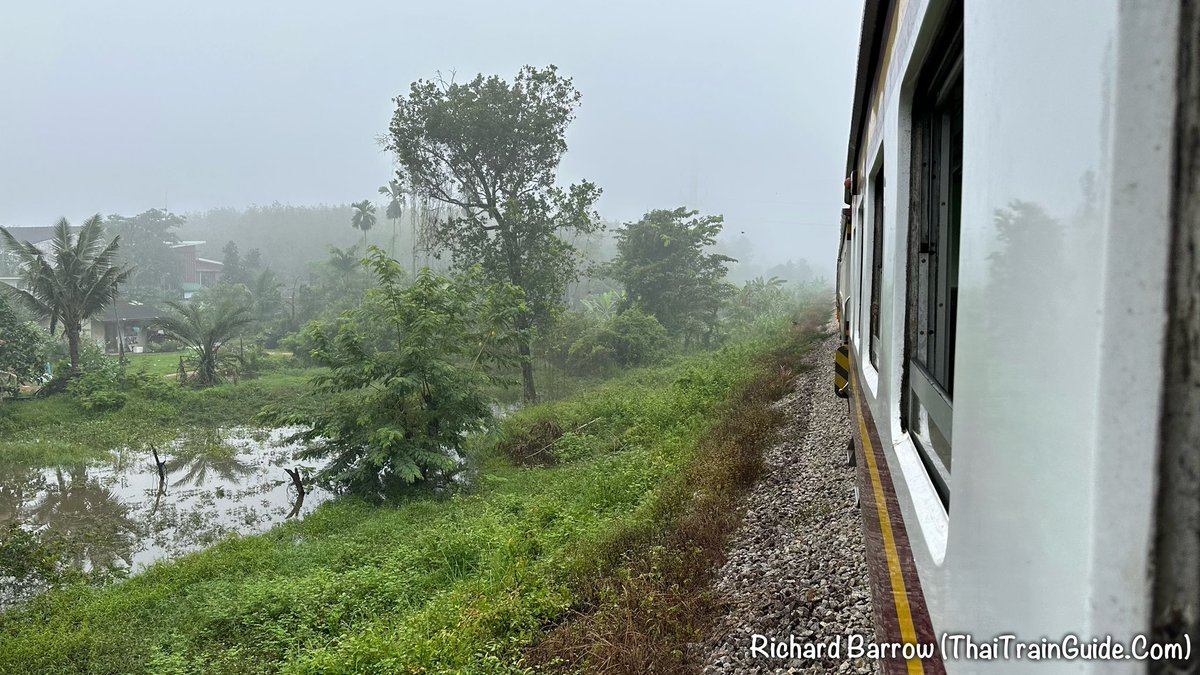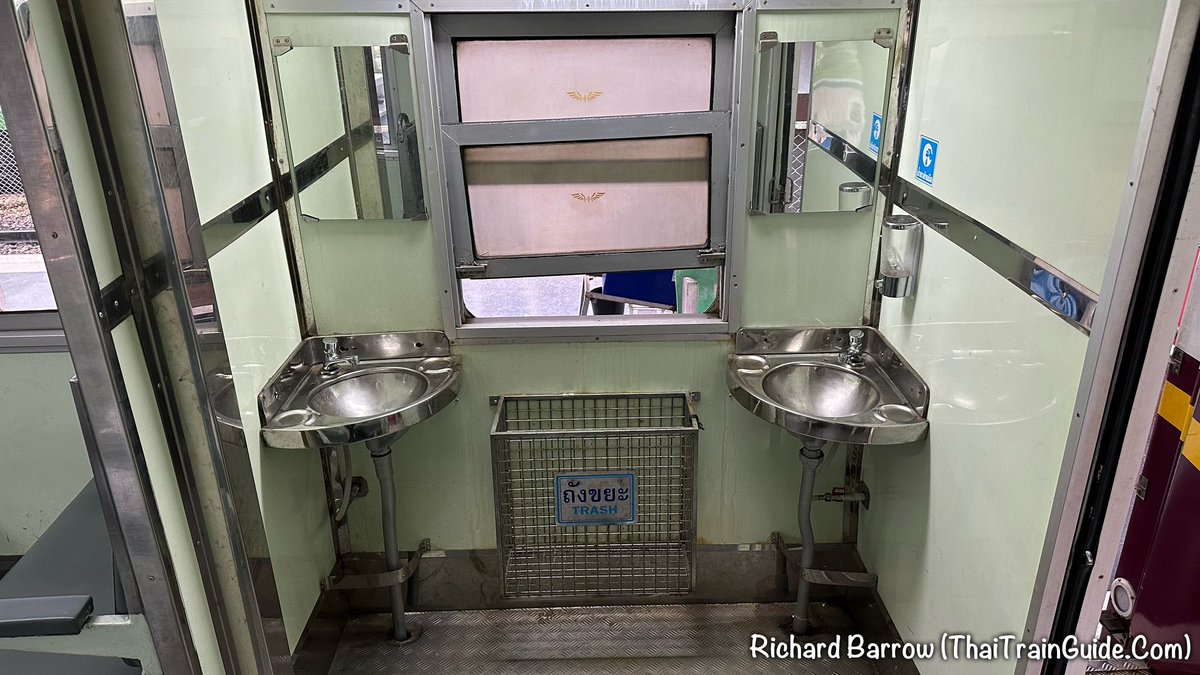 [13] Don't get off at the first Padang Besar Station (1st photo). A few minutes later you will pass the border fence (2nd photo) and then enter the KTM Padang Besar station. Notice the overhead electric lines. Buy your tickets upstairs after you have finished with immigration.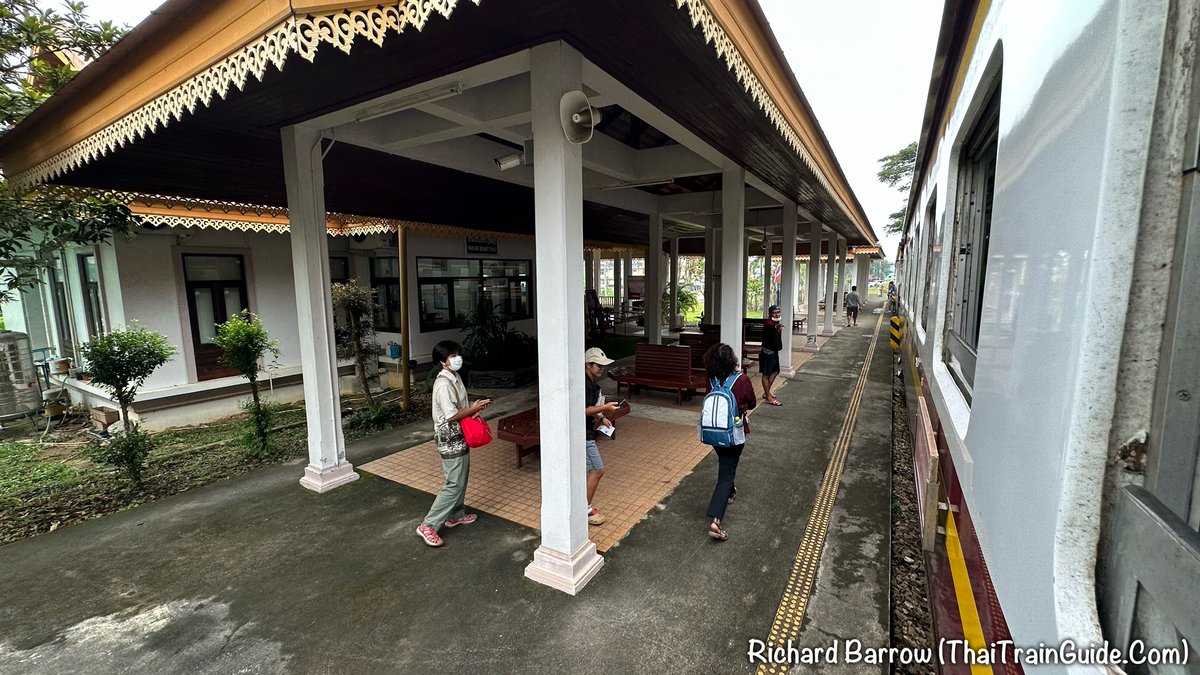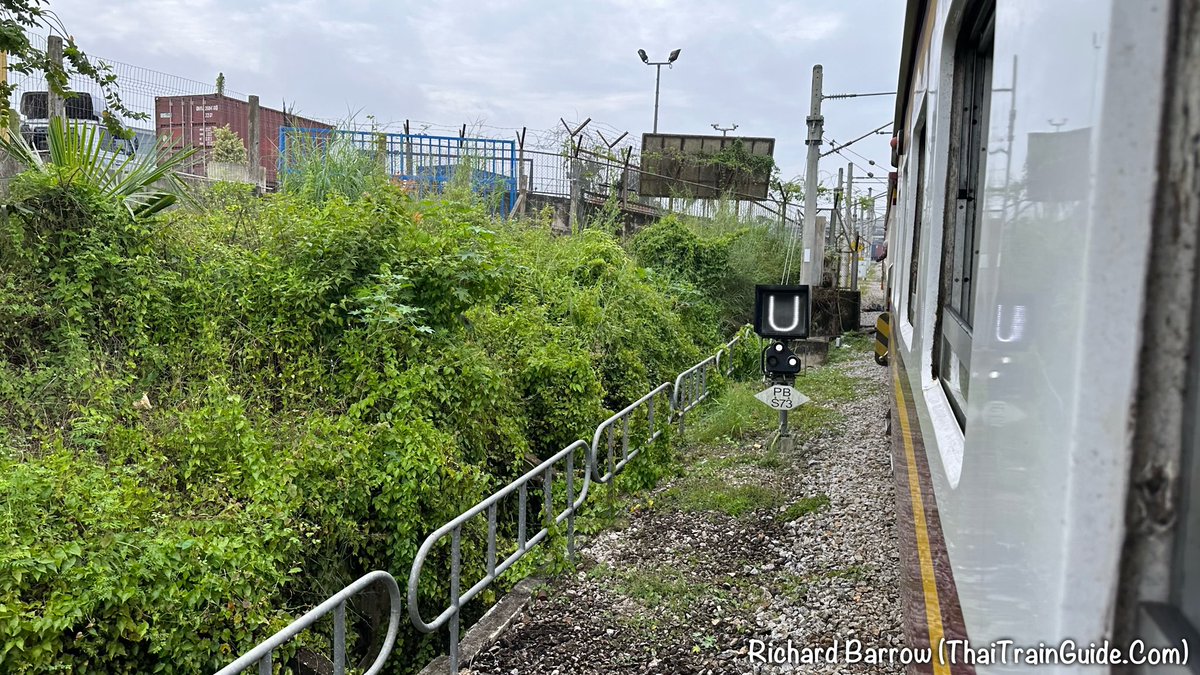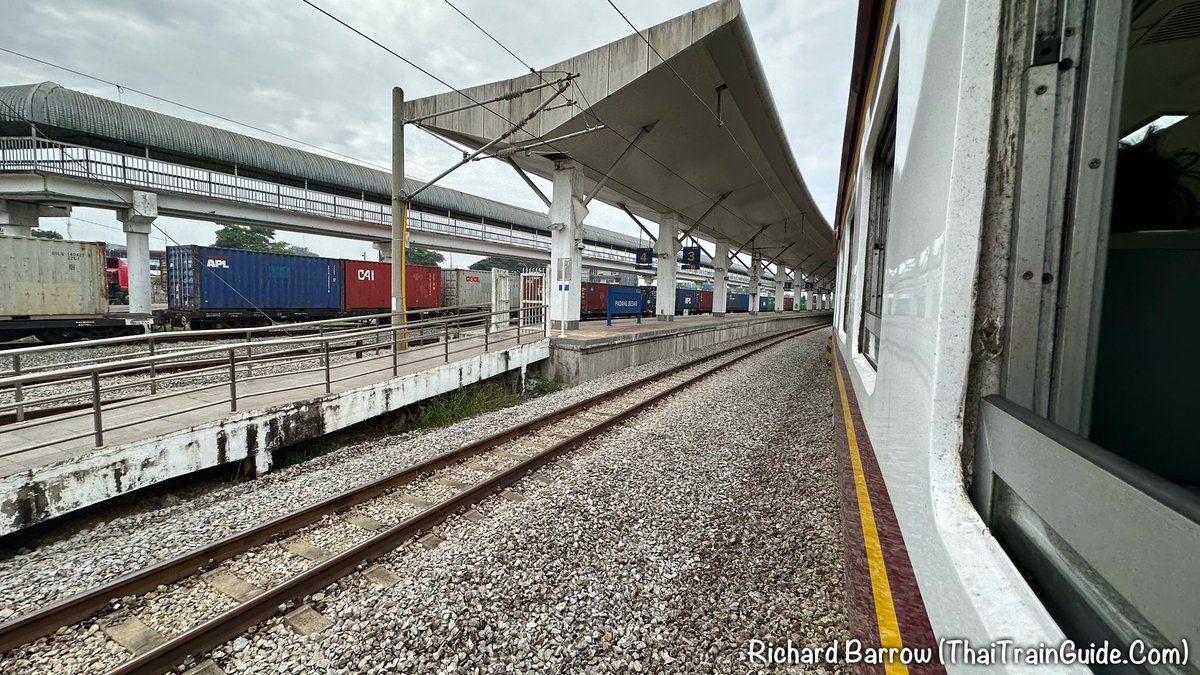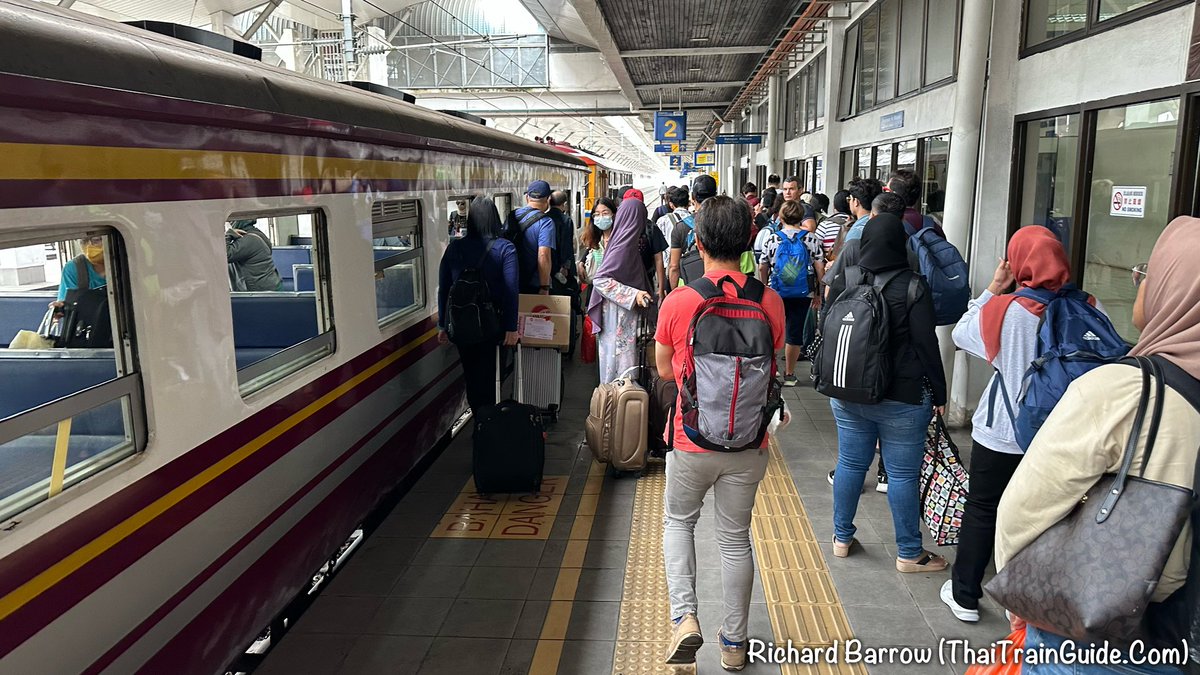 DAY 4 (Train 2): Padang Besar to Butterworth.
🚂 KTM Komuter No.2591
🎟️ MYR 11.40 (93 Baht)
⏰ 10:35am-12:26am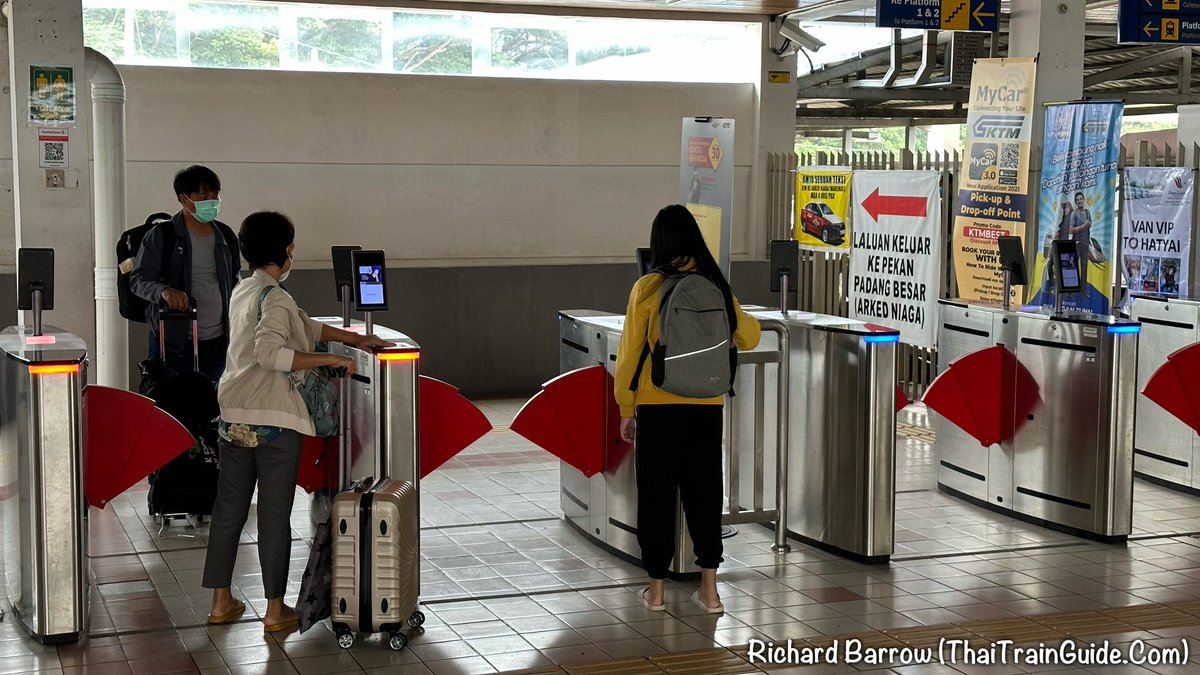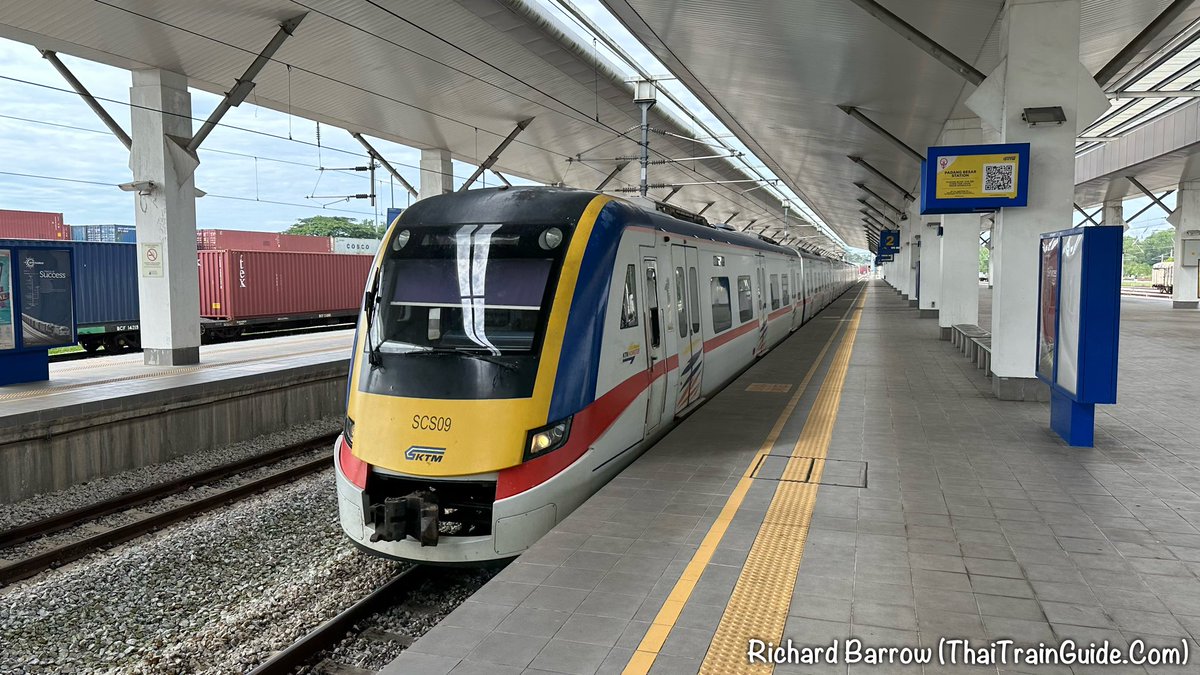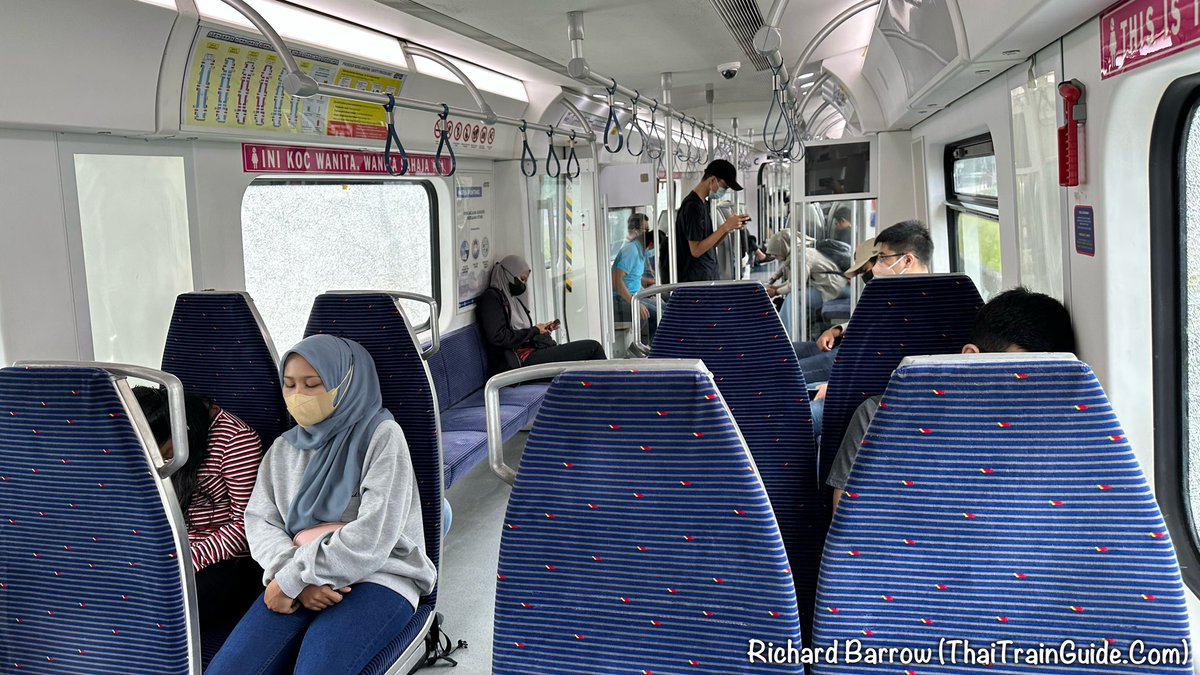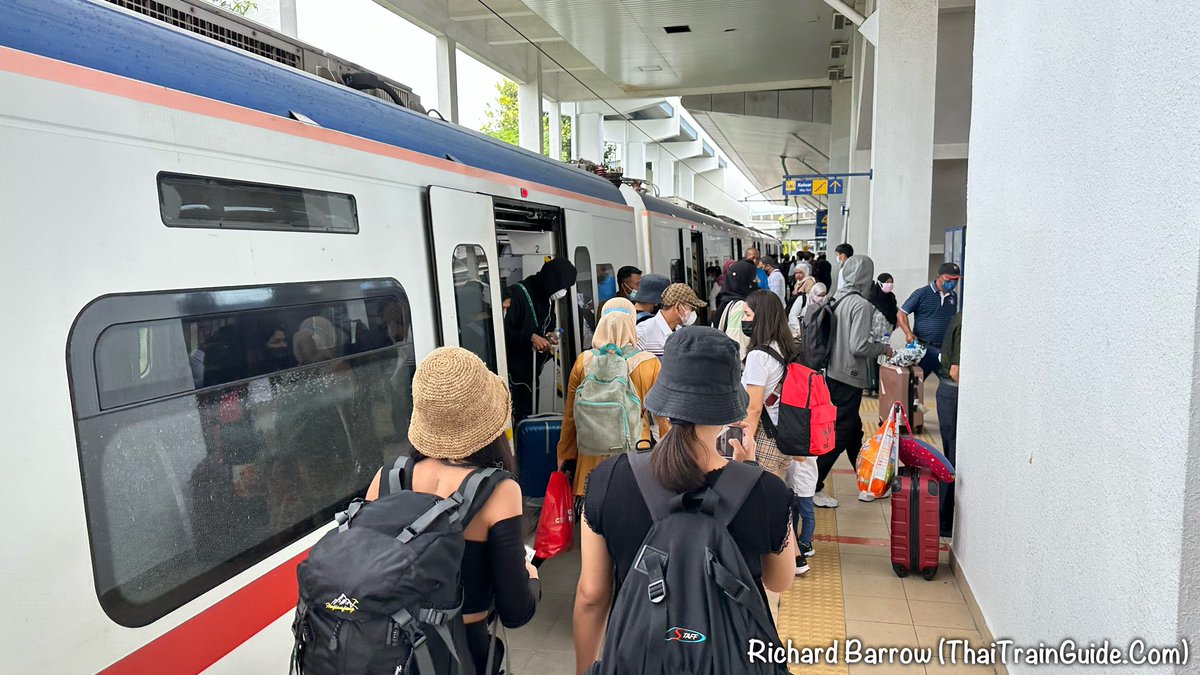 [15] ALTERNATIVE TRAIN: I caught the 10:35am train to Butterworth as it was the best connection coming from Thailand. But there are other trains every hour or so during the day.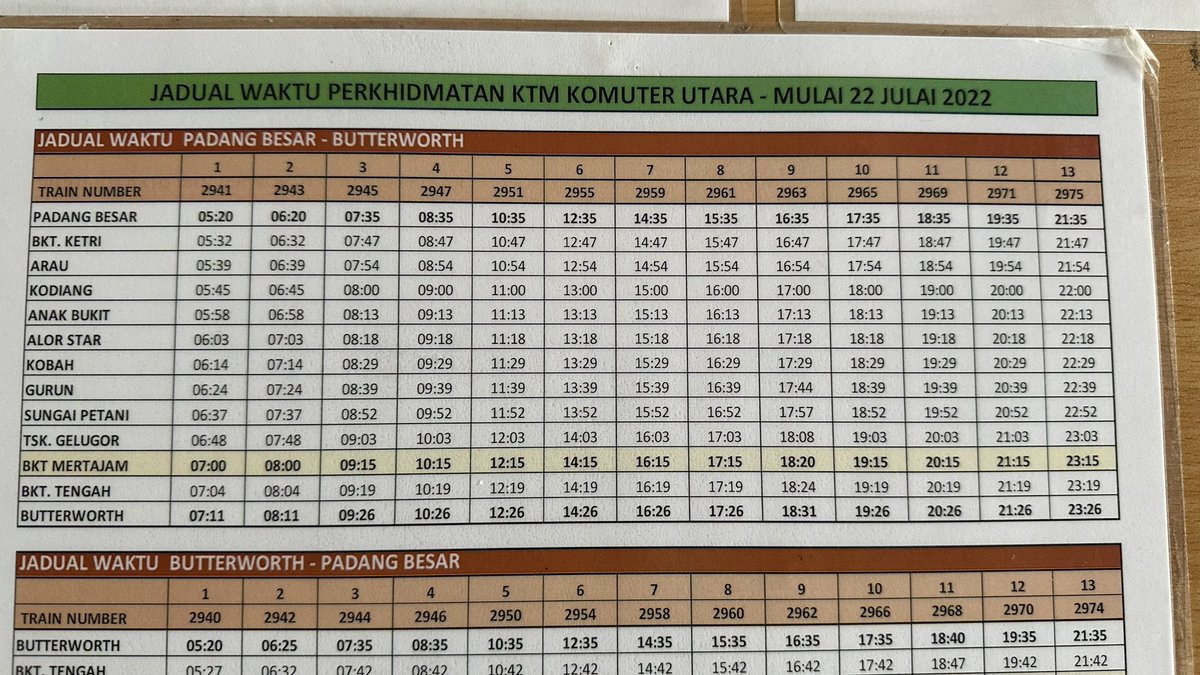 [16] From Butterworth I caught a ferry from the port near the station. Looks like they go every hour. Mine left at 1:00pm. Tonight I'm staying at OZO George Town Penang for two nights. Then it's back on the train again.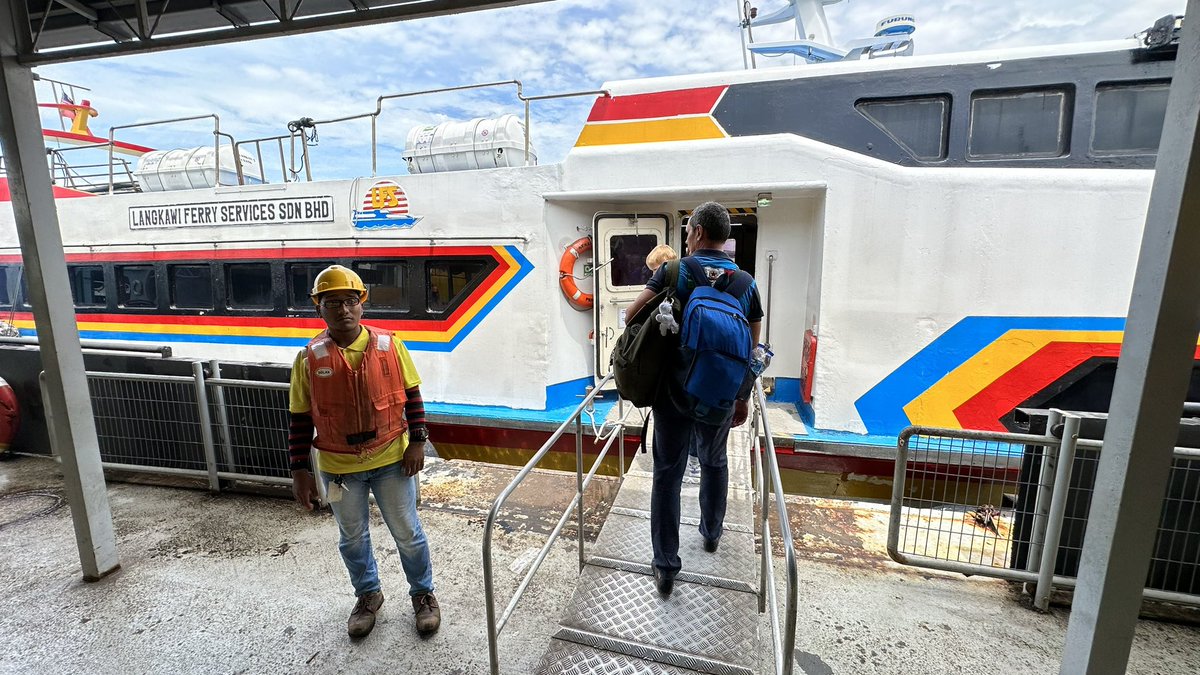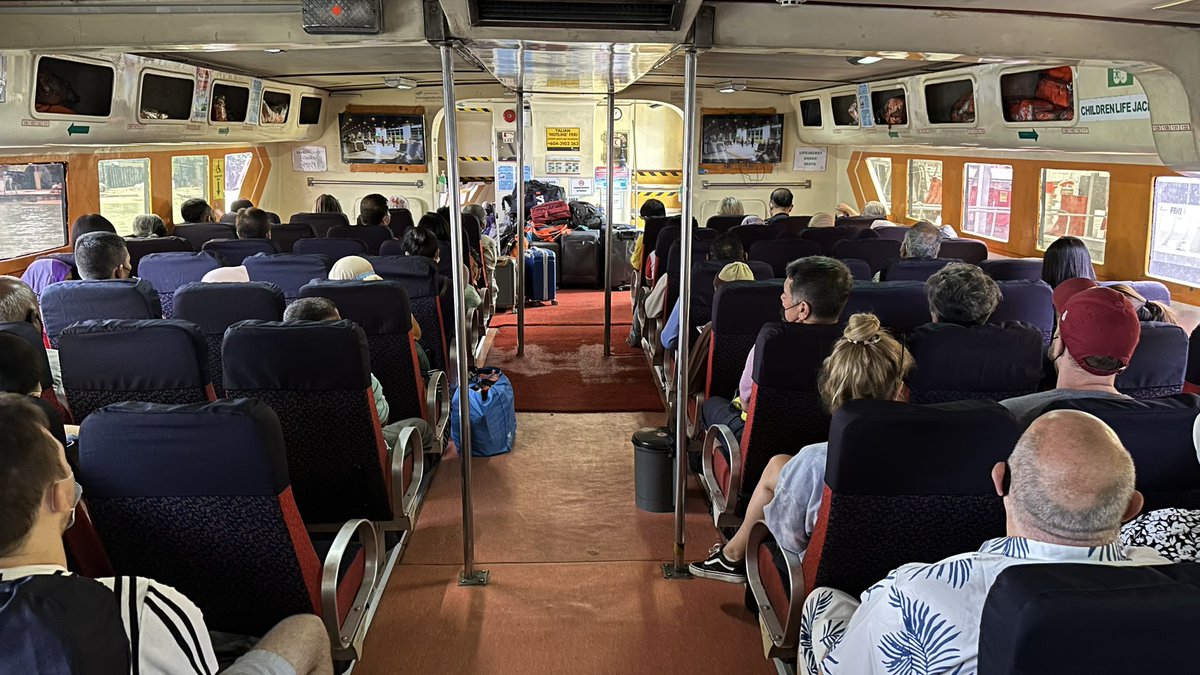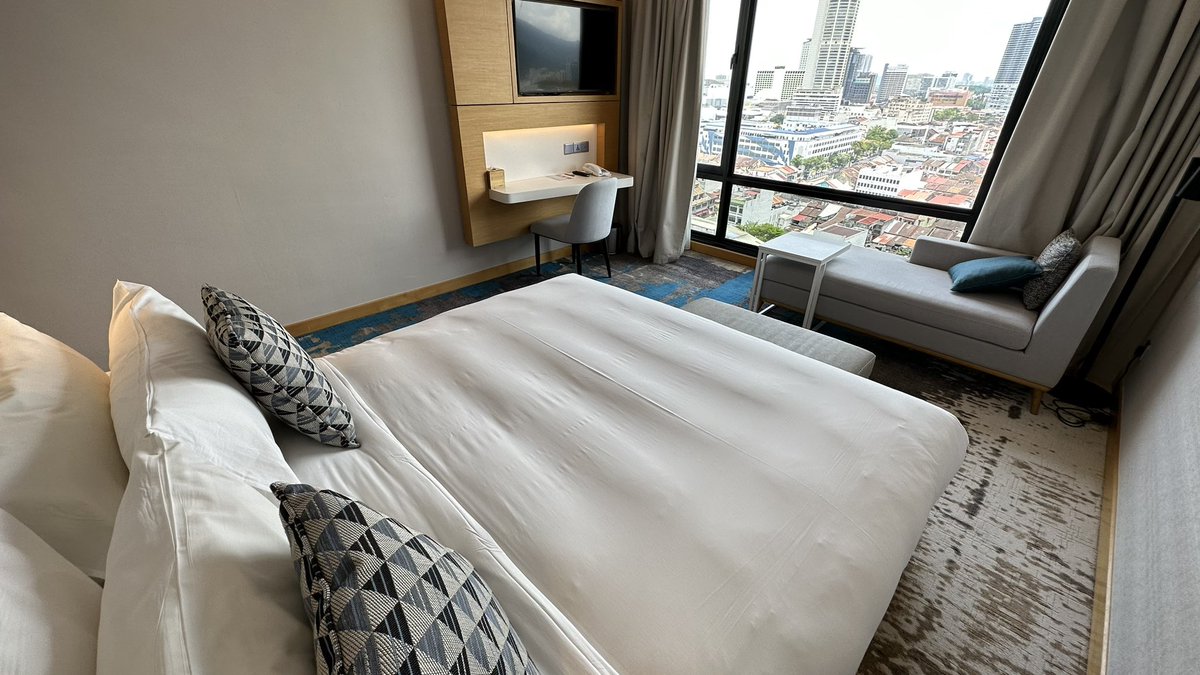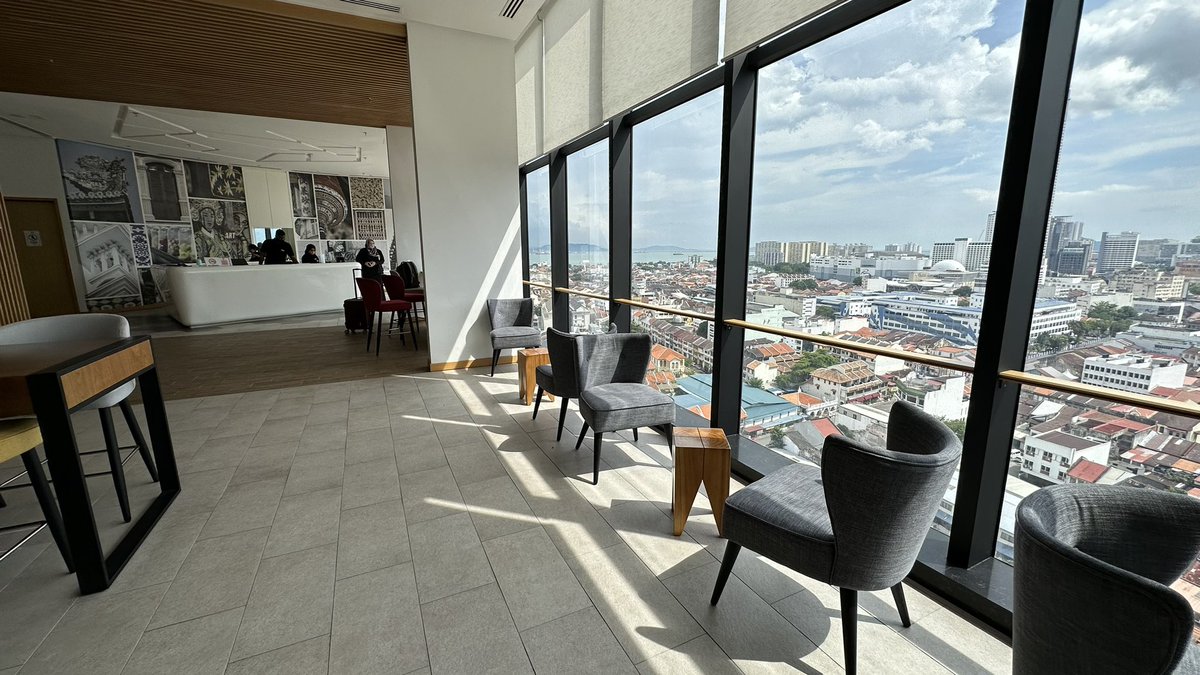 [17] Today is Day 6 and I'm back on the train. This is Butterworth Station. It's a 10 minute walk from the Penang ferry. Please note, you cannot pass through the ticket barrier until one hour before your train departs and so best to wait at the shopping mall which has air-con.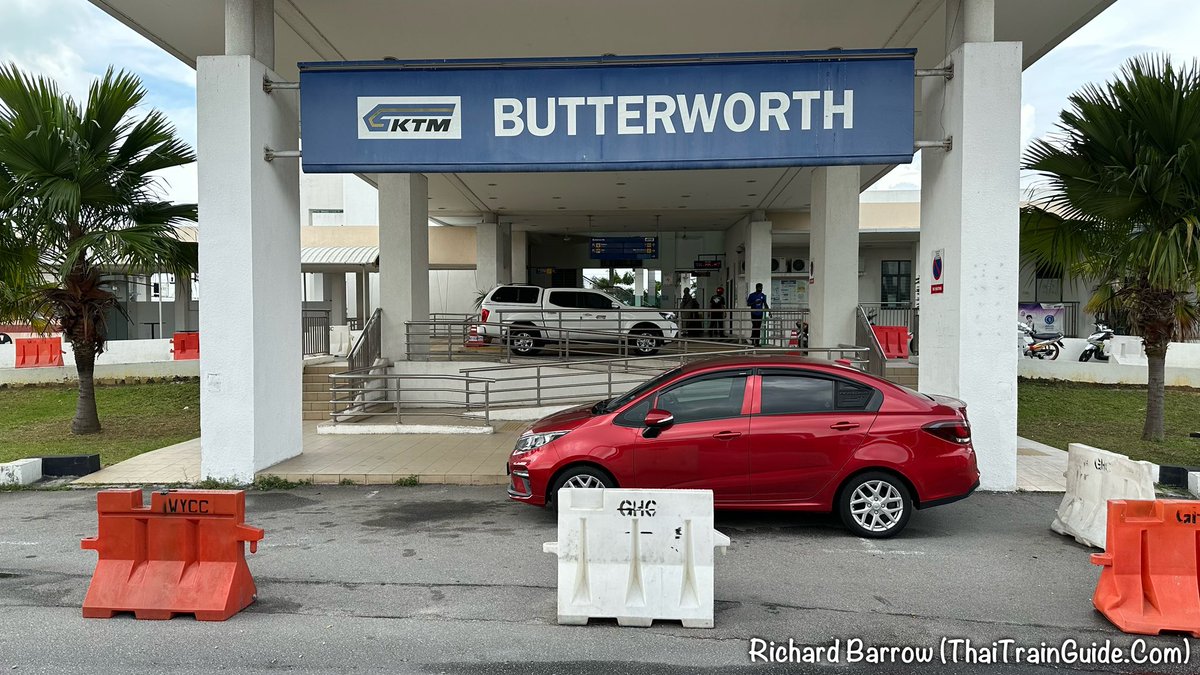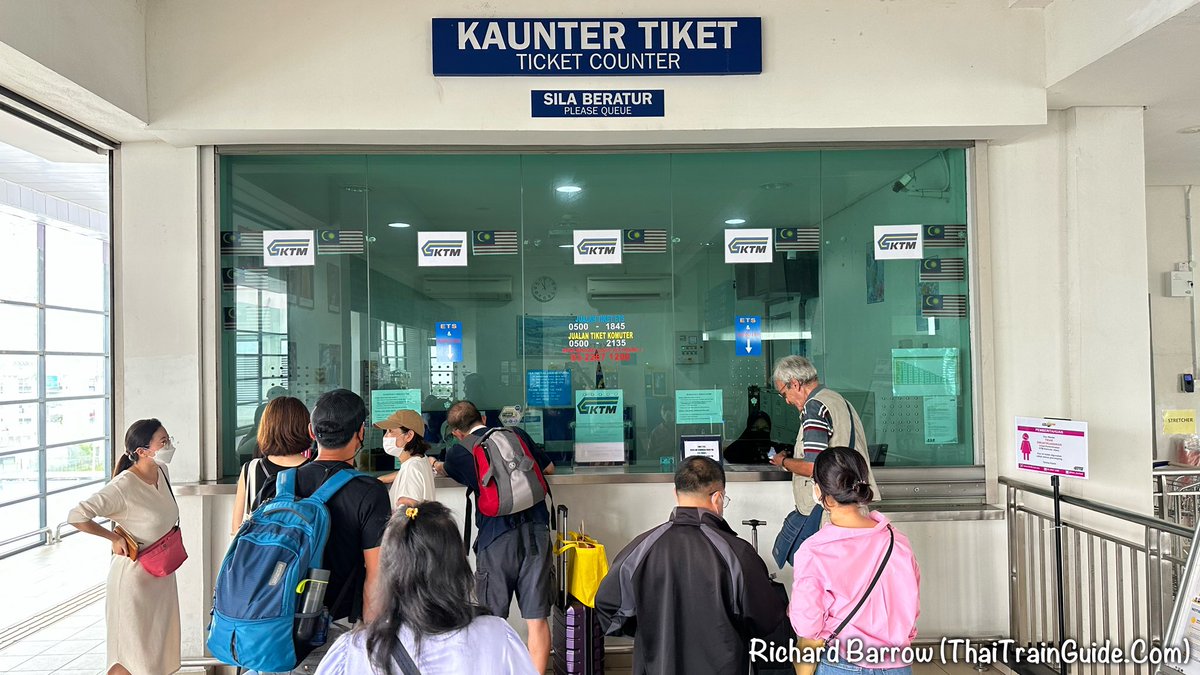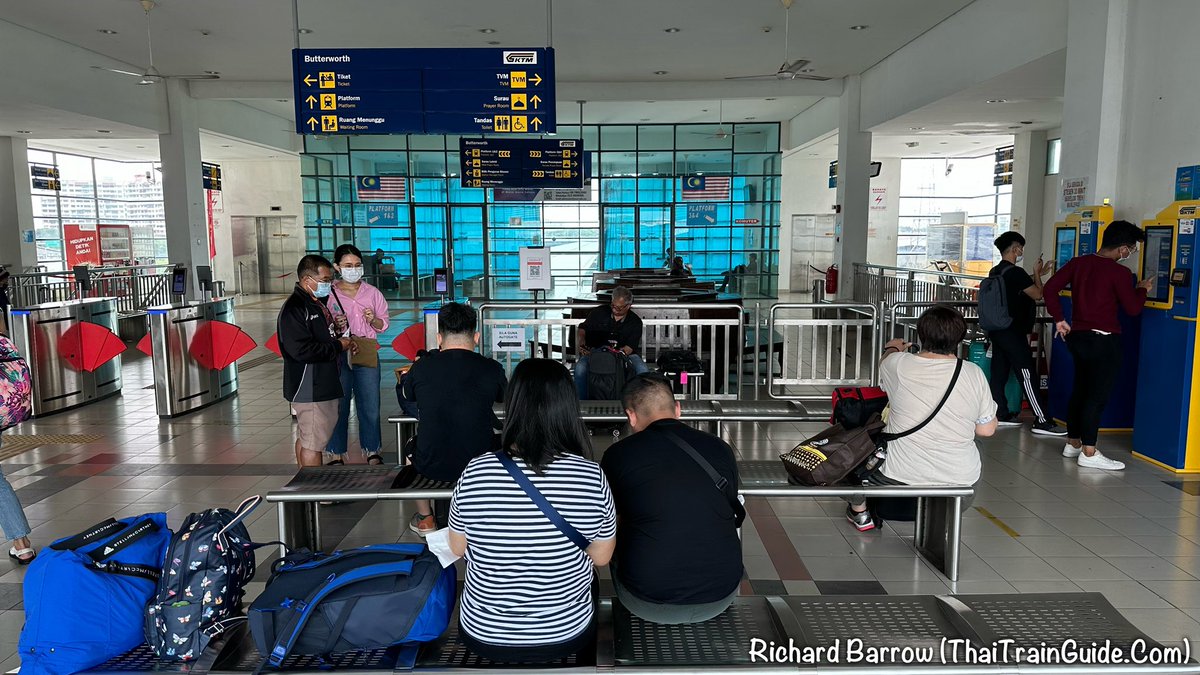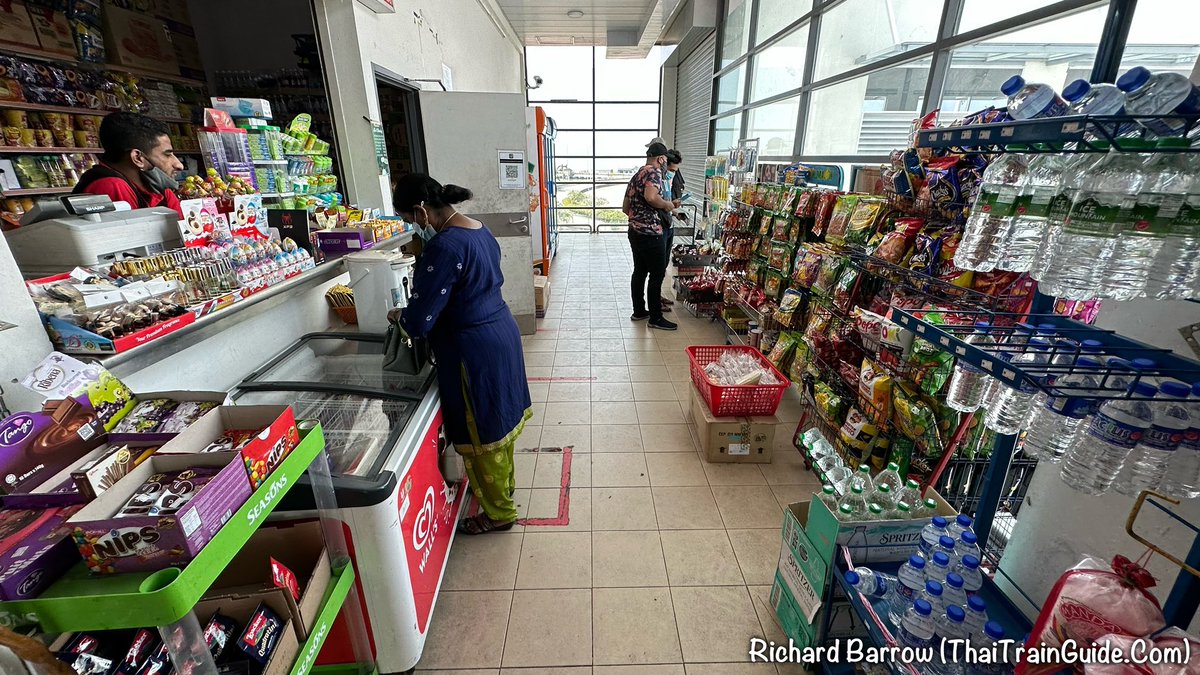 [18] To pass through the ticket barrier you need to scan the QR Code on your ticket. There are toilets on the other side but not free. There is also an A/C waiting room. You have to stay here until ten minutes before your train departs. Then they let you go down to the platform.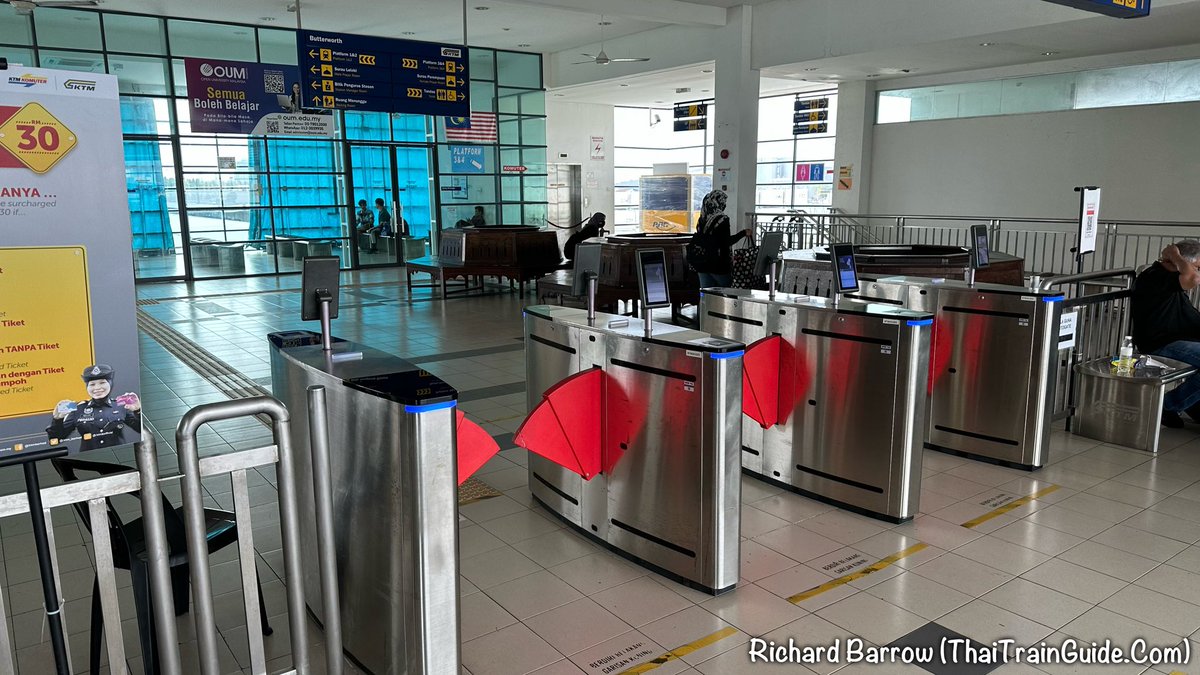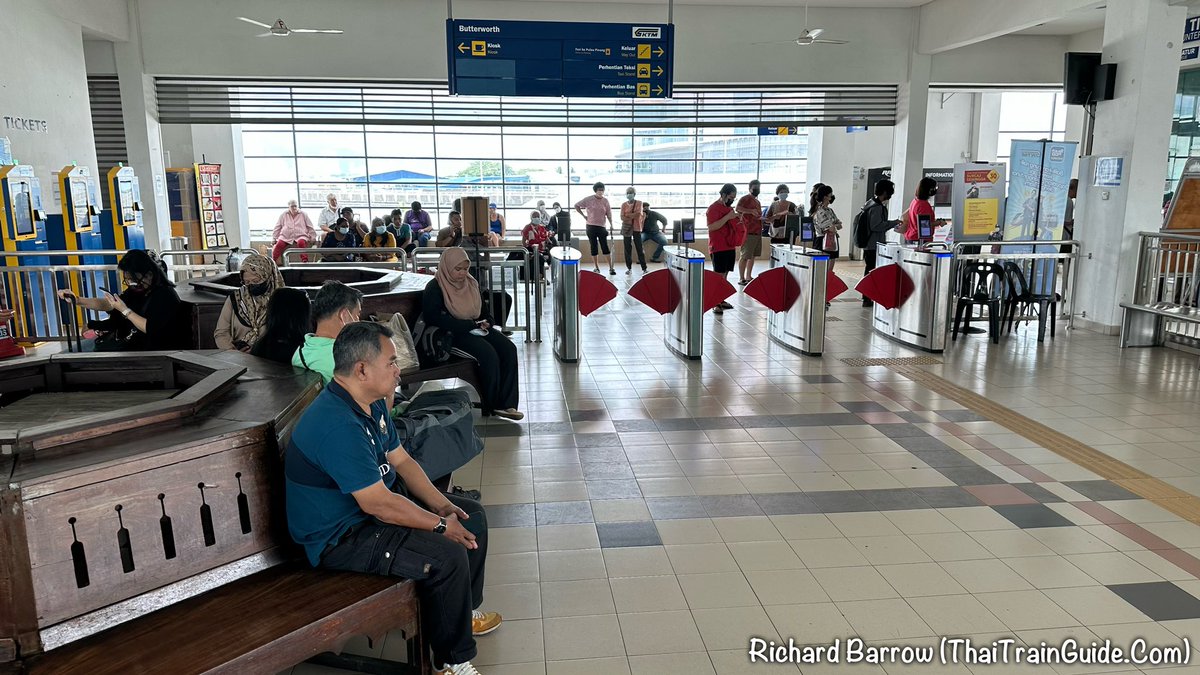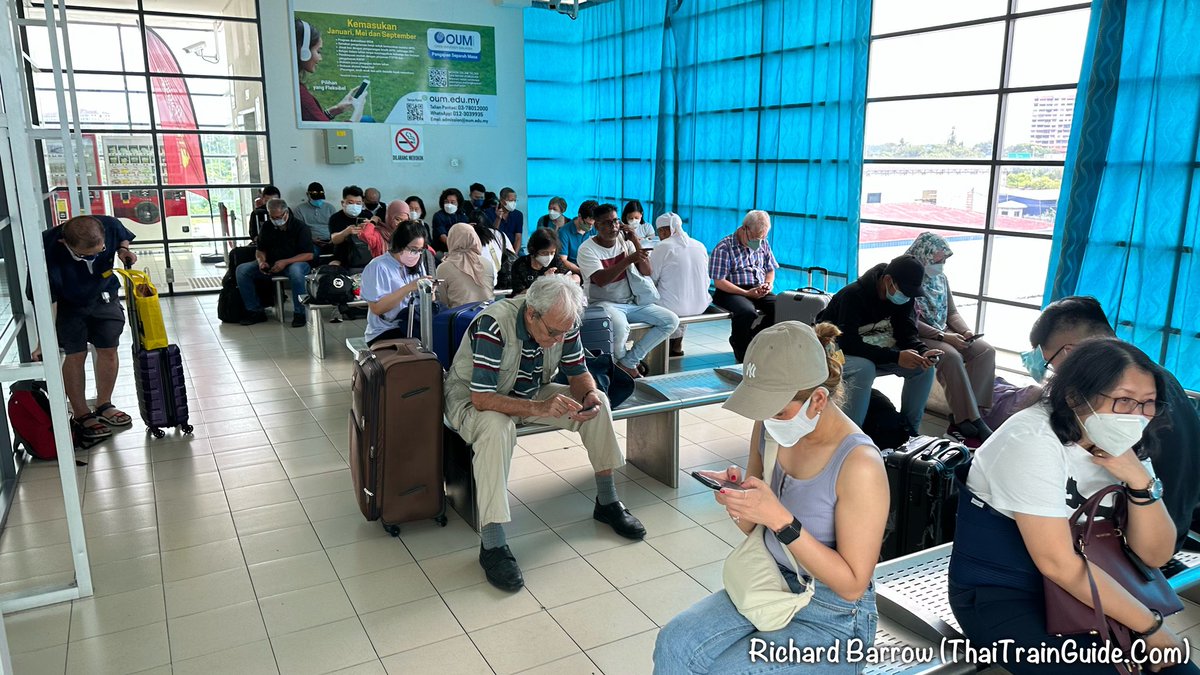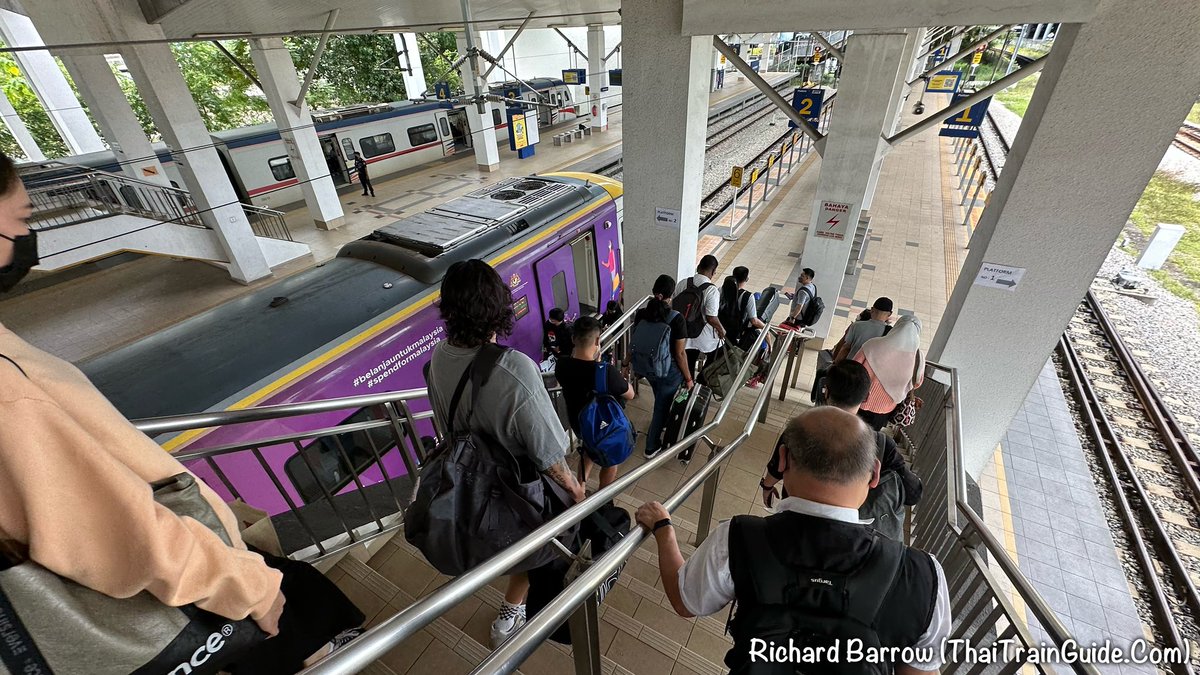 DAY 6: Butterworth to KL Sentral (Kuala Lumpur).
🚂 ETS No.9175
🎟️ MYR 150 (1,212 Baht)
⏰ 12:45pm-5:00pm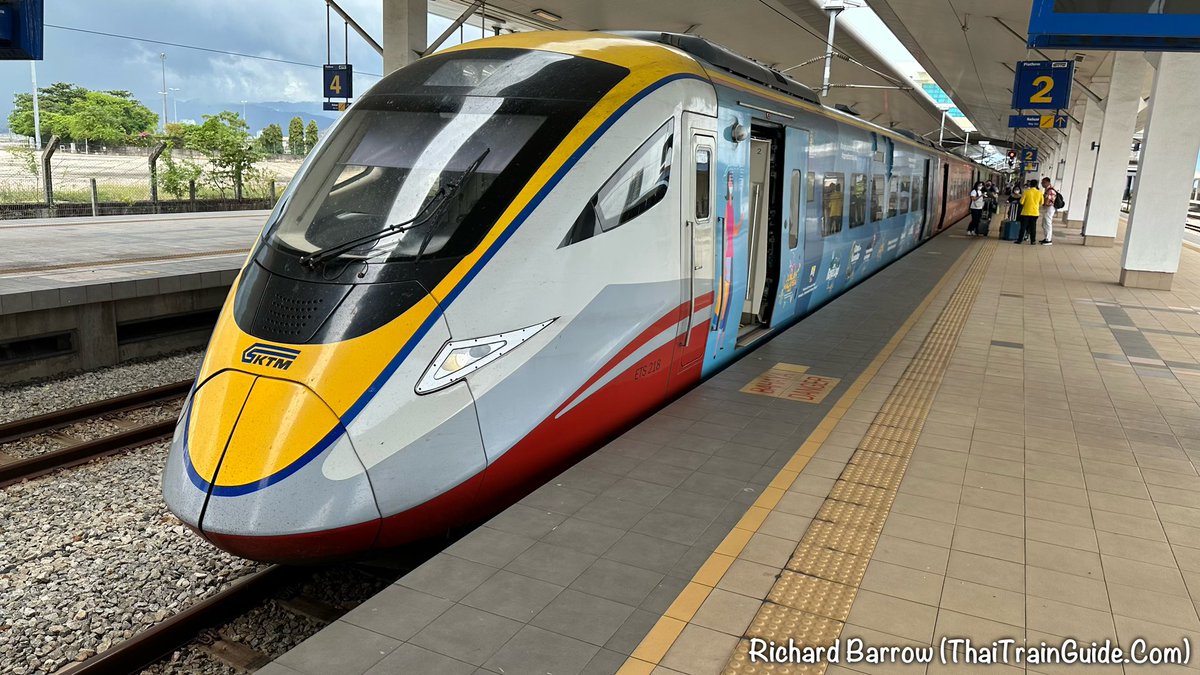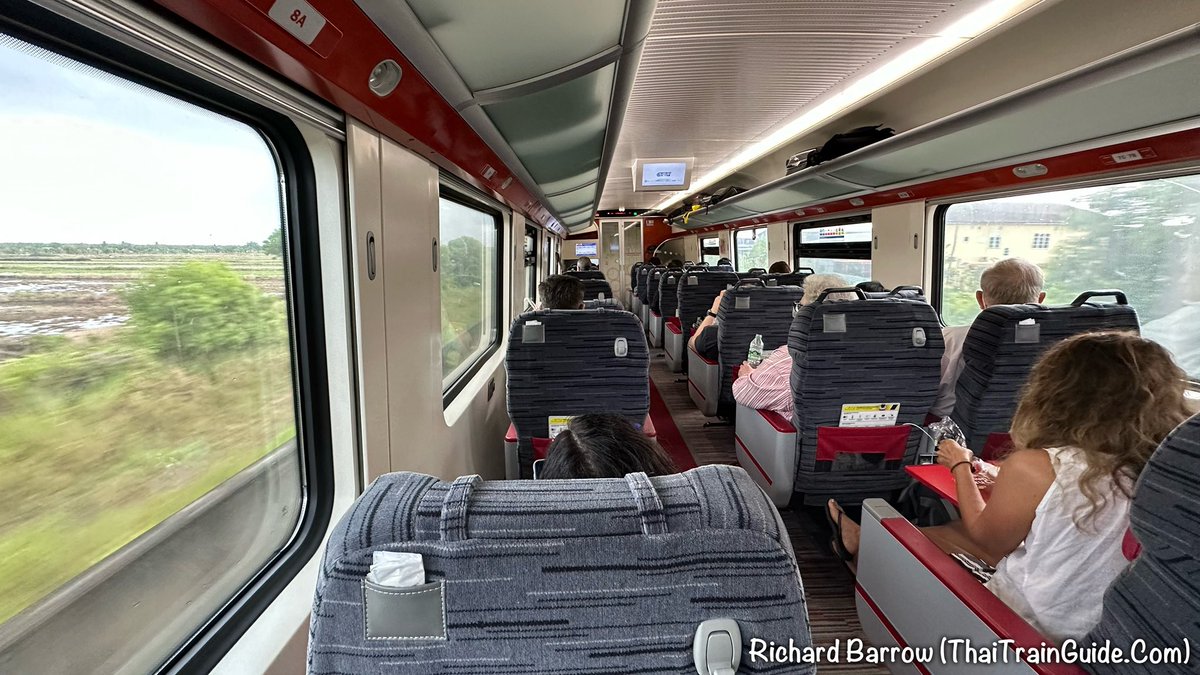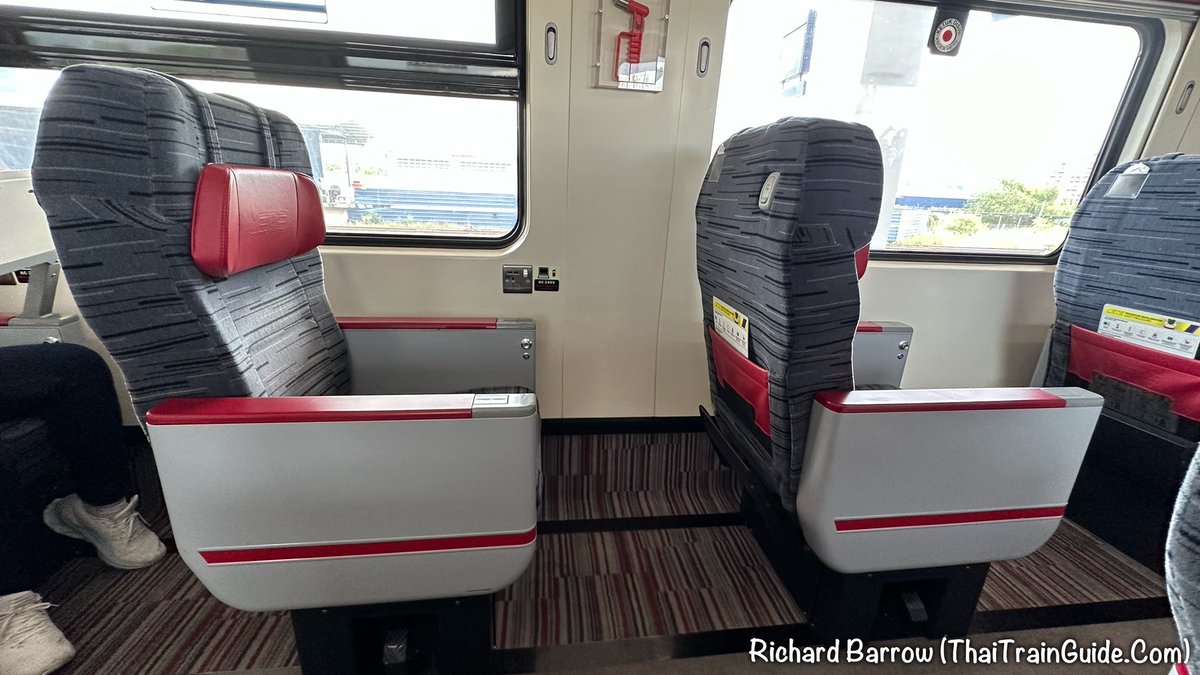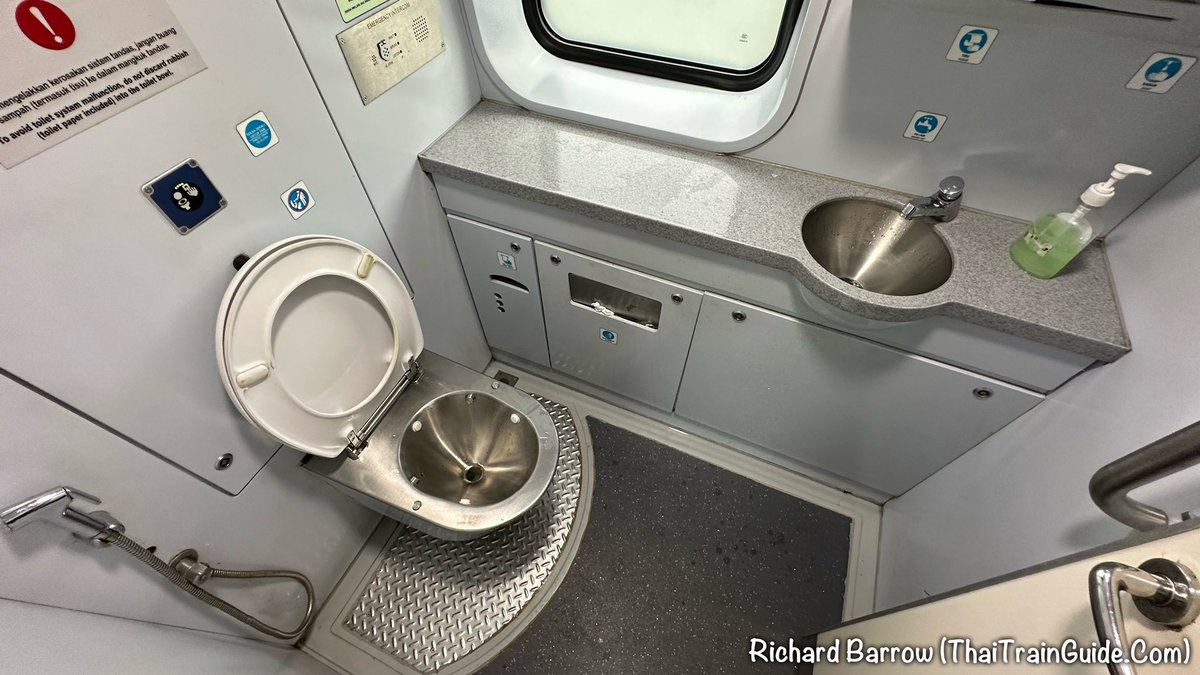 [20] Lunch in business class is served to your seat and is included in the price of the ticket. Coffee/tea and snacks are also included. If you are still hungry you can order from the dining car by using the touch screen by your seat or just walk there.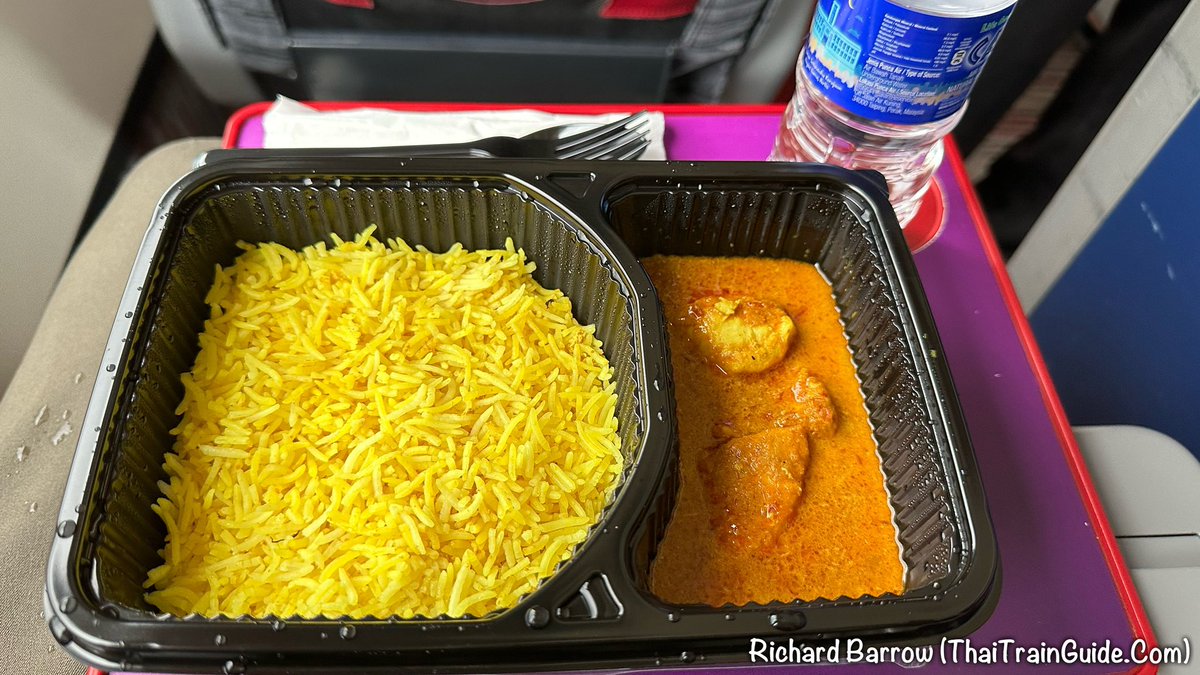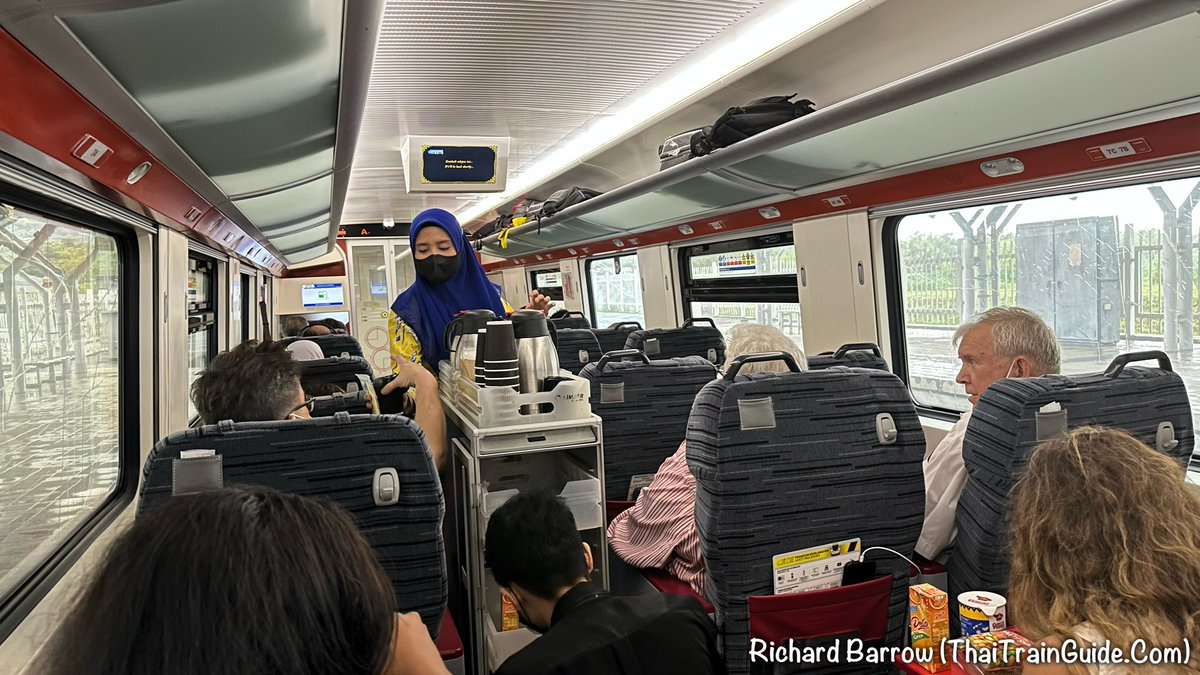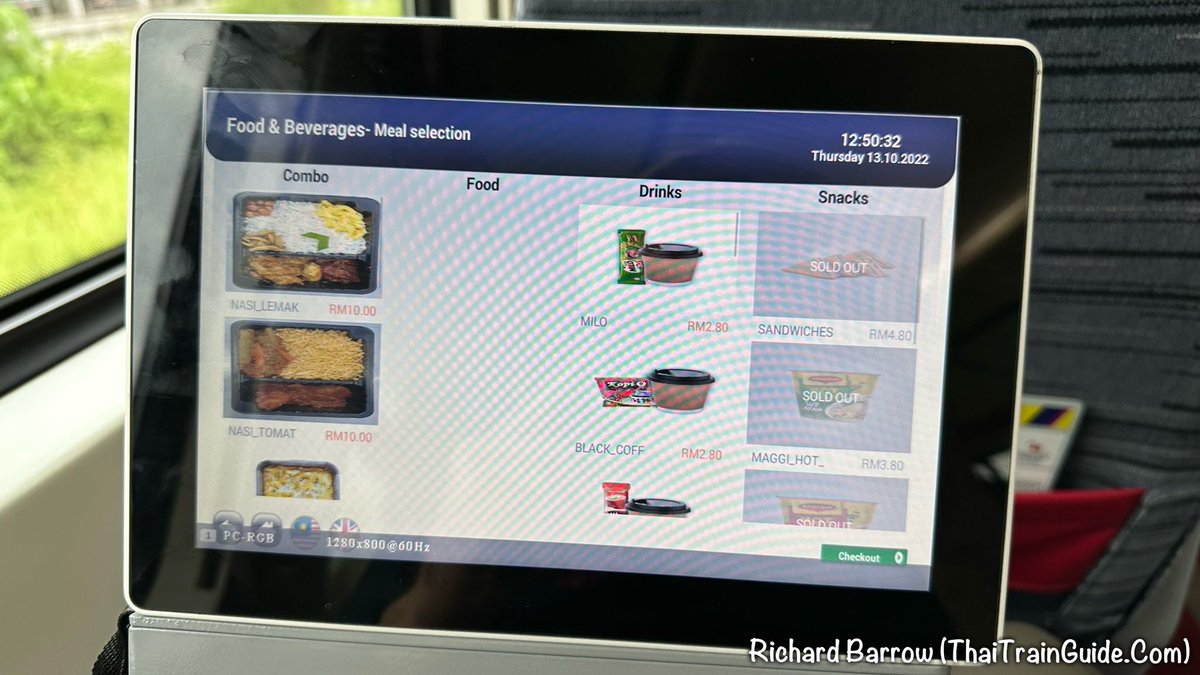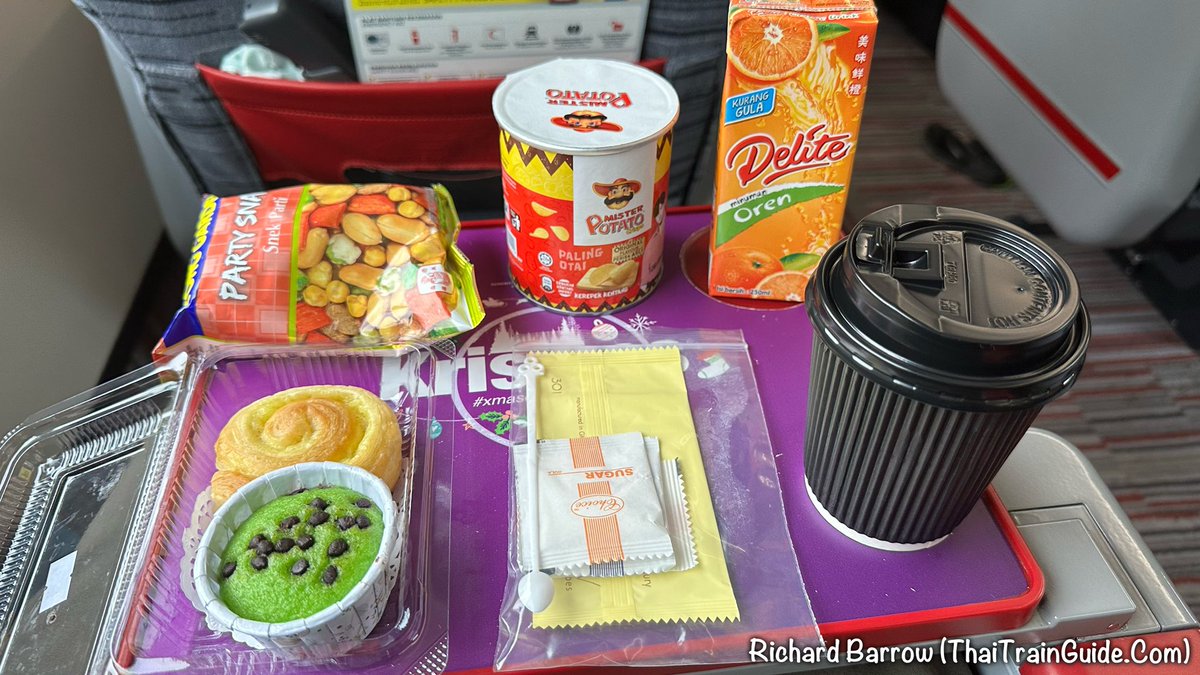 [21] ALTERNATIVE CLASS: You can also take Standard Class on this train. Ticket is 80 Ringgit (646 Baht). It's nearly half the price but it doesn't include food and the seating arrangement is 2 + 2 instead of 1 + 2 like in Business. You may also find yourself going backwards.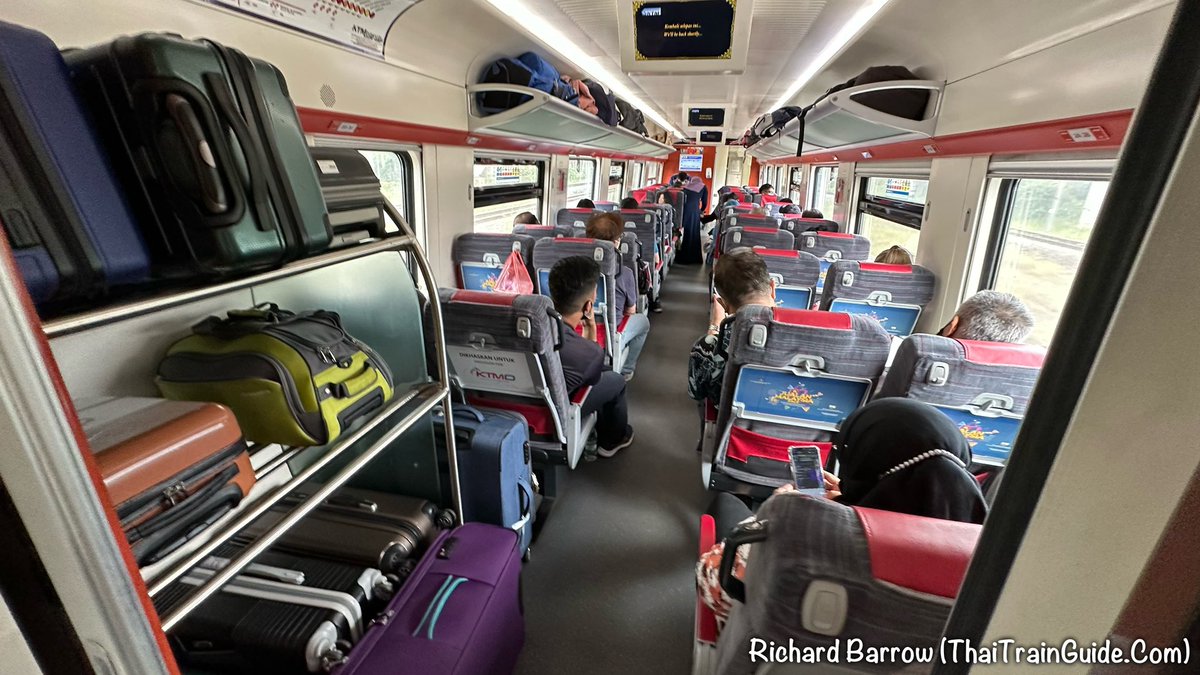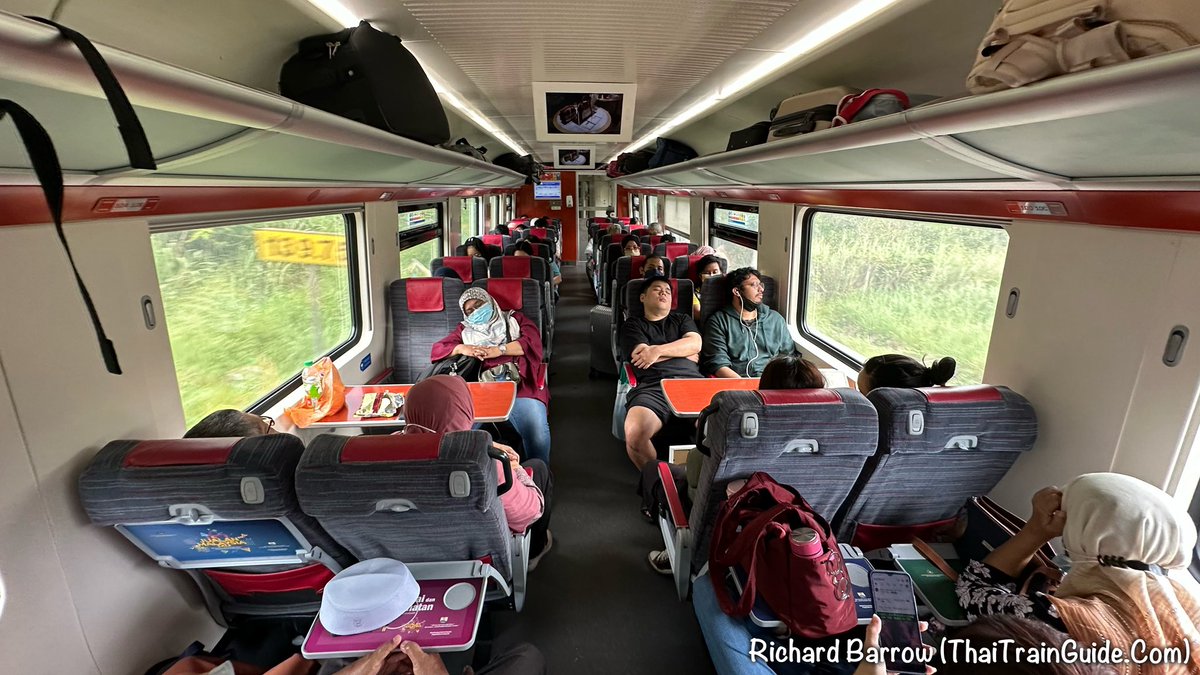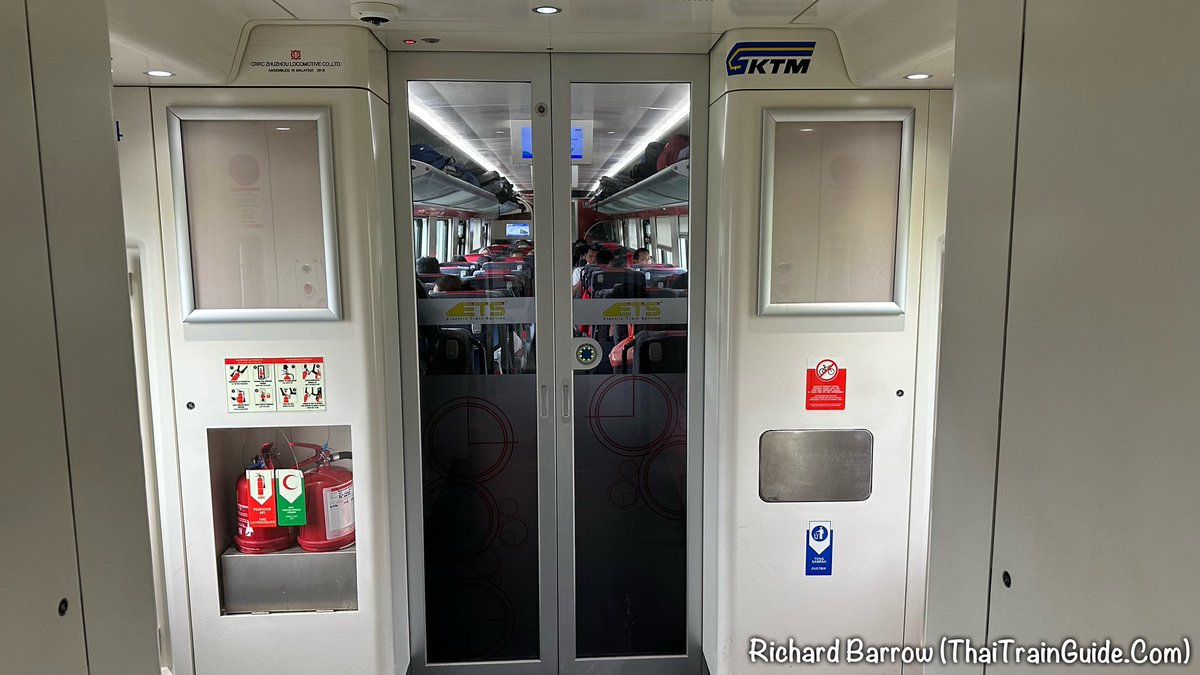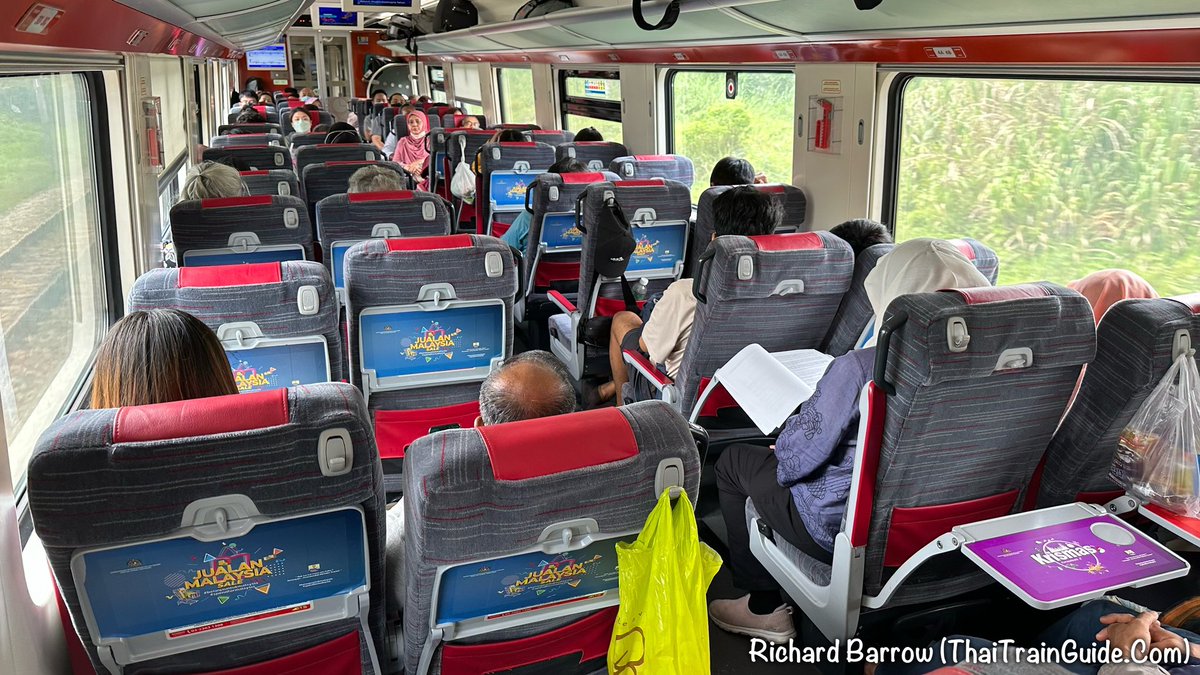 [22] This is the dining car onboard the ETS electric train to Kuala Lumpur. Food is microwaved and they also have hot & cold drinks. Not really a restaurant carriage as there are only a few seats to sit and eat. You are expected to return back to your own seat to eat.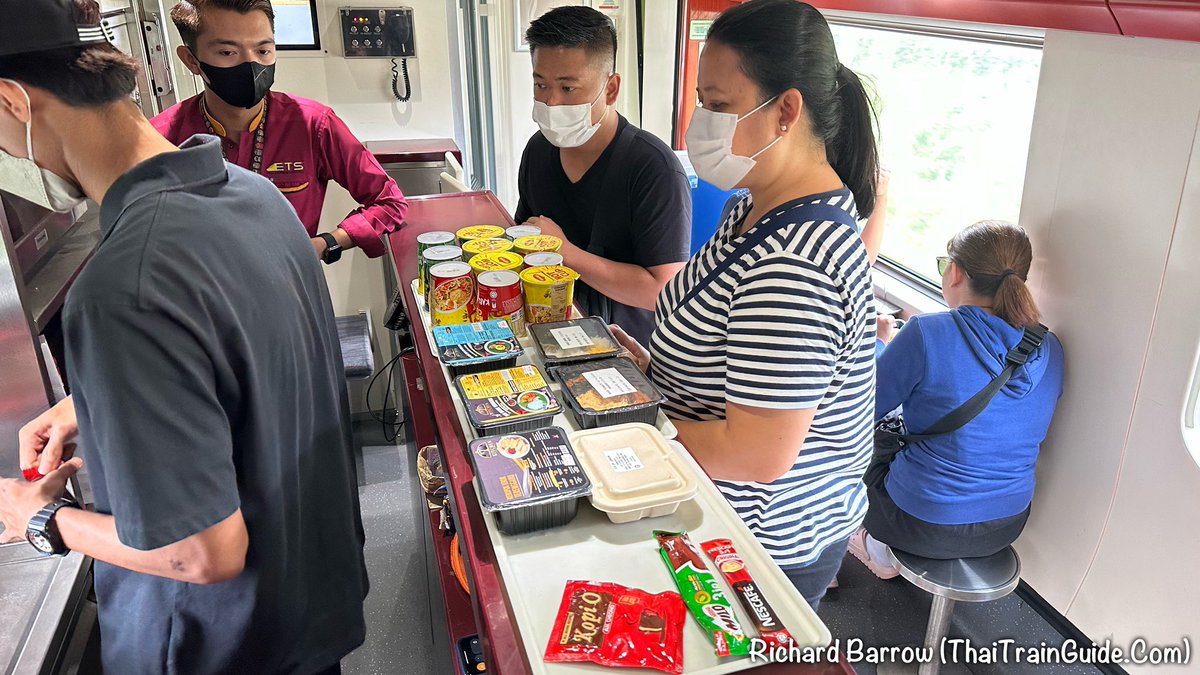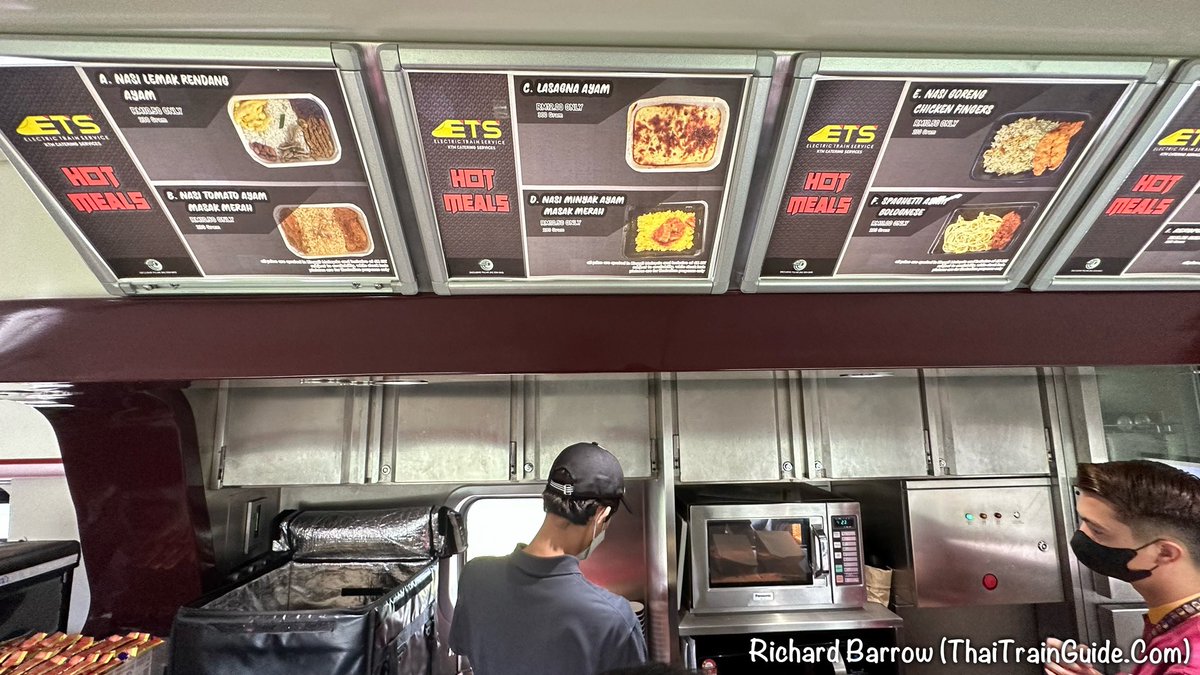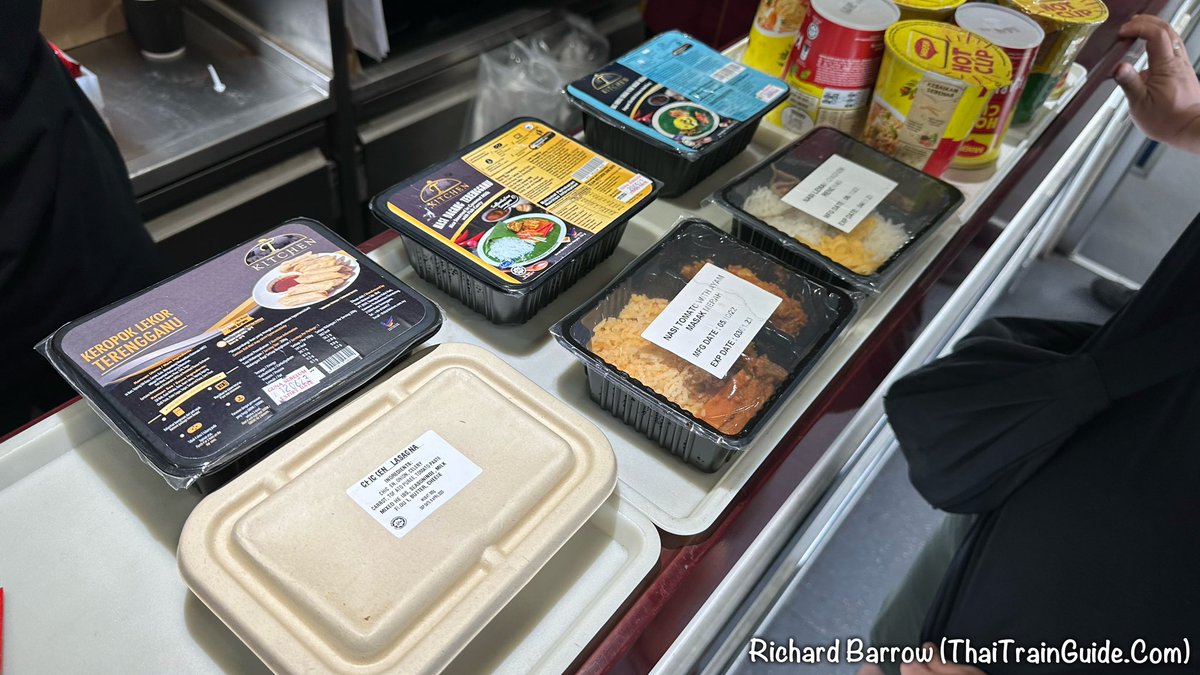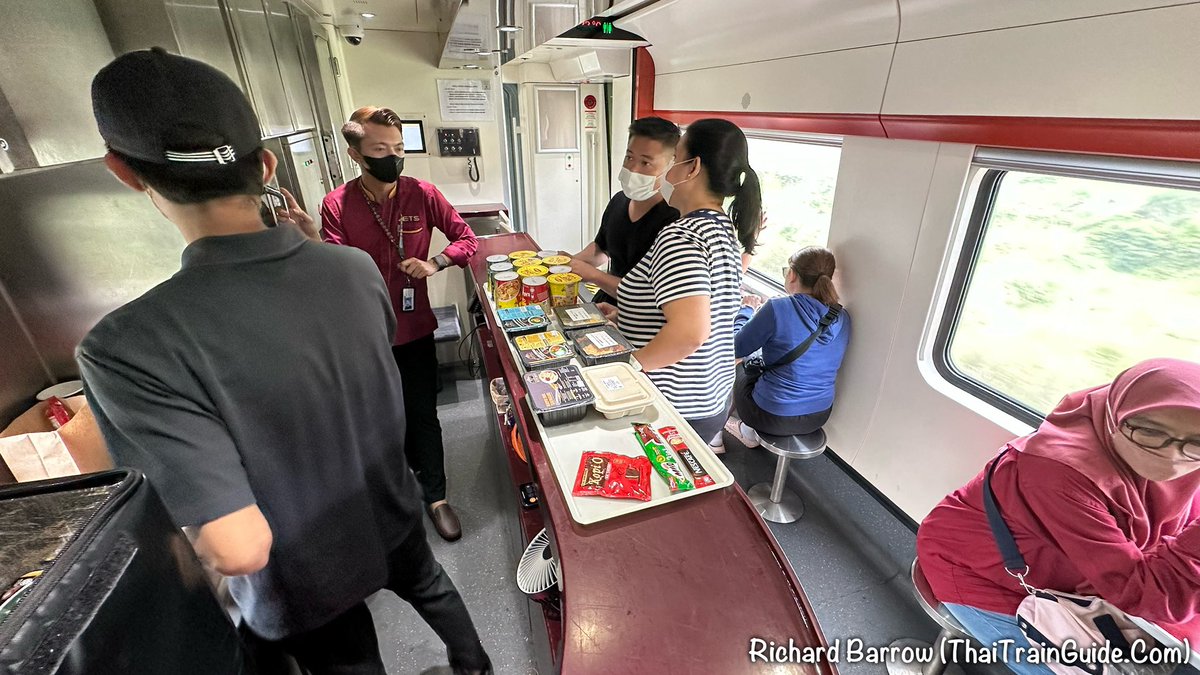 [23] I spent two nights in Kuala Lumpur. I stayed at City Central Hotel which is near KL Sentral station. This is convenient for connecting to mass transit in the city.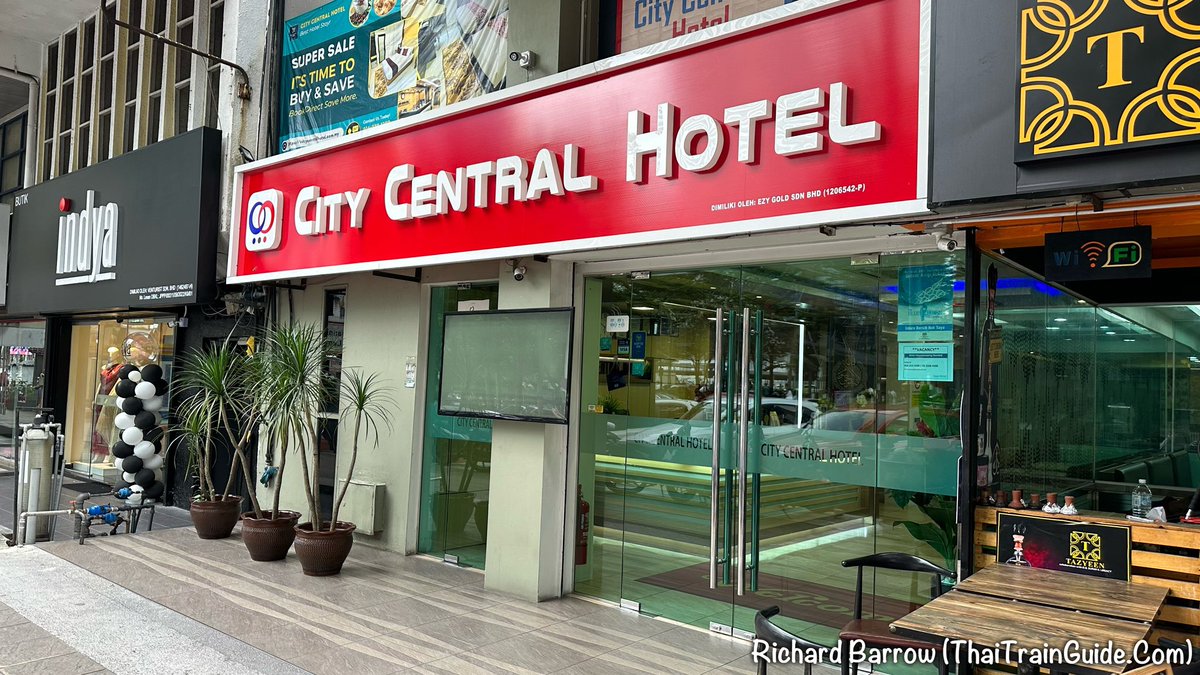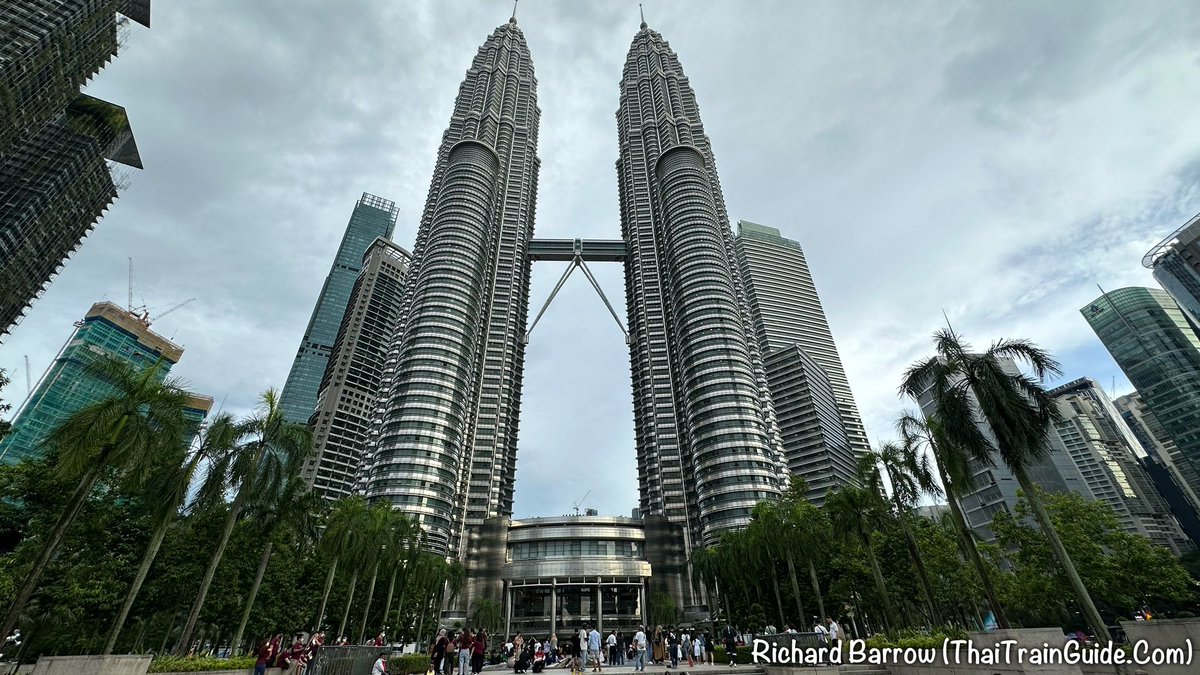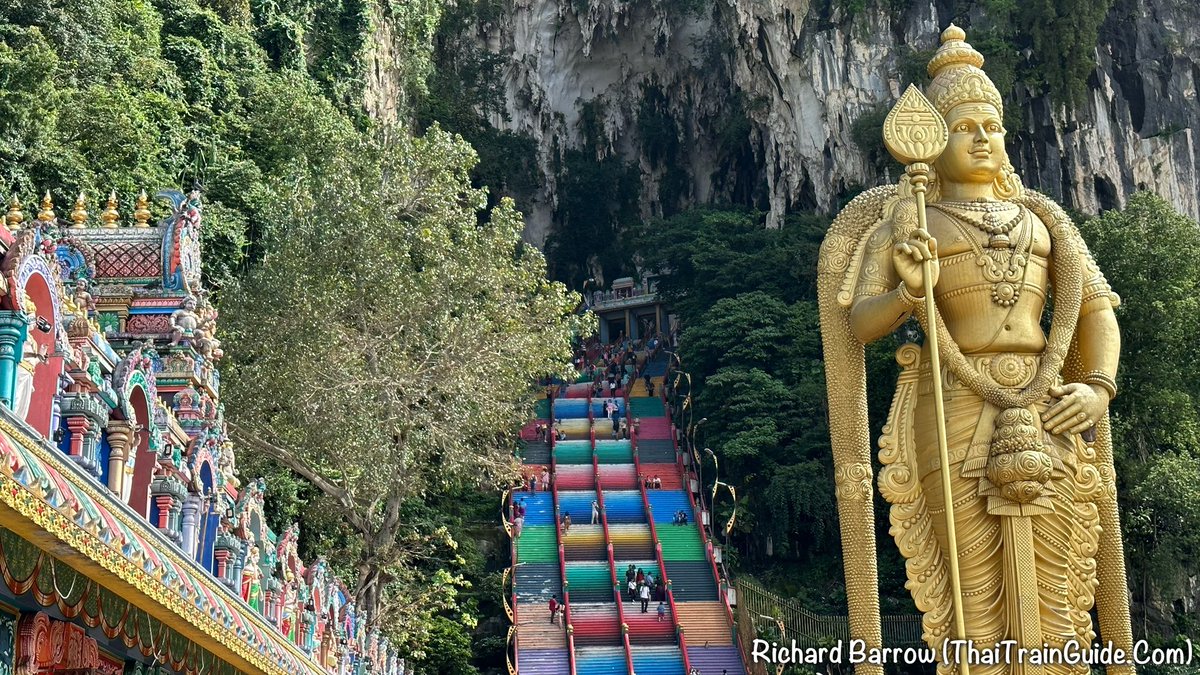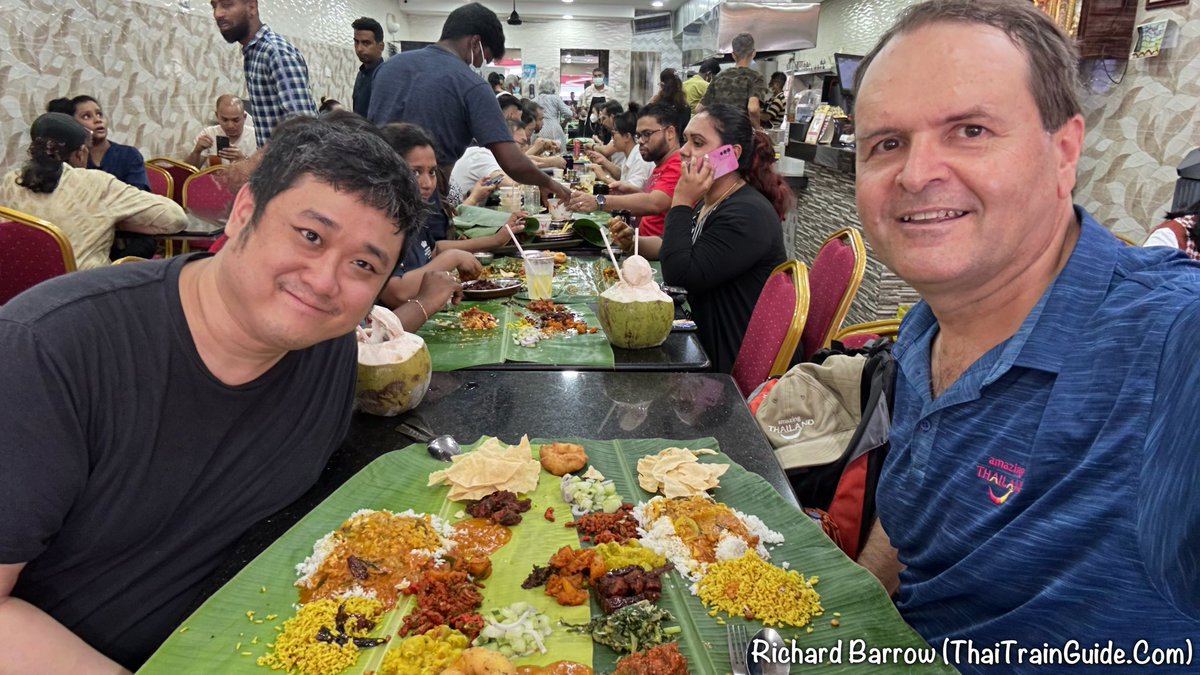 [24] While in Kuala Lumpur I tried out some of their mass transit trains such as the monorail and LRT.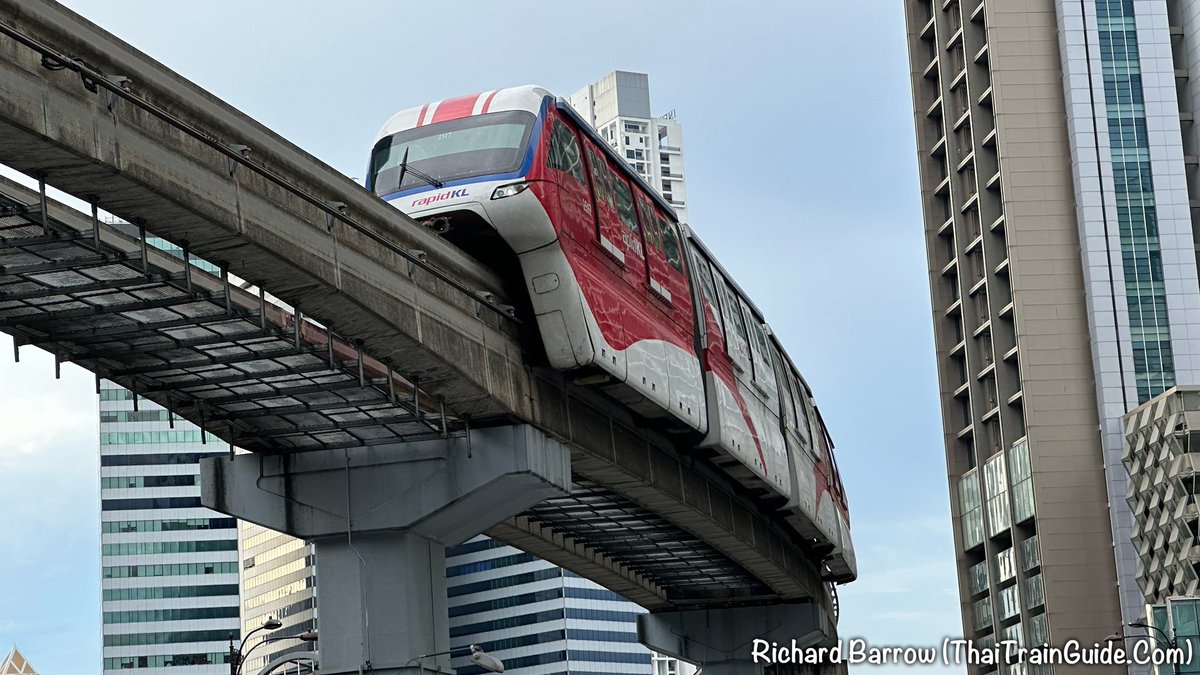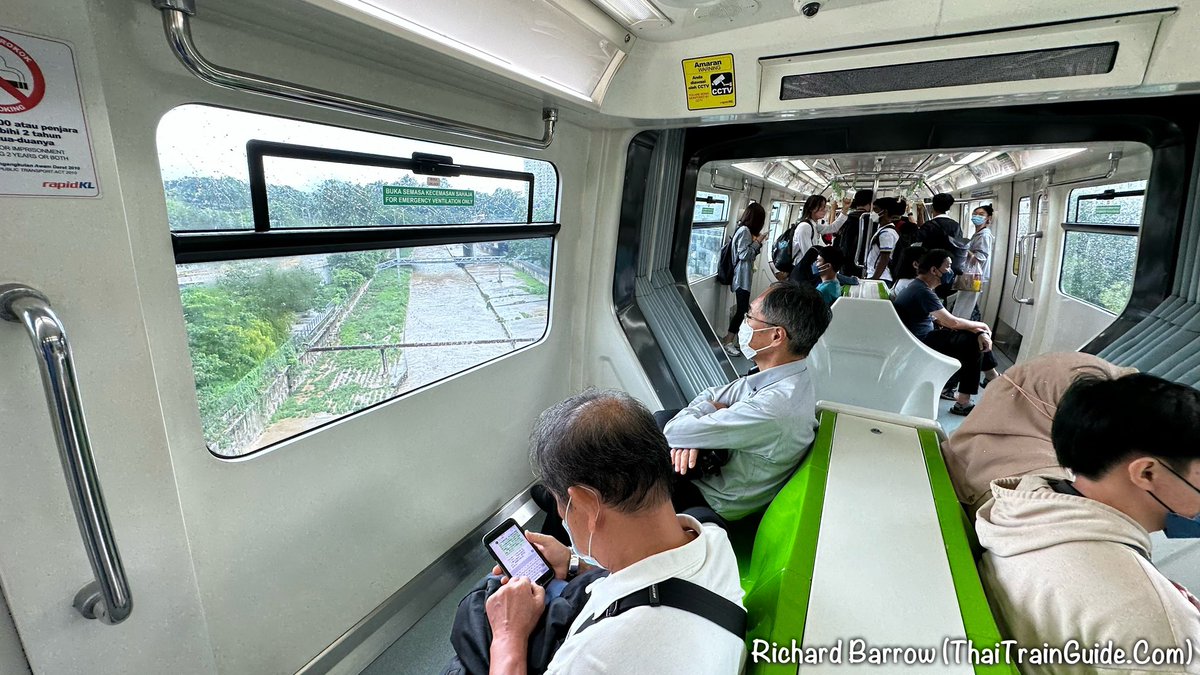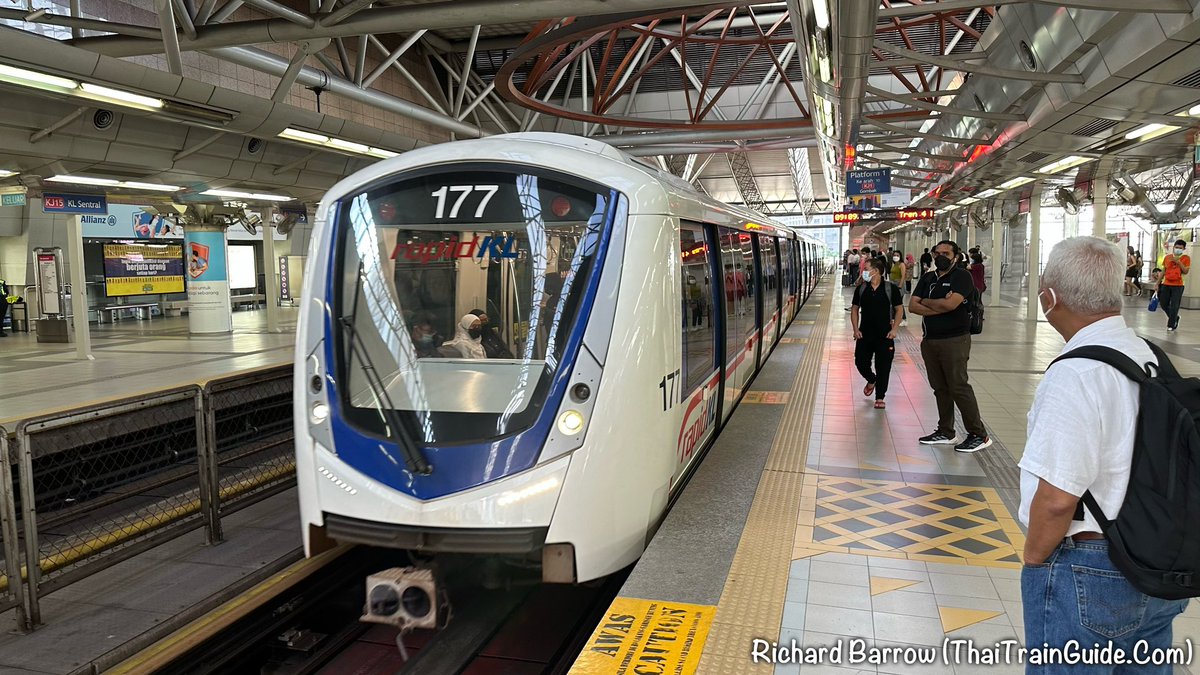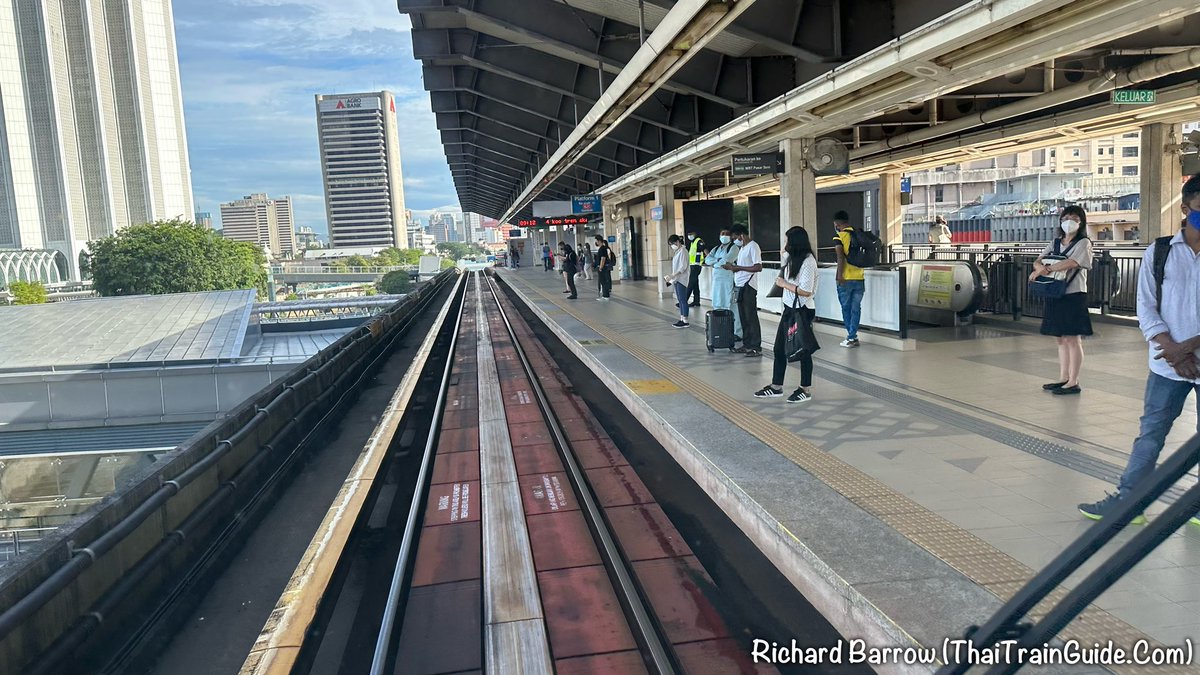 DAY 8 (Train 1): KL Sentral (Kuala Lumpur) to Gemas.
🚂 ETS No.9321
🎟️ MYR 31.50 (256 Baht)
⏰ 12:19pm-2:52pm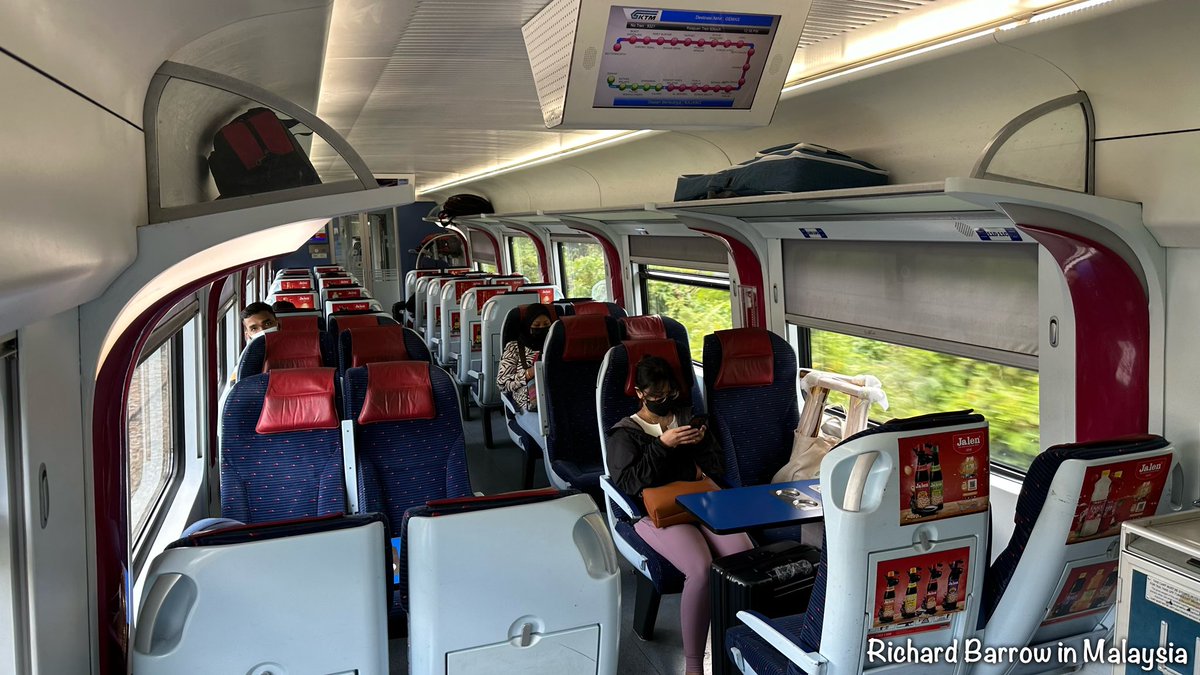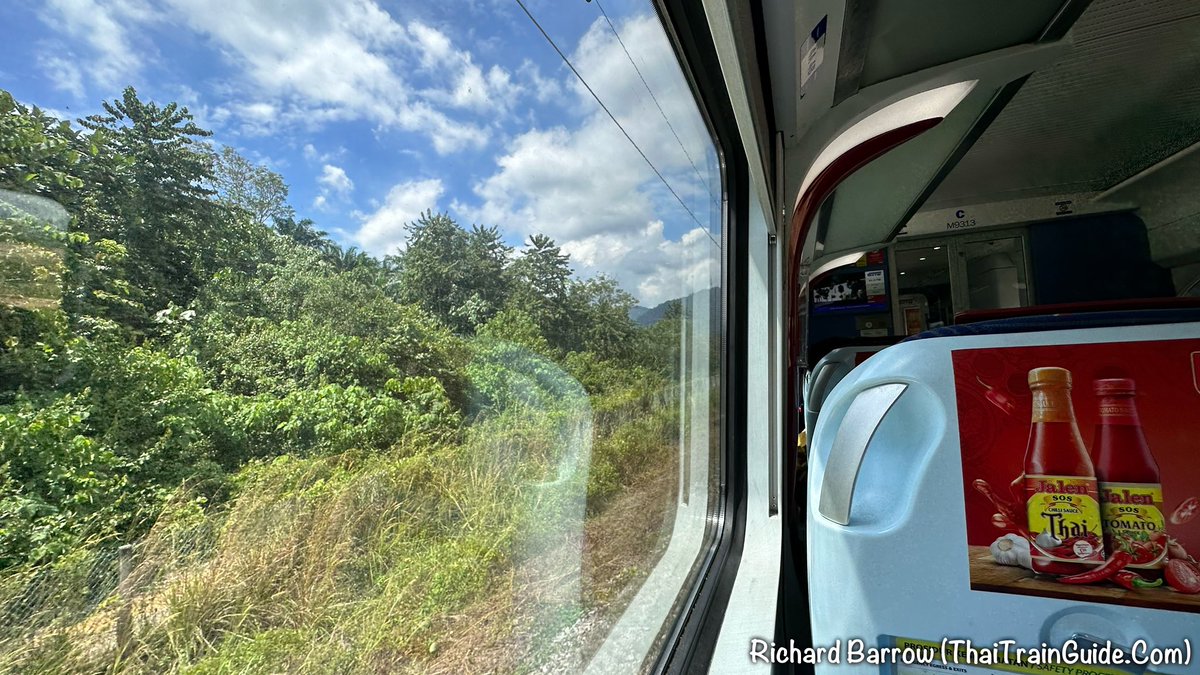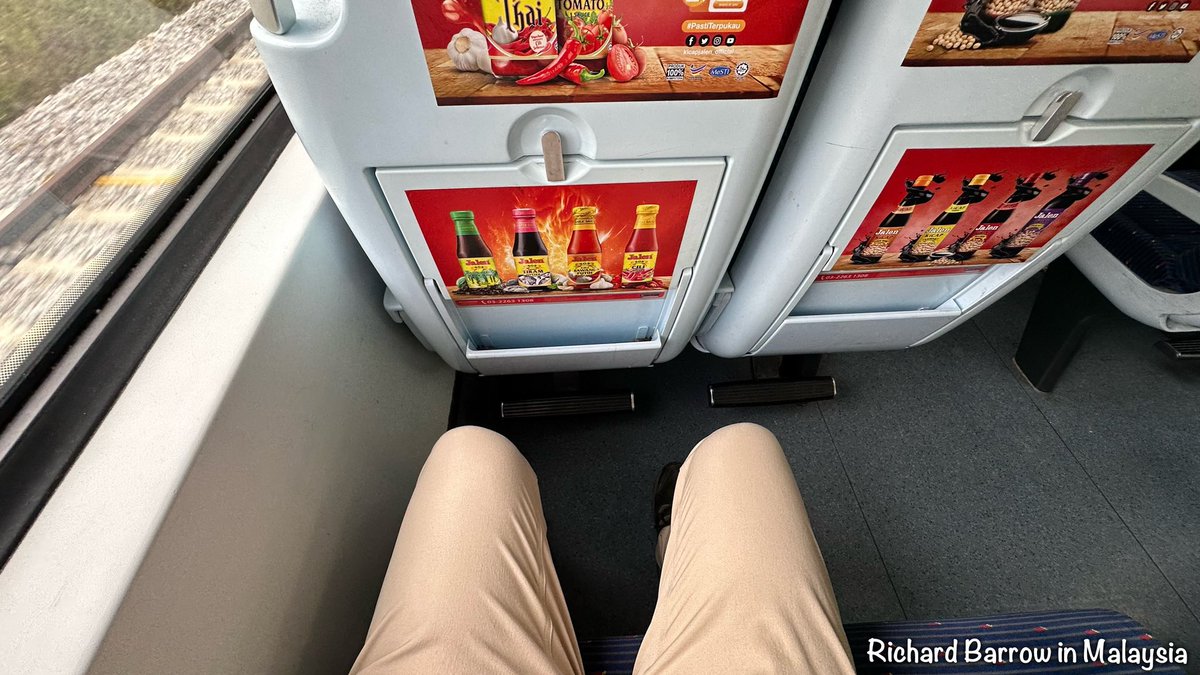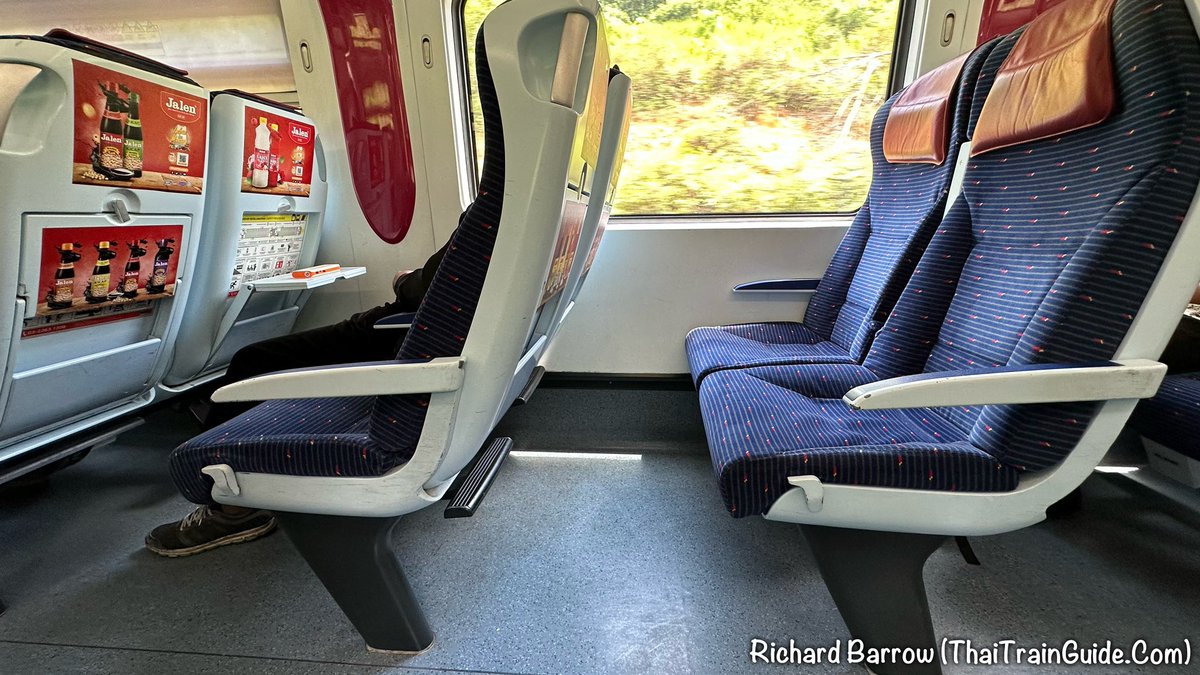 [26] The No.9321 Butterworth to Gemas train only has Gold Class (Standard Class) and no Platinum Class (Business Class). However there is a dining car with microwave meals, snacks and drinks.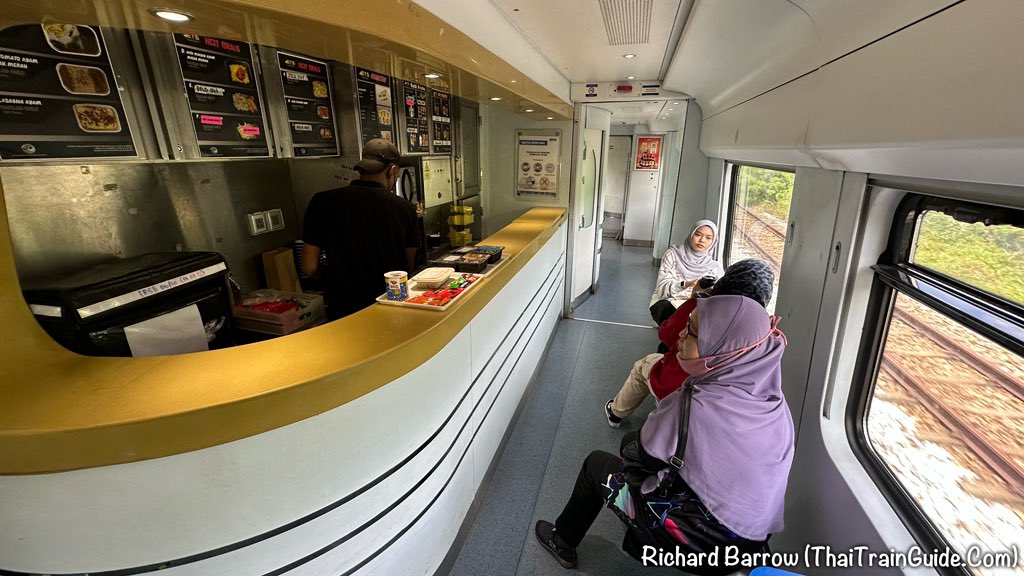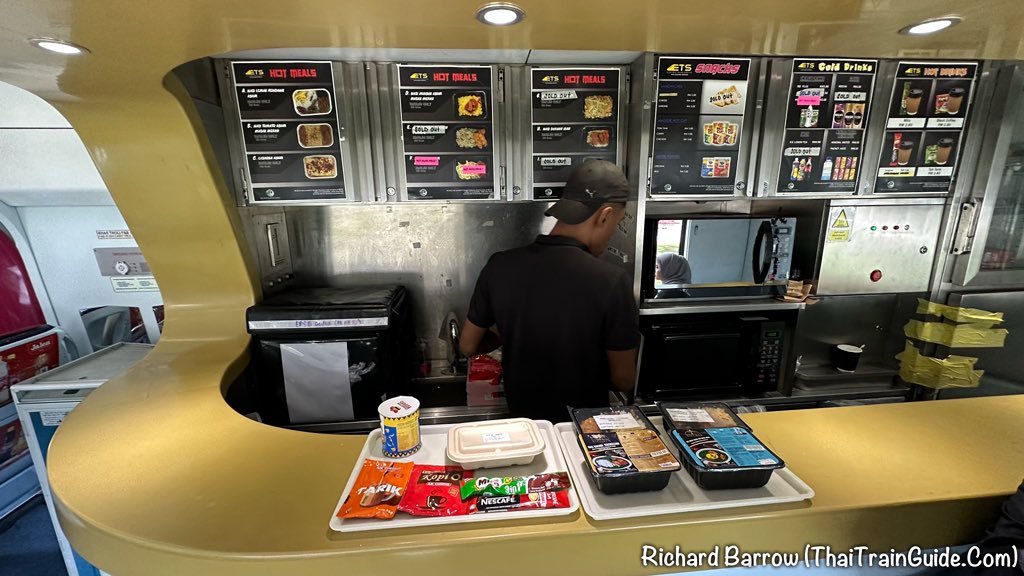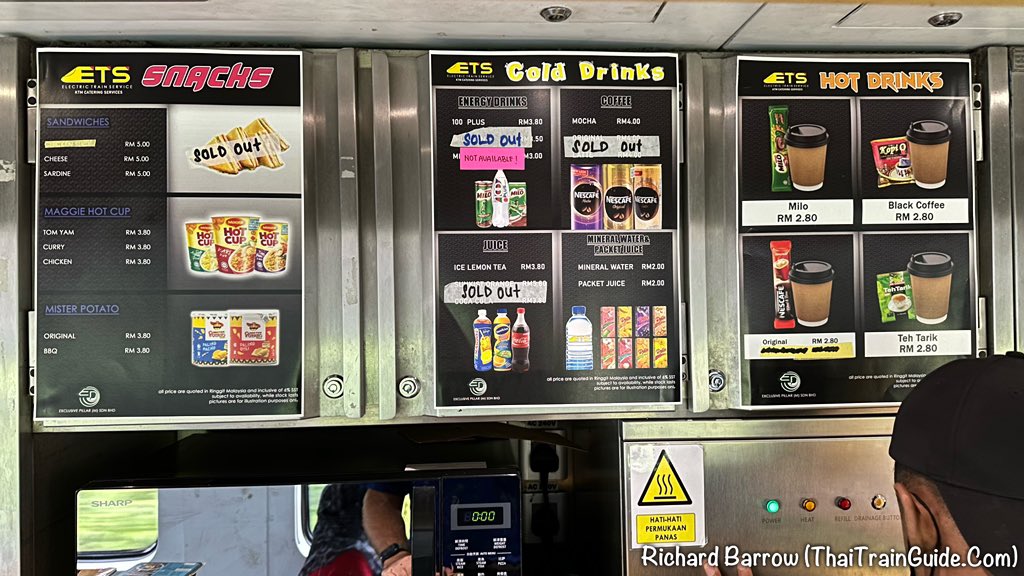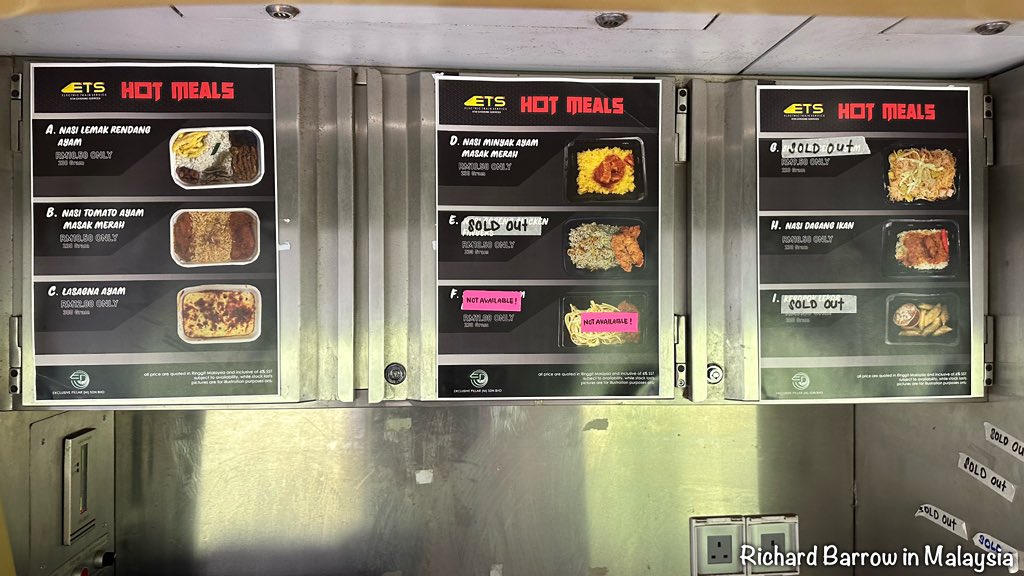 DAY 8 (Train 2): Gemas to JB Sentral (Johor Bahru) on the border with Singapore.
🚂 ES45
🎟️ MYR 21 (171 Baht)
⏰ 3:20pm-7:45pm
* Diesel train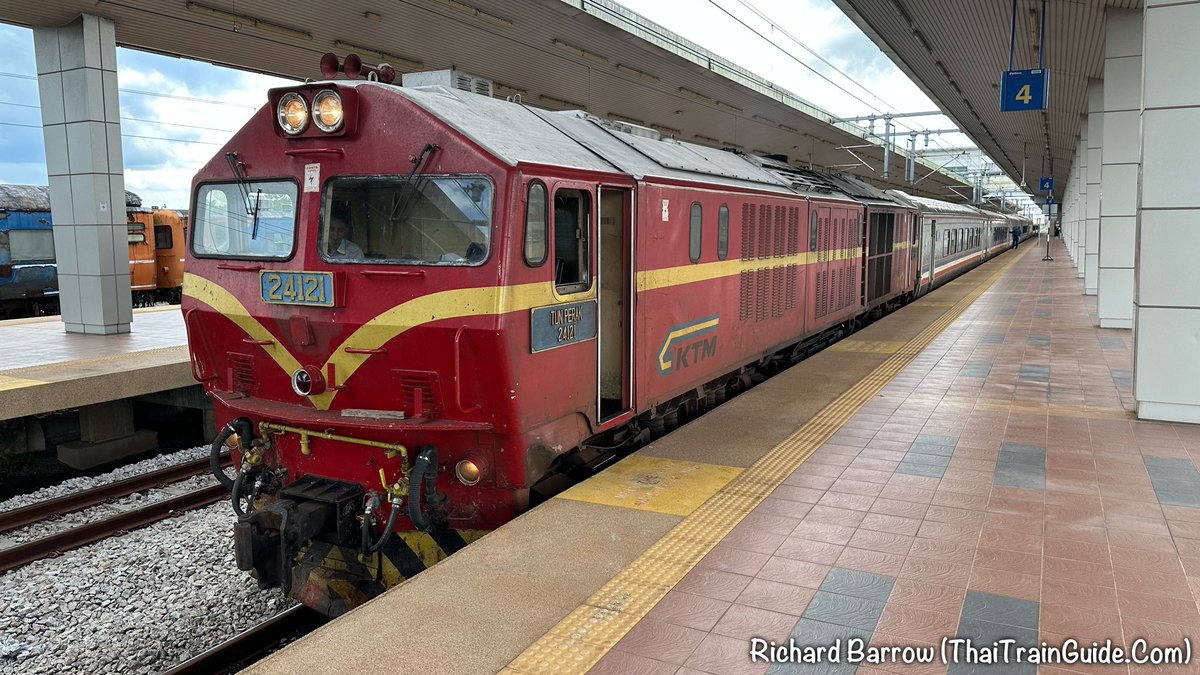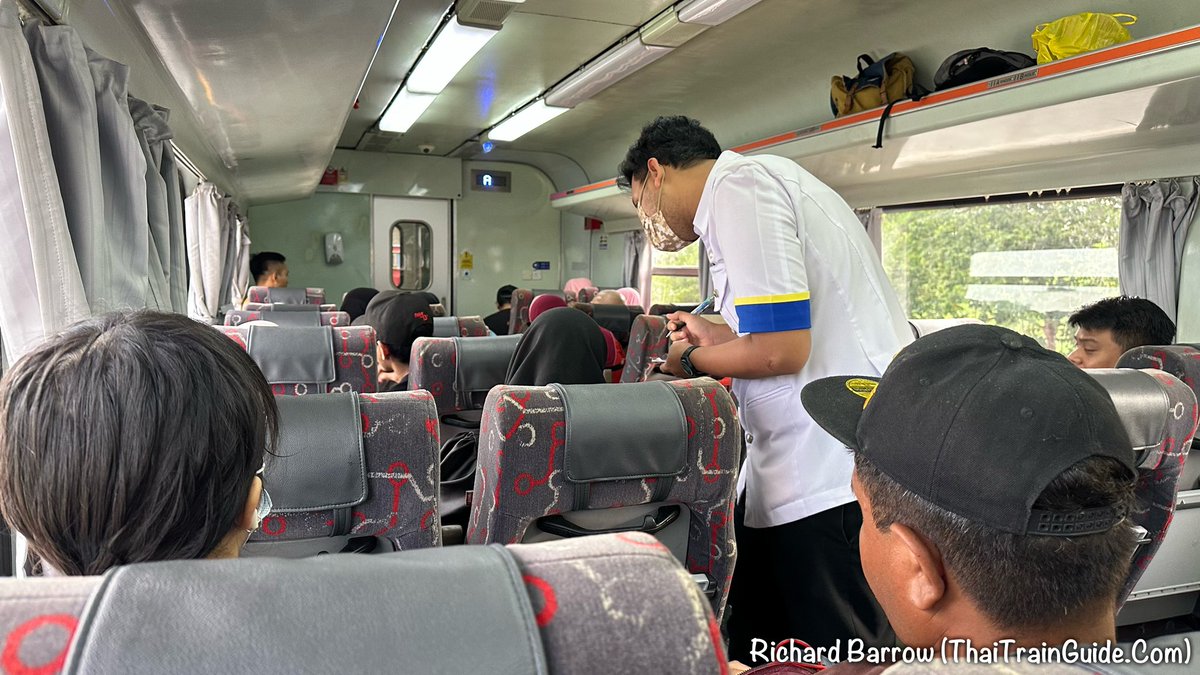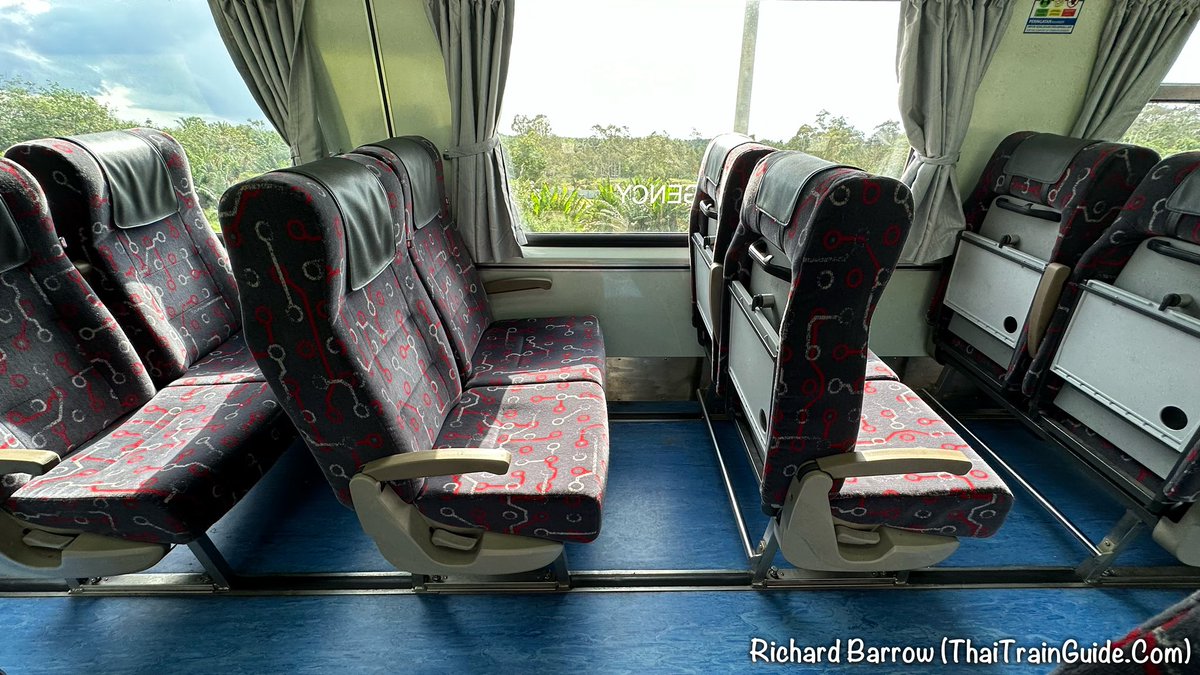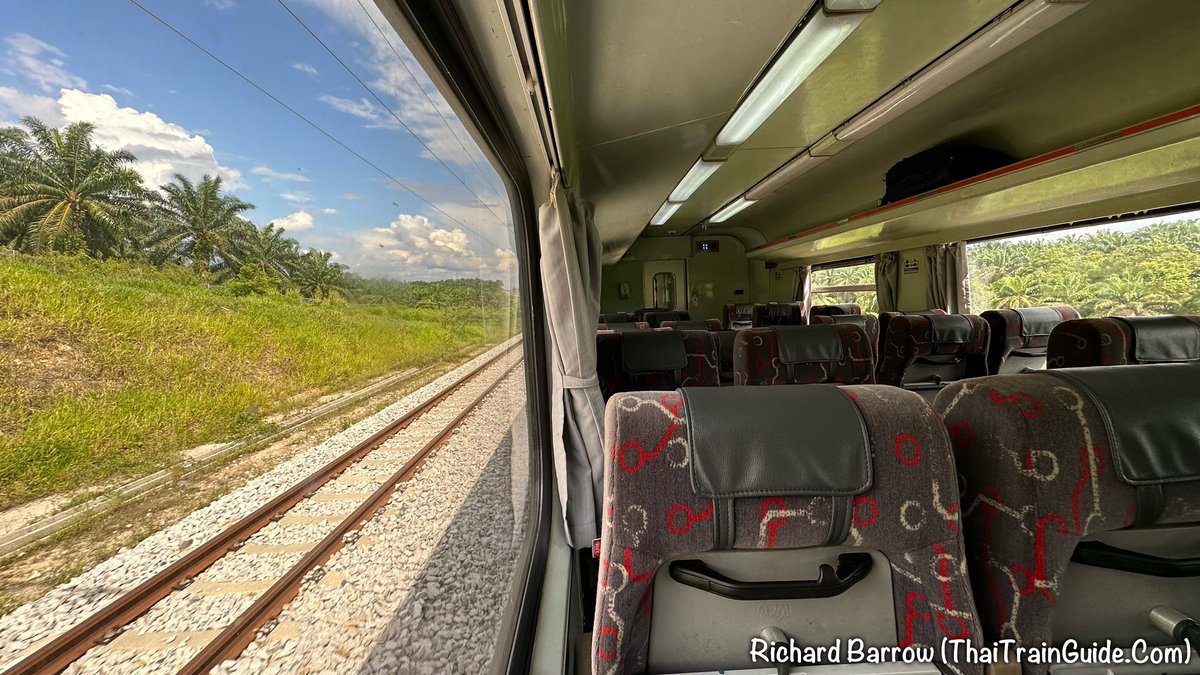 [28] The Gemas to JB Sentral train has a proper dining car with dining tables and chairs.
The toilets are not the best. There's a Western style one and an Asian squat version.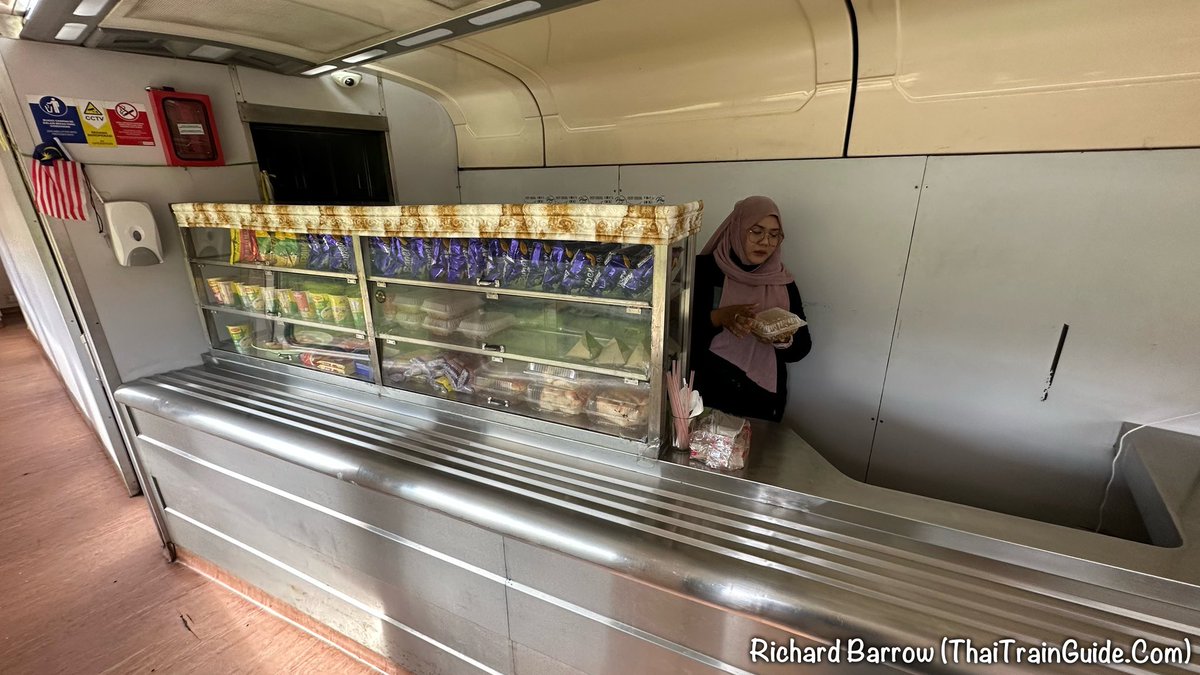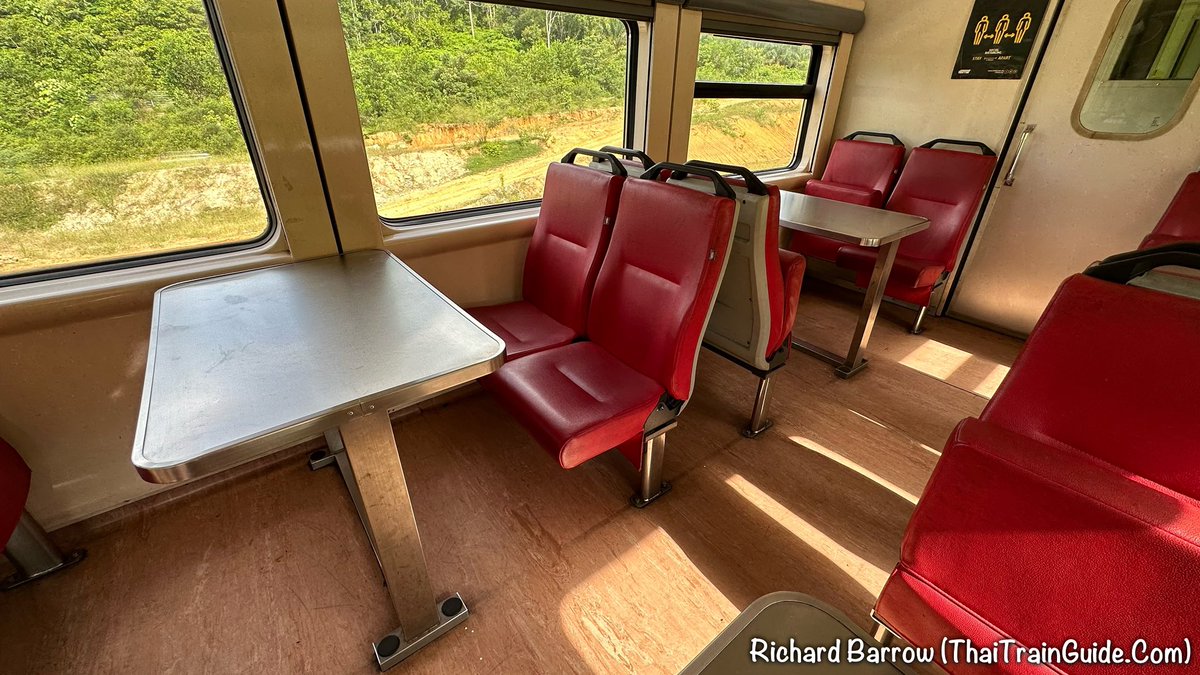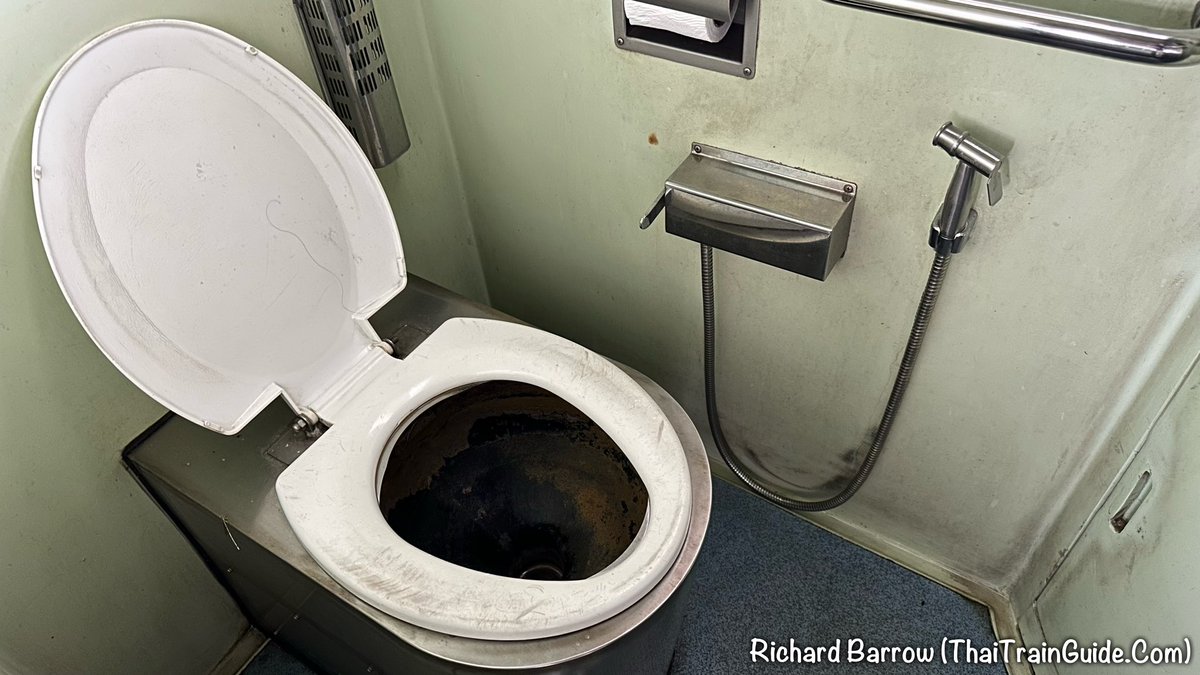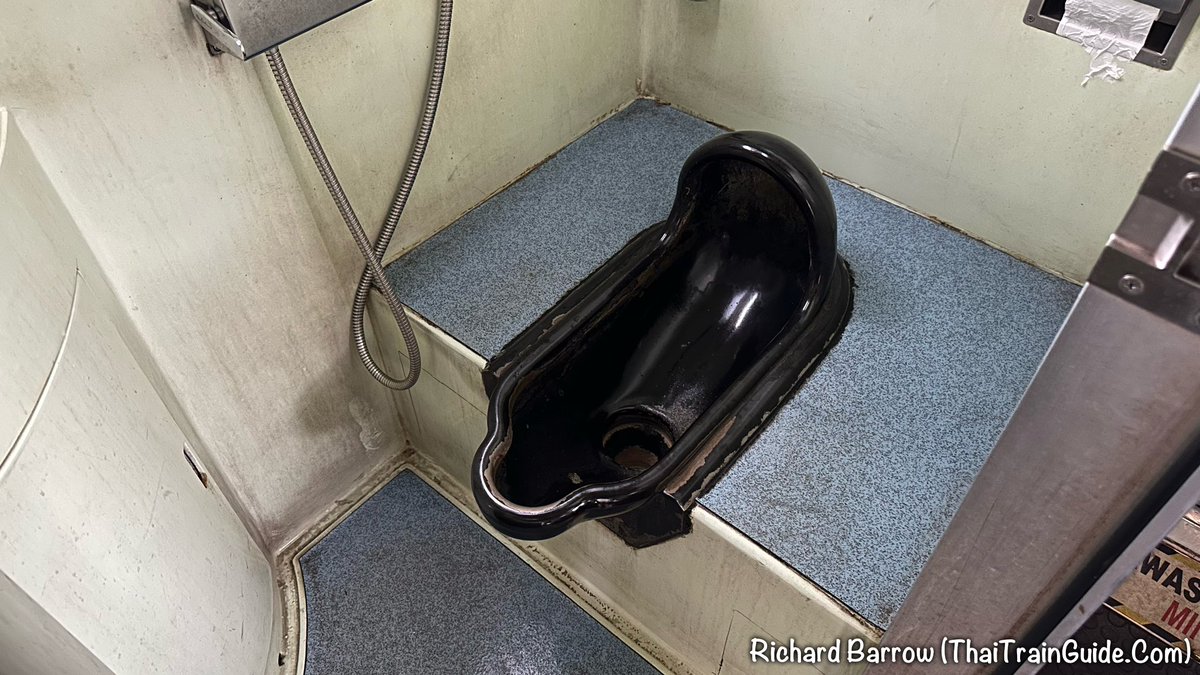 [29] It's best to book the international train shuttle to Singapore in advance as it sells out quickly. 30 minutes before departure you go through Malaysian Immigration. It takes 5-10 minutes. Then on the other side of the border, after the train ride, it's the same again for Singapore Immigration.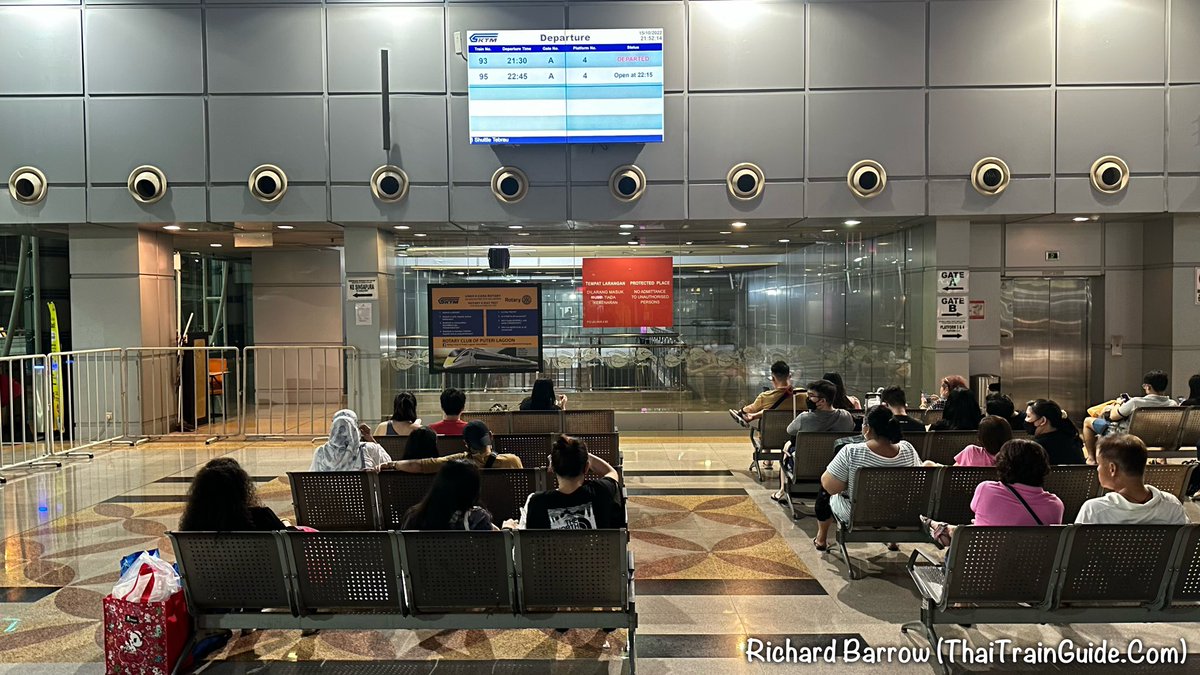 DAY 8 (Train 3): JB Sentral (Johor Bahru) to Woodlands (Singapore).
🚂 Shuttle 95
🎟️ MYR 5 (49 Baht)
⏰ 10:45pm-10:50pm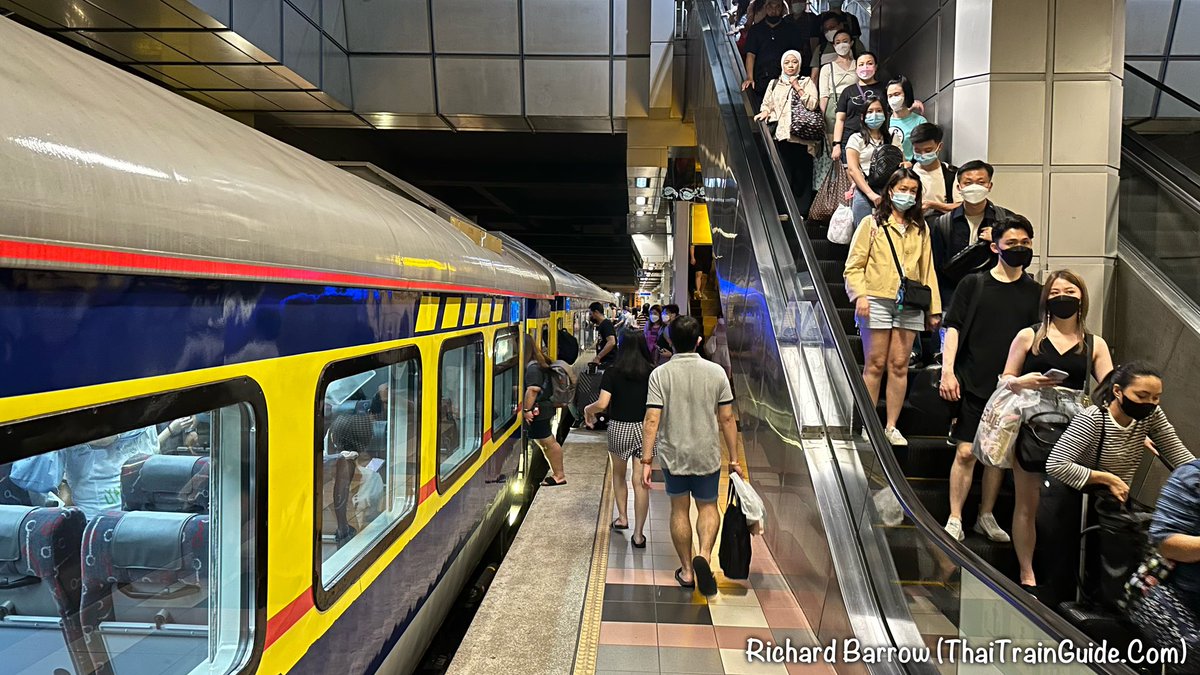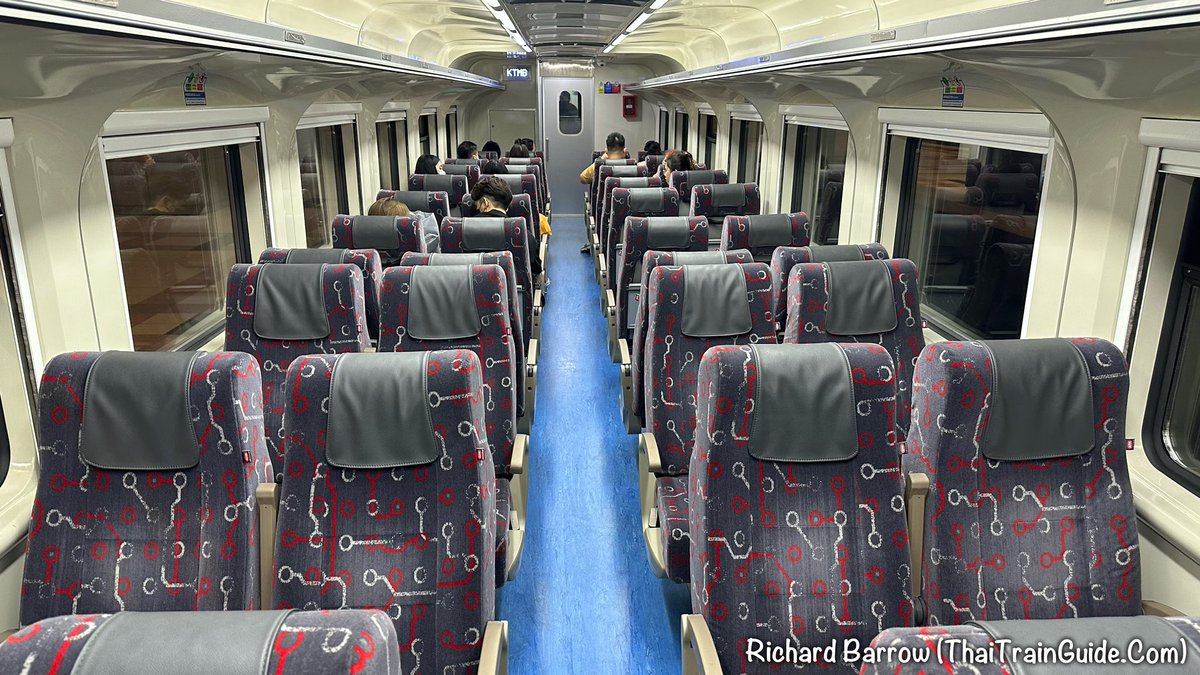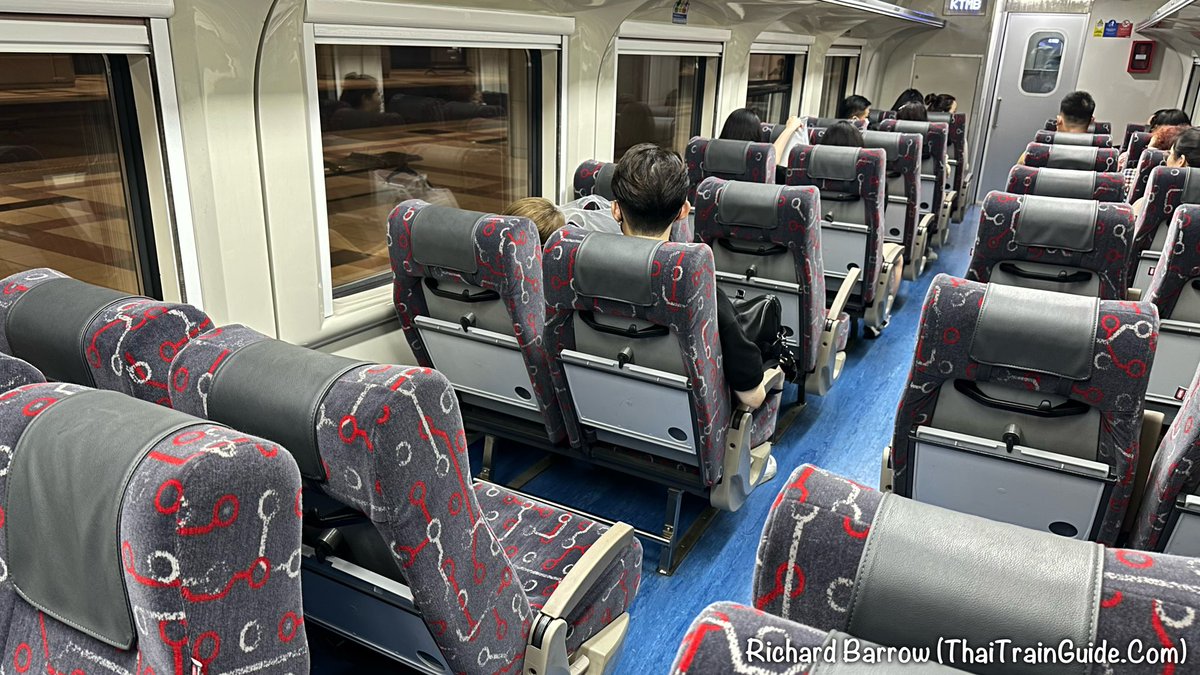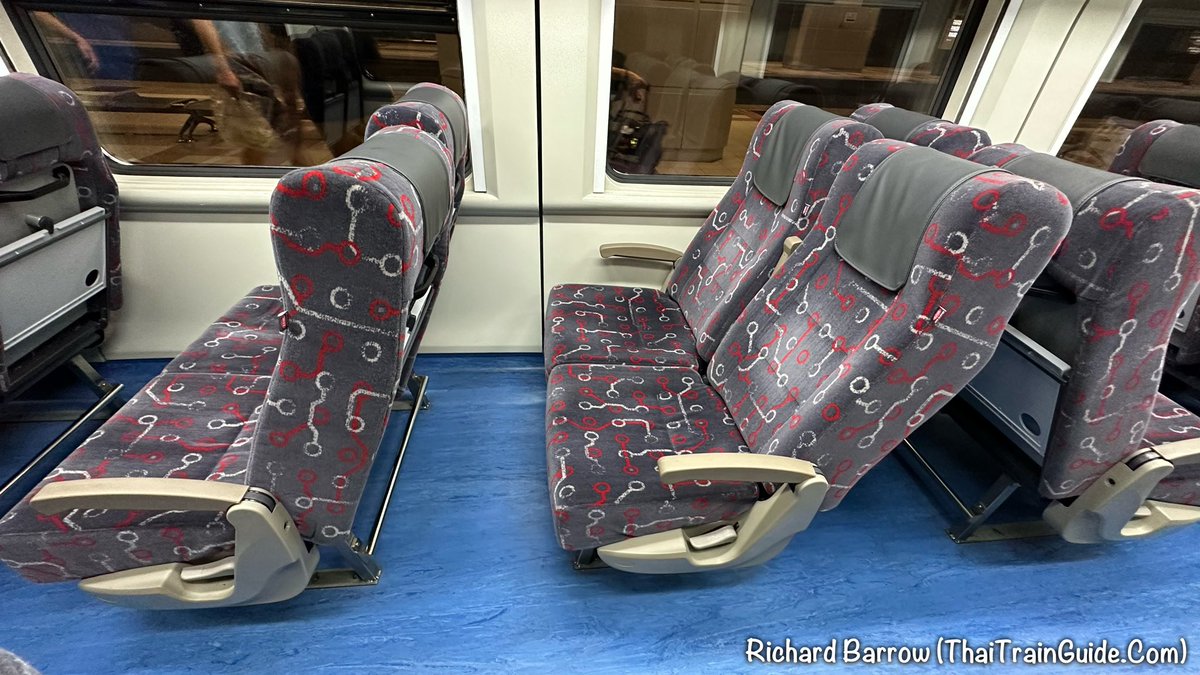 [31] I spent two nights in Singapore. I visited Tanjong Pagar Railway Station which used to be the terminal station for trains from Malaysia. Then I hiked along the Green Corridor which is the former railway line. I also rode their mass transit trains.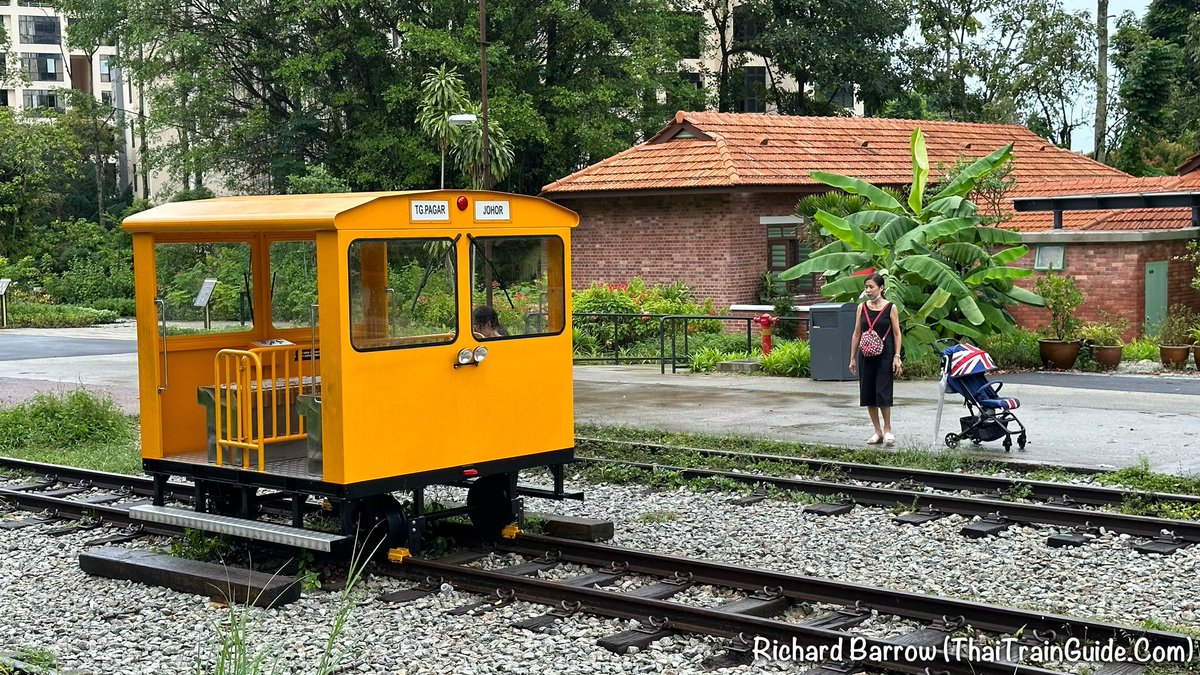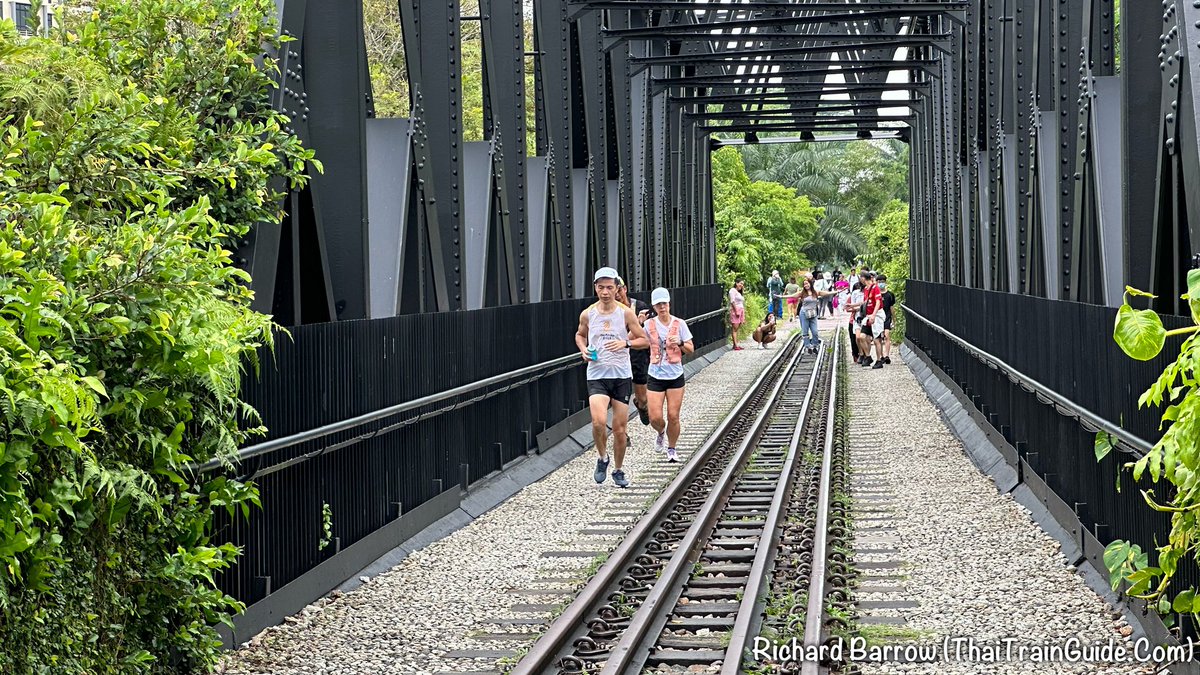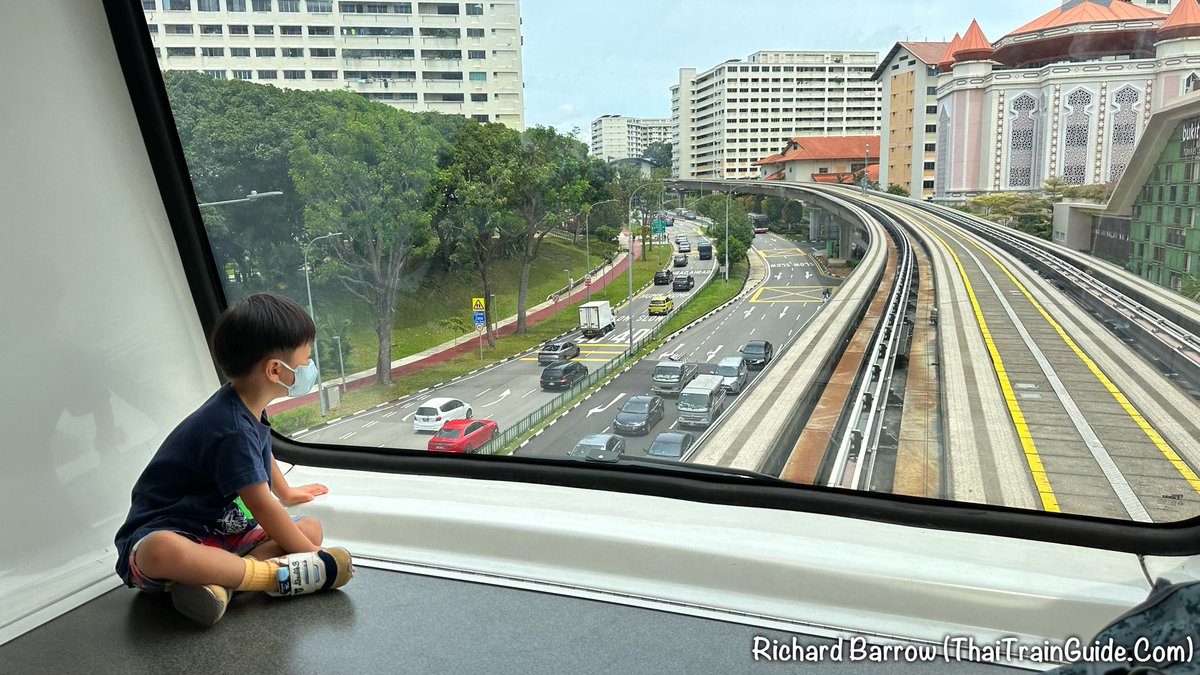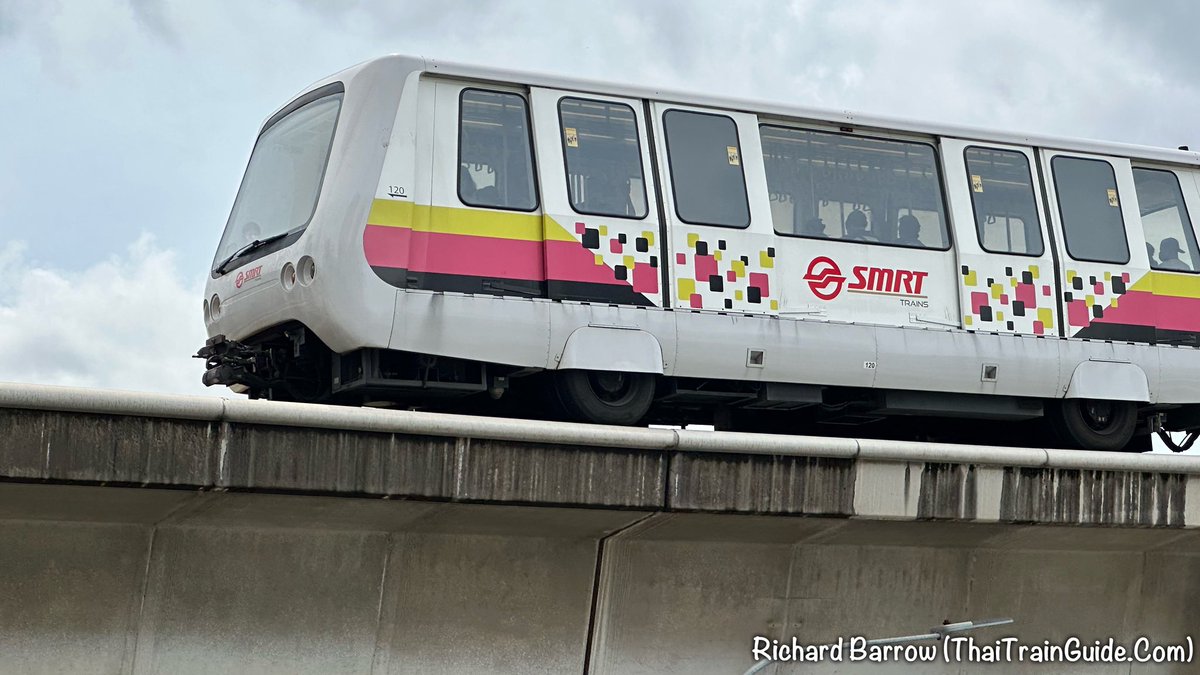 DAY 10: Woodlands (Singapore) to JB Sentral (Johor Bahru).
🚂 Shuttle 86
🎟️ MYR 5 (49 Baht)
⏰ 5:30pm-5:35pm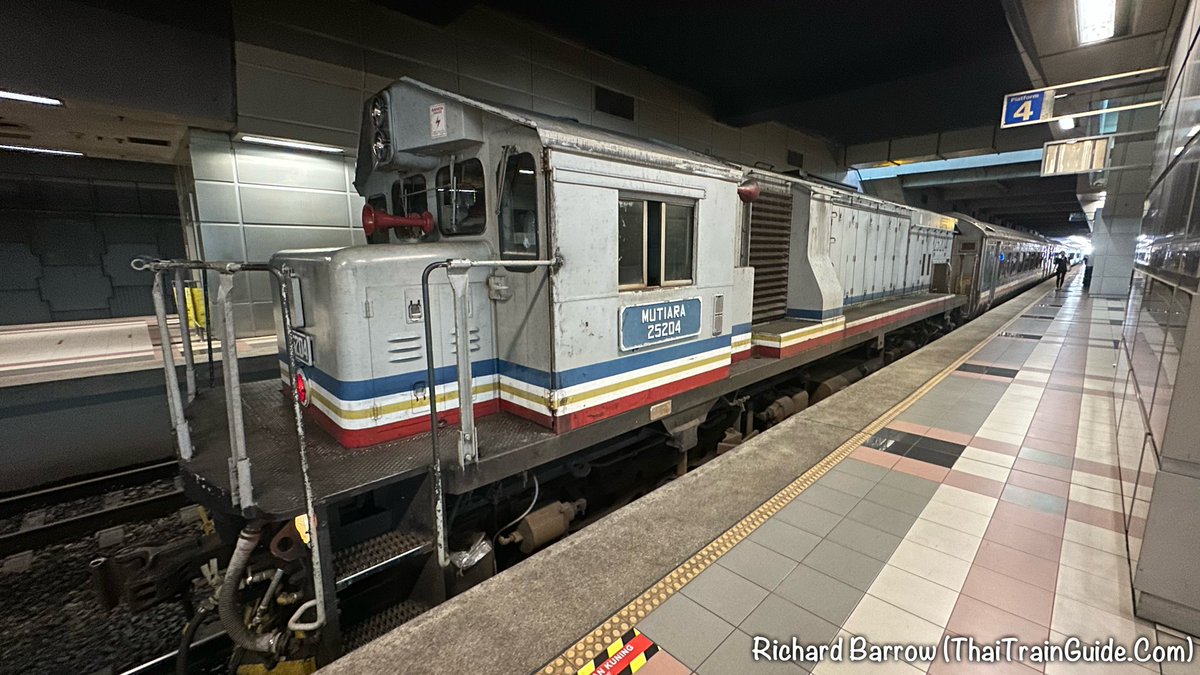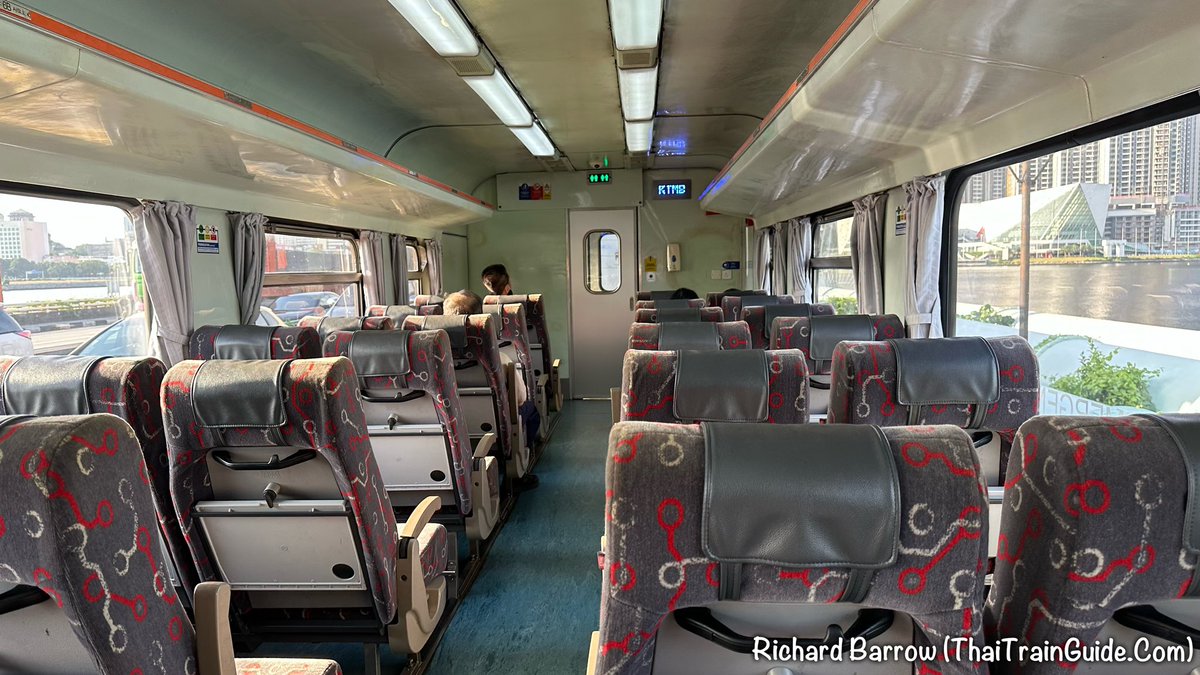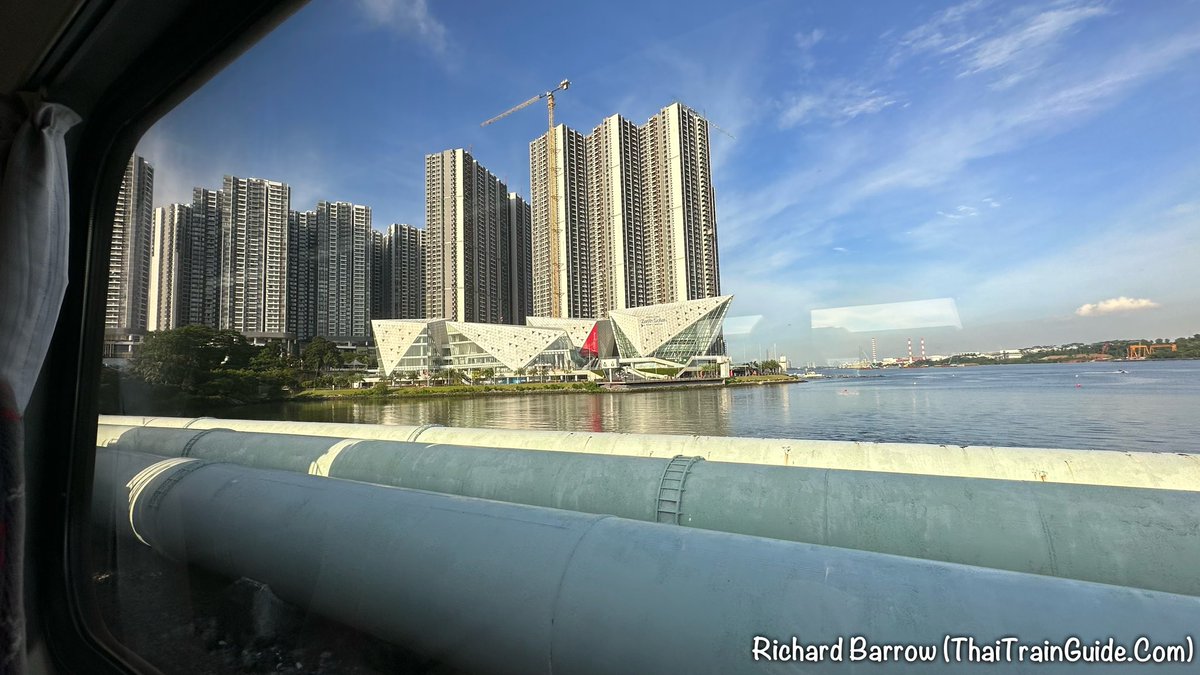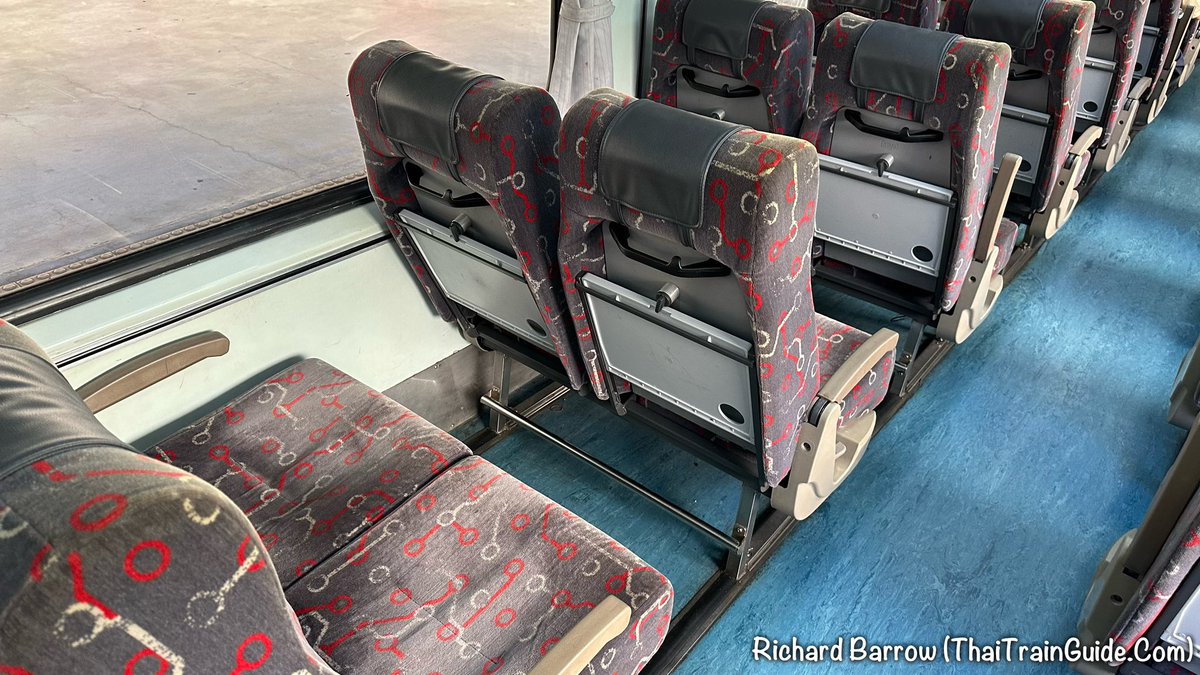 [33] At Woodlands Train Checkpoint in Singapore the gates open 40 minutes before departure time. You have to pass through Singapore and then Malaysia Immigration, and then customs before boarding the train. Took me literally 5 minutes.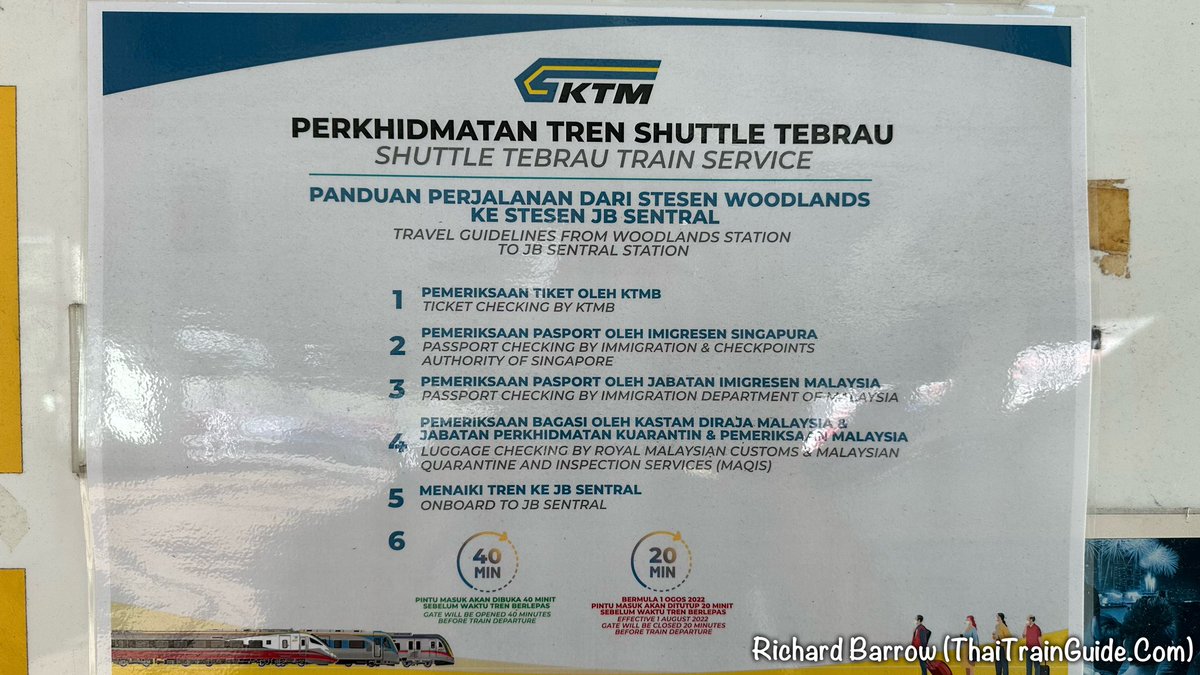 [34] This is the timetable for the cross border train. At only 5 minutes it's probably one of the shortest international train journeys in the world. Most days you can get tickets at the station but you should avoid peak times at the weekends and holidays. Or book in advance.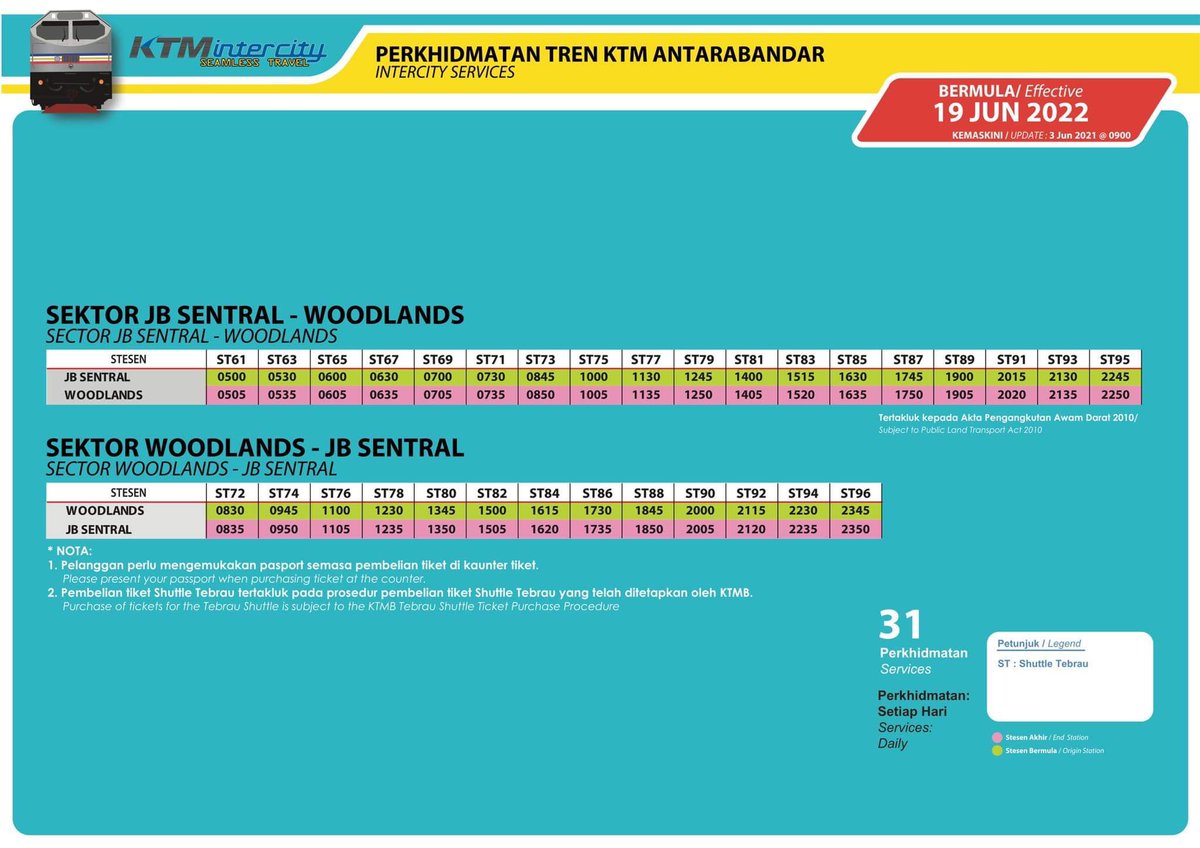 DAY 10 (Train 2): JB Sentral (Johor Bahru) to Tumpat.
🚂 ERT 26
🎟️ MYR 56 (452 Baht)
⏰ 8:25pm-12:54pm
* Lower berth. If you want the upper berth it's 50 Ringgits.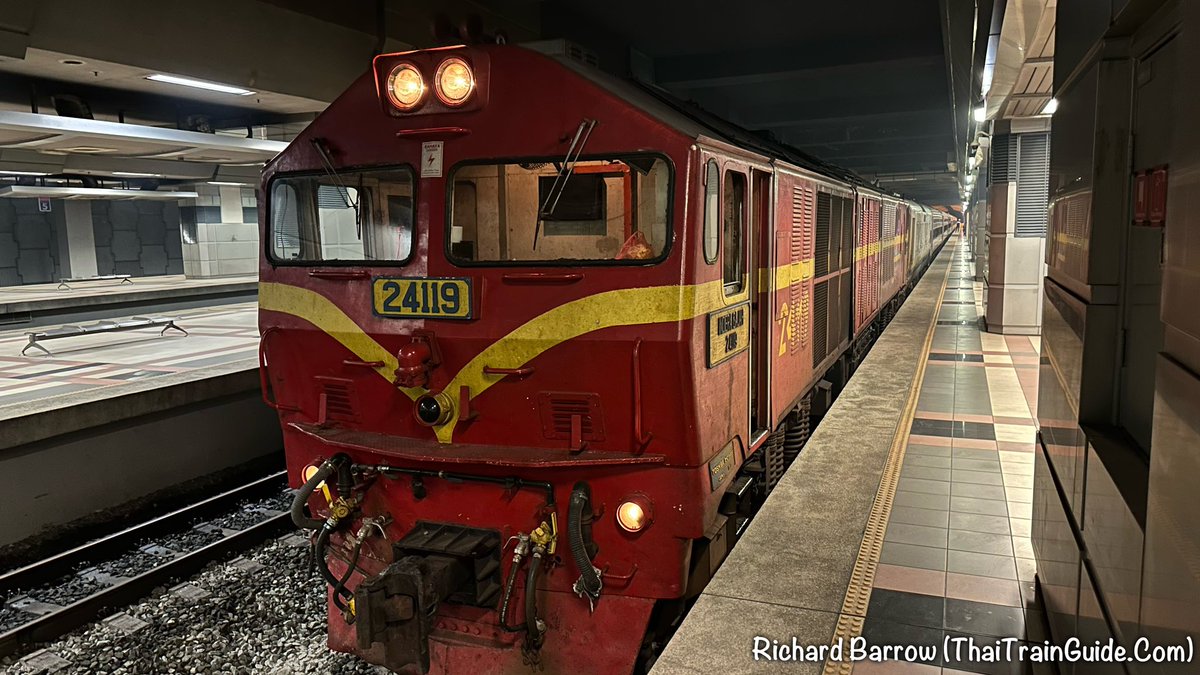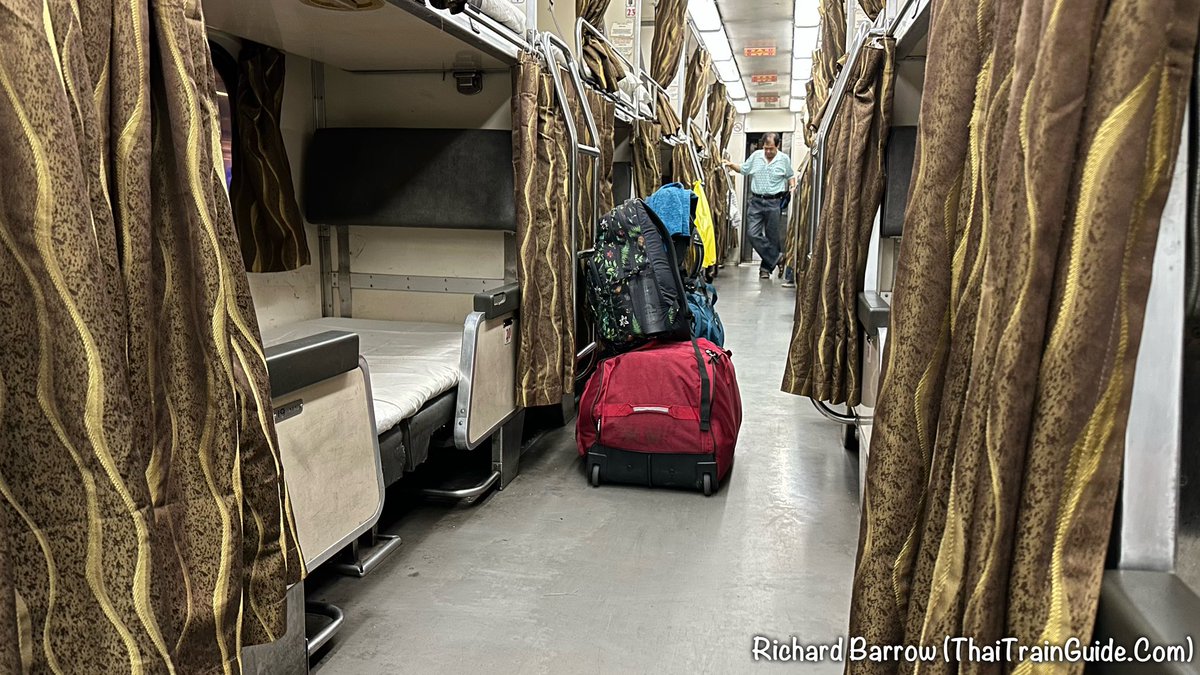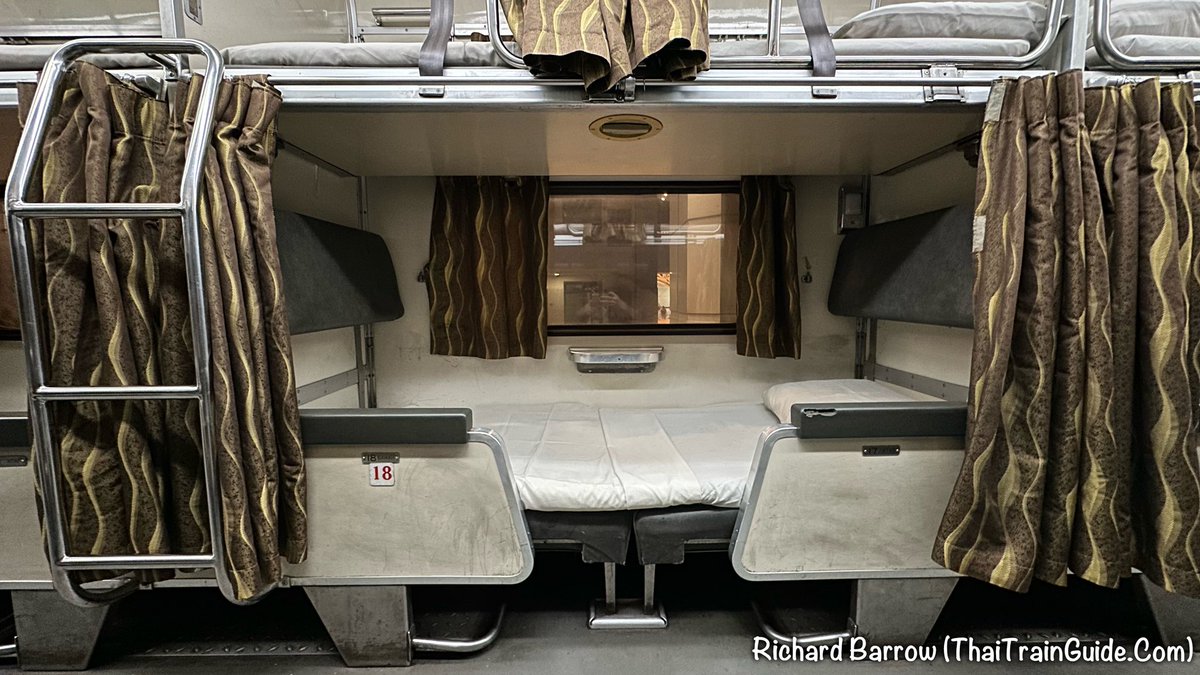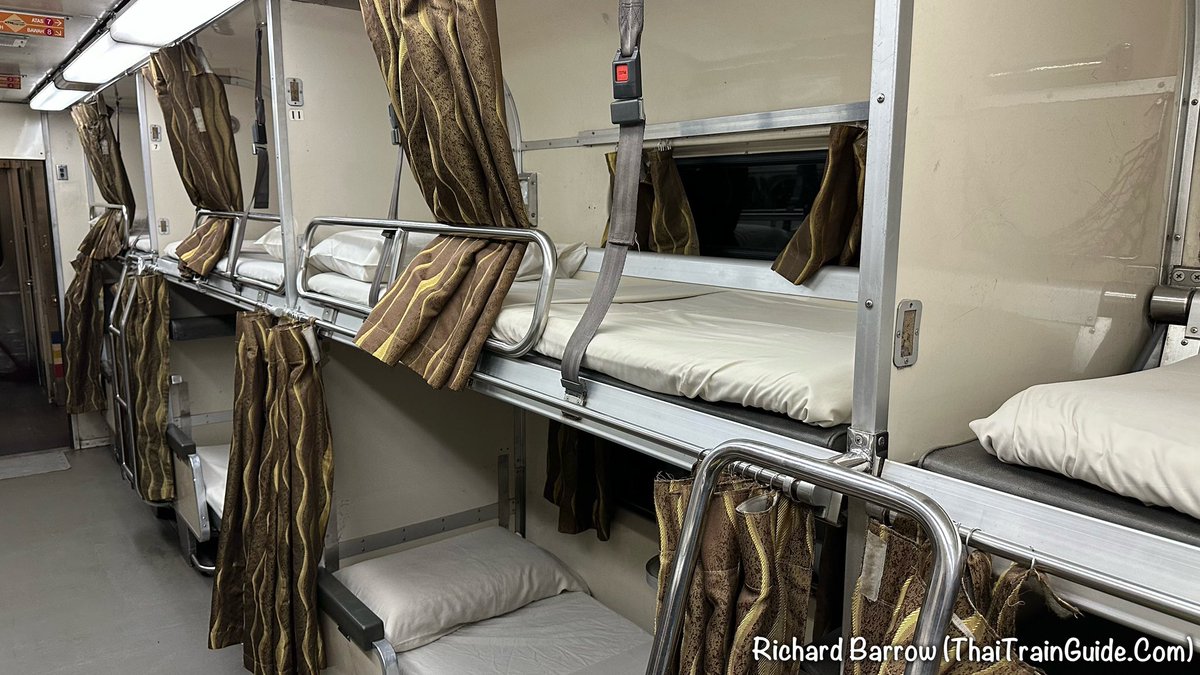 [36] ALTERNATIVE CLASSES for the JB Sentral to Tumpat night train.
🎟️ Business Seat: 117 Ringgit (944 Baht)
🎟️ Standard Seat: 44 Ringgit (355 Baht)
🎟️ Upper Berth: 50 Ringgit (403 Baht) *
🎟️ Lower Berth: 56 Ringgit (451 Baht)
* has a small window unlike in Thailand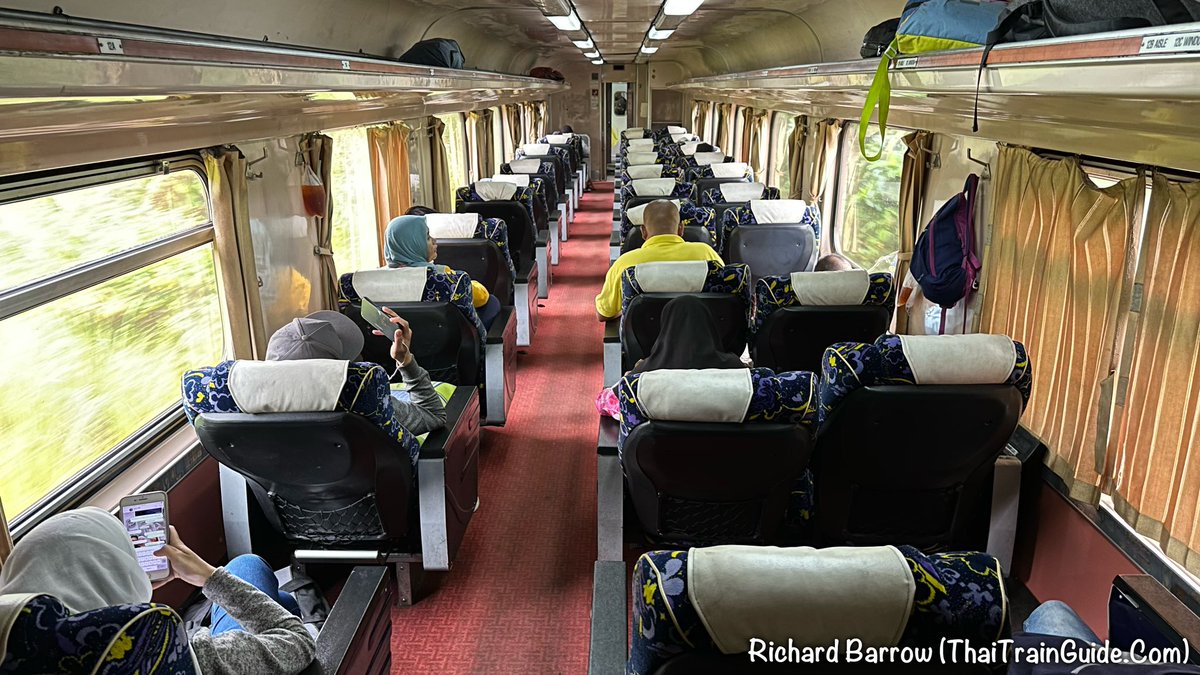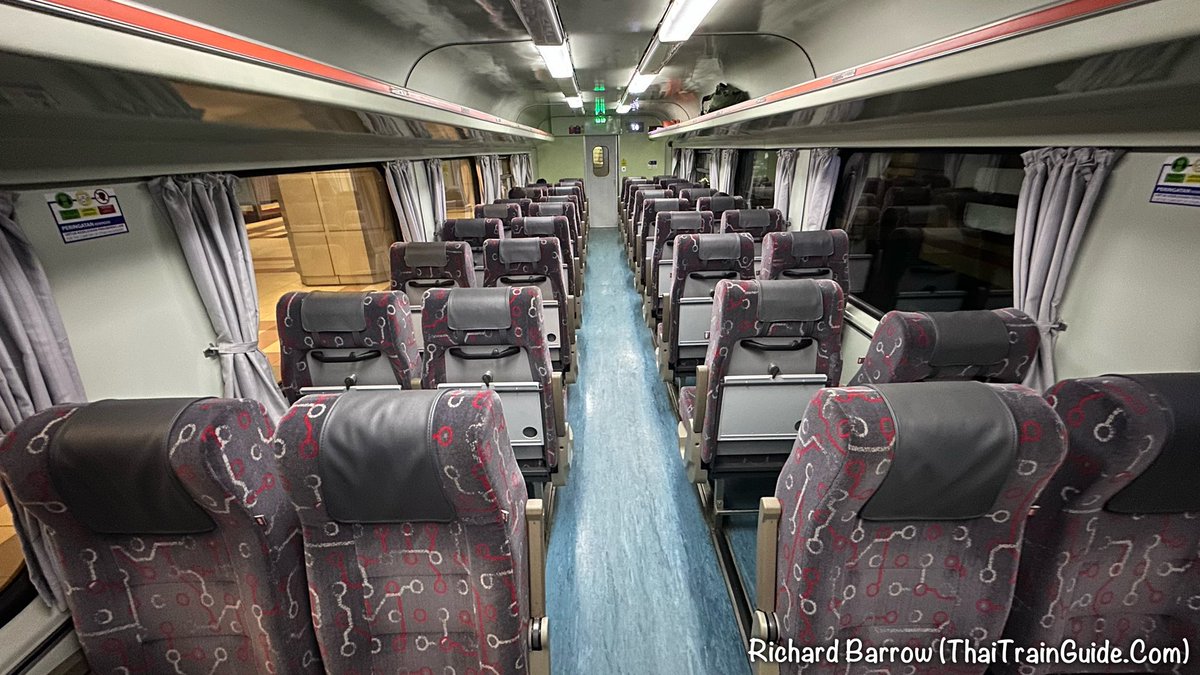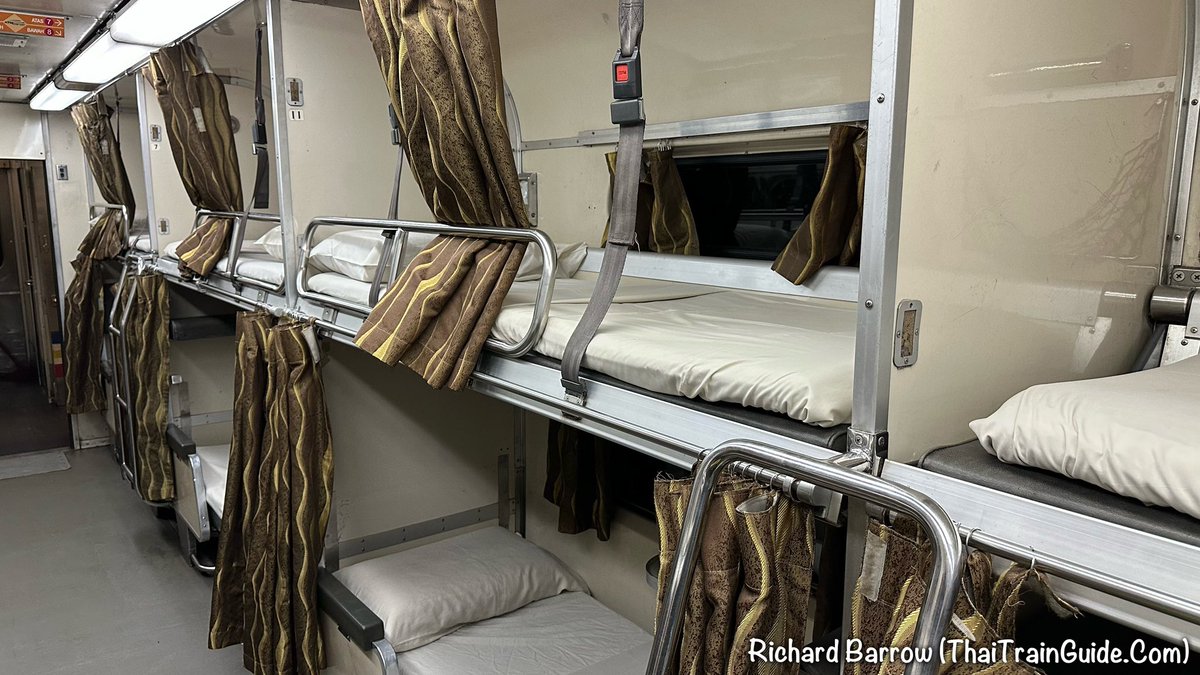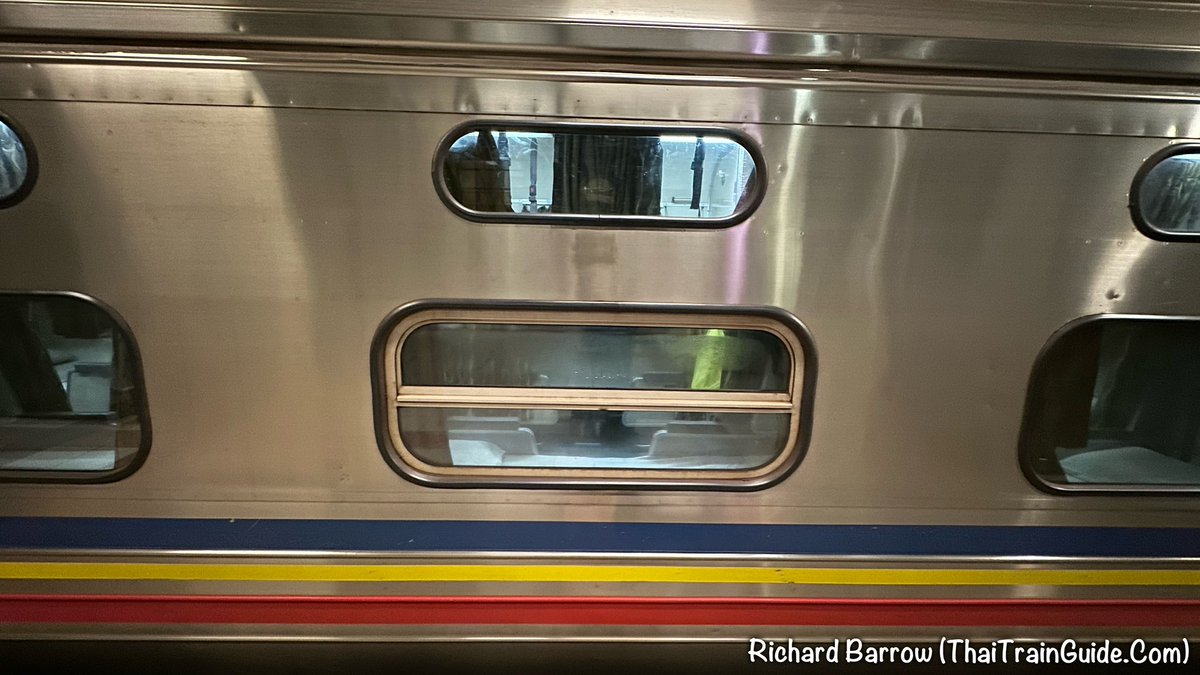 [37] The dining car (Cafe) and toilets onboard the JB Sentral-Tumpat night train.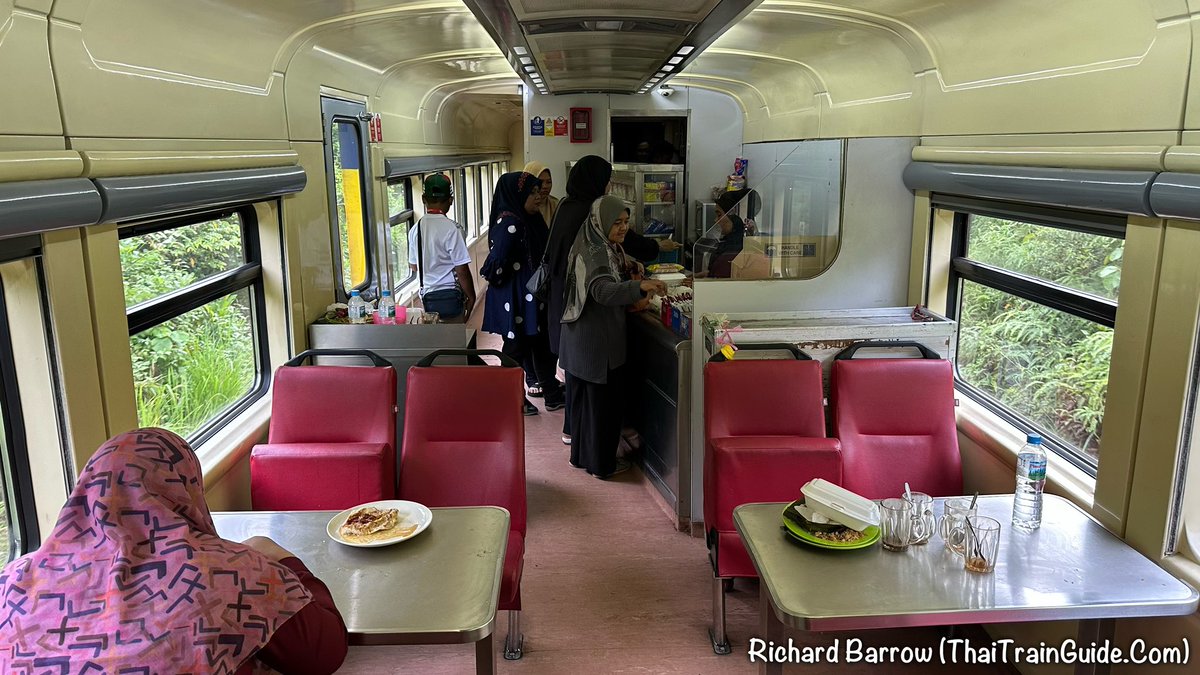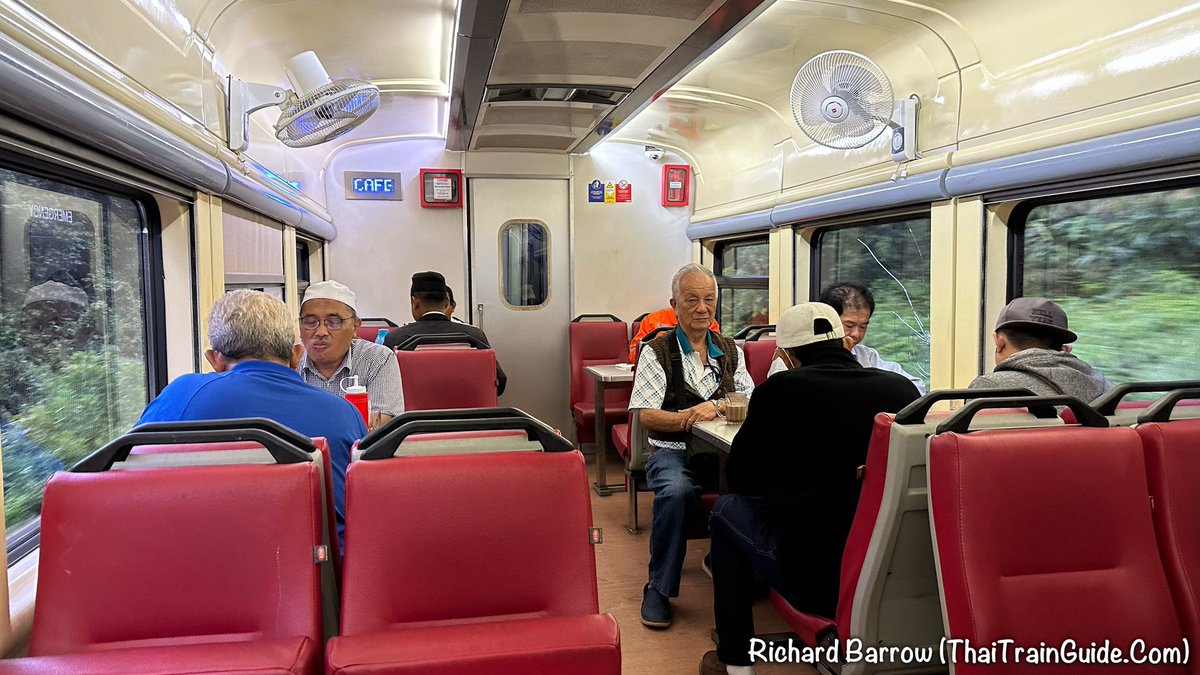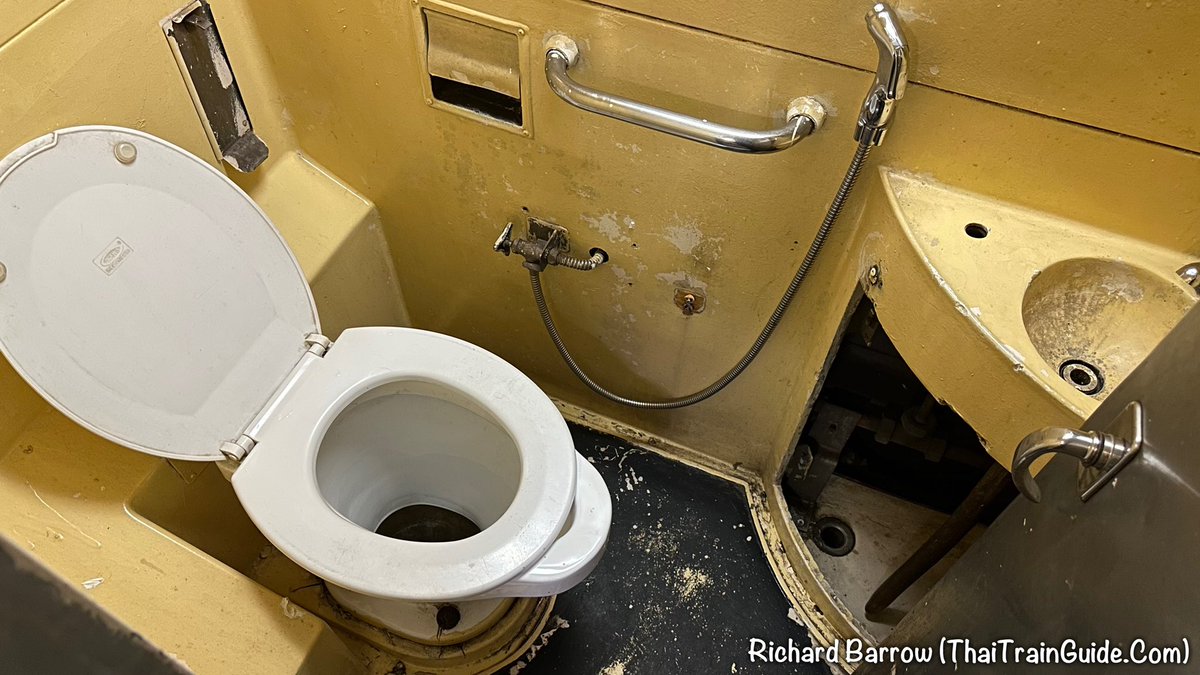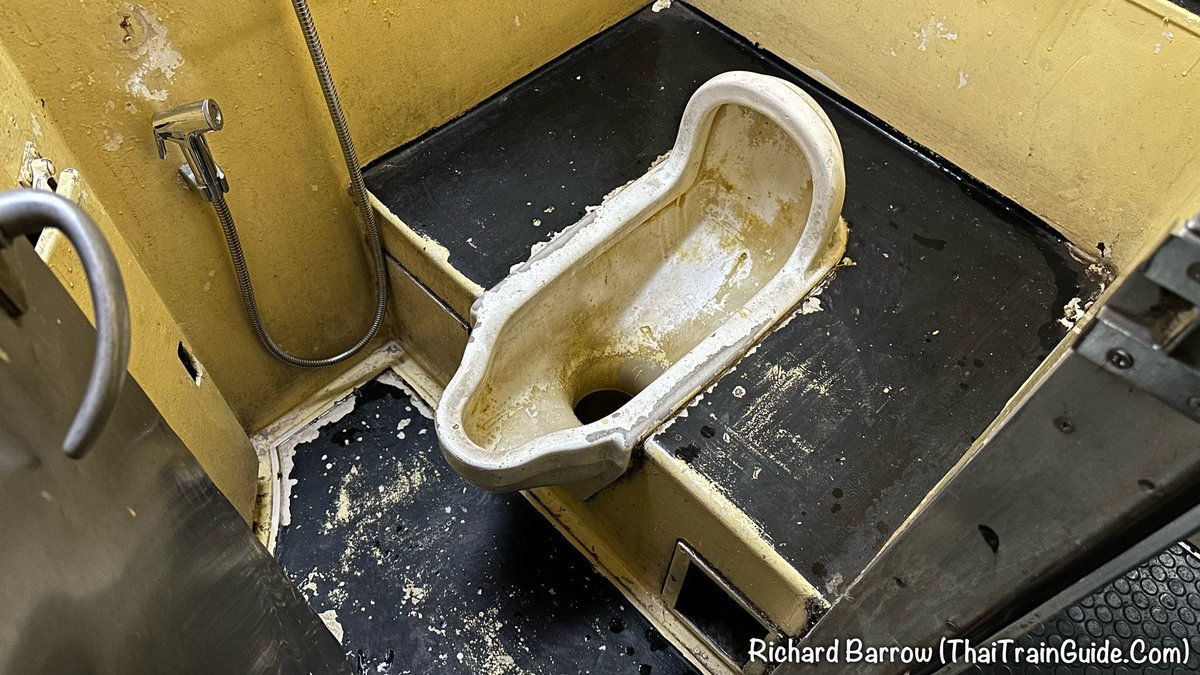 [38] Tumpat is the end of the Eastern Line in Malaysia. I booked a taxi using the Grab app to take me to the border checkpoint at Rantau Panjang. I then walked across the border to Su-Ngai Kolok on the other side. (Notice the bridge that used to be for trains to Tumpat.)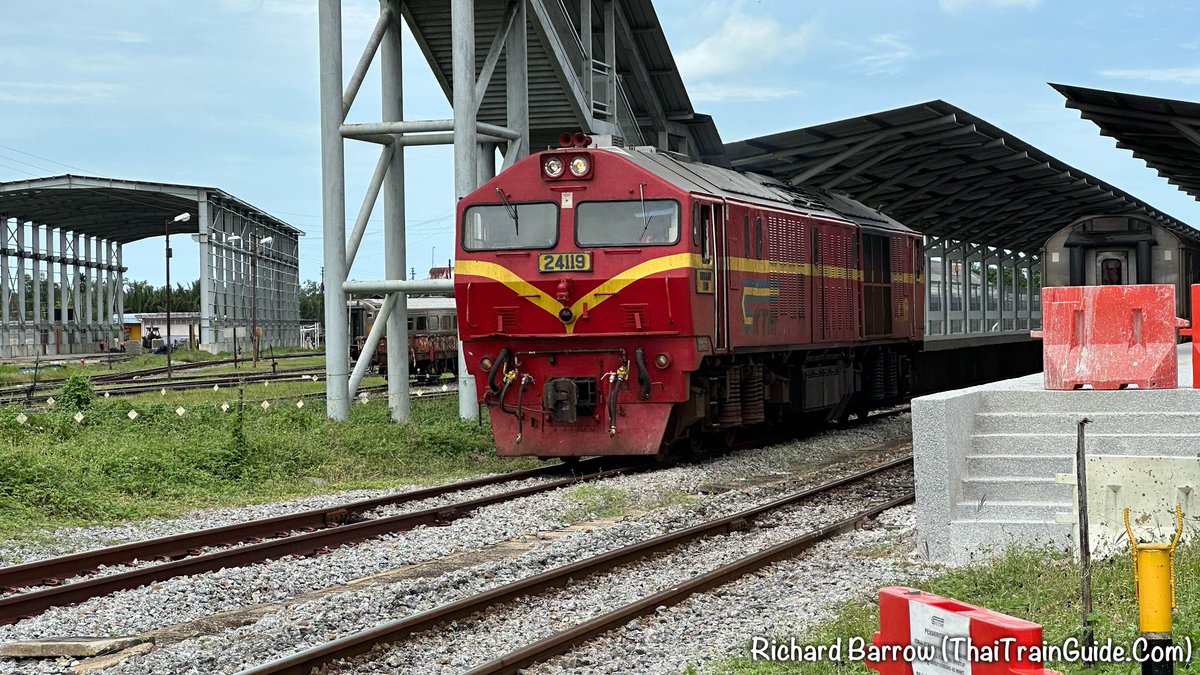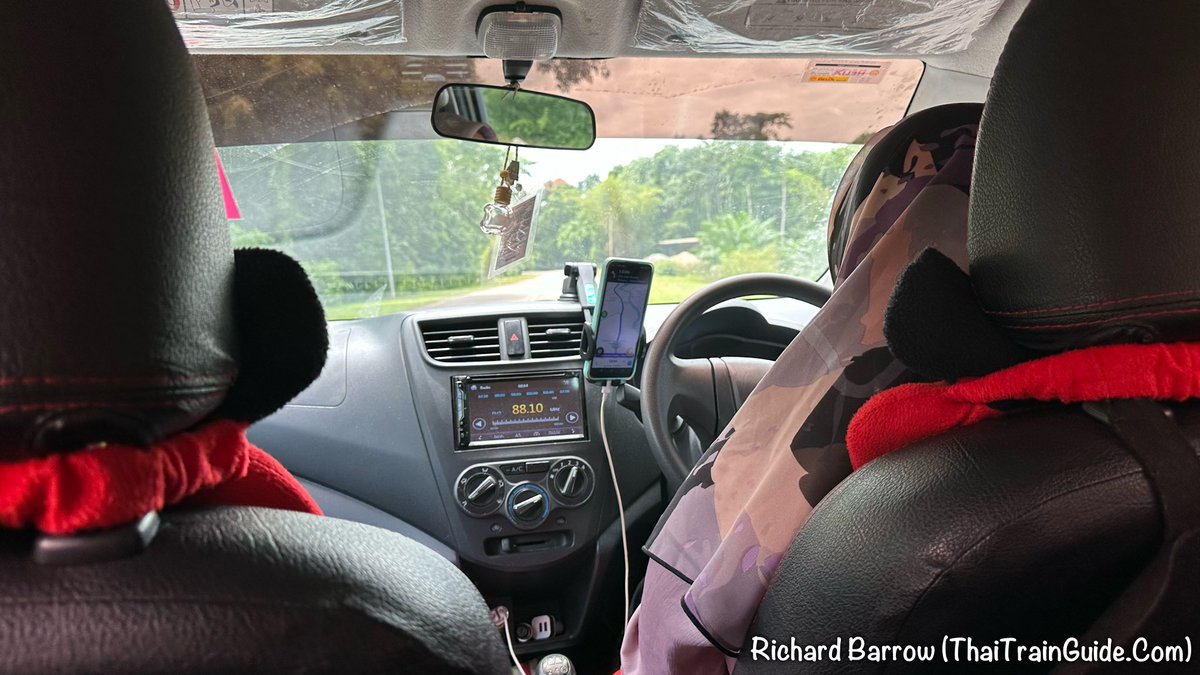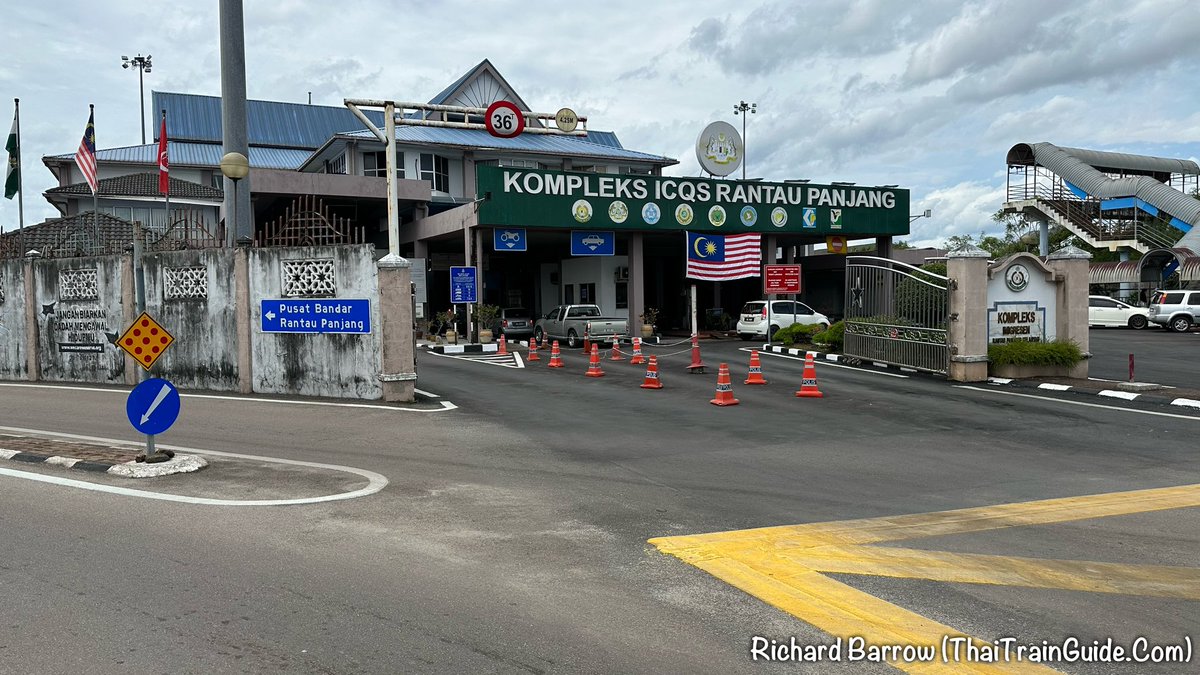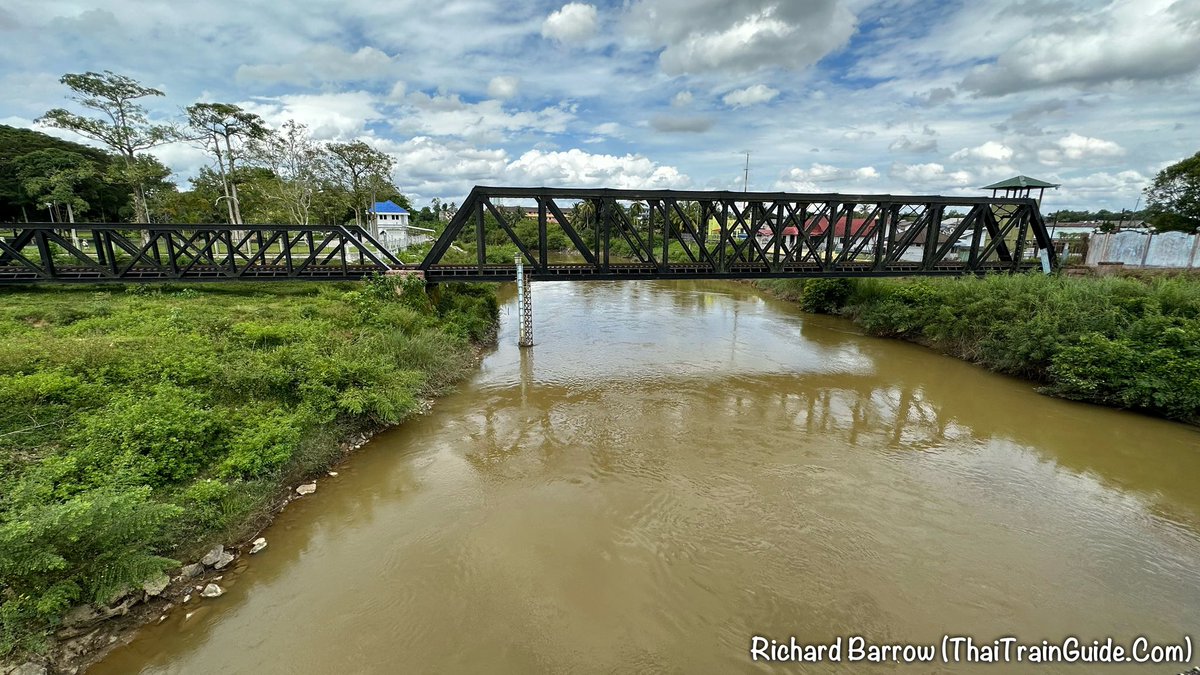 [39] My first night back in Thailand was at the Genting Hotel in Su-Ngai Kook, Narathiwat Province. I had already missed the sleeper train, which was to be expected, and so I had no choice but to stay here one night.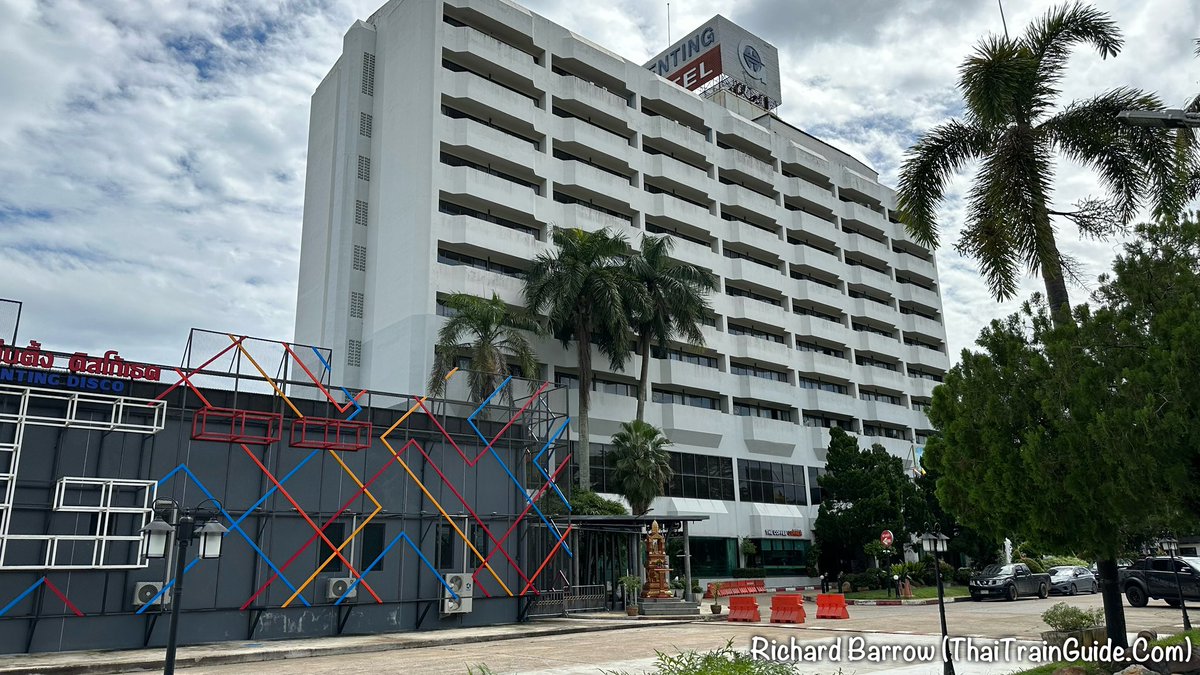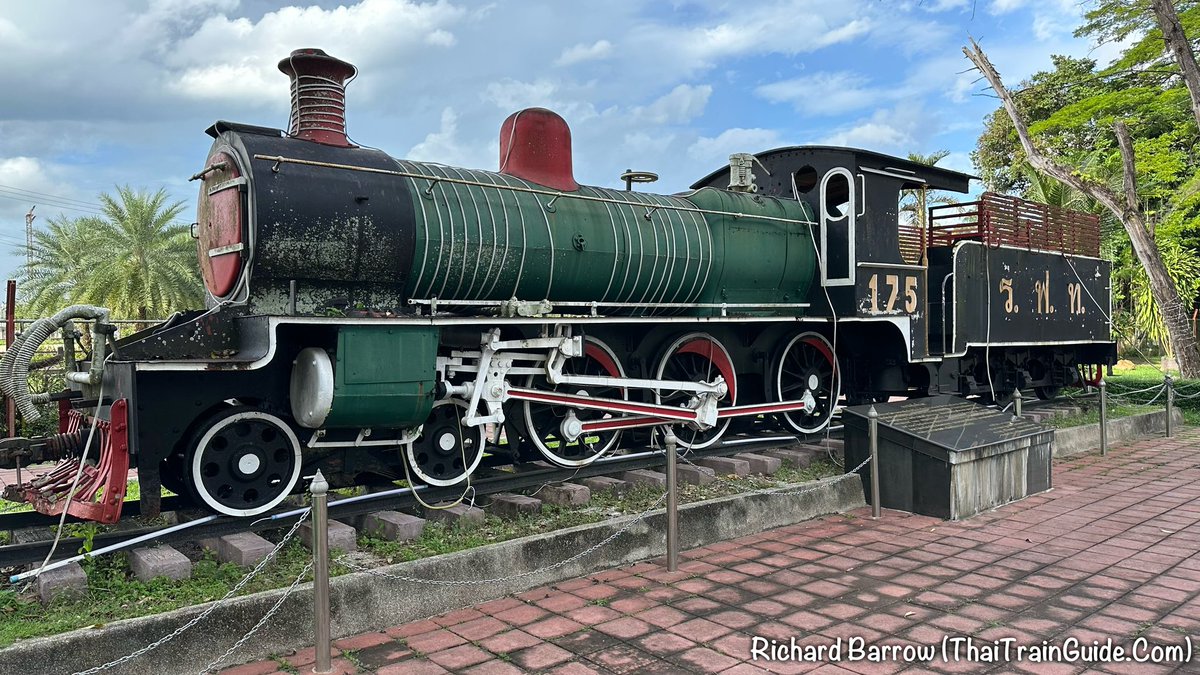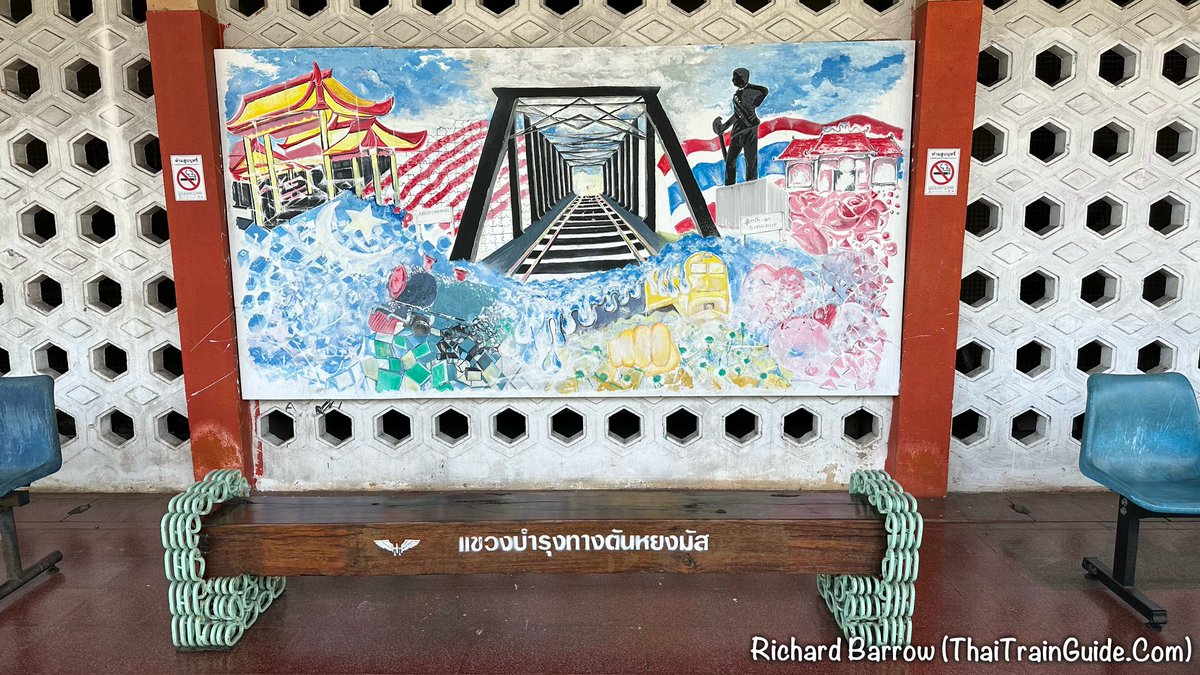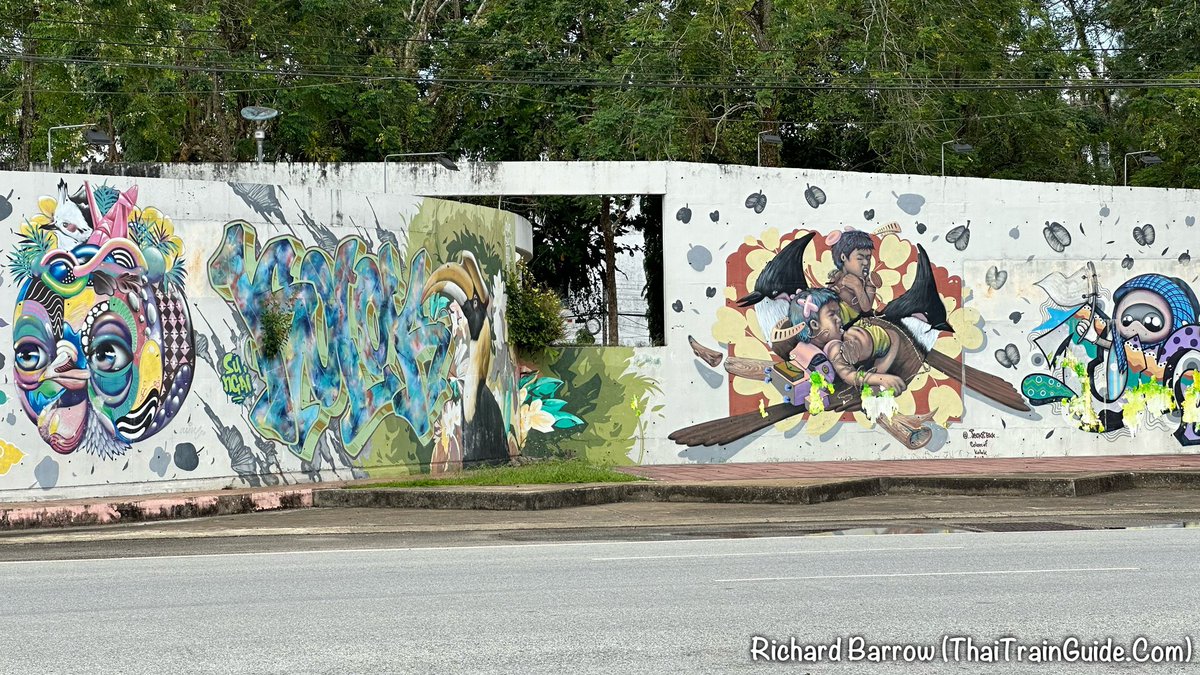 DAY 12: Su-Ngai Kolok to Thung Song Junction.
🚂 Rapid No.172
🎟️ 179 Baht
⏰ 12:00pm-6:33pm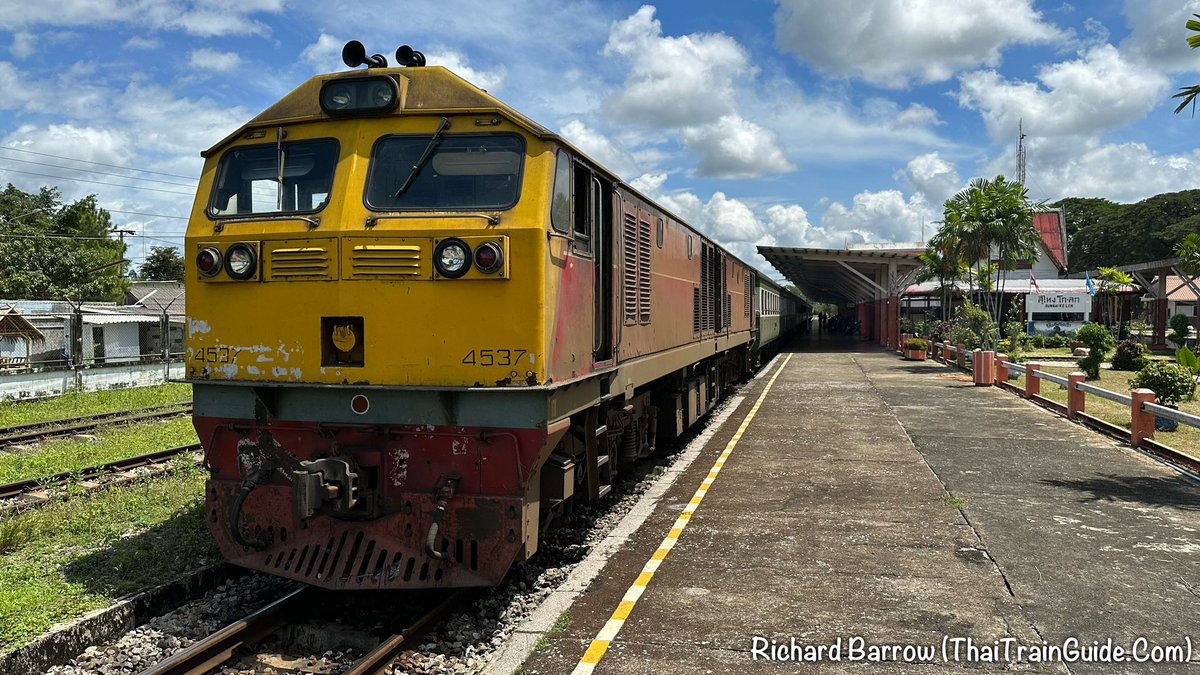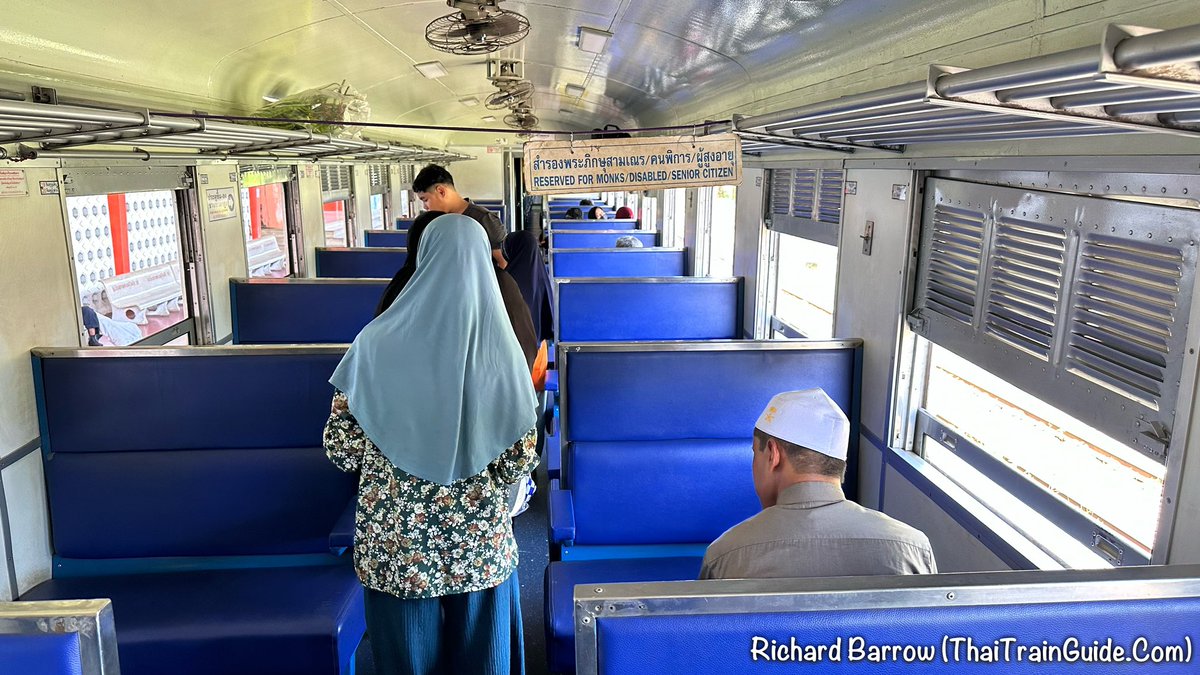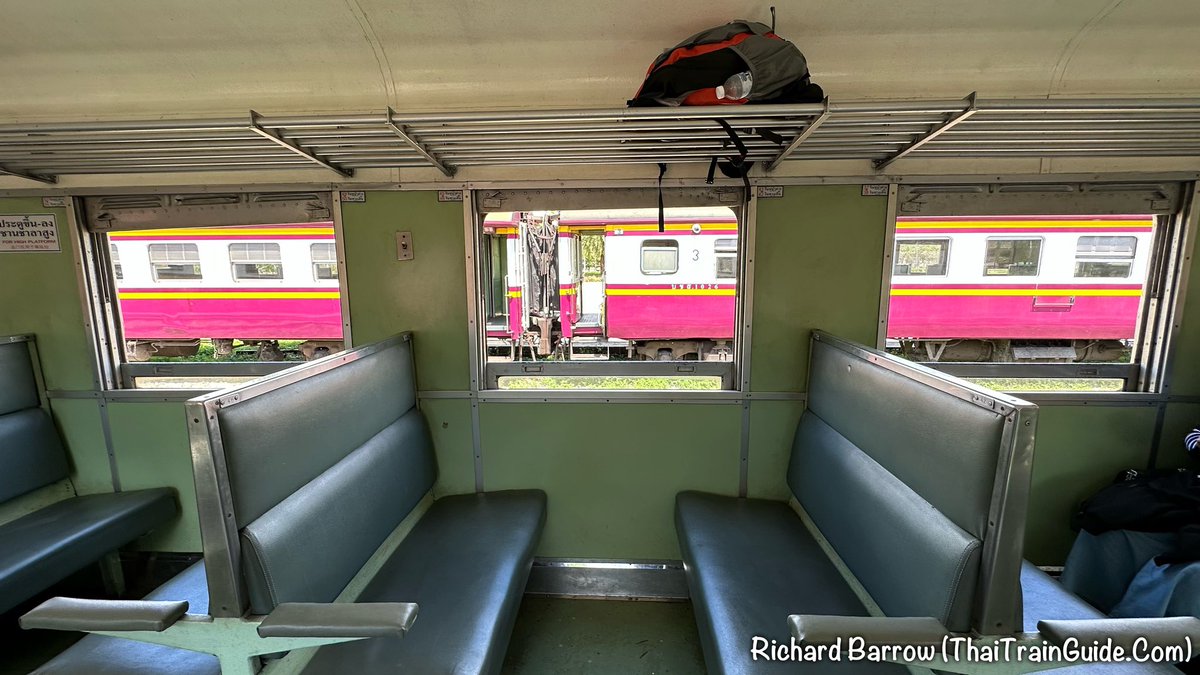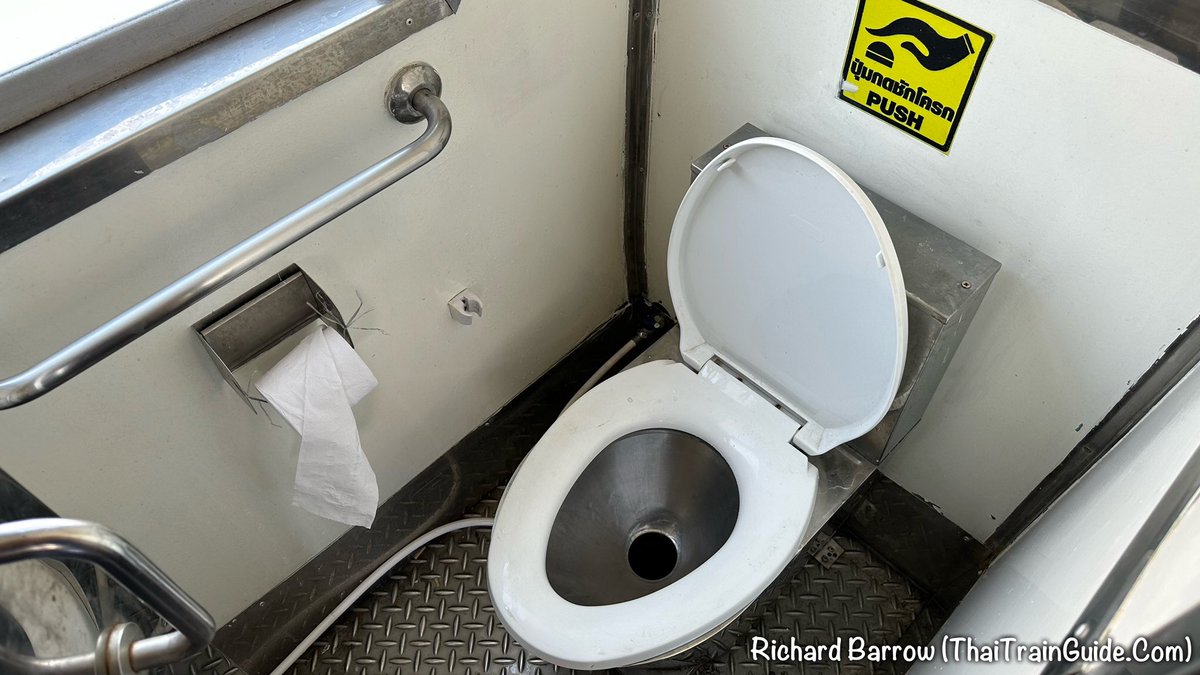 [41] ALTERNATIVE CLASSES: These are the prices for the entire Su-Ngai Kolok to Bangkok route (23 hours).
🎟️ 2nd Class Sleeper (A/C) 897/827 Baht
🎟️ 2nd Class Sleeper (fan) 677/627 Baht
🎟️ 2nd Class Seat (fan) 527 Baht
🎟️ 3rd Class Seat (fan) 290 Baht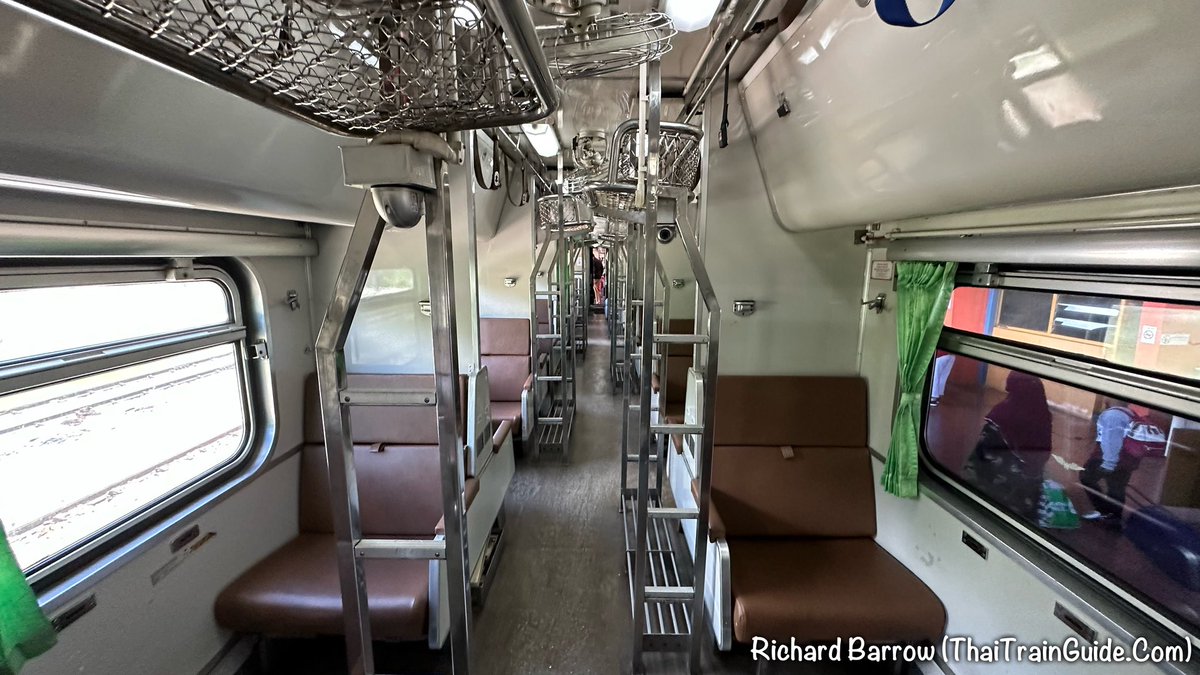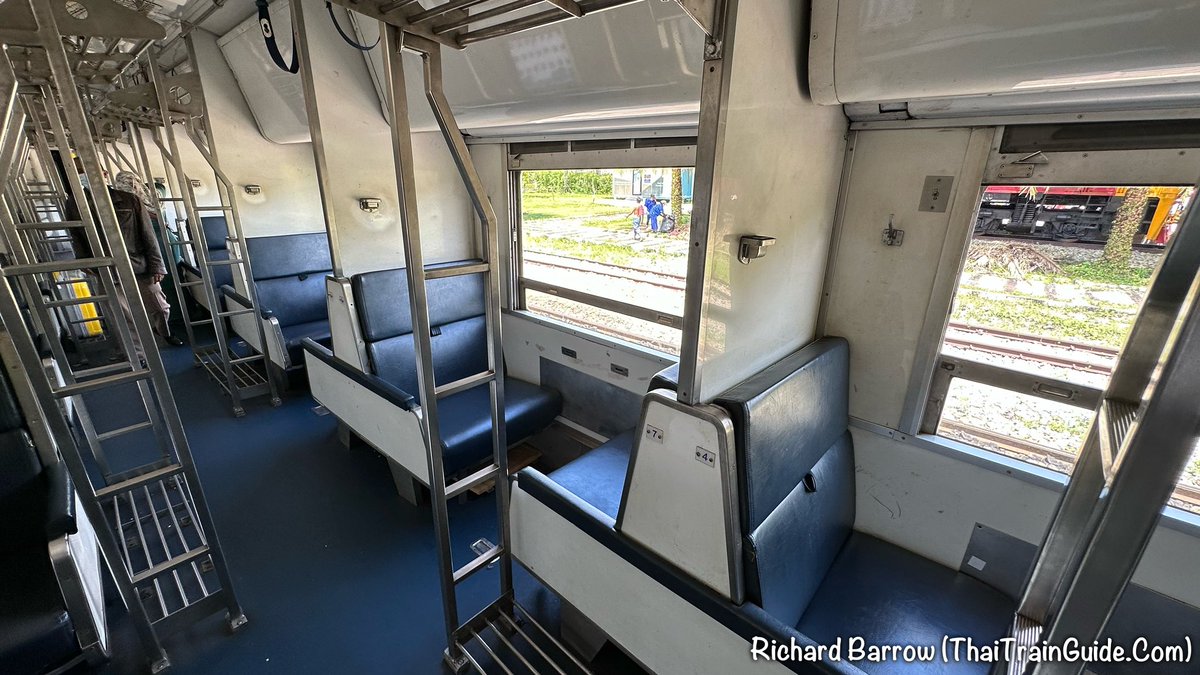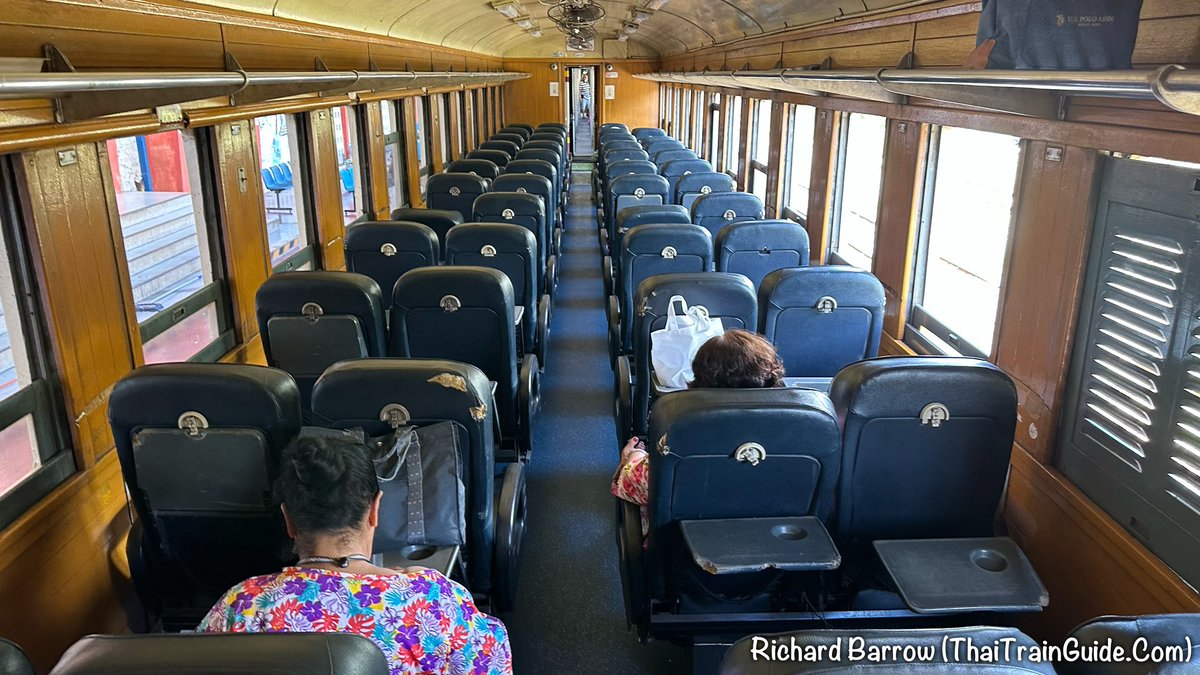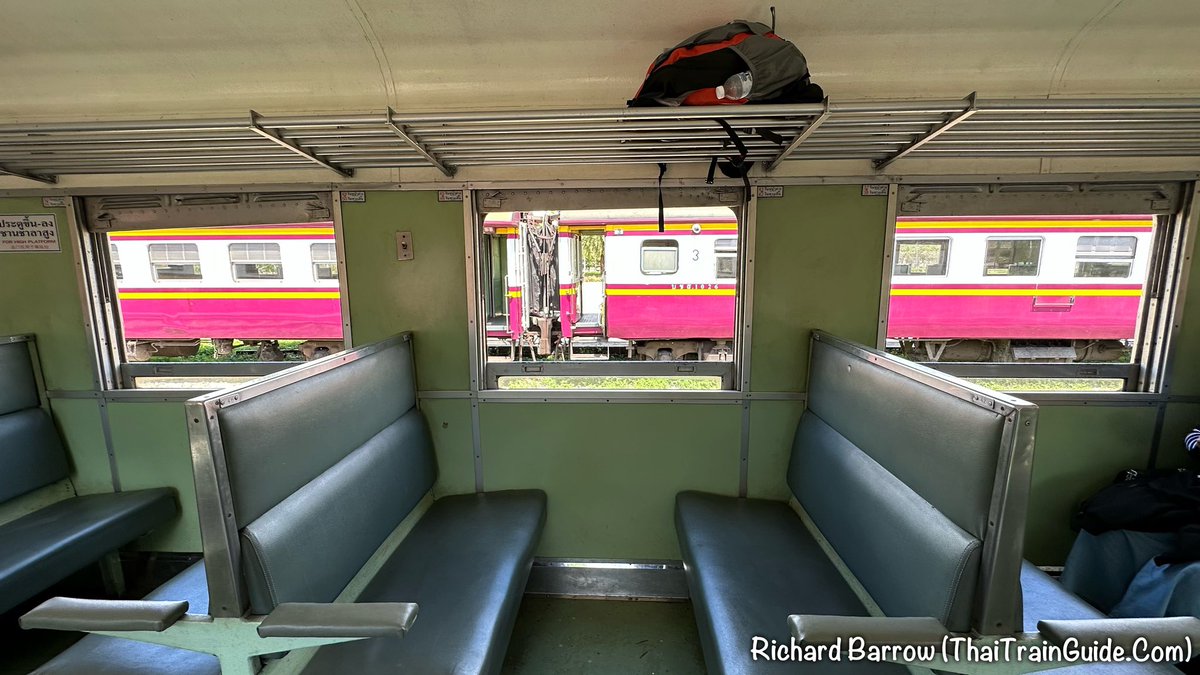 [42] I spent one night at Sino @ Thungsong Hotel in Thung Song. Thung Song Junction Station officially opened on 1st January 1913. After being bombed by an allied aircraft in 1945, it was rebuilt in 1946. Last photo is a bomb crater.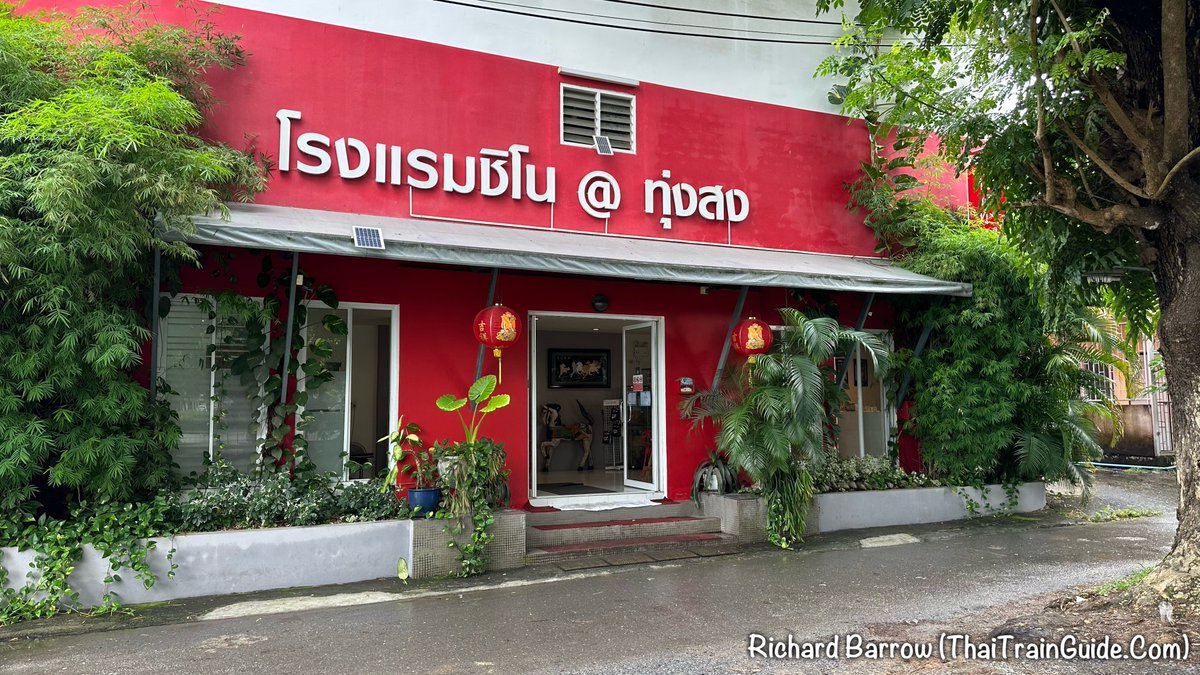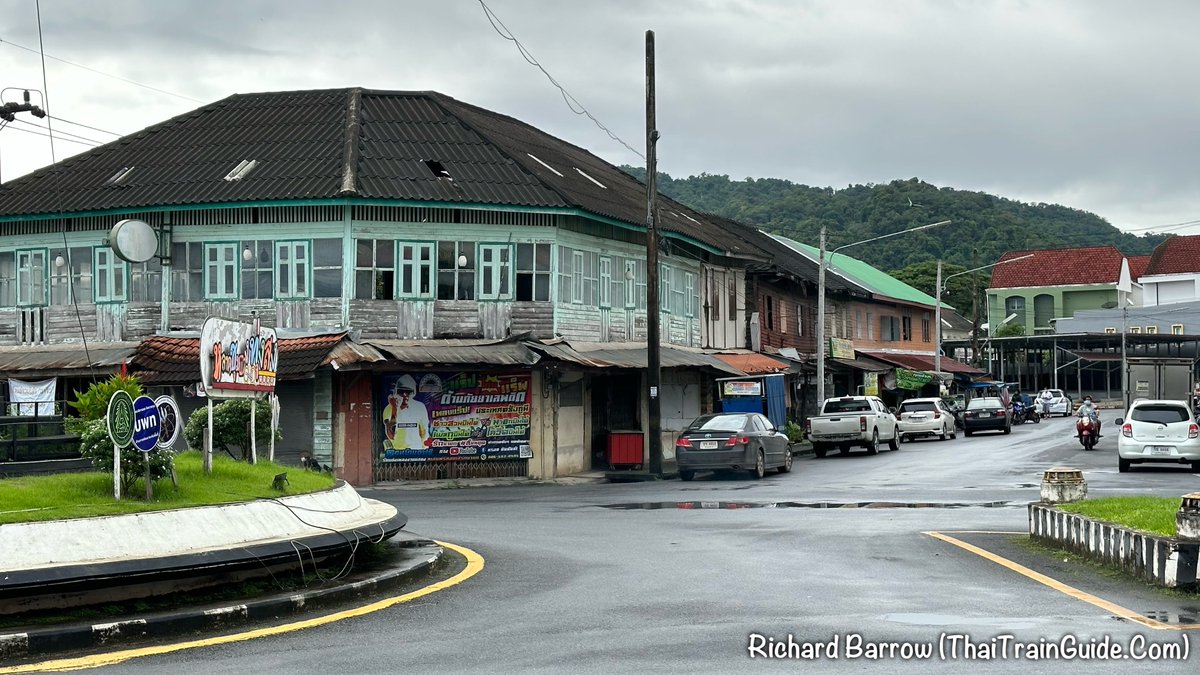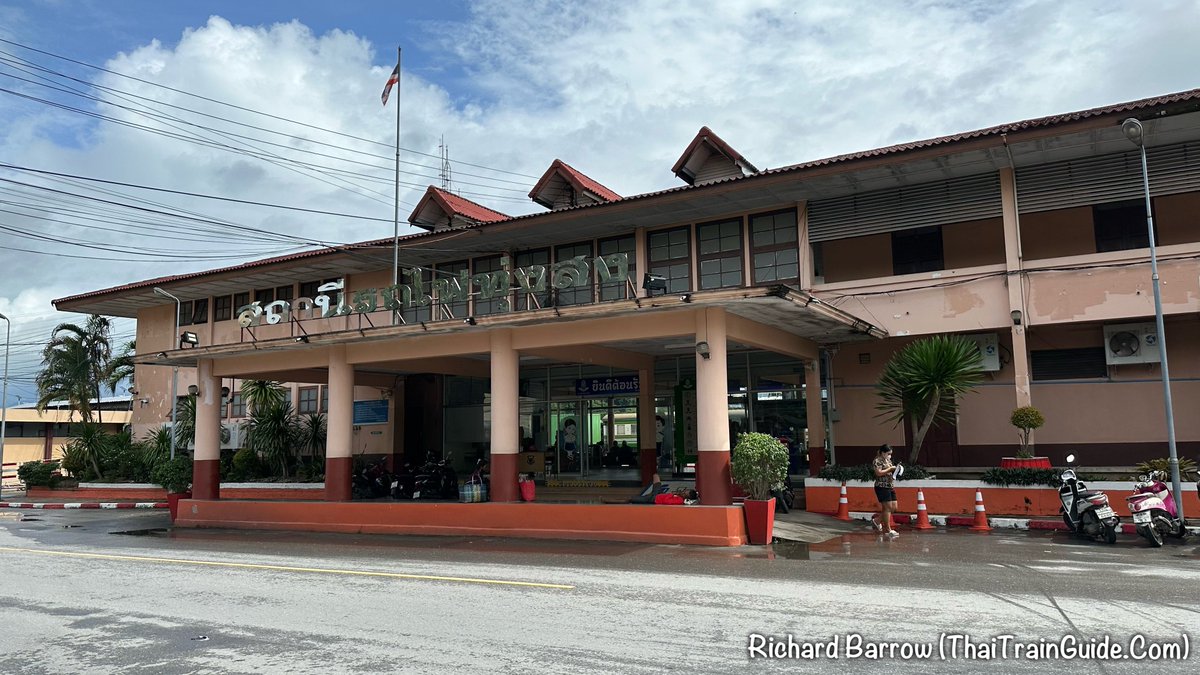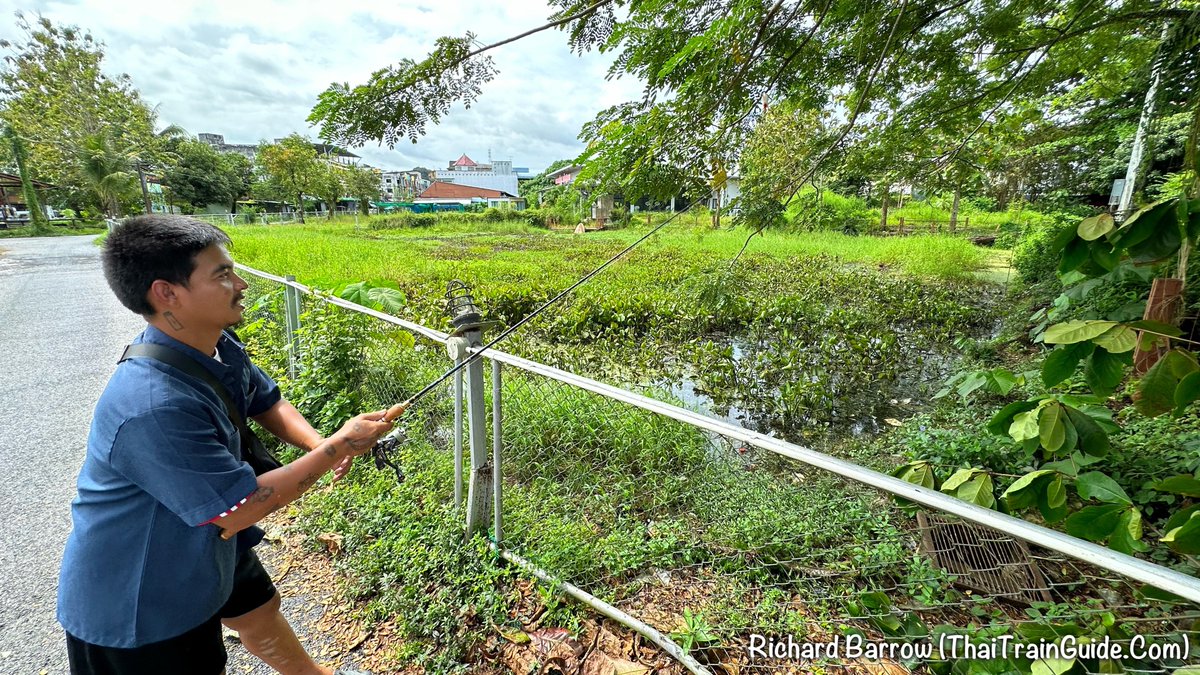 DAY 13: Thung Song Junction to Kantang.
🚂 Rapid No.167
🎟️ 20 Baht (3rd Class)
⏰ 10:19am-12:05pm
[44] I spent one night at Sirichai Design Hotel in Kantang. This is the last stop on the Andaman Line from Thung Song Junction. The station here opened in 1913.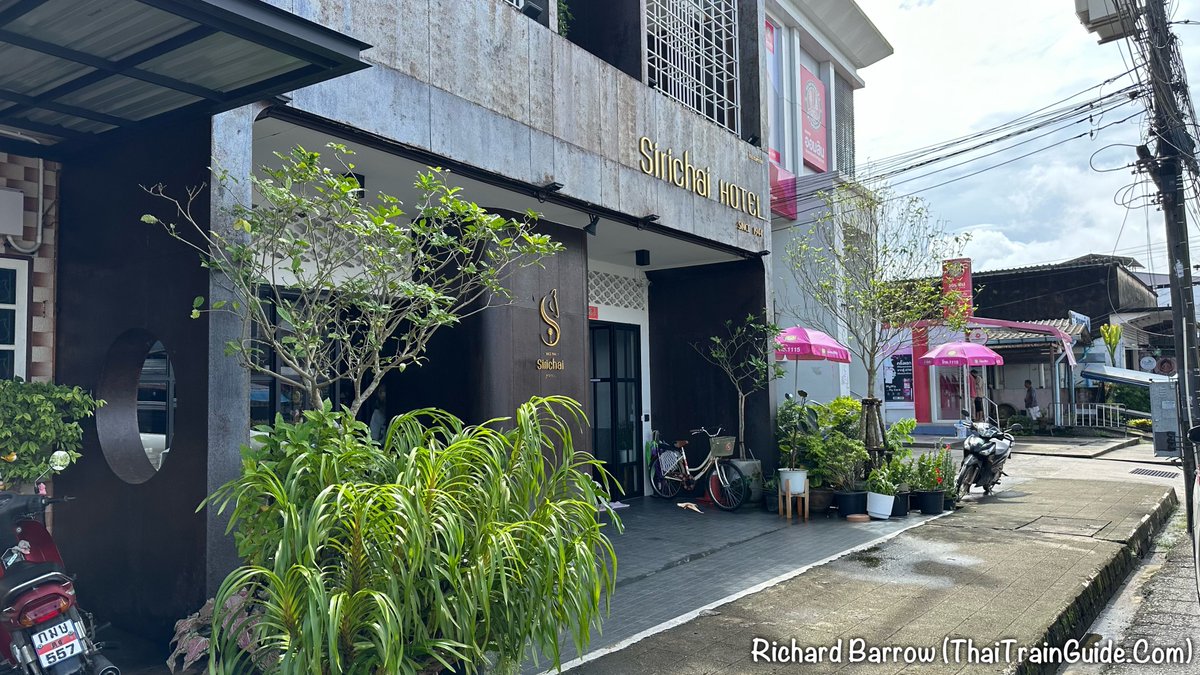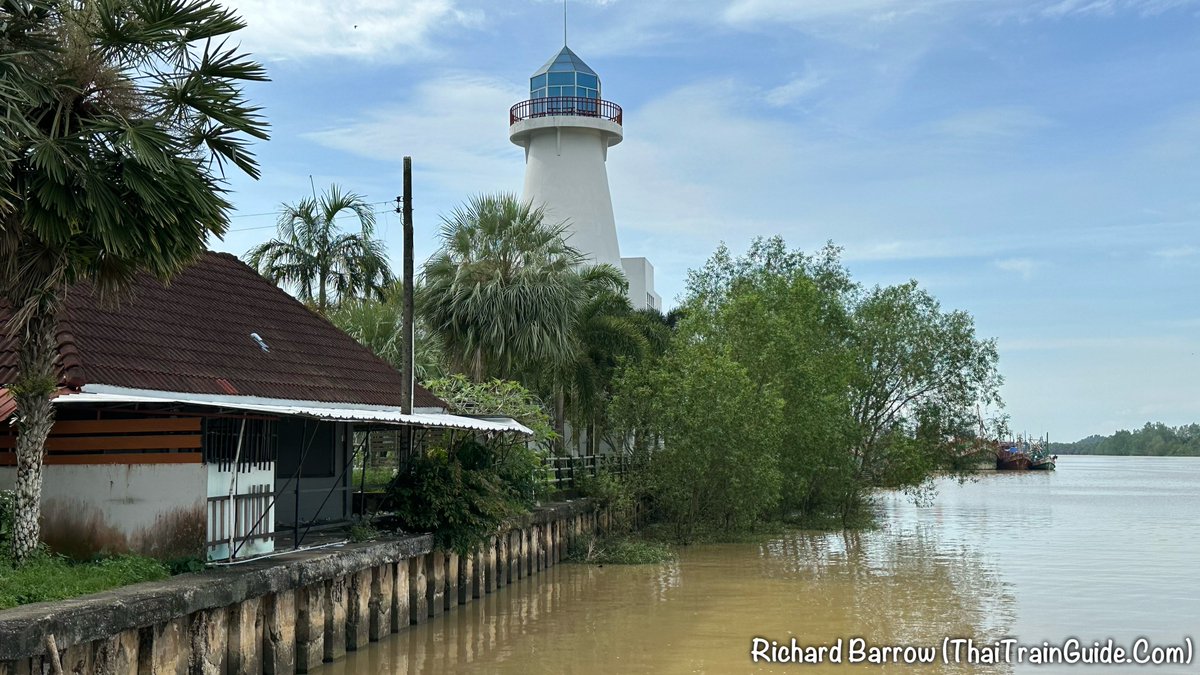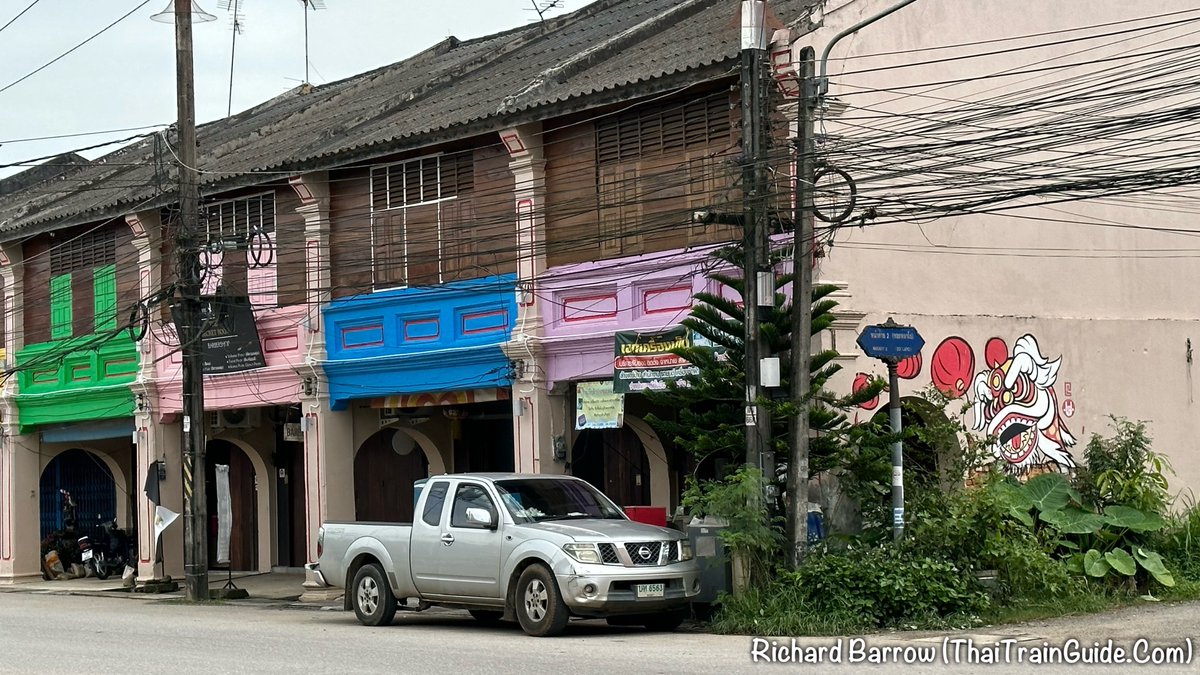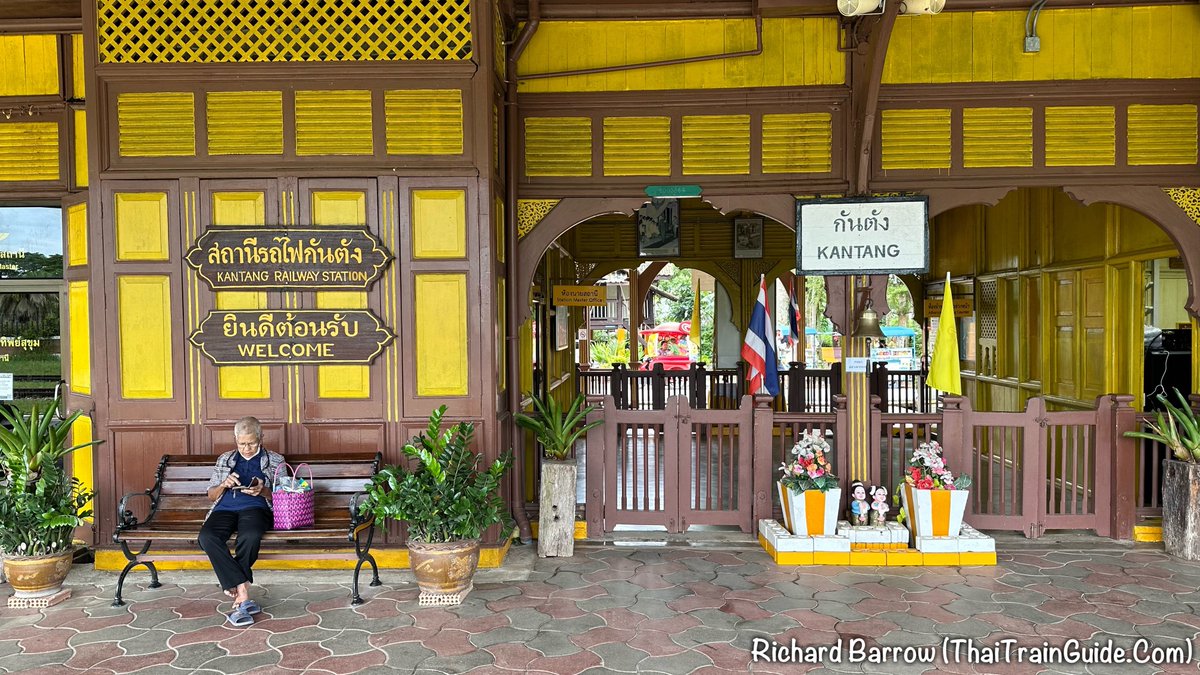 DAY 14: Kantang to Bangkok.
🚂 Rapid No.168
🎟️ 580 Baht (2nd Class, lower berth/fan)
⏰ 12:55pm-7:35am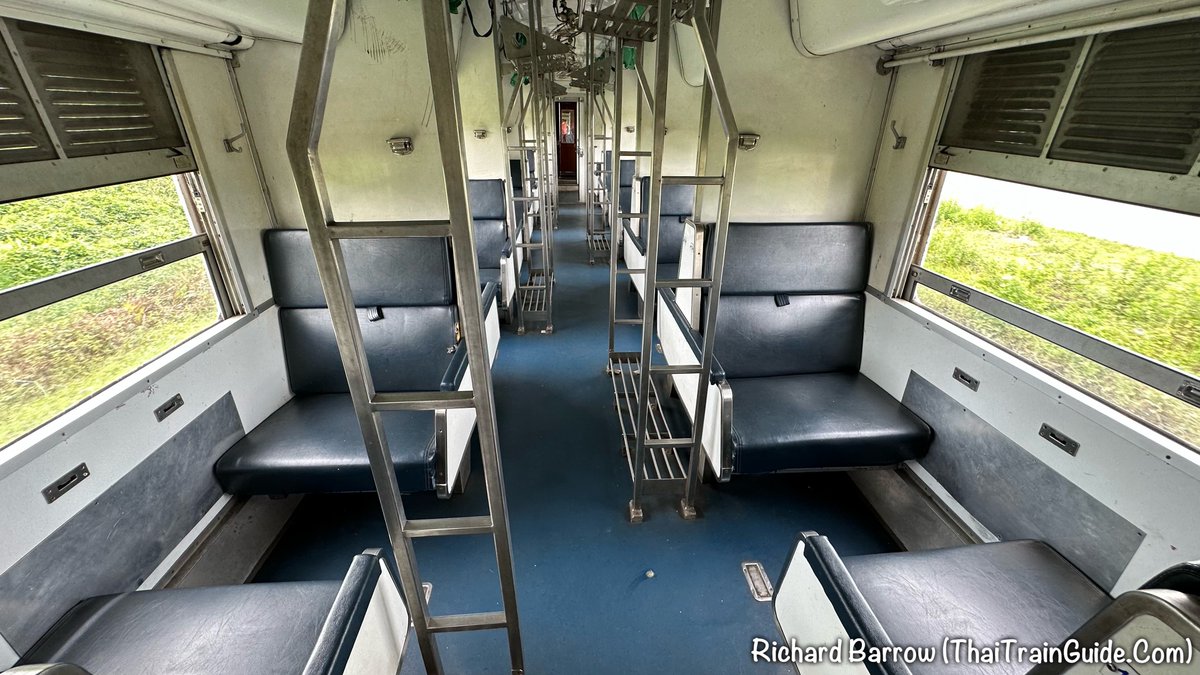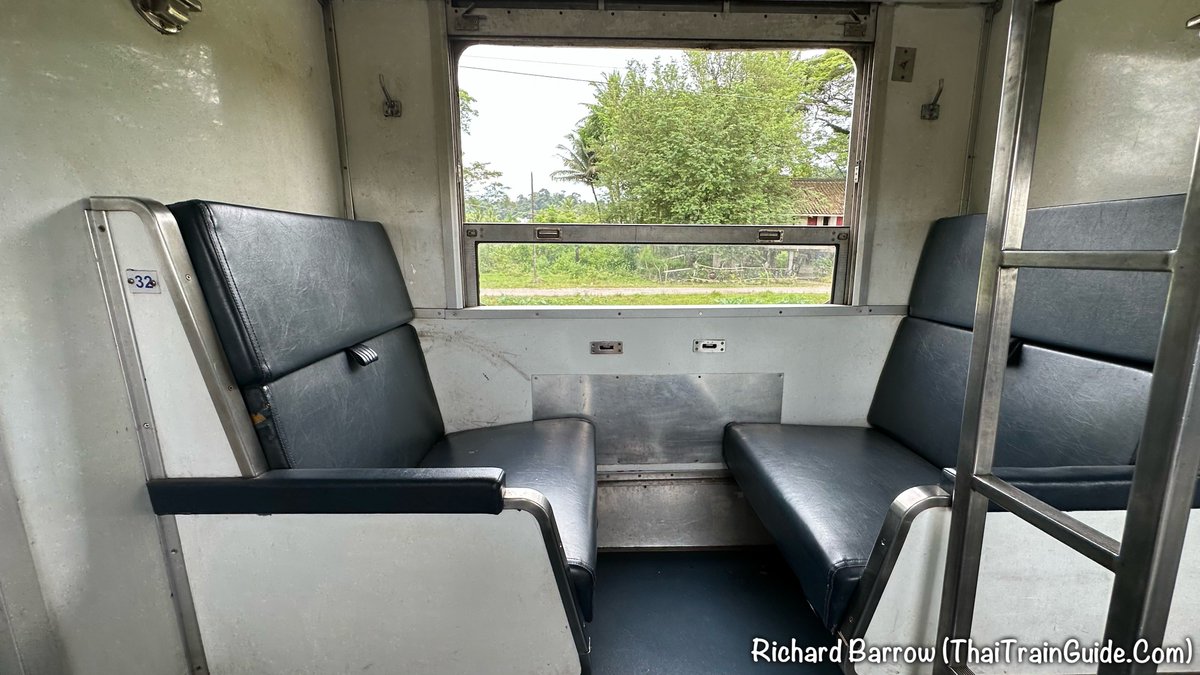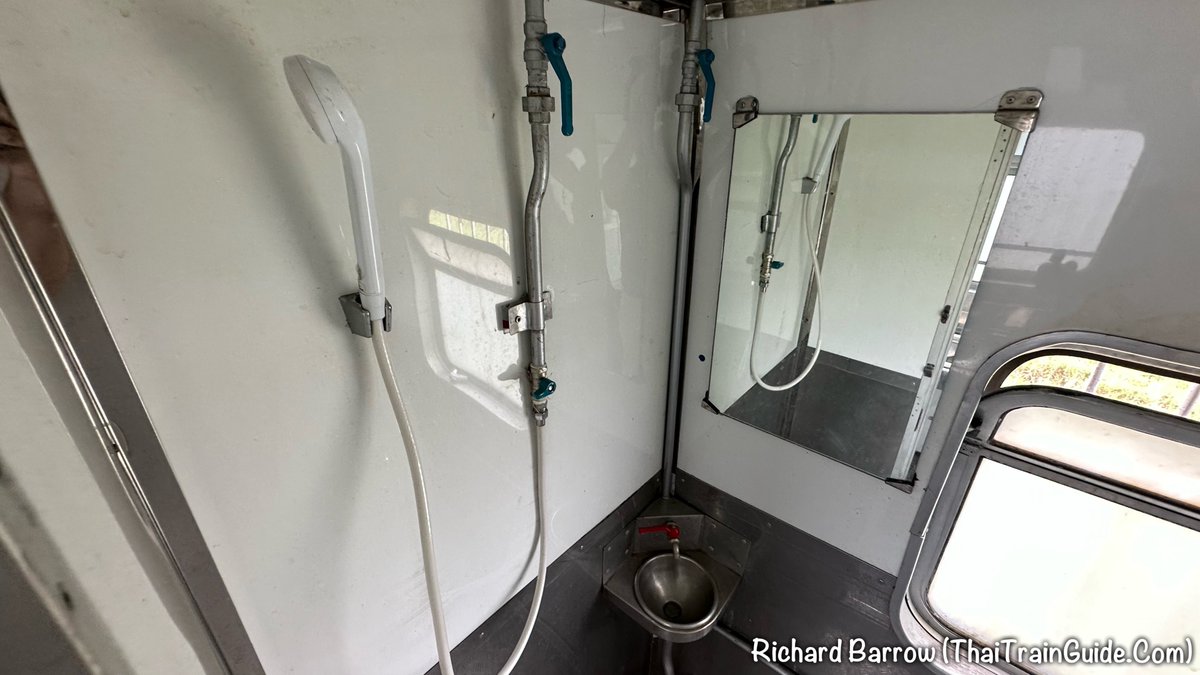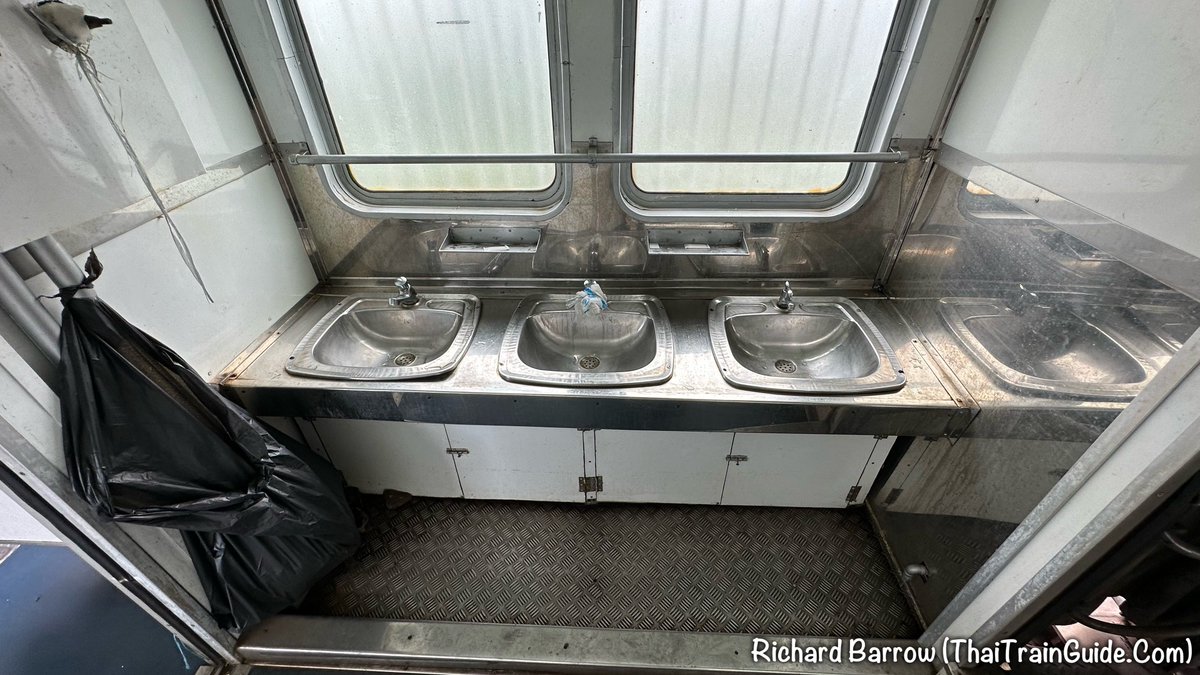 [46] ALTERNATIVE CLASSES: There are four types of classes on the Kantang to Bangkok route (19 hours).
🎟️ 2nd Class berth with air-con: 730/800 Baht
🎟️ 2nd Class berth with fan: 530/580 Baht
🎟️ 2nd Class seat with fan: 430 Baht
🎟️ 3rd Class seat with fan: 248 Baht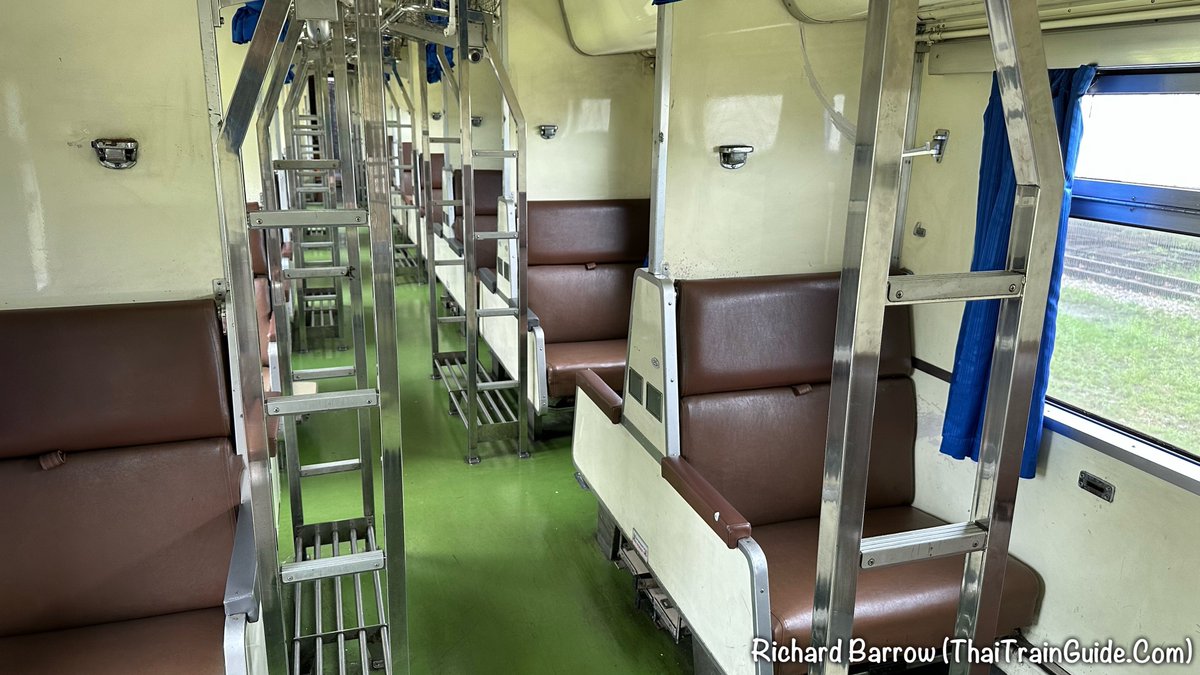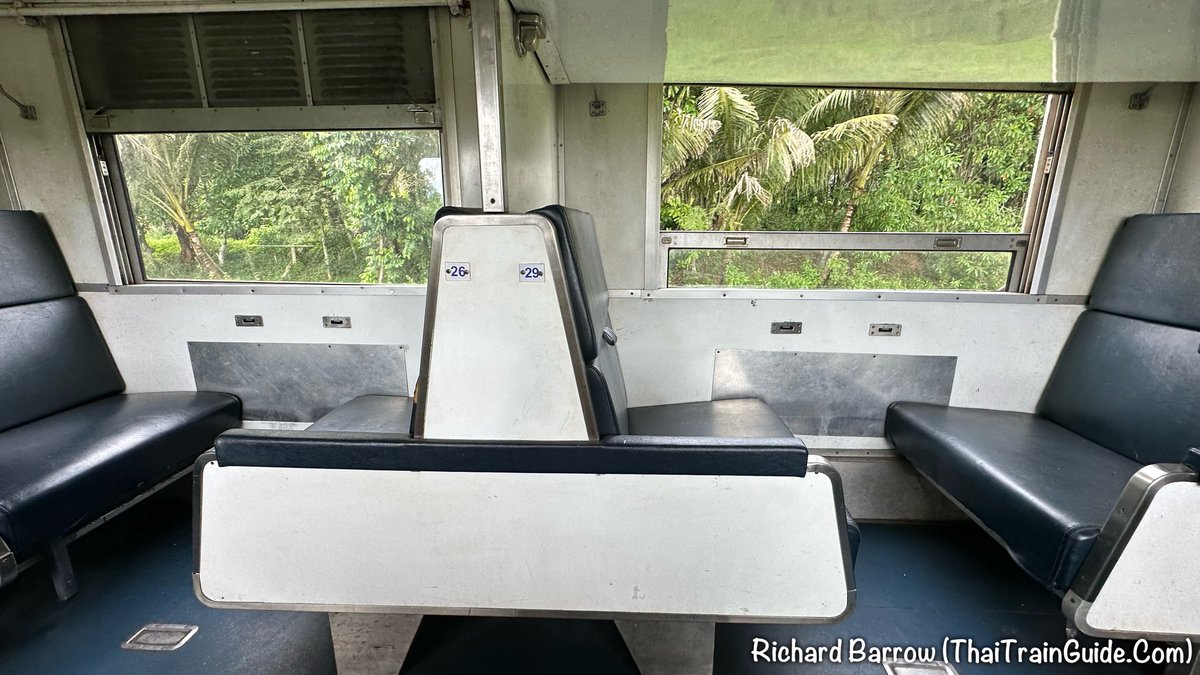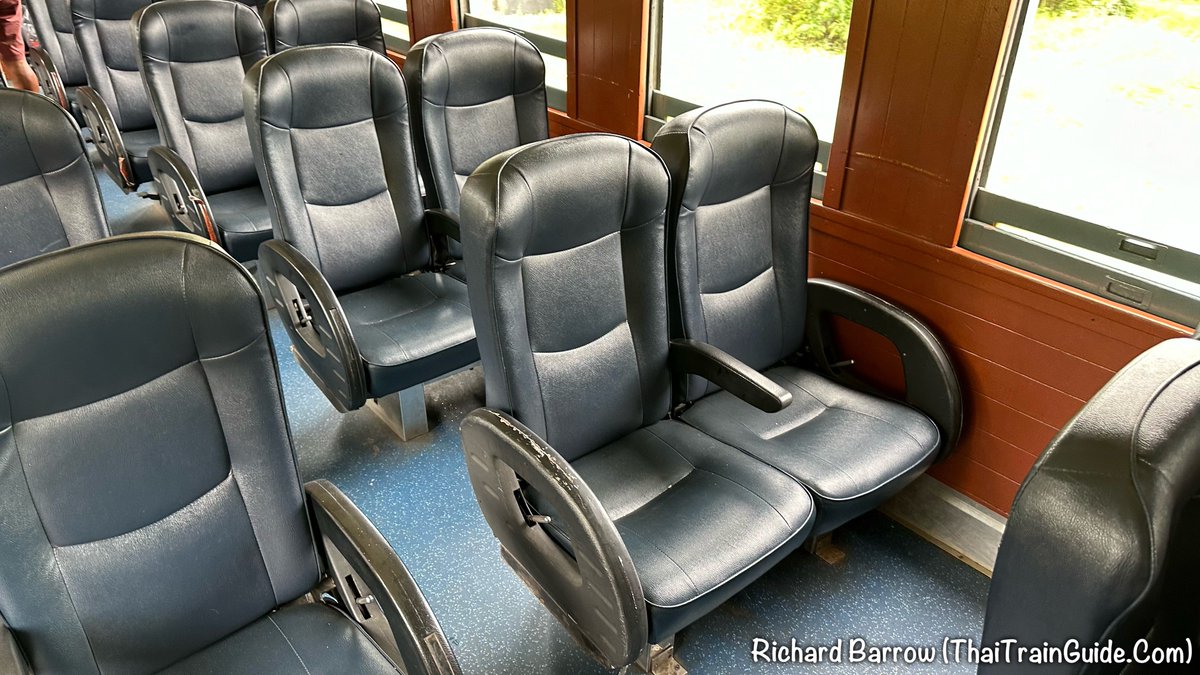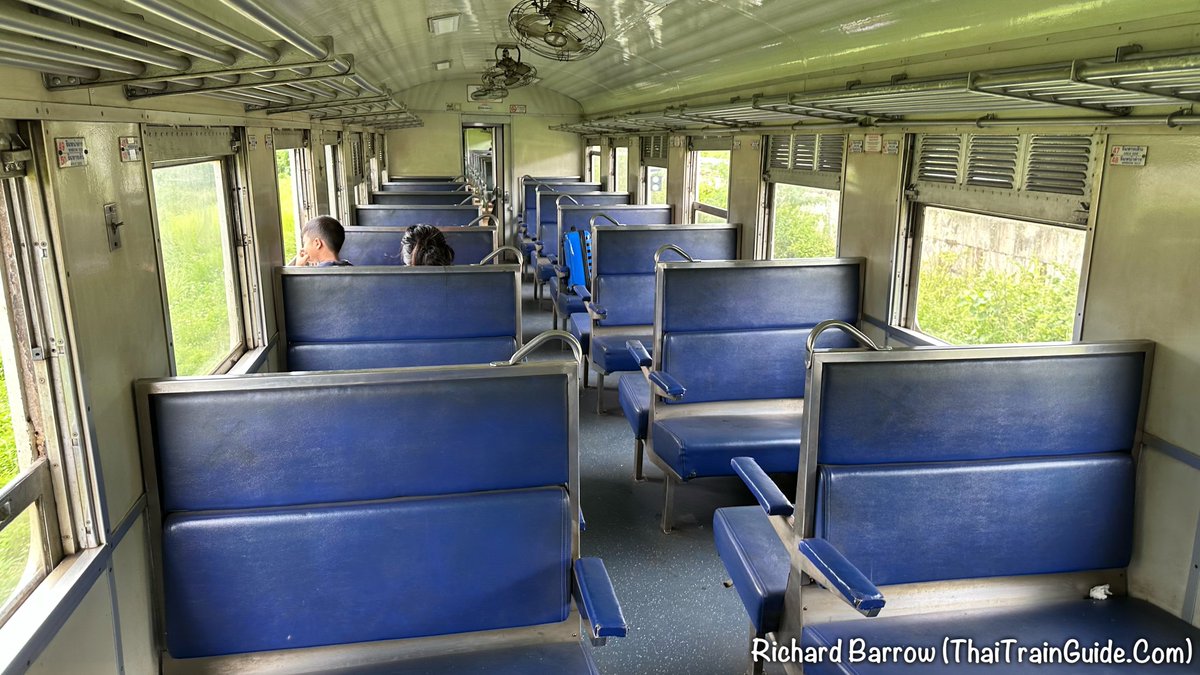 Don't forget to also check out the YouTube channel for this trip: https://youtube.com/channel/UCKKNQphRNJgEr-_3qY4mBHAhttps://youtube.com/channel/UCKKNQphRNJgEr-_3qY4mBHA