A trip along the coast from Samut Prakan to Samut Sakhon
This weekend I am exploring the coastline from Samut Prakan to Samut Sakhon with my friends @chilipastetour and @DavidLuekens. There's a new road along Sapphasamit Canal that now goes all the way. My map notes for this trip are here: thailandphotomap.com/exploring-the-…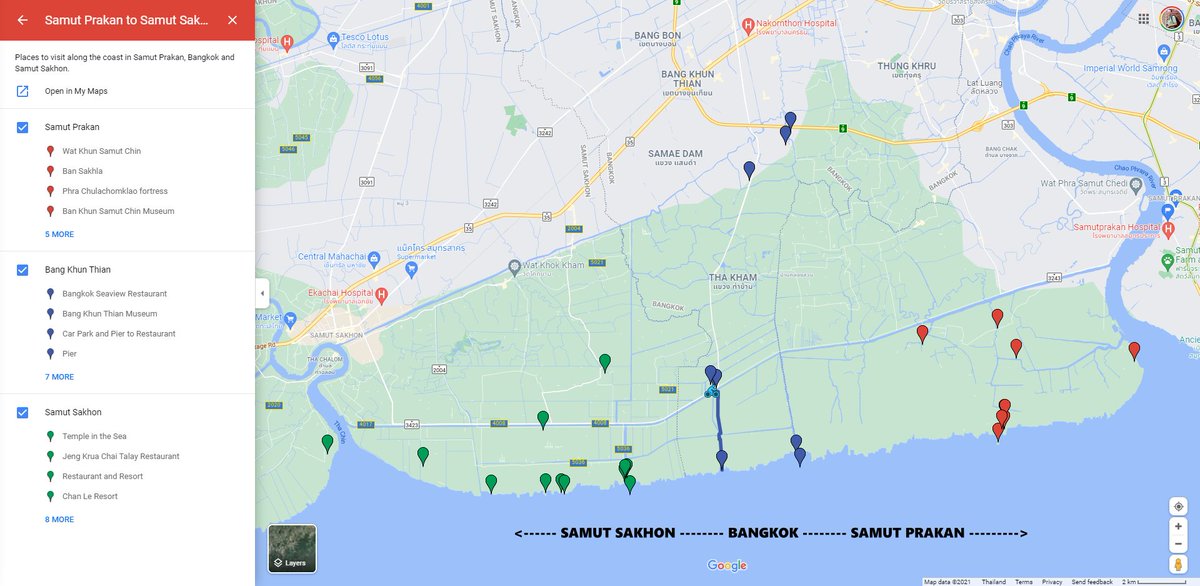 If you switch to a satellite image, you can see that the coastline is mainly fish and shrimp farms. There are not many roads here. This section is actually in Bangkok. Yes, Bangkok has a coastline too in Bang Khun Thian district.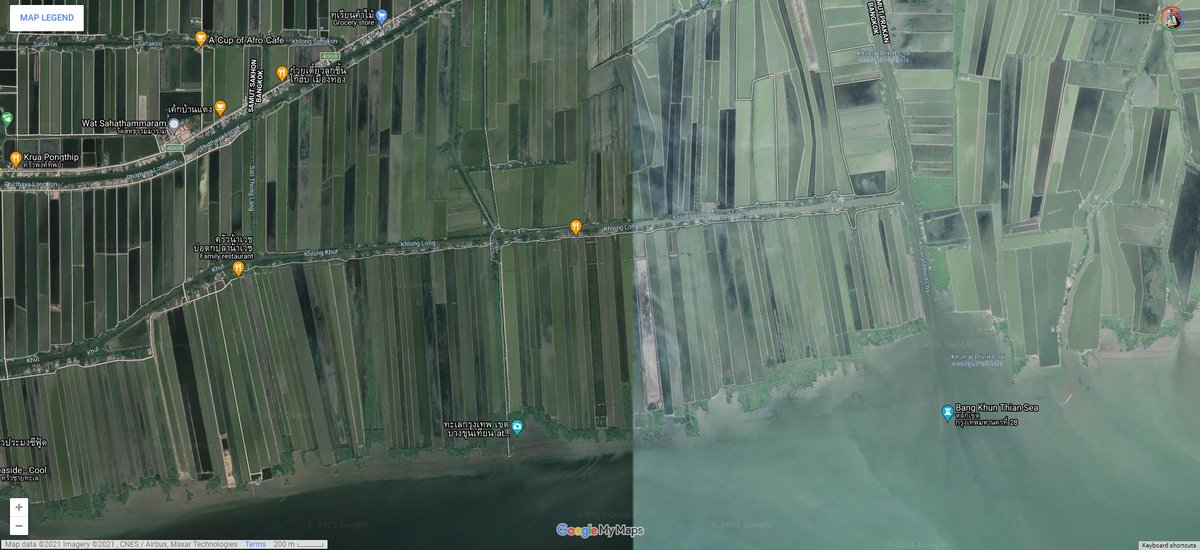 [01] Our first stop on the coastal tour is Phra Samut Chedi. This is the symbol of Samut Province. When it was first built, it used to be on an island on the Chao Phraya River but it's now on the West bank.
📍MAP: goo.gl/maps/oJFyt5u1z…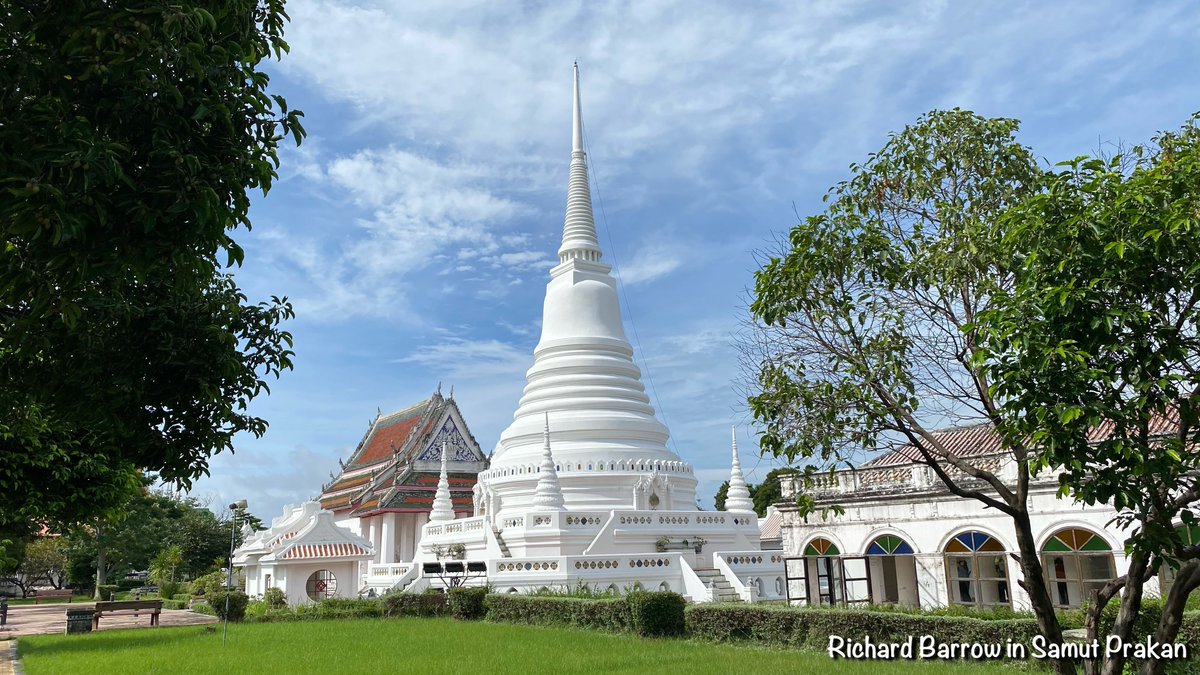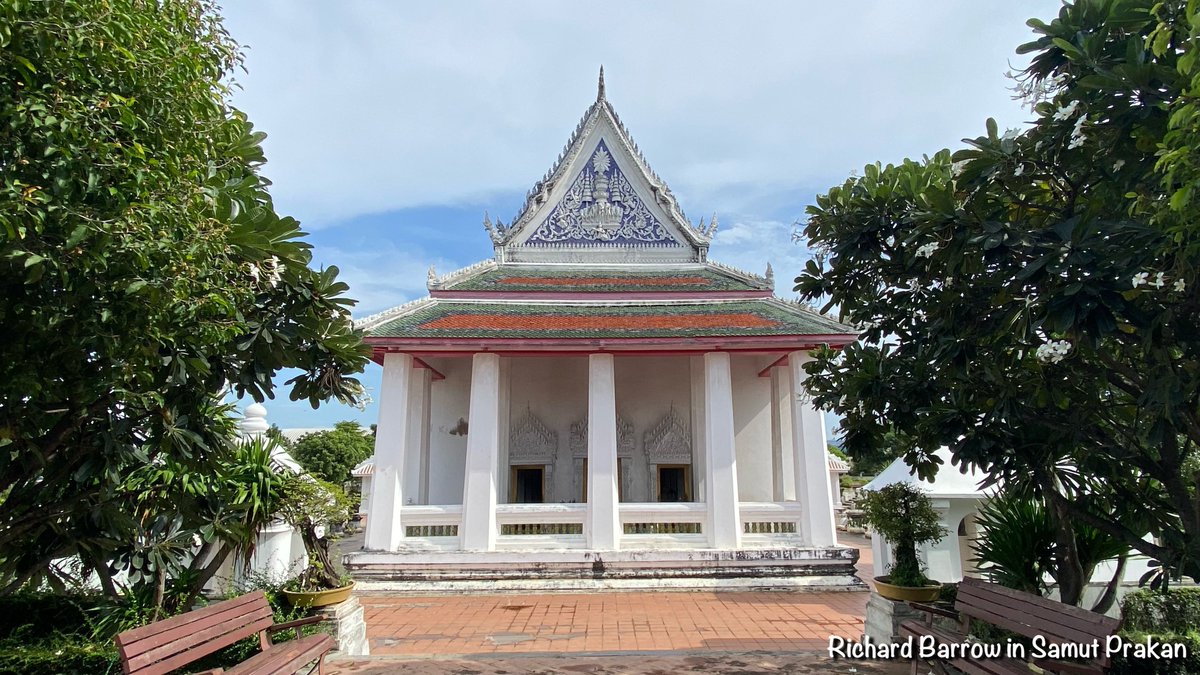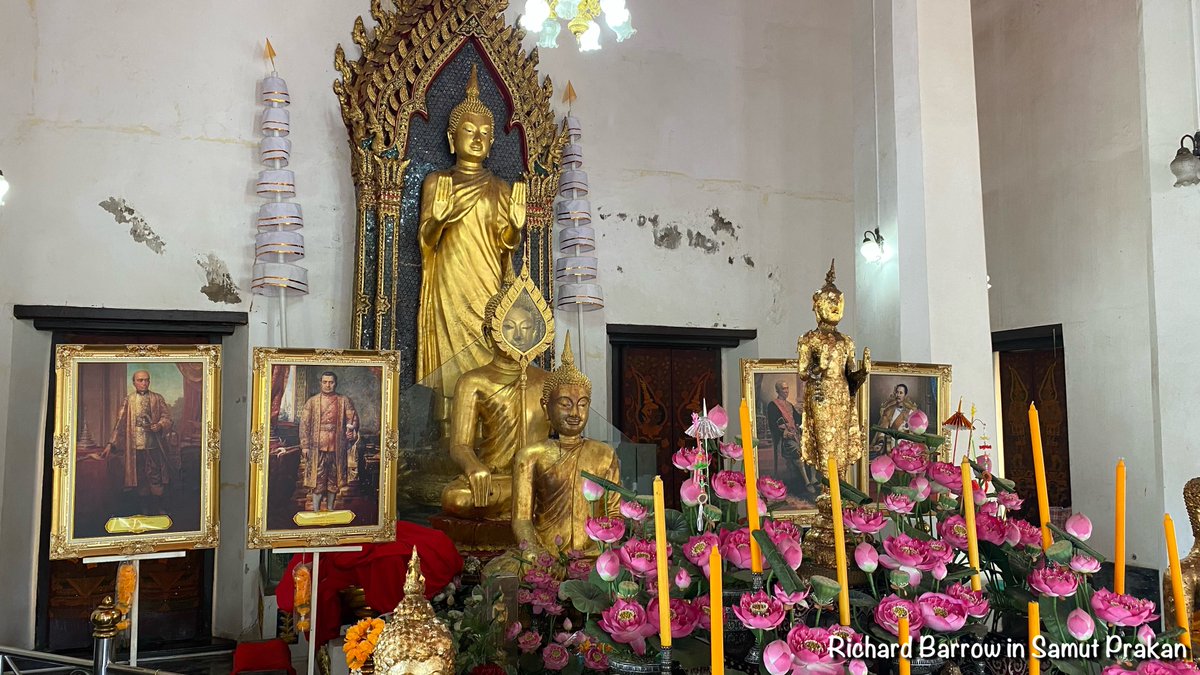 In 1862, Anna Leonowens wrote the following about her first view of Thailand from her ship: On an island there is perhaps the most unique and graceful object of architecture in Siam; shining like a jewel on the broad bosom of the river: paknam.com/tourist-attrac…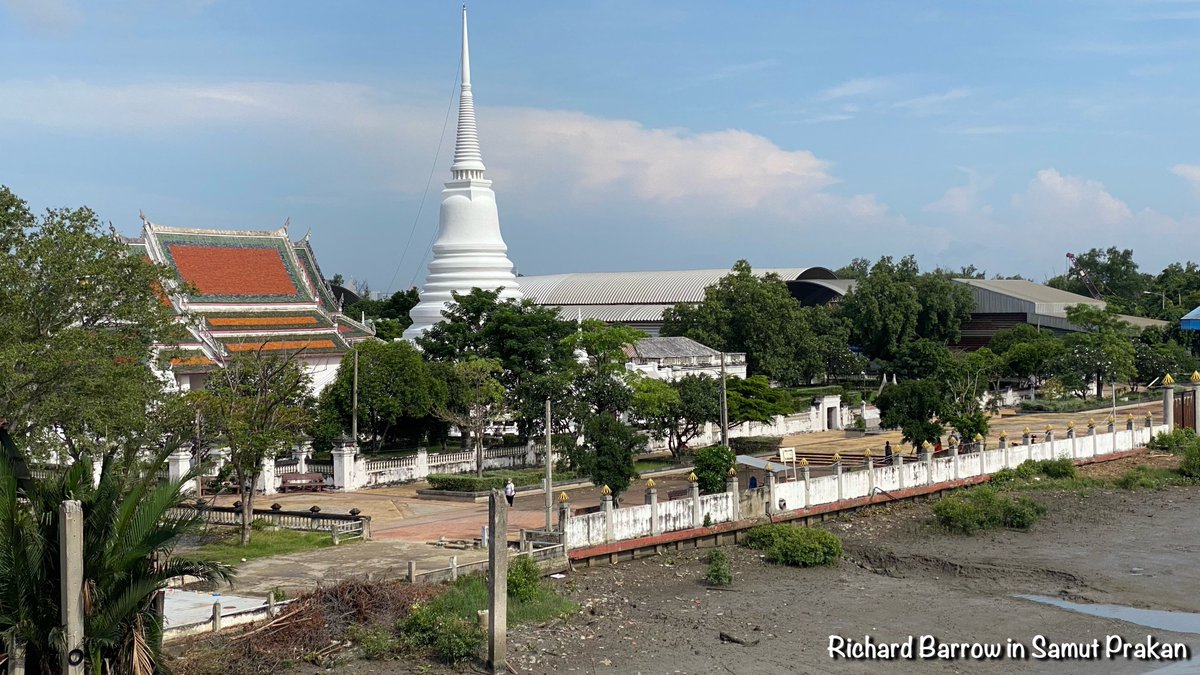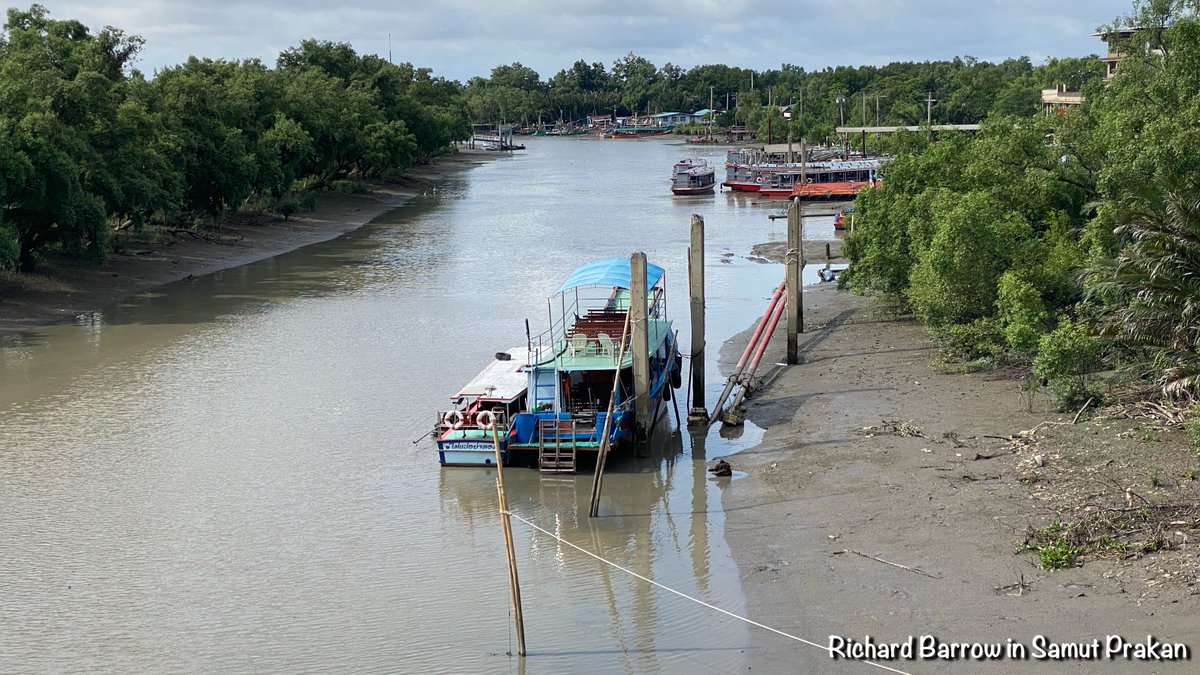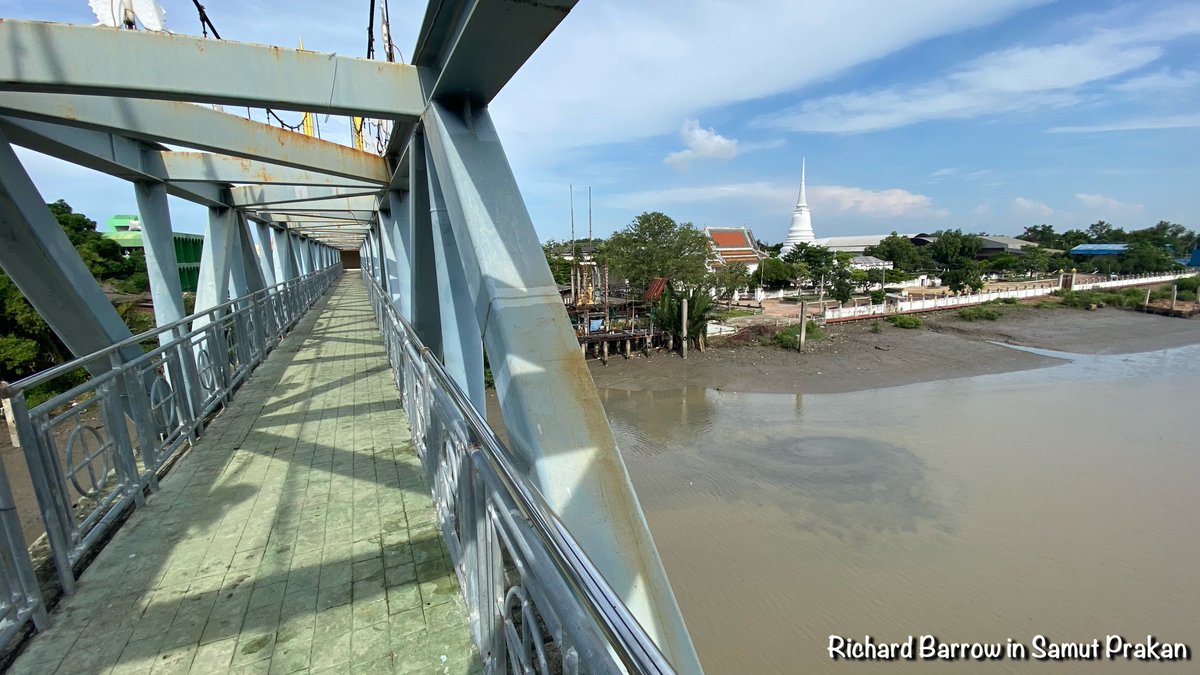 Inside one of the buildings at Phra Samut Chedi there is a building with interesting murals on the wall that depict contemporary life from 200 years ago.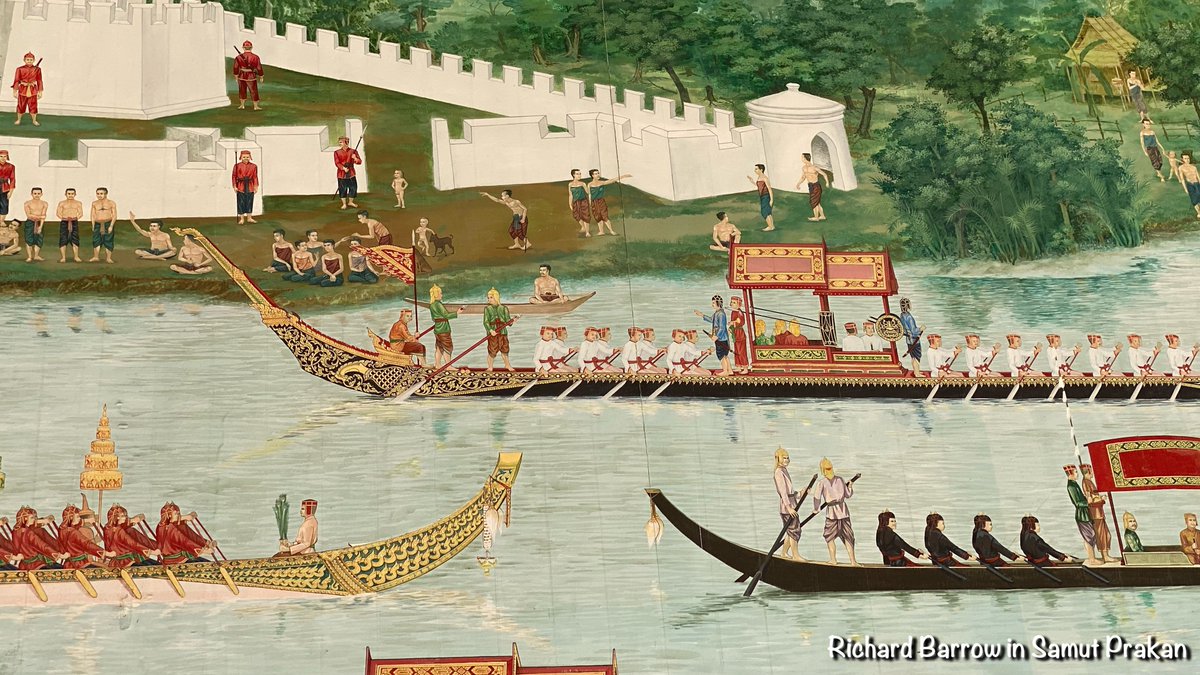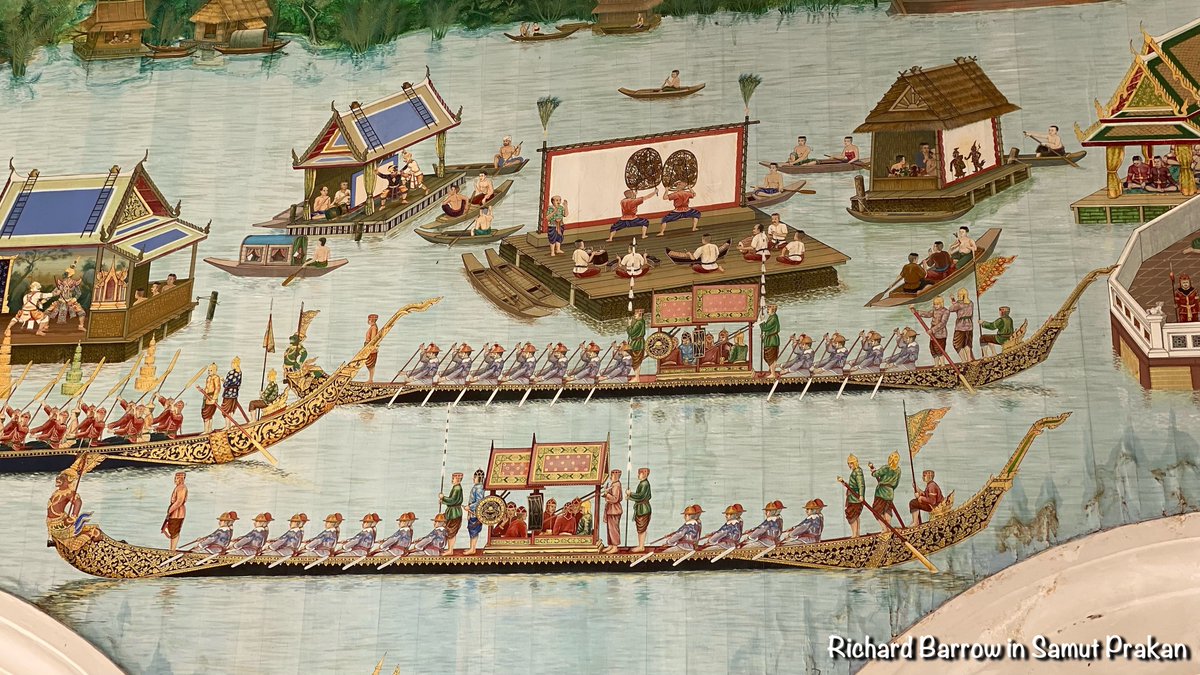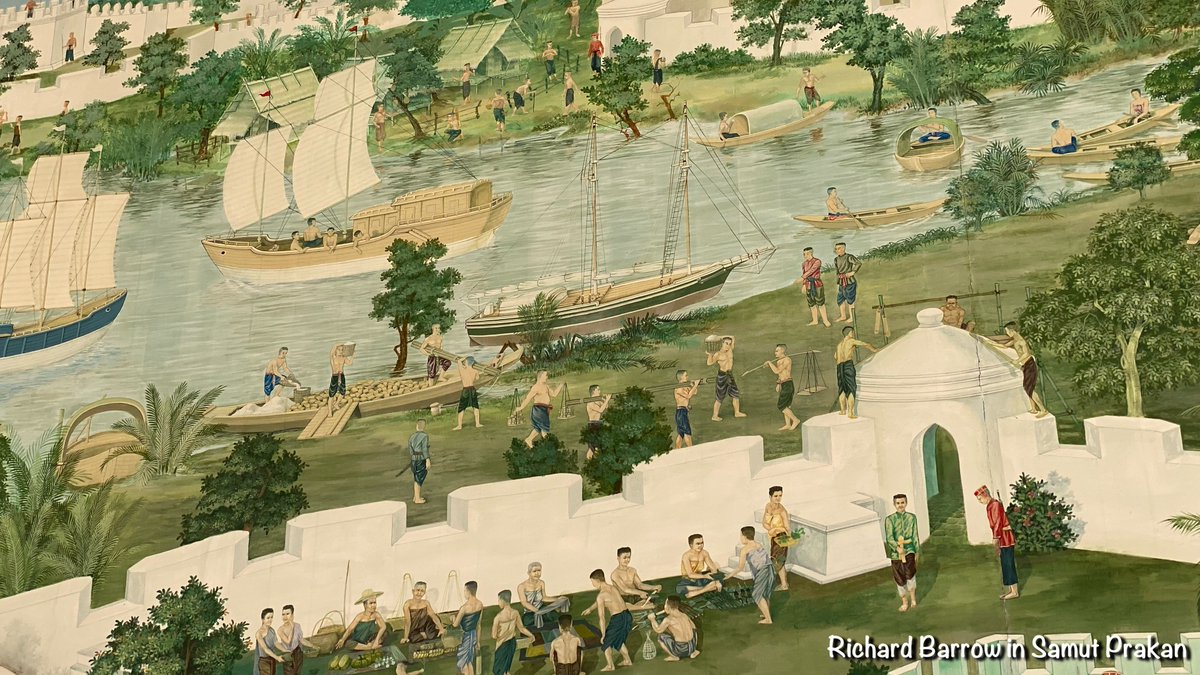 [02] From Phra Samut Chedi you can cross a pedestrian bridge to an island called Pom Phi Sua Samut. There is a fortress here on an islet in the Chao Phraya River opposite Samut Prakan City Hall.
📍MAP: goo.gl/maps/JKD2y1bqs…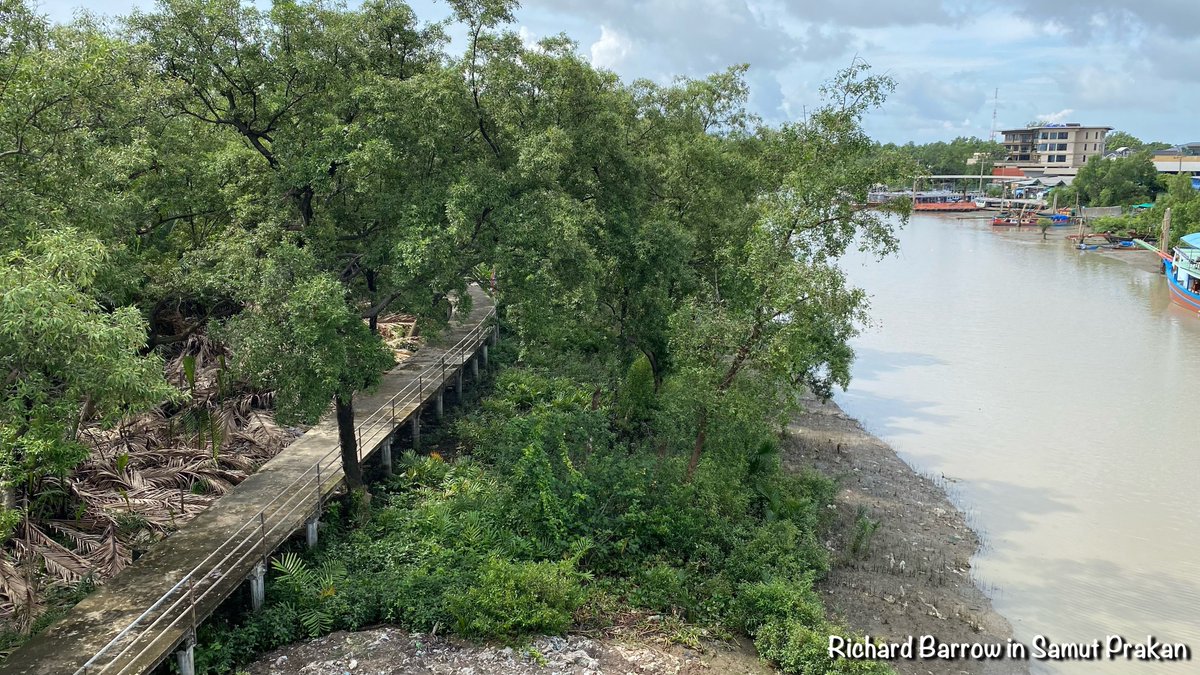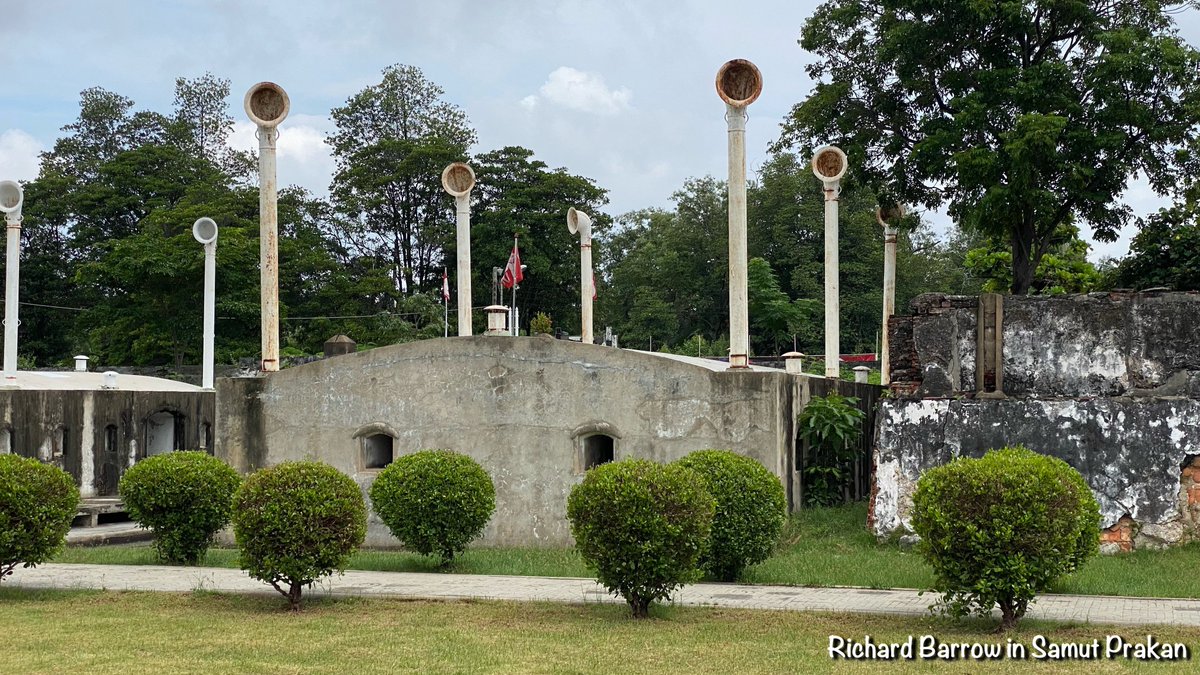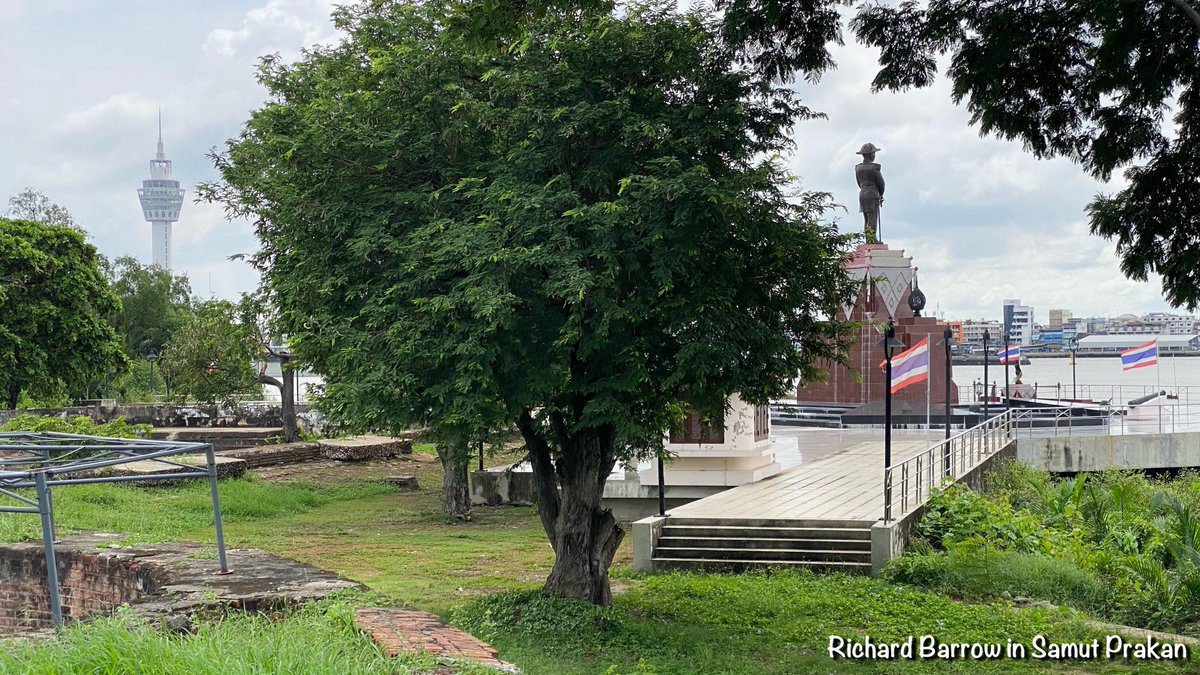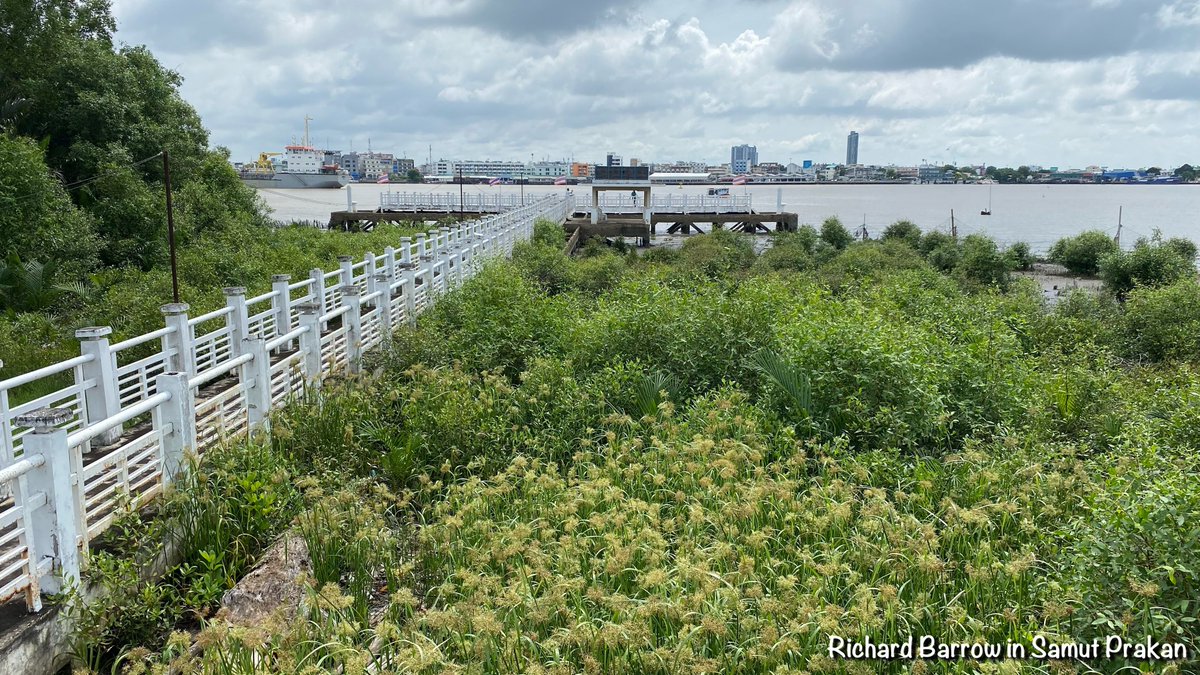 King Rama V ordered ten rear loading guns from W G Armstrong & Co in England in 1892. They were called the "disappearing" guns because they only came out of the pit to fire and then the recoil forced the gun back where it came from. Three of them were put in this fort.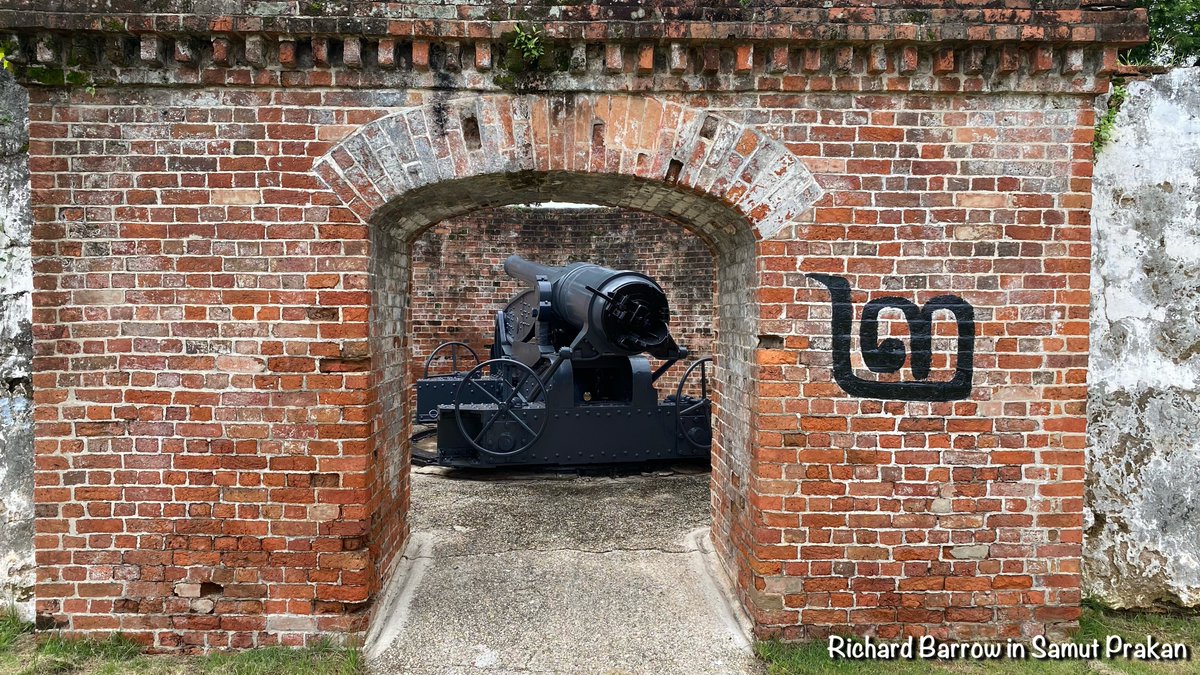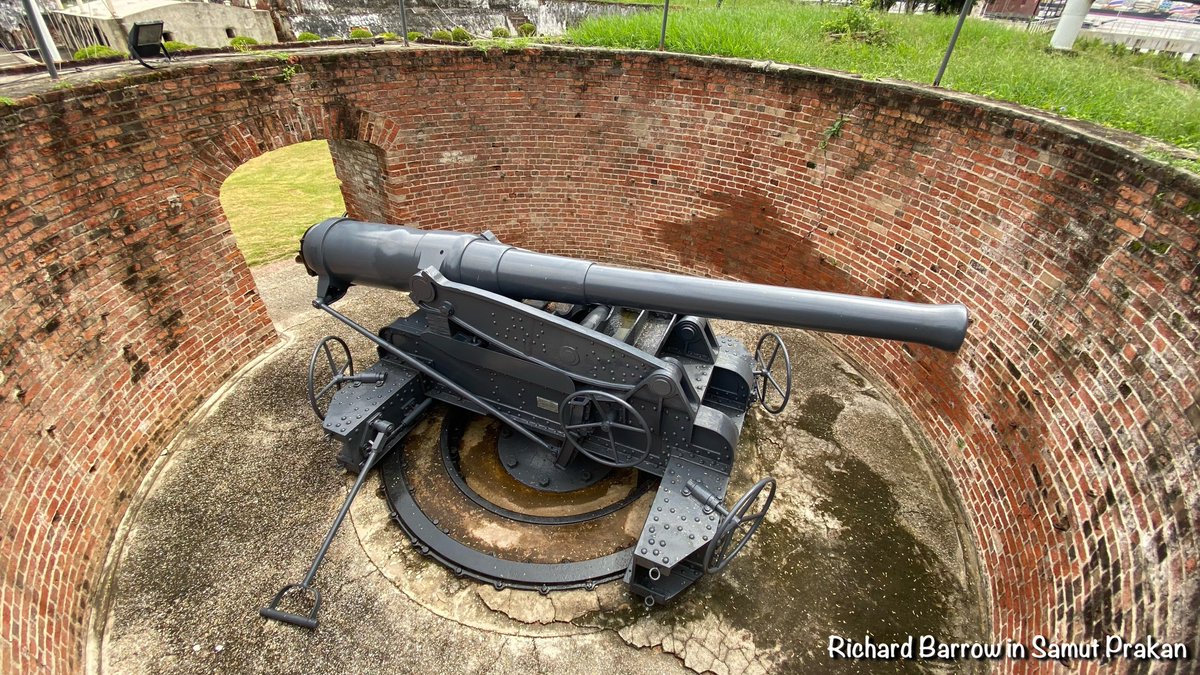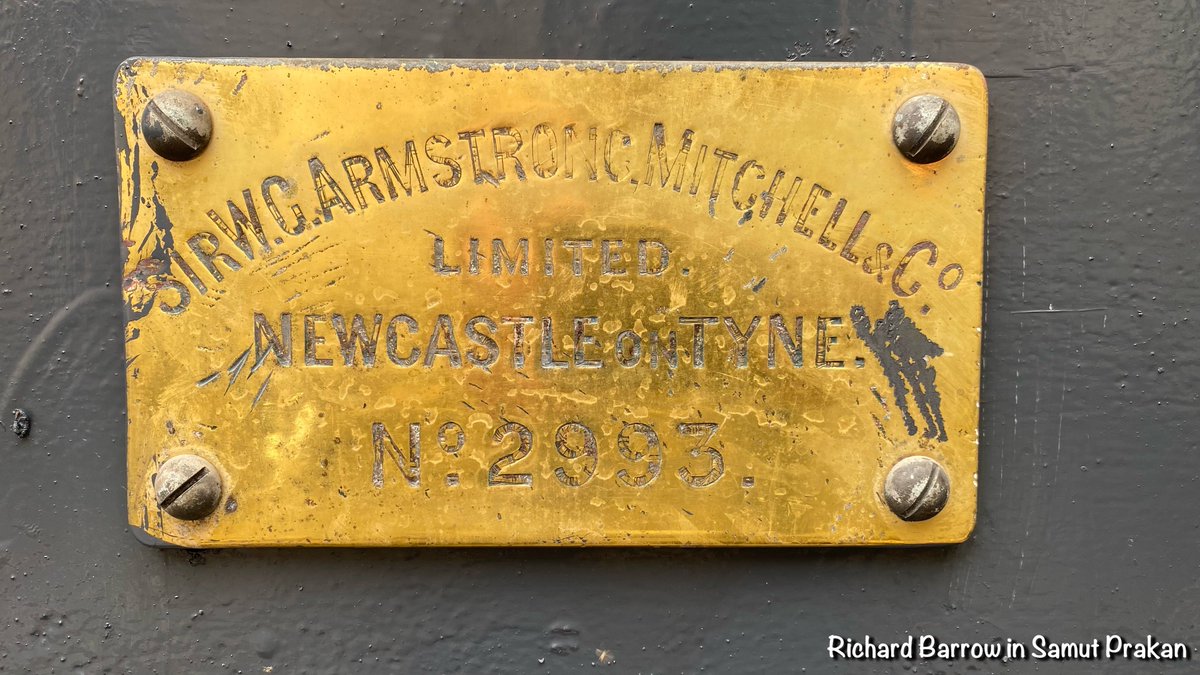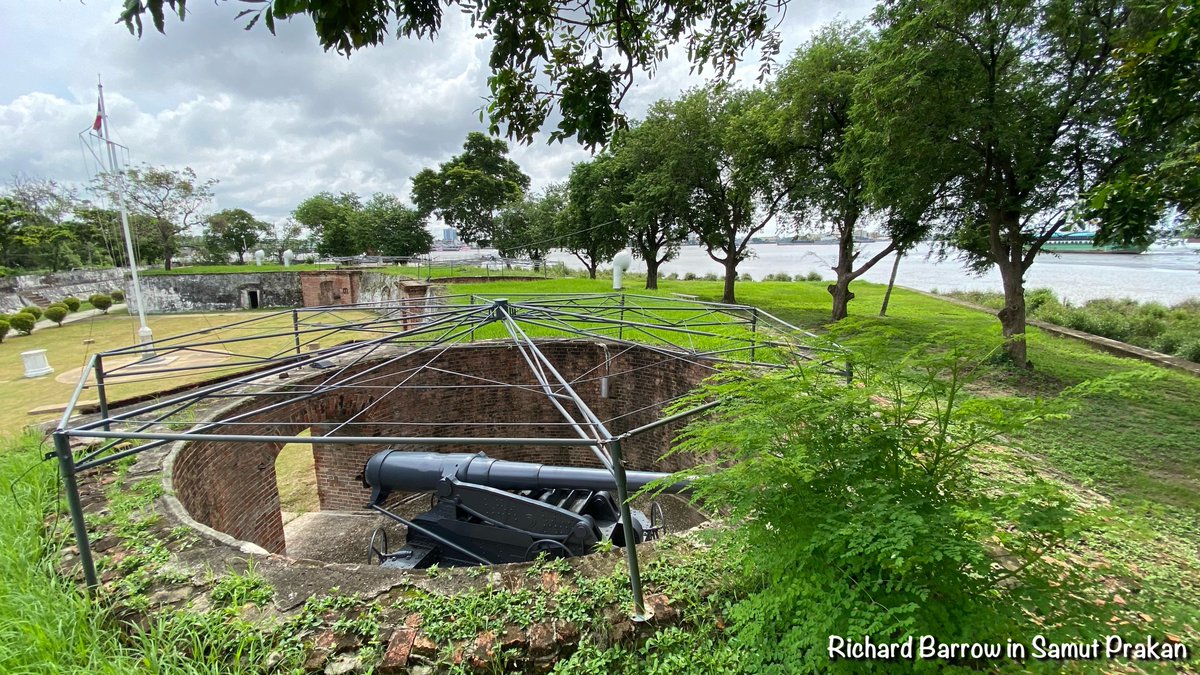 [03] Ban Sakhla is an isolated community in Samut Prakan Province surrounded by shrimp and crab farms. There's a paved road to the town now, but most people still get around by boat. Many of the houses are built on stilts.
📍MAP: goo.gl/maps/FTpMUPvNs…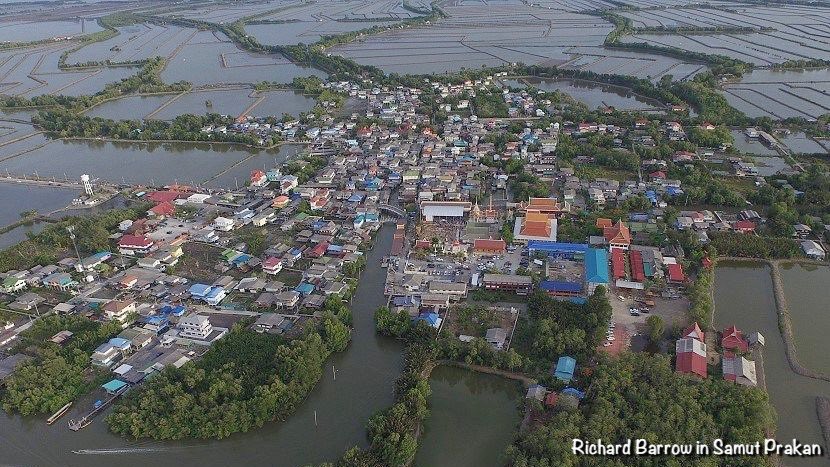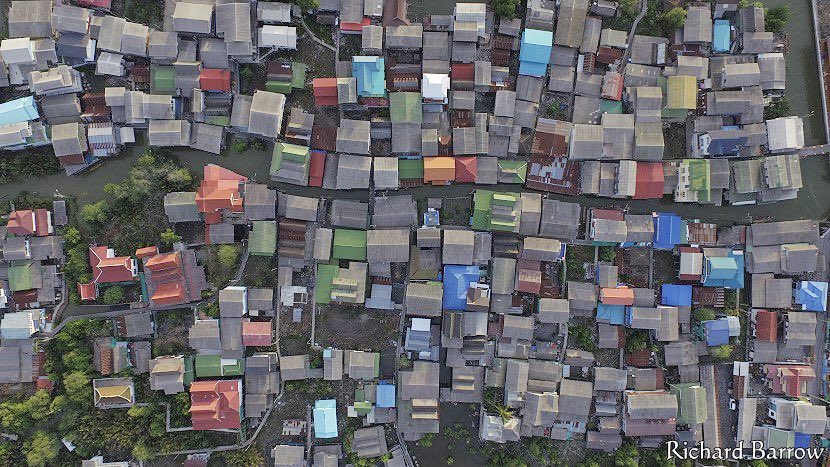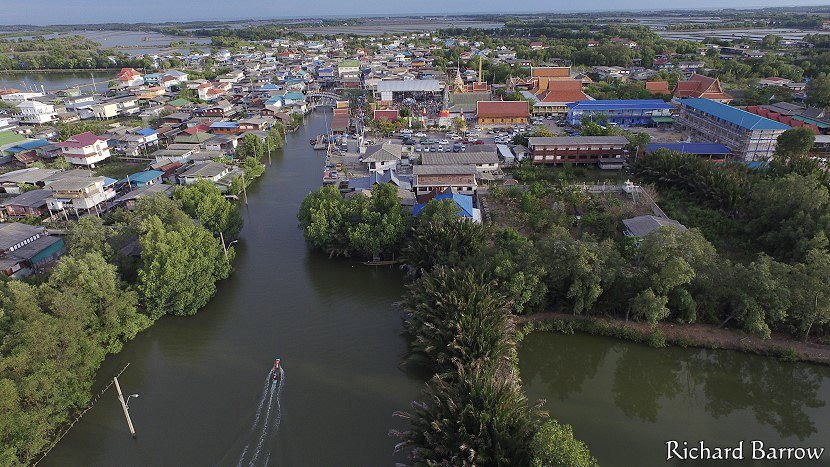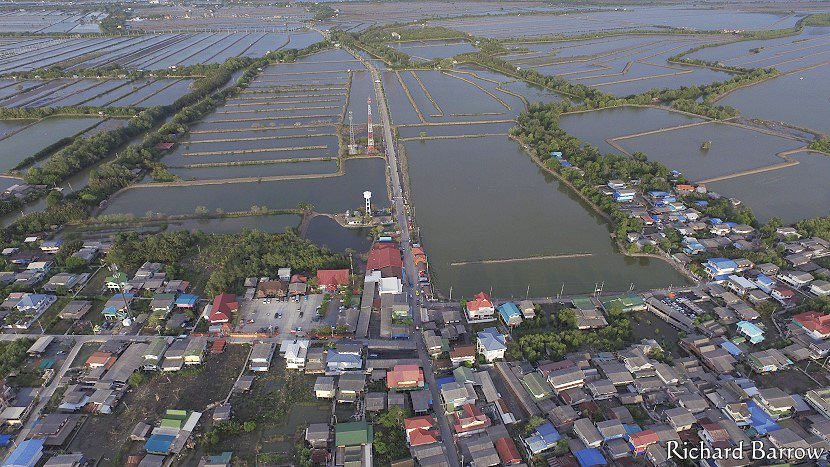 A famous food product for Ban Sakhla are the stretched shrimps. These are both salty & sweet. You can eat head to toe.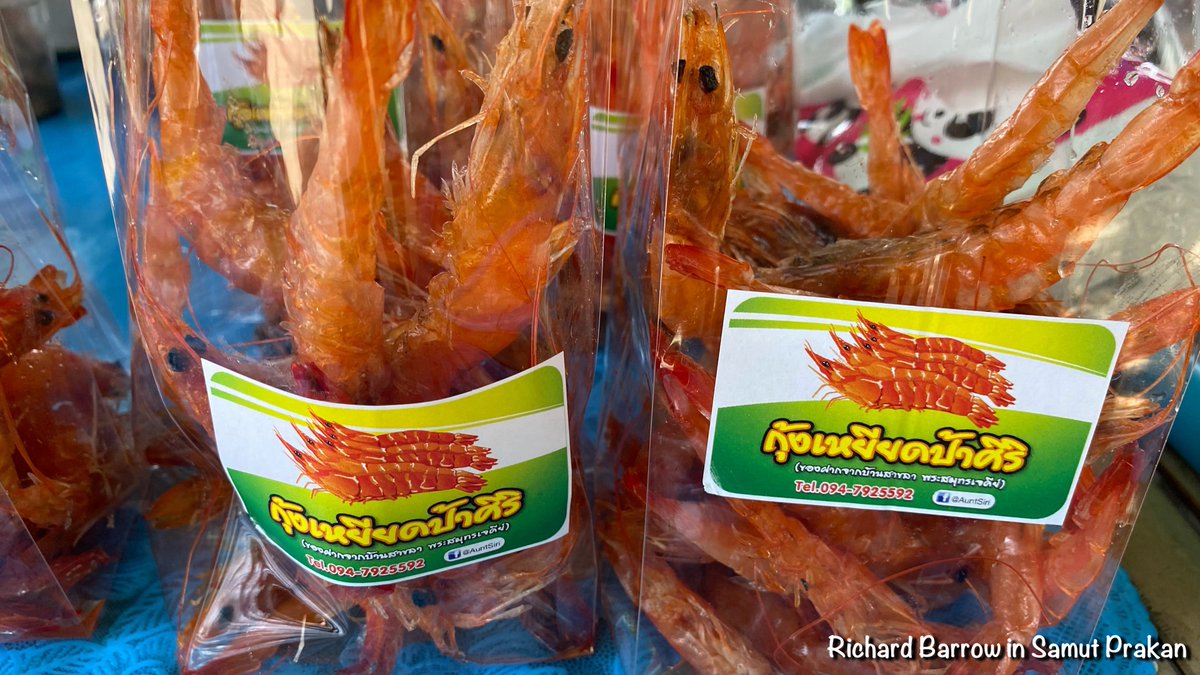 Our lunch today is at a food shop in Ban Sakhla in Samut Prakan.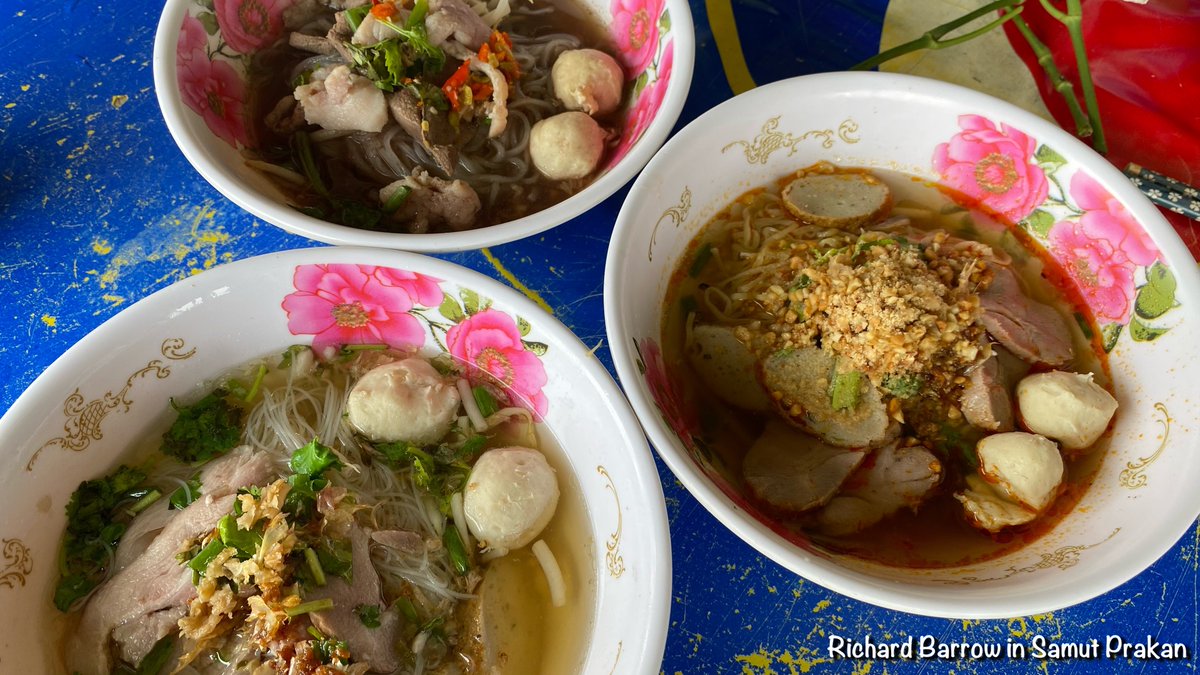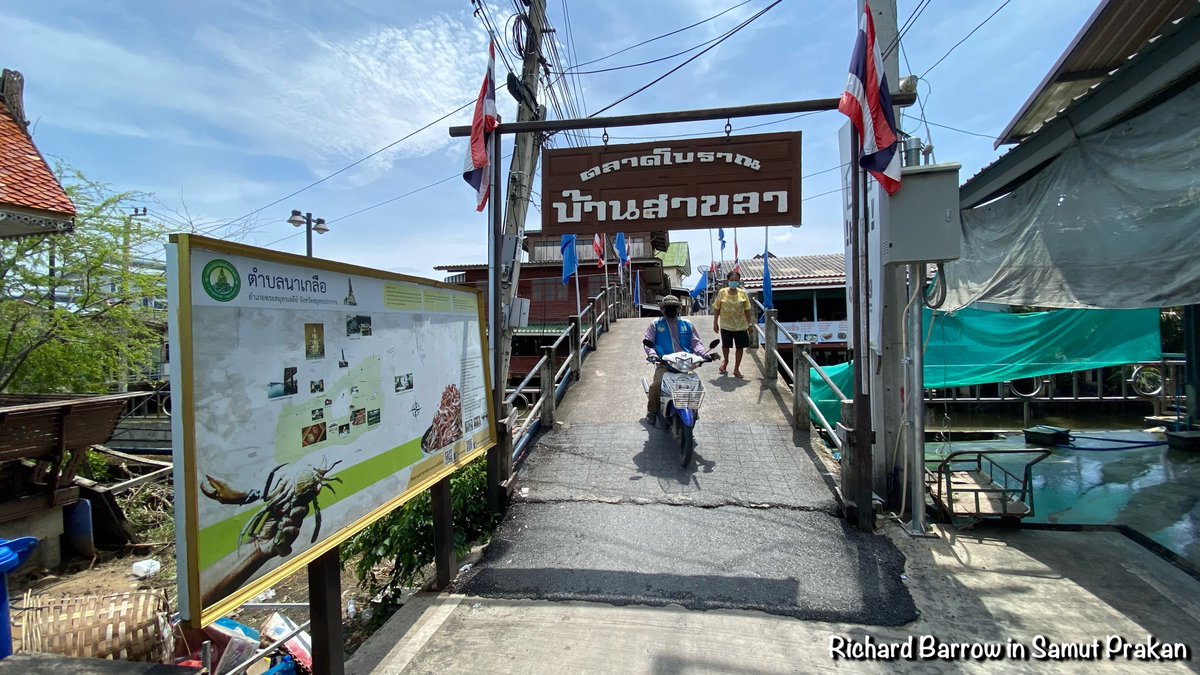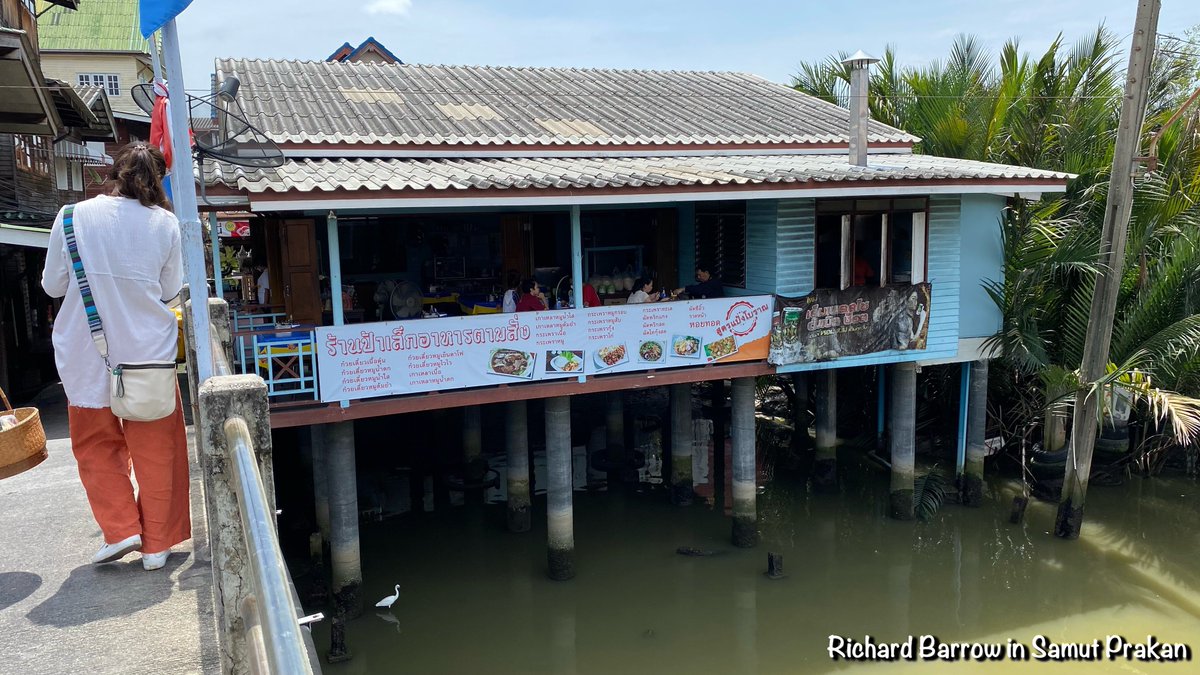 It would be really great to find a homestay in Ban Sakhla and spend the weekend here. It's a really nice place. Friendly people & good food. But we need to move on. The next stop on our coastal trip is Bangkok! I'm hoping to do at least one boat trip out to sea today.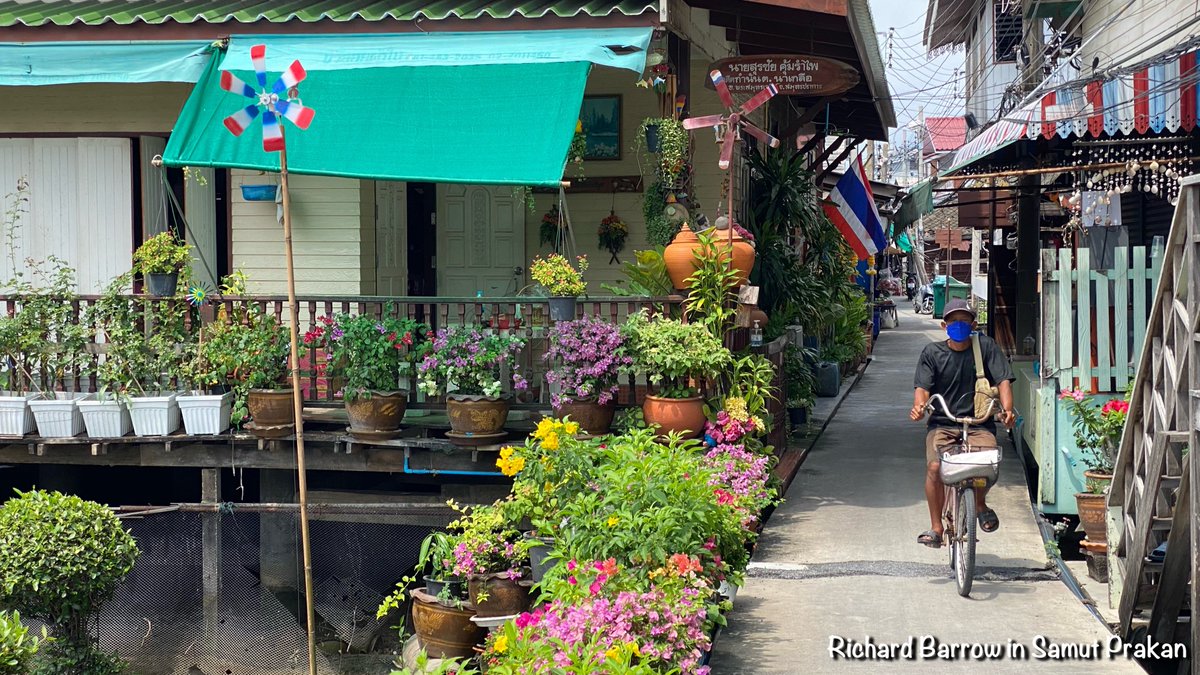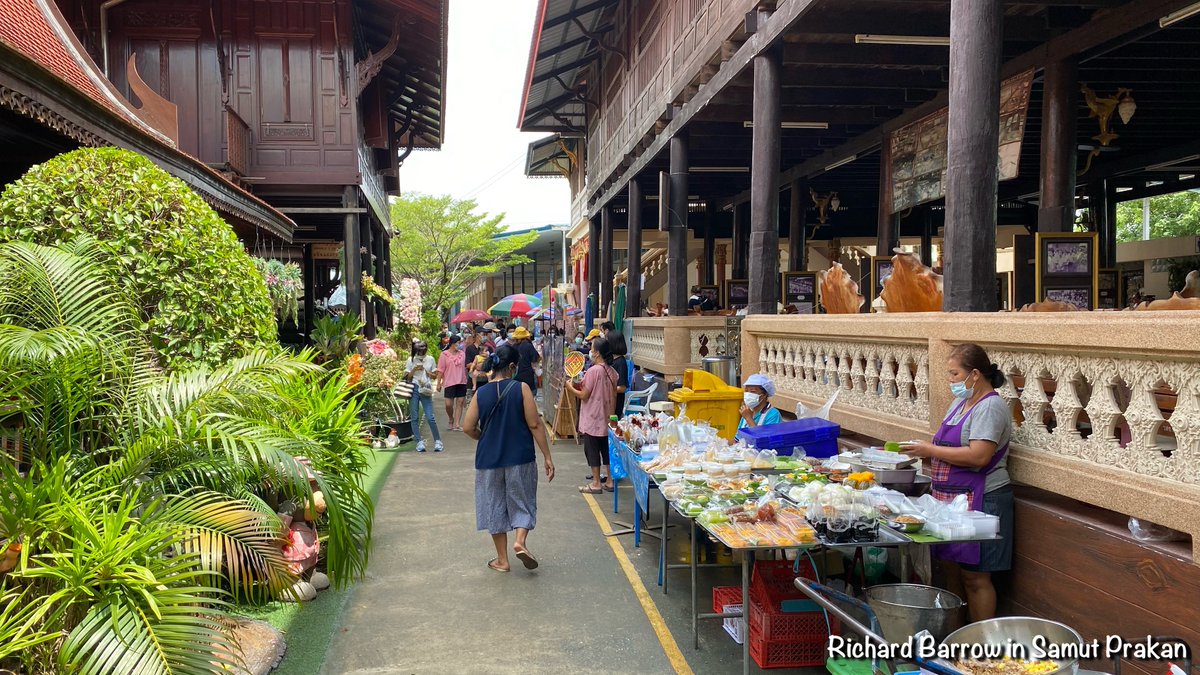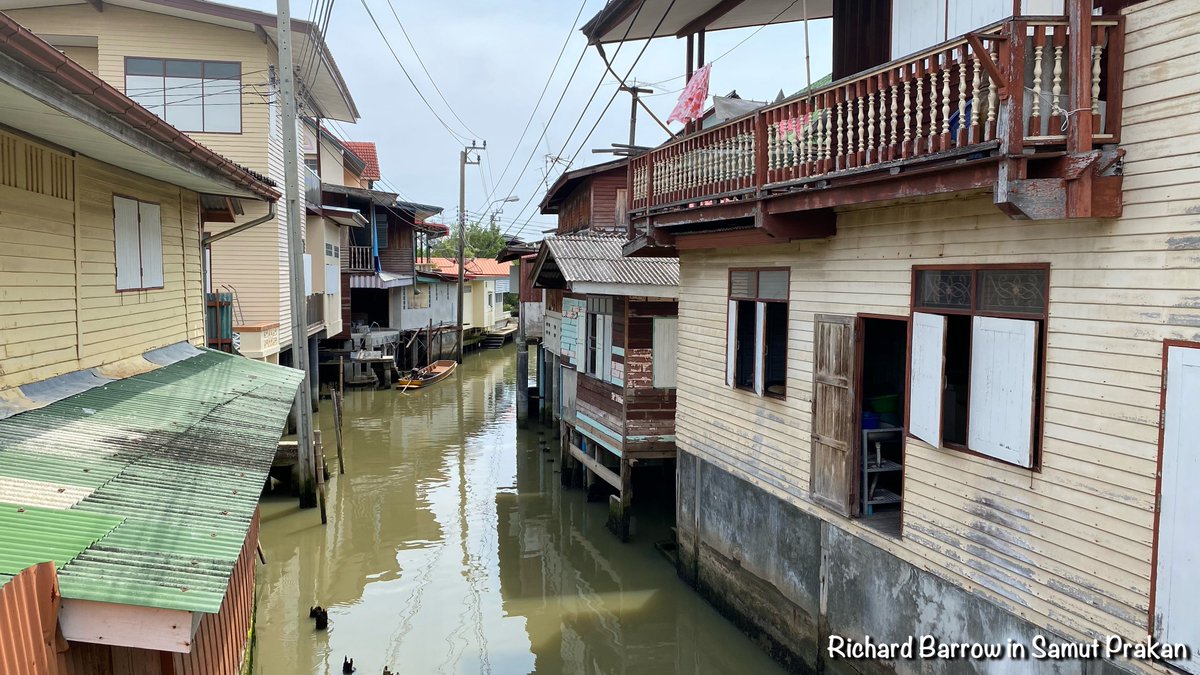 [04] Can you believe that we are now in Bangkok? This is Bang Khun Thian district which goes all the way to the sea. There's a new cycle path here which is a hundred times better than what it was like the last time I visited.
📍MAP: goo.gl/maps/sfR5TPxjY…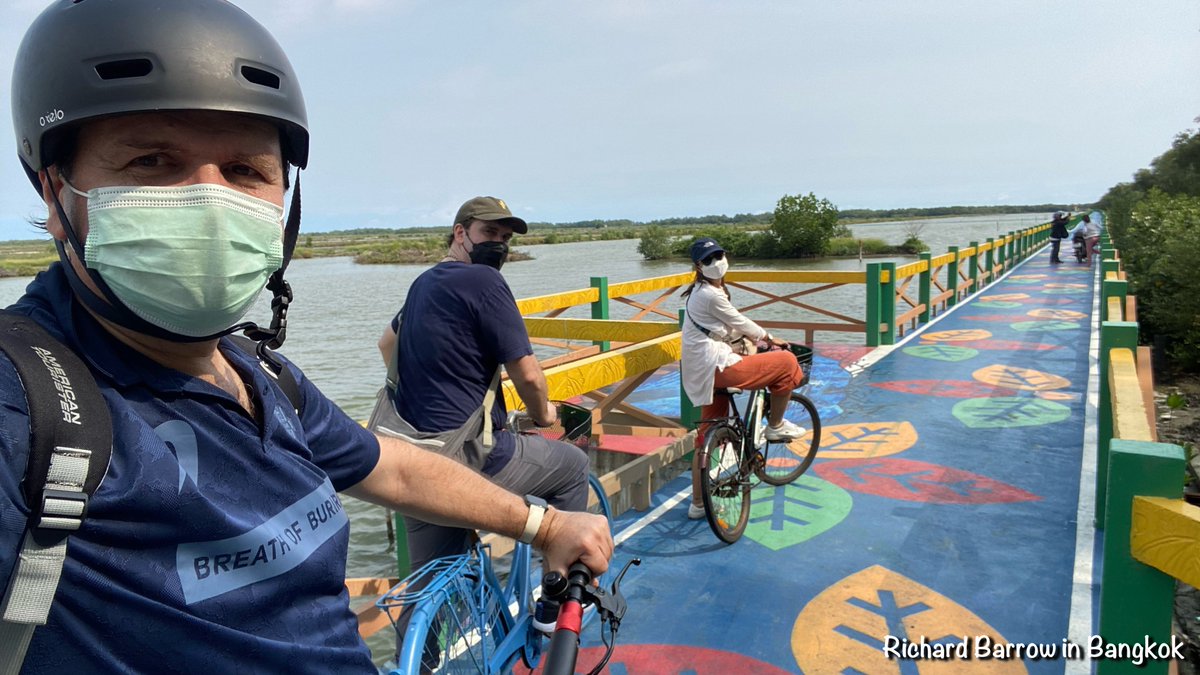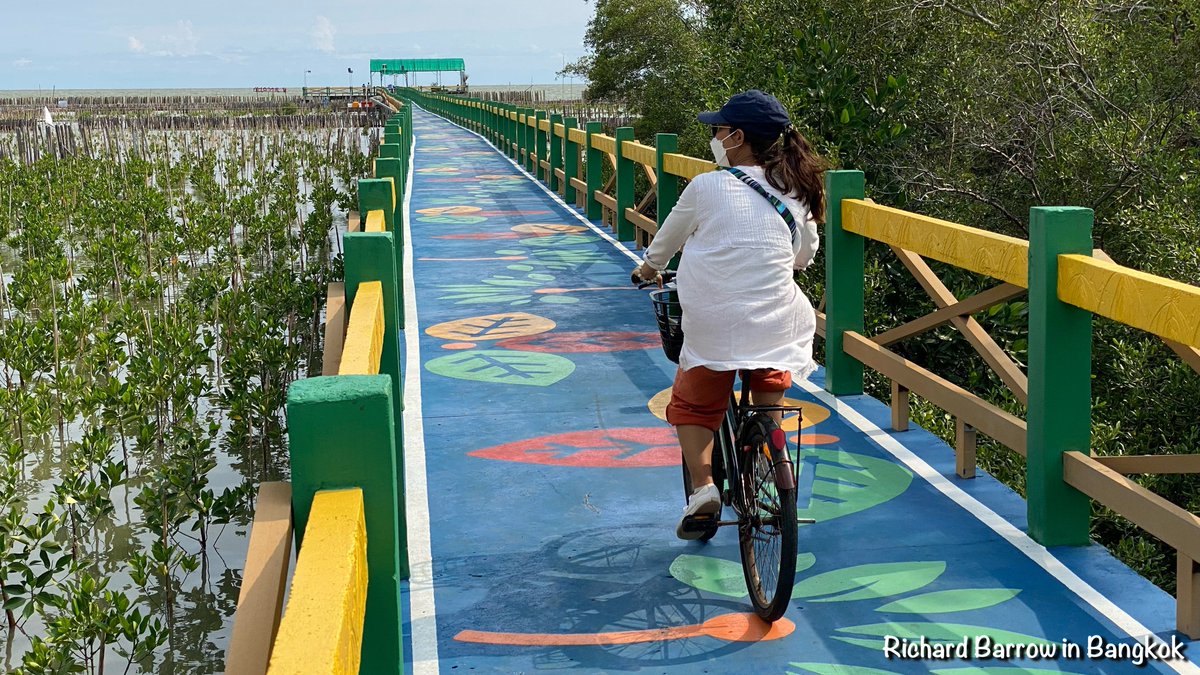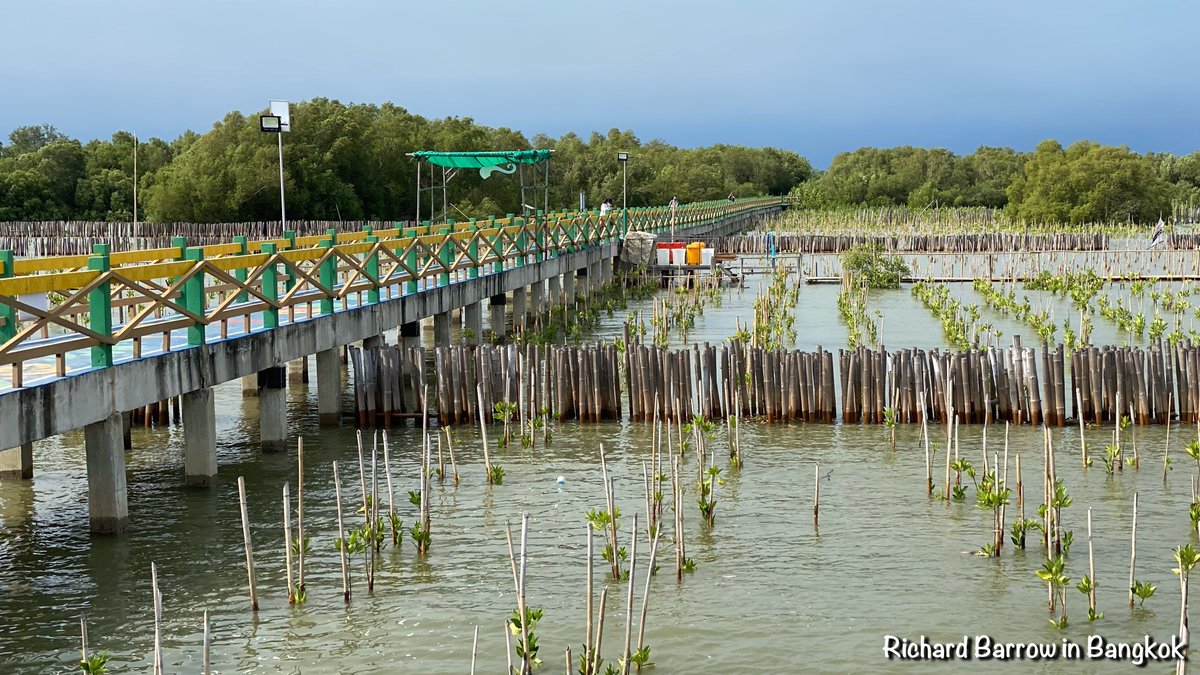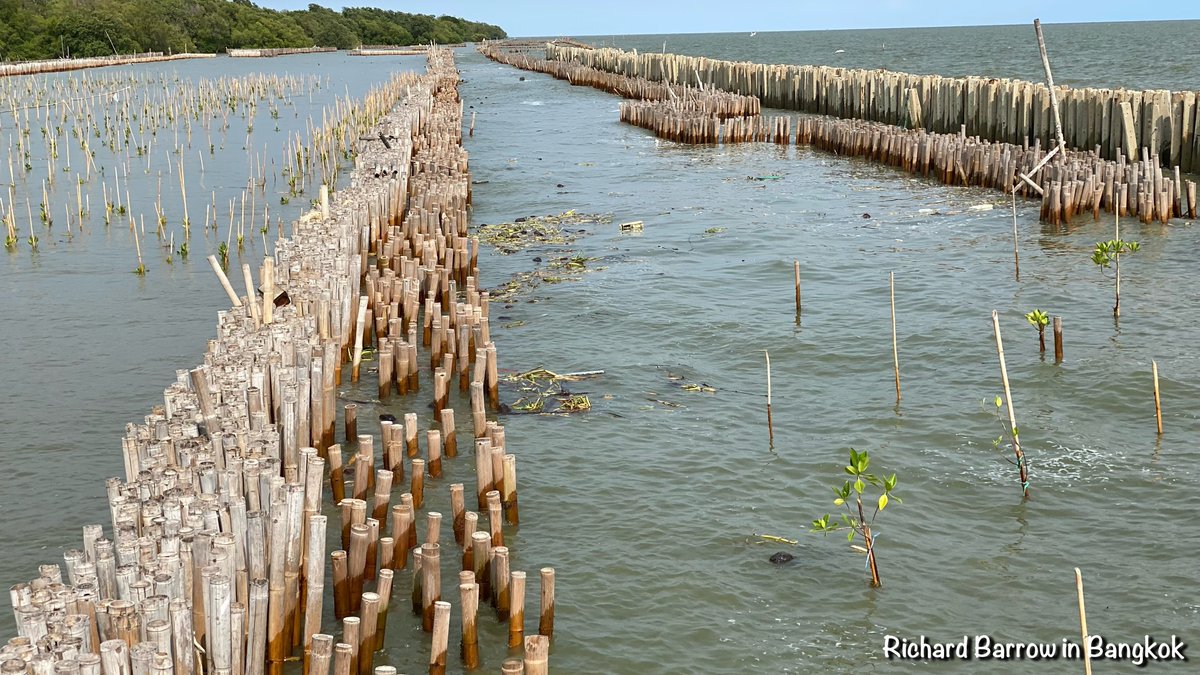 You can rent bicycles from the Local Museum of Bang Khun Thian. Cost is only 30 Baht for the day. You don't need a map as the track to the coast is well marked. Highly recommended.
📍MAP: goo.gl/maps/73L3t9MCf…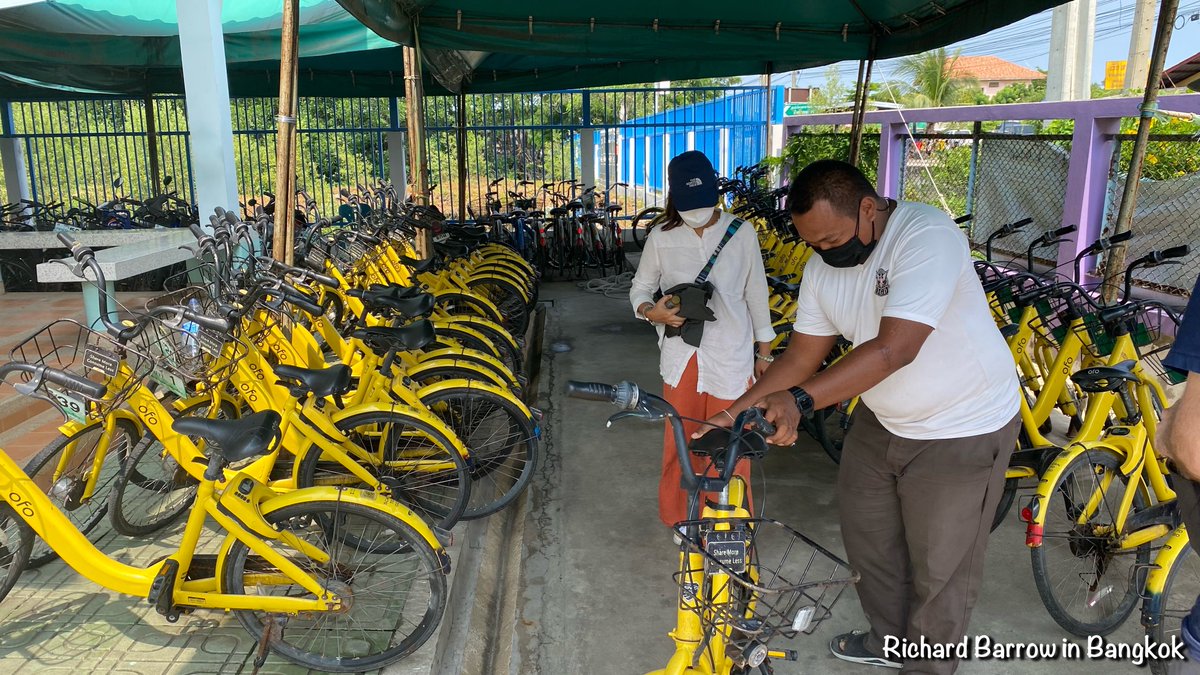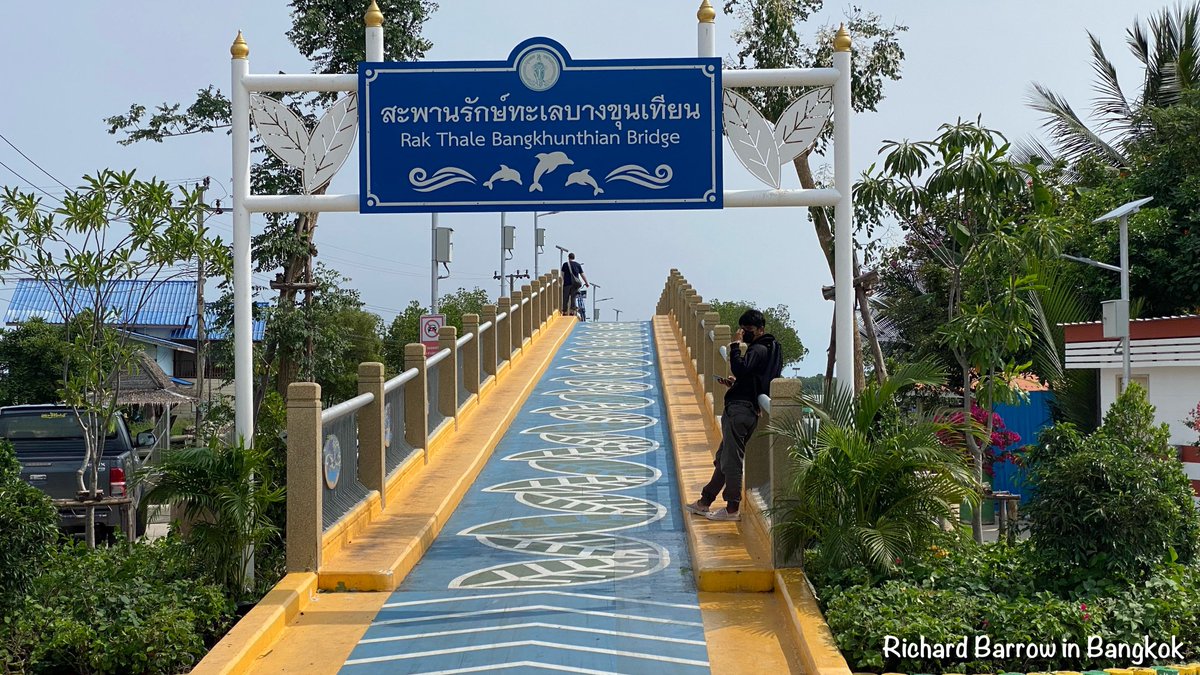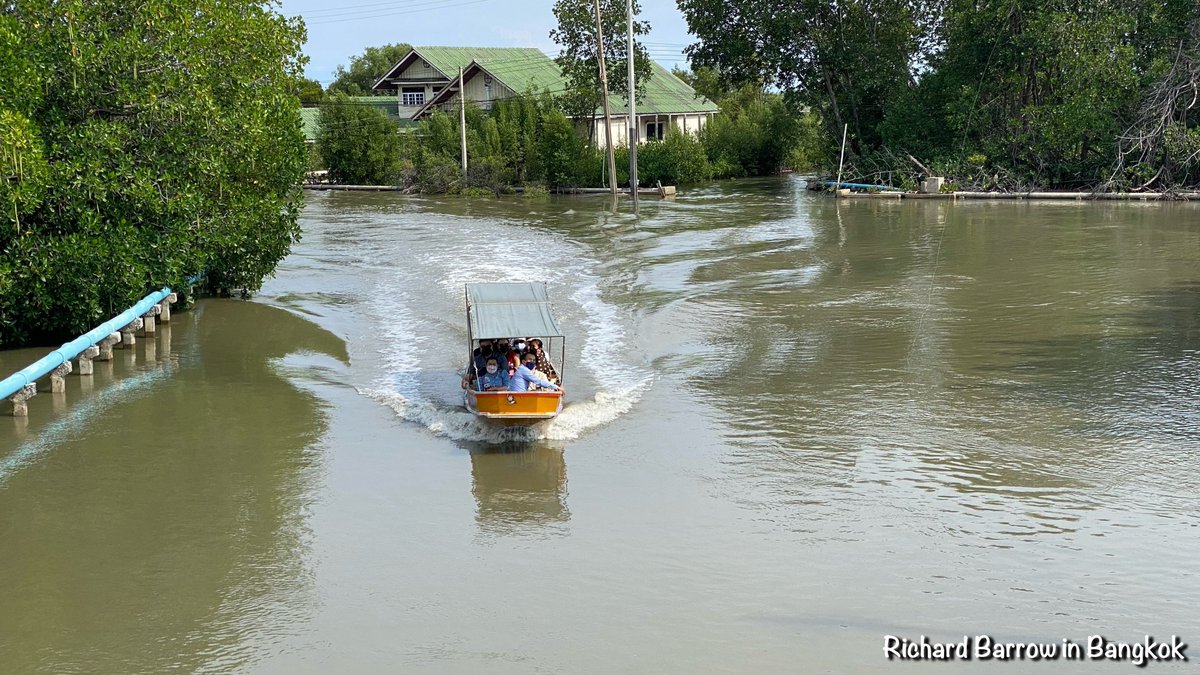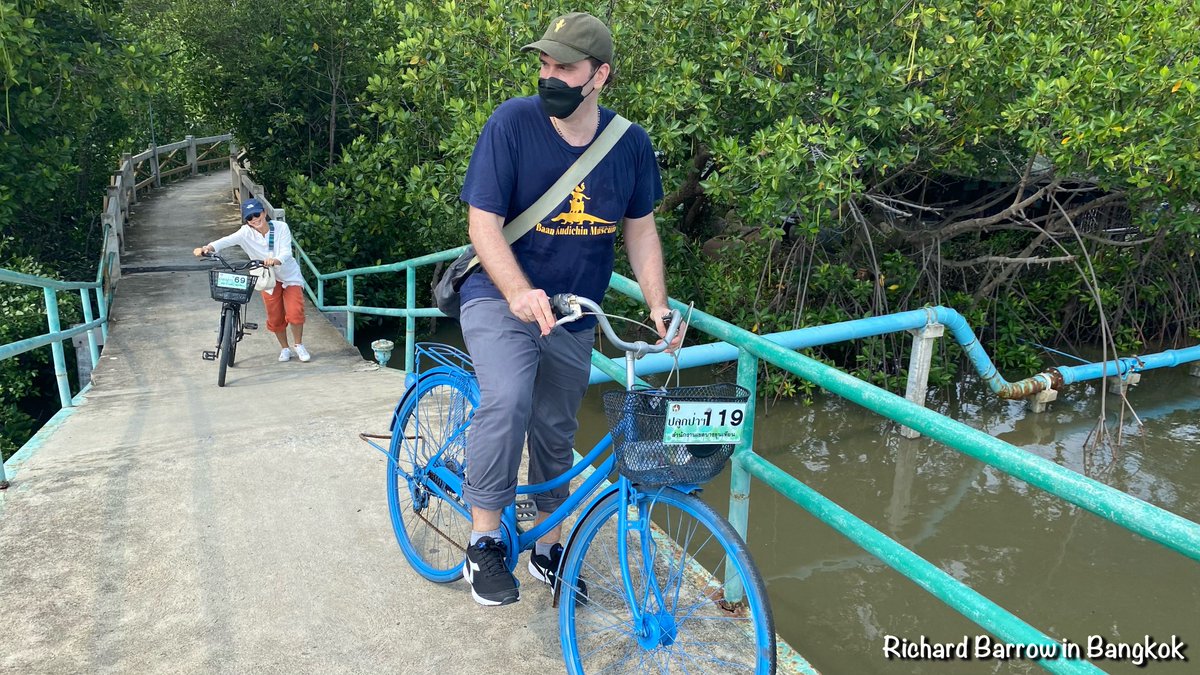 To help protect the coastline in Bangkok from erosion, they use these bamboo poles which have proven to be more effective than the concrete poles that they used in the past. They also planted mangrove saplings here which help.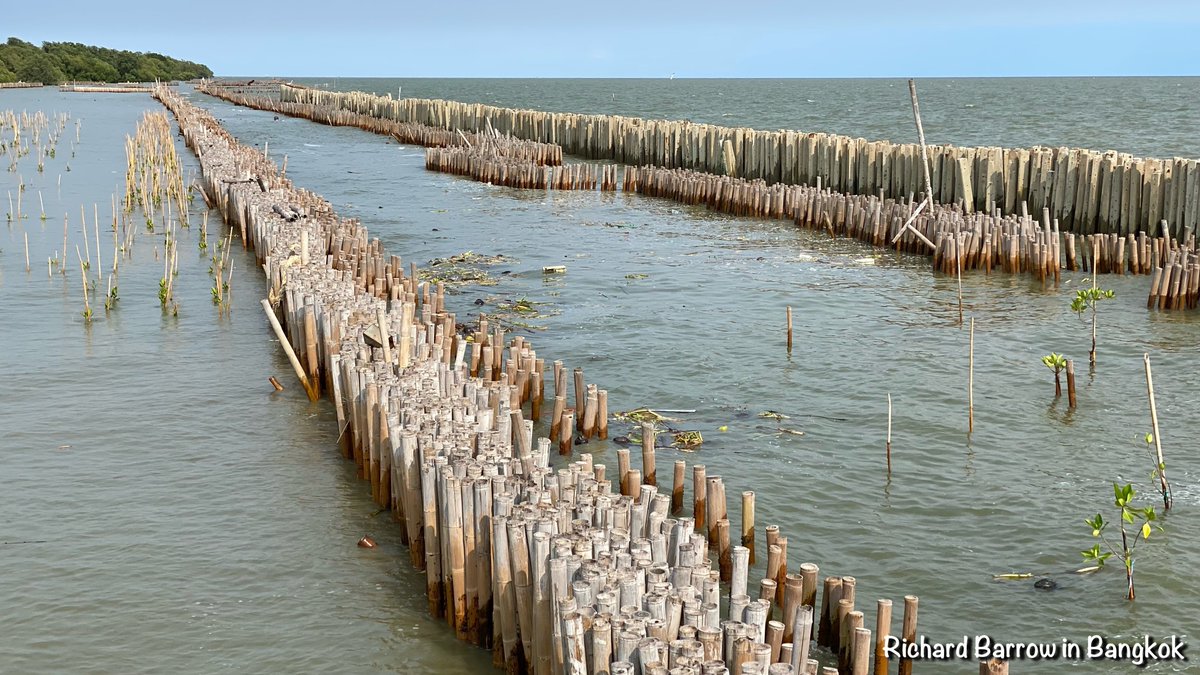 The local museum in Bang Khun Thian is open from Wednesday to Sunday. Entry is free. In this photo you can see how narrow Bangkok is (white on the map). On the left in orange is Samut Sakhon and on the right in green is Samut Prakan.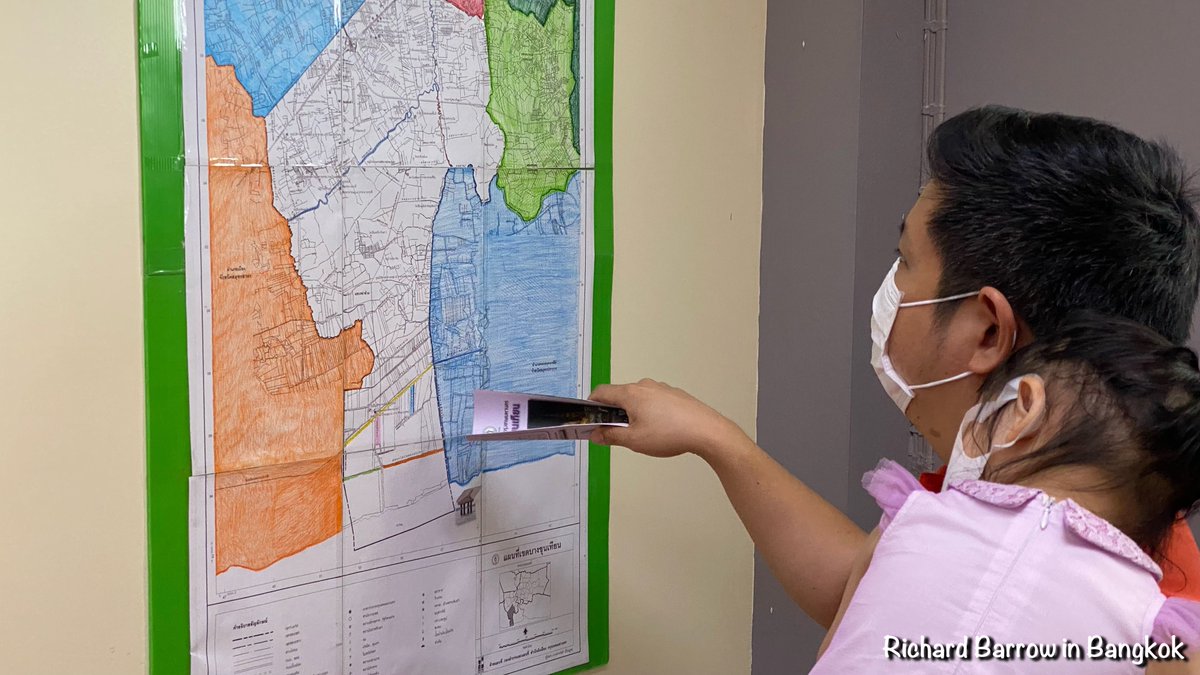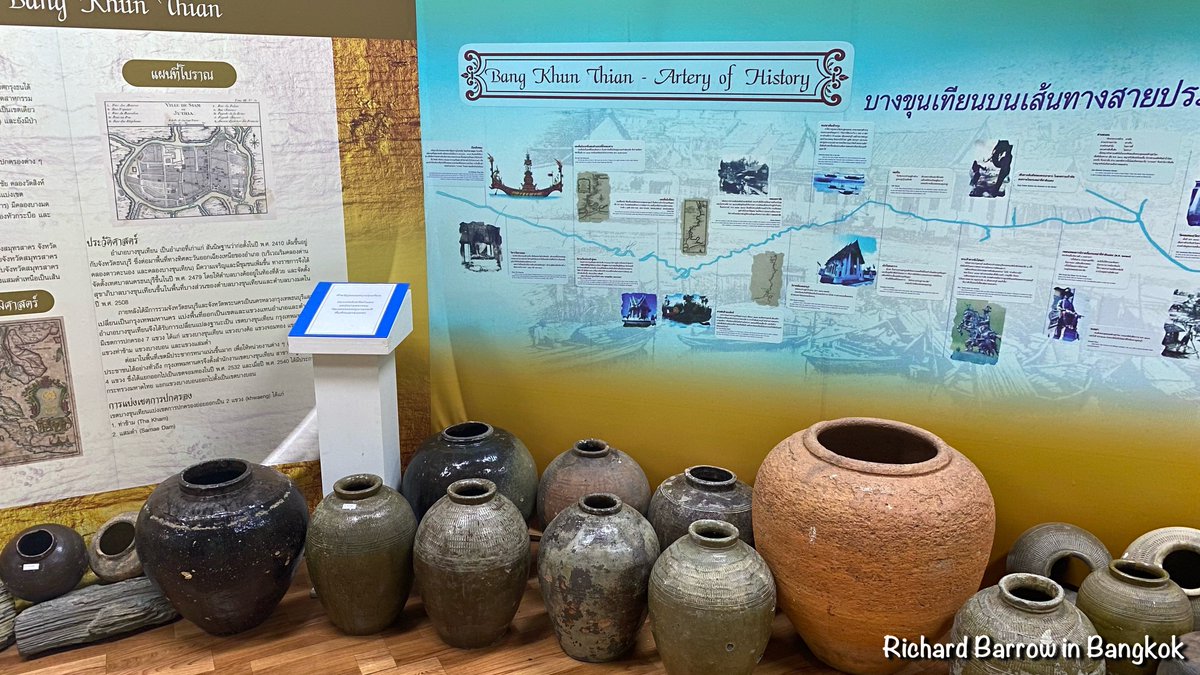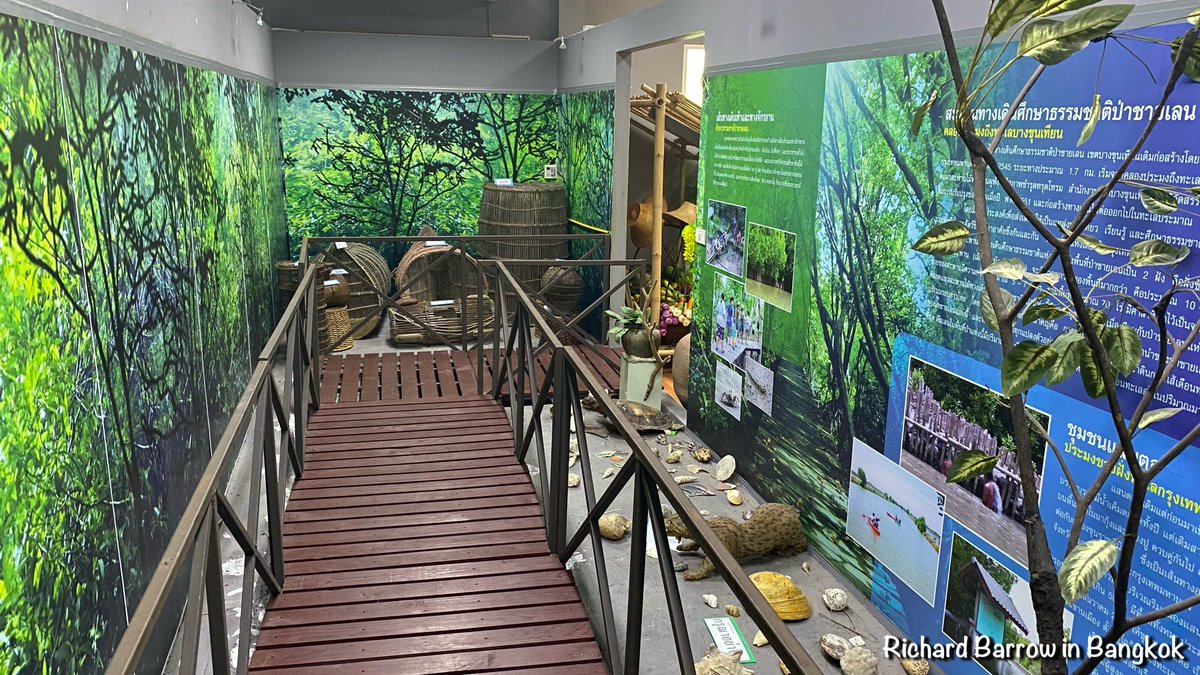 [05] One of the latest tourist attractions along the coast in Samut Sakhon is the Red Boardwalk Bridge. This goes out to sea and then runs parallel with the coast for more than 700 meters. Best to go in the late afternoon when it's cooler.
📍MAP: goo.gl/maps/au5PnSuR5… .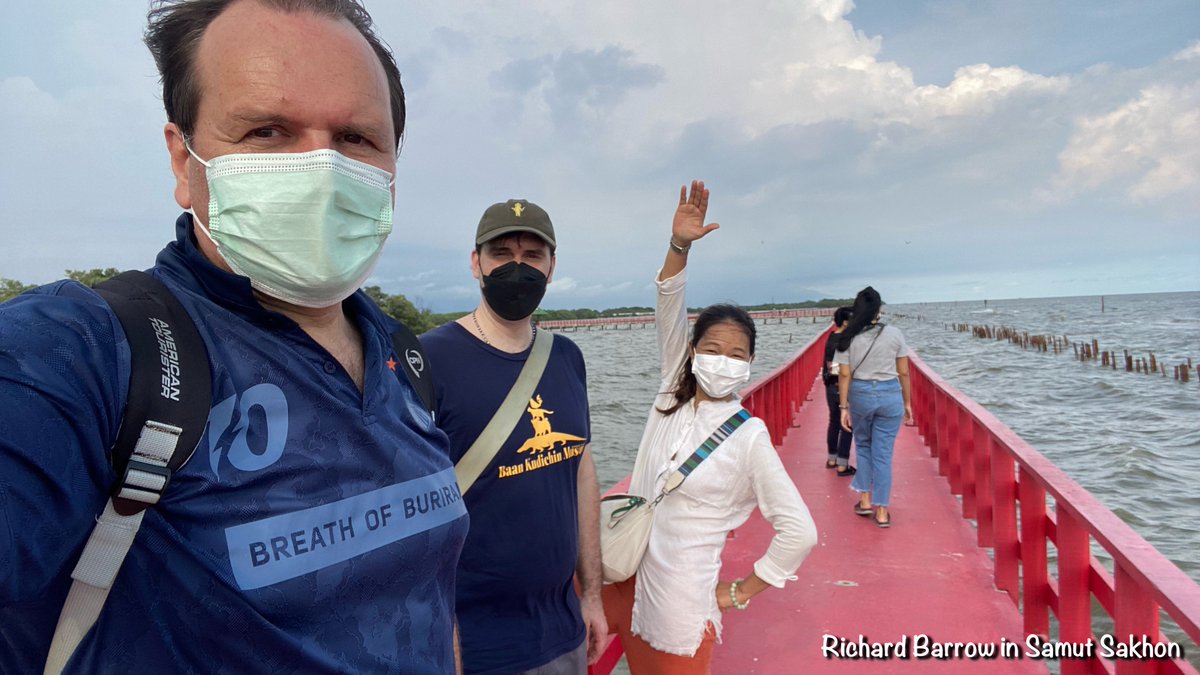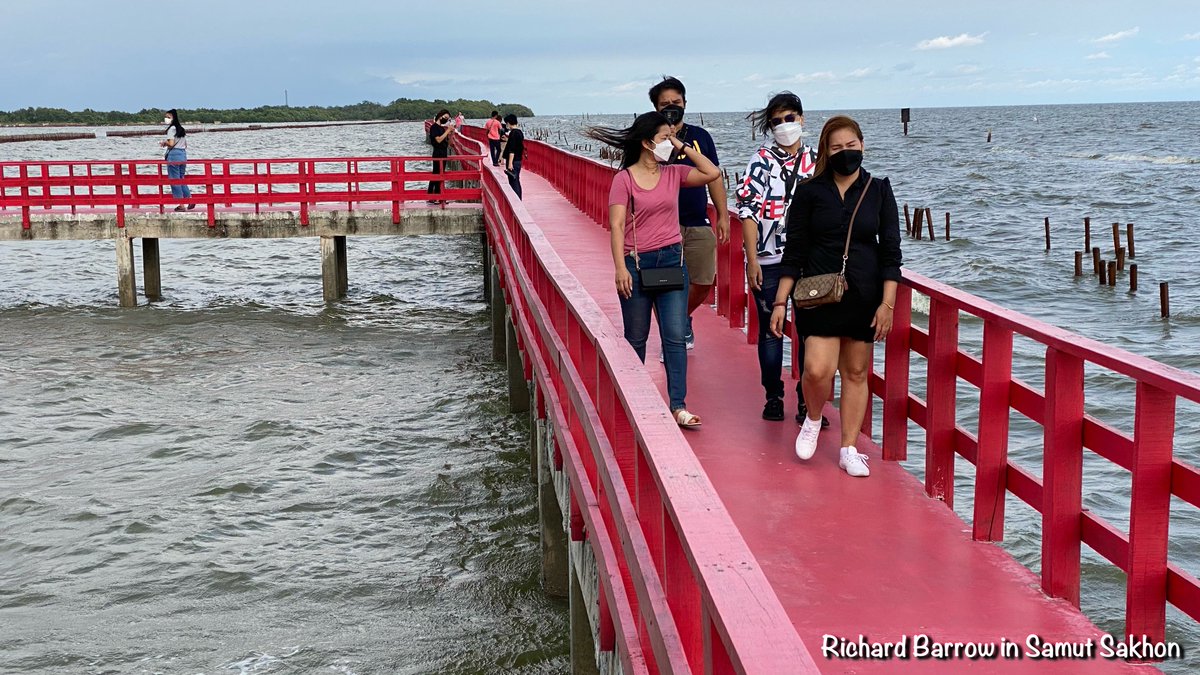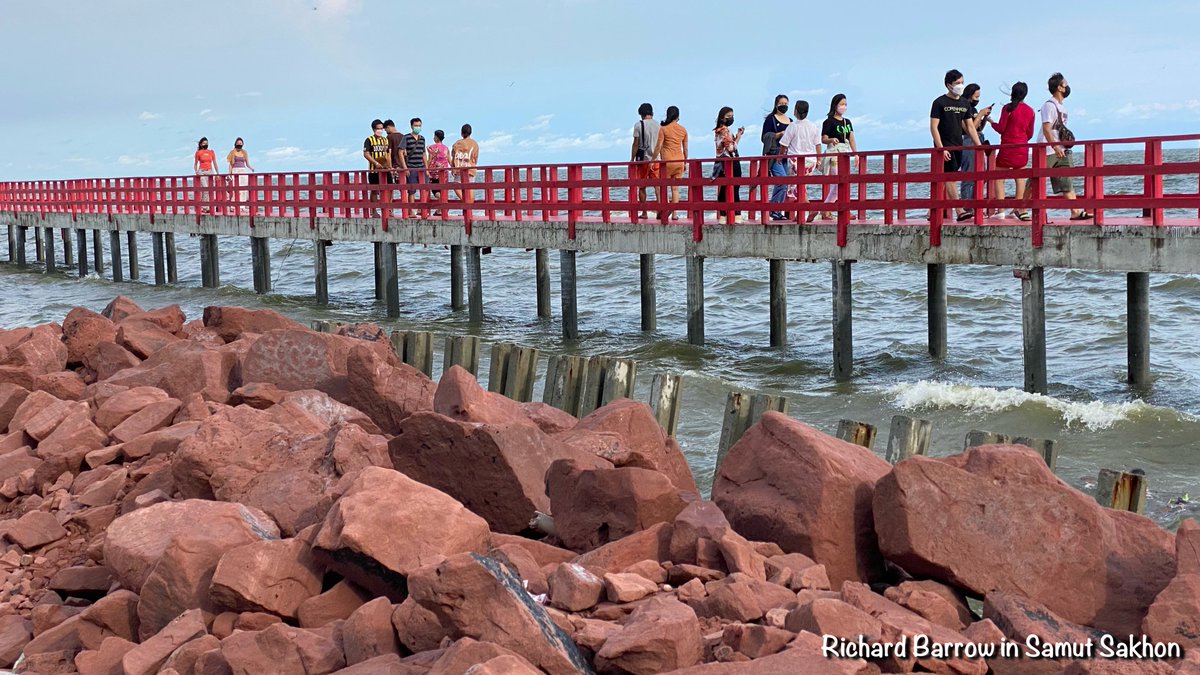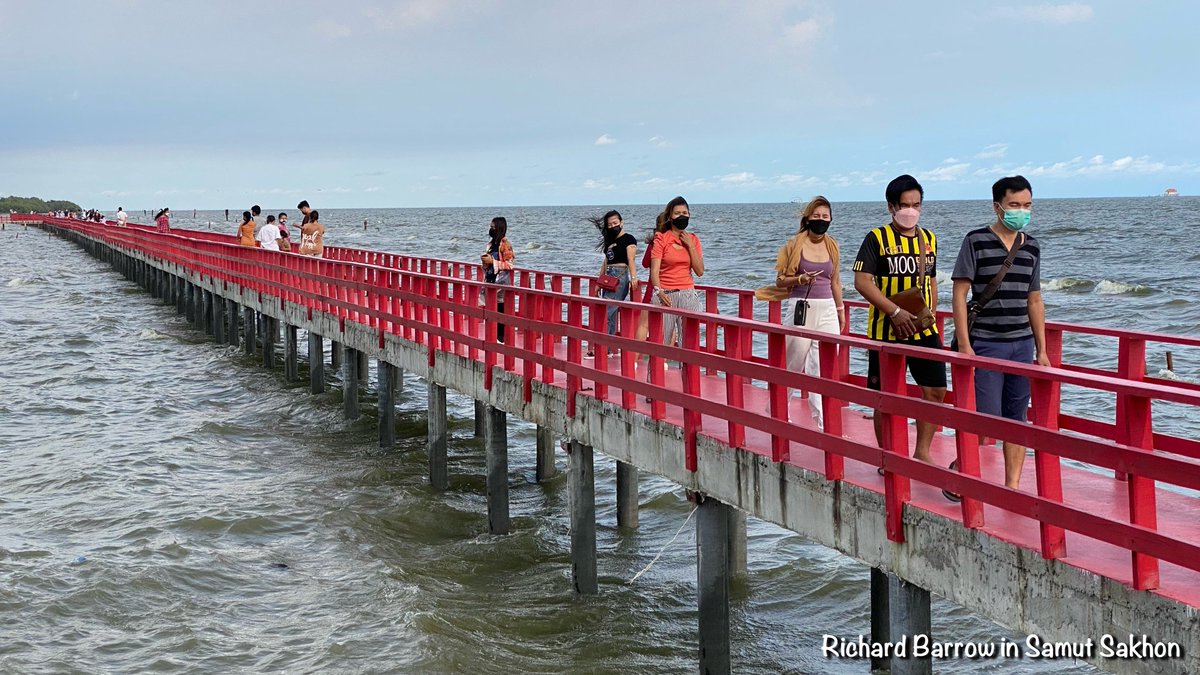 Heading home now after our three province coastal trip. But the way back is blocked by this high tide flood. We are going to have to do a wide diversion which will add 30 minutes to the journey. I'm not going to risk it. Several cars have already broken down.